Chevron, Exxon Clapback Biden's Oil Plea: Look At Your Refinery Policies
After US President Joe Biden sent out a letter to the country's major oil producers demanding to increase production, Chevron Corporation (NYSE: CVX) and Exxon Mobil Corporation (NYSE: XOM) joined in the blame game, pointing the finger back at the administration and its oil refinery policies.
In an interview with Bloomberg TV, Chevron CEO Mike Wirth essentially explained that increasing production to a level that would outpace supply entails building new refineries. He further lamented that oil companies are put "in a difficult spot because building a refinery is a multi-billion dollar investment" that "may take a decade," something not ideal in a country with policies geared towards shunning the industry in the future.
"We haven't had a refinery built in the United States since the 1970s. My personal view is, there will never be another refinery built in the United States," said Wirth.
He added that given the "policy environment where governments around the world are saying, 'we don't want these products to be used in the future,'" there lies the dilemma of increasing oil supply.
ExxonMobil shared the same sentiment in a statement responding to the White House's demand to boost oil production, stating it "has been investing more than any other company to develop U.S. oil and gas supplies."
"We've been investing through the downturn to increase refining capacity to process U.S. light crude by about 250,000 barrels per day – the equivalent of adding a new medium-sized refinery," said ExxonMobil in a statement. "We kept investing even during the pandemic, when we lost more than $20 billion and had to borrow more than $30 billion to maintain investment to increase capacity to be ready for post-pandemic demand."
Industry group American Petroleum Institute (API), however, did not mince its words responding to Mr. Biden's letter, blaming the administration's policies for the lack of the country's oil-producing capacity.
"While we appreciate the opportunity to open increased dialogue with the White House, the administration's misguided policy agenda shifting away from domestic oil and natural gas has compounded inflationary pressures and added headwinds to companies' daily efforts to meet growing energy needs while reducing emissions," said API CEO Mike Sommers.
How to address oil price spike, according to oil firms
Oil prices have been in record highs following the Russia-Ukraine war, Moscow's weaponization of its fossil fuel exports, and the spiking inflation. For the Biden administration, oil firms have a "patriotic duty" to increase their respective outputs.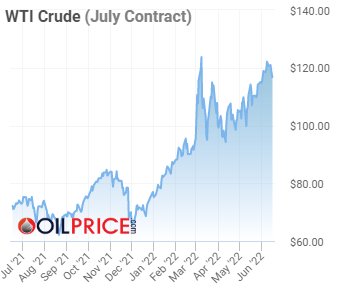 However, records from US Energy Information Administration itself would show that oil refineries are steadily increasing their output.
But for API, addressing the skyrocketing oil prices isn't as simple as doubling up on production at current capacity.
"U.S. refiners today are running at or near capacity to meet demand with throughput and fuel production near the top of the 5-year range, but still demand is outpacing supply," said the industry group. "To address the growing crisis we face, Congress and the President must support energy investment, create new access and keep regulation from unnecessarily restricting energy growth."
The group presented its 10-point plan to "restore US energy leadership," which includes lifting development restrictions on federal lands and waters, authorizing critical energy infrastructure projects, fixing the project approval process under the National Environmental Policy Act, and rescinding steel tariffs that affect oil producers dependent on the import.
Chevron and ExxonMobil are in agreement to intensify dialogues between the government and the oil industry.
"We receive mixed signals in these policy discussions, and my message would be we need to sit down and have an honest conversation," Wirth said.
For the Texas-based oil giant, the government can activate emergency measures in the meantime "such as waivers of Jones Act provisions." In the long run, the firm recommends the White House to have a "clear and consistent policy that supports U.S. resource development," including streamlined regulatory approval and support for infrastructure such as pipelines.
Chevron fell 5.35% yesterday while ExxonMobil sank 3.69% within the same period.
For Q1 2022, Chevron posted US$6.26 billion in net income, a 354.5% increase year-on-year. ExxonMobil also saw a 100.7% increase in its bottomline from the comparable period last year, recording US$5.48 billion in quarterly net income.
---
Information for this briefing was found via Bloomberg, Zero Hedge, and the companies mentioned. The author has no securities or affiliations related to this organization. Not a recommendation to buy or sell. Always do additional research and consult a professional before purchasing a security. The author holds no licenses.