The Investment Thesis
The investment thesis for Cardiol Therapeutics (Cardiol), TSX:CRDL; OTC:CRTPF, encompasses the following key points:
The Cannabidiol (CBD) market could turn into a $100B+ plus market globally.
Cardiol has an efficient manufacturing process that allows them to produce 100% pure CBD while bypassing the capital investment and timeframe required by hemp-based extraction companies (who cannot produce a 100% pure product). The result is a premium brand that is expected to have a premium price.
Cardiol has important exclusive pharmaceutical partners in Dalton Pharma Services and Noramco, Inc., that provide Cardiol a supply chain that is unmatched in the industry.
Cardiol has interesting optionality with clinical development programs in heart failure and brain tumors.
Overall, we believe that Cardiol Therapeutics (C$144M Market Cap) could turn into a market darling with the scale to produce pure-quality pharmaceutical CBD, at lower costs than the rest of the market, resulting in strong margins. They also have interesting drug development programs that could make them quickly comparable to companies such as GW Pharma (C$6.79B Market Cap) and MyoKardia Inc (C$2.97B Market Cap).
History of Cardiol
Cardiol was founded in late 2016 by David Elsley (CEO and President), Dr. Anthony Bolton (Director of Research), Dr. Eldon Smith (Chairman and CMO), and Terry Lynch (Director), who have decades of experience in developing companies in the medical space. After a study published in the Journal of the American College of Cardiology showed the promise for CBD as a potential treatment for heart failure, the team established an organization and research network focused on developing the most advanced form of this important medicine and new innovative ways to deliver it to patients and consumers.
"After reading this study, I said, 'this is fascinating, we need to develop this drug for heart disease.'"

– David Elsley, President and CEO; Interview w/The Deep Dive
The company has two main strategies:
Commercialization of pure pharmaceutically-produced cannabidiol in domestic and international medicinal cannabis markets.
Clinical trials to support the commercial development of pharmaceutical CBD as a treatment for heart disease utilizing patented nanotechnologies developed in collaboration with Canada's National Institute for Nanomedicine at the University of Alberta.
Cardiol has research partnerships with global leaders in nanomedicine and heart disease at leading university centers, such as the University of Alberta (Canada), the DeBakey Heart & Vascular Center (U.S.), and TecSalud del Tecnológico de Monterrey (Mexico).
CardiolRx Pharmaceutical Cannabidiol
Cardiol has developed unique manufacturing expertise in the production of pharmaceutical cannabinoids in support of its 2019 commercial product launch and its nanotherapeutics program in heart failure. Cardiol's lead pharmaceutical cannabidiol product, CardiolRx, will address a significant proportion of the total medicinal cannabinoid market. The company intends to commercialize its CardiolRx formulation during H2/2019 in two concentrations – 50 mg/ml CBD and 100 mg/ml CBD.

Cardiol's pharmaceutical CBD will provide the Company with a significant near-term revenue opportunity.
Cardiol is also developing potential breakthrough nanotherapeutics for Heart Failure. Heart failure affects more than 26 million people globally (6 million in Canada/U.S.) and remains a leading cause of death and hospitalization, with associated healthcare costs exceeding $30 billion annually in the U.S. alone.
Cardiol has developed three main drug formulations to tackle heart failure:
| | What it does? | Brief Explanation (Cardiol Website) |
| --- | --- | --- |
| CTX01 | Patented nanoformulation of pharmaceutical CBD developed by Cardiol for the treatment of heart failure. | Published third-party research has shown that cannabidiol reduces inflammatory activation of the endothelial lining of blood vessels and aids endothelial vasorelaxation, resulting in improved blood flow. Cannabidiol has also been shown to attenuate a number of measures of inflammation in models of diabetes, a common co-morbidity in heart failure patients, and to reduce myocardial fibrosis in a model of inflammatory heart disease. |
| CTX02 | Formulation of methotrexate for the treatment of heart failure. | Methotrexate, an inhibitor of cell division, was originally developed for cancer therapy, but lower doses were found to suppress the immune system, resulting in a dose-dependent down regulation of chronic inflammation. Low-dose methotrexate is currently used as a disease-modifying agent in the treatment of rheumatoid arthritis. |
| CTX03 | Proprietary nanoformulation of encapsulated Cyclosporine A (CsA) being developed by Cardiol for the treatment of heart failure. | CsA is an immunosuppressant more commonly used for the prevention of organ transplant rejection, including for heart transplantation. The current evidence suggests that the mechanism of CsA relates to its activity at the mitochondrial membrane, specifically at pores in the membrane (the mitochondrial permeability transition pores, MPTP), where the action of CsA reduces the rupture of the mitochondrial membrane. Rupture of the mitochondrial membrane leads to cell death, and, in the heart, death of heart muscle cells (cardiomyocytes). Cardiomyocyte cell death is an important component of the pathology of heart failure causing largely irreparable damage and is therefore a key clinical target in patients with heart failure. |
Brain Tumors (Glioblastoma Multiforme)
Glioblastoma multiforme (GBM) is a fast-growing tumor that develops from star-shaped glial cells (astrocytes and oligodendrocytes) that support the health of the nerve cells within the brain. It is the most malignant and deadly form of cancer of the central nervous system in humans. Death results from the rapid, aggressive, and infiltrative growth of GBM cells in the brain.
| | What it does? | Brief Explanation (Cardiol Website) |
| --- | --- | --- |
| CRxIMT | Combination therapeutic strategy focusing on orphan indications in oncology, initially GBM, involving the use of immunologically based therapies combined with cannabinoids. | Cardiol's patent-pending cancer therapeutic platform envisages the use of certain immune modulators to stimulate cells of the immune system to target tumors. Tumor cell killing can ultimately be achieved in the body by activated white blood cells, such as tumor-infiltrating lymphocytes (TILs) and lymphokine-activated killer (LAK) cells; however, many tumors have an immunosuppressive environment to shield the tumor from the patient?s immune system. Cardiol anticipates that cannabinoids may modify this immunosuppressive ?shield?. |
Cardiol Therapeutics has set up the following supply chain:

Who is Noramco?
Noramco is a spinoff of Johnson & Johnson and is now the largest manufacturer of controlled substances for the pharmaceutical industry. Based out of Wilmington, Delaware, Noramco produces the materials for medicines used to treat attention deficit hyperactivity disorder, pain, addiction, and for abuse-deterrent formulations. They help companies like Cardiol leverage intellectual property to devise the most efficient routes to Active Pharmaceutical Ingredients (APIs), delivering DEA-compliant security and production capacity, from kilos to multi-ton supply.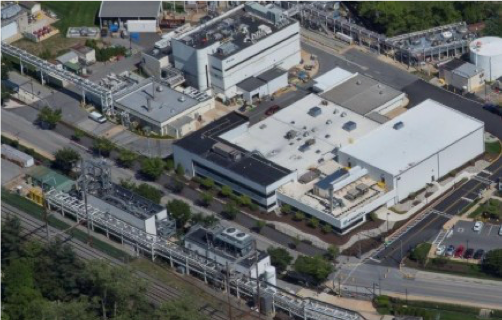 Who is Dalton Pharma?
Dalton Pharma Services is a leading cGMP contract service provider of integrated drug discovery, development, and manufacturing services to the pharmaceutical and biotechnology industries. Under Cardiol's exclusive global supply agreement with Dalton, Dalton will manufacture Cardiol's products from their Health Canada-approved and U.S. FDA-registered facilities. They meet strict pharmaceutical standards, allowing them to export into global markets.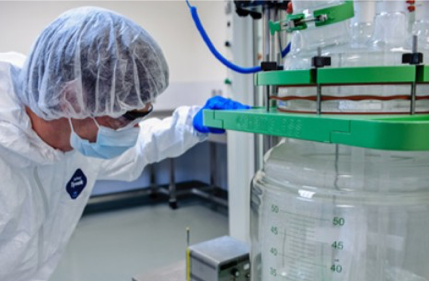 Demand for CBD within Canada
According to Frontier Research, the Canadian demand for medicinal cannabinoids is expected to grow to north of C$2B by 2020. This creates a very significant opportunity for Cardiol, given their patented pharmaceutical CBD that gives them the ability to produce CBD at a cost and scale that will be unmatched in the industry.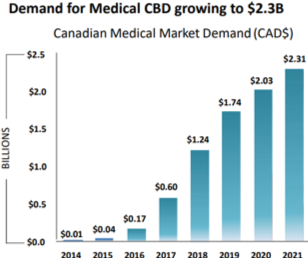 We created a basic model for Canada, looking at various scenarios in terms of penetration rate and average sales per customer, with a Canadian population of 37.06M. Under this model, we can see that if CBD sales hit a 10% penetration rate with each customer only spending an average of $20 per month, the Canadian CBD market would be approximately $1.8 billion.

In the event CBD sales can clear anything close to a penetration rate north of 5% at $20/month/customer, pharmacies will treat CBD as a major priority. It would not be a wild assumption to believe that they will prefer a 100% pure pharmaceutical CBD product that can retail at a cost advantage to competitors. Cardiol has hired personnel to help them target the top pharmacy chains in Canada.
"Recently we appointed Tom Moffatt to head our commercial operations. Tom has over 25 years' experience in pharmacy operations, primarily with Shoppers Drug Mart, Canada's largest pharmacy infrastructure. Shoppers Drug Mart is owned by Loblaw Companies Ltd. Shoppers Drug Mart and Loblaw between them own over 1850 pharmacies nationally. Through this network of pharmacies, they can promote Medical Cannabis via the Shoppers Drug Mart website for the distribution of cannabinoids. As we complete our manufacturing scale-up process to support the commercial launch of our CardiolRx brand in H2 2019, Tom's experience will prove invaluable in managing negotiations with potential distribution partners, including pharmacies."

– David Elsley, CEO; Interview w/The Deep Dive
To give some context on the rate of growth of the market, we can look at the year-over-year growth rates of two U.S.-based CBD extracts companies:

Three interesting comparables we would like to address are: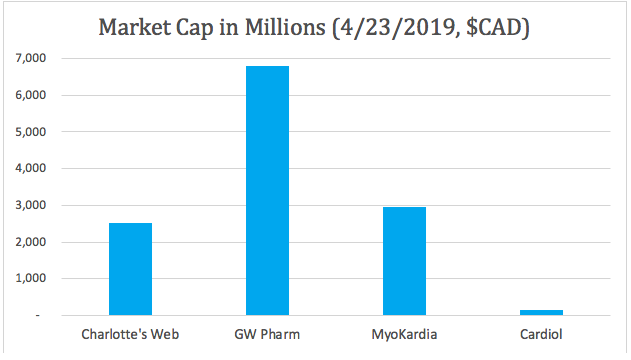 It is difficult to find a direct comparable to Cardiol. If the expectation is that pharmacies will have a preference to carry 100% pure CBD, it is likely that Cardiol will be a market leader in CBD in their three target markets: Canada, Mexico, and Germany. They will not be able to introduce CardiolRx in the U.S. at the present time as the current regulations do not allow pharmaceutically-produced CBD, but this could change in the future as regulations governing CBD continue to evolve rapidly.
| | |
| --- | --- |
| Charlotte's Web | Charlotte's Web sells a high CBD, low-THC, cannabis strain marketed as a dietary supplement under federal law of the US. The company is the market leader in store bought CBD products. In the company's Fall 2018 Prospectus , the company stated their market share was approximately 14% (based on 2017 revenues in an estimated US$287 million hemp CBD market). Outside of Charlotte?s Web and CV Sciences, the US CBD market is fragmented with no other large players. |
| GW Pharmaceuticals | GW Pharmaceuticals is a British biopharmaceutical company known for its multiple sclerosis treatment product Sativex, which was the first natural cannabis plant derivative to gain market approval in any country. Another cannabis-based product, Epidiolex, for treatment of epilepsy, was approved for treatment of epilepsy in June 2018. |
| MyoKardia | MyoKardia is pioneering a precision medicine approach to discover, develop and commercialize targeted therapies for the treatment of serious and neglected rare cardiovascular diseases. MyoKardia is currently enrolling patients in a Phase 3 to evaluate the efficacy and safety of mavacamten for the treatment of symptomatic obstructive hypertrophic cardiomyopathy. |
Cardiol is one of a handful of companies in the public markets working on cannabis-based clinical trials.
We chose MyoKardia, a company that is working on precision medicine and has just completed phase II clinical trials for the treatment of symptomatic obstructive hypertrophic cardiomyopathy, as an interesting comparable.
Generally, the purpose of phase I clinical trials is to determine if a drug or procedure is safe. Given that cannabidiol has an excellent safety profile, we feel it is quite likely Cardiol will enter phase II clinical trials for CTX01 and CRxIMT within the next 6–12 months, making MyoKardia an interesting comparable to Cardiol.
A Very Impressive Management Team
One of the major factors separating Cardiol from your typical Cannabis story is the management team. This team has contributors who combined have built billions of dollars in shareholder value with past endeavors. The management summaries are as follows:
David Elsley, MBA
President and Chief Executive Officer
Previously, Mr. Elsley founded Vasogen Inc., a biotechnology company focused on the research and commercial development of novel therapeutics for the treatment of heart failure and other inflammatory conditions. Vasogen went public on the TSX and the Nasdaq, raising over $200 million to support corporate development and reached a market capitalization of over US$ 1 billion.
Eldon R. Smith, OC, LLD (Hon), MD
Chief Medical Officer
Former Head of Cardiology, former Chairman of Medicine, former Dean of Medicine, University of Calgary; Chair Steering Committee, Canadian Heart Health Strategy; recipient of Order of Canada and has published over 250 papers.
Chris Waddick, MBA, CPA
Chief Financial Officer
Mr. Waddick has 30+ years of experience in financial and executive roles in the biotechnology and energy industries.ÿAs Executive Vice President and Chief Financial Officer for a private Ontario energy company, he implemented two corporate restructurings, drove substantial earnings growth, and significantly reduced cost of capital and debt levels. He also served for over 10 years as the COO and CFO of Vasogen Inc.
Anthony Bolton, BSc, PhD, DSc
Director of Research
Immunologist with 30+ years of experience in biotech; former Chief Scientific Officer of Vasogen Inc.; former Professor and Department Head of Biomedical Sciences (Sheffield, UK). Dr. Bolton has published over 100 research papers and is named inventor on 15 issued patents.
Thomas Moffatt, BBA
Chief Commercial Officer
Senior operations and retailing executive with an extensive background in the pharmaceutical environment; more than 20 years? tenure at Shoppers Drug Mart. Mr. Moffatt was most recently the Chief Operating Officer and Vice President Operations at Rx Drug Mart Inc.
Iain Chalmers, MBA
Chief Marketing Officer
Former Vice-President Marketing and Innovation at Diageo, the world's largest spirits company. Over 25 years experience in consumer products with Gillette and Proctor and Gamble.
Cardiol's Share Structure
Cardiol has a very closely held share structure, with management, insiders, and strategic pharmaceutical partners owning over 40%. The capital structure is broken down as follows (as of 04/22/19):
| | |
| --- | --- |
| Shares Outstanding | 25,877,686 |
| Options(1) | 1,415,000 |
| Warrants(2),(3) | 4,324,586 |
| Other(4) | 1,420,000 |
| Fully Diluted Shares Outstanding | 33,037,272 |
Includes 1,415,000 options outstanding with exercise prices ranging from $4.30 to $5.77, of which 370,000 are exercisable.
Includes 3,500,586 warrants outstanding with exercise prices ranging from $5.00 to $6.50.
Includes 824,000 warrants outstanding with an exercise price of $4.00, payment of which is settled through a USD$3.0M research contract.
Includes 1,420,000 common shares potentially issuable in relation to clinical trial-related milestones for future research services to be delivered.
Cardiol has a significant insider ownership position, with management owning nearly 26.5% of the company:
| Insider | Title | Shares | Ownership % |
| --- | --- | --- | --- |
| Total | | 6,854,200 | 26.5% |
| David Elsley | President and CEO | 2,700,000 | 10.4% |
| Dr. Eldon Smith | CMO and Chairman | 1,240,000 | 4.8% |
| Dr. Anthony Bolton | Director of Research | 1,200,000 | 4.6% |
| Terry Lynch | Board Director | 1,200,000 | 4.6% |
| Peter Pekos | Board Director | 404,200 | 1.6% |
| Other Insiders | | 110,000 | 0.4% |
Conclusion
Cardiol has some great upcoming potential catalysts over the next 12 months, including the CardiolRx launch (H2/19), the commencement of Heart Failure clinical trials (H2/19), and the GBM phase 1 trial (H1/20). Cardiol has a proven management team that rivals anyone in the business. In addition, they have a tight share structure, with relatively small future capital expenditure requirements all of which are fully funded.
Cardiol has partnerships with recognized global leaders in pharmaceutical manufacturing. They have world-class research and development partners and IP that could make them a global leader in pharmaceutical CBD. Something we talk about at length at The Deep Dive is how few companies there are that pass a basic three-question invest-ability test: 1) are they a great operator? 2) are they shareholder friendly? and 3) are they strong capital allocators? We feel that Cardiol strongly meets all these criteria and feel that as more investors discover their story, their share price should react positively.
---
FULL DISCLOSURE: Cardiol Therapeutics is a client of Canacom Group, the parent company of The Deep Dive. The author has been paid for this work and may or may not own shares of the company. Not a recommendation to buy or sell. Always do additional research and consult a professional before purchasing a security.