Company Overview: Leveljump Healthcare
Leveljump Healthcare (TSXV: JUMP) is a Toronto, Ontario-based medical company that sees much of its revenues derived from remote services whom is focused on developing and marketing innovative technology solutions for the healthcare industry. The company has been operating as Canadian Teleradiology Services (CTS) for 16 years as a leading supplier of emergency room radiology services.
The Company recently announced the formation of a subsidiary called Leveljump Technologies. The subsidiary will leverage their existing experience by focusing on developing new products and services which could potentially disrupt certain segments of the healthcare sector, by delivering cost-effective solutions that can improve care delivery and better health outcomes for patients.
The Investment Thesis
We base our investment thesis on the following factors:
The firm has already been successfully deploying its services within the field of teleradiology for a number of years.
LevelJump is planning to brand its Teleradiology services and expand across Canada.
The company is cash flow positive, a rarity in the small cap space.
LevelJumps proprietary technologies can increase service delivery in rural settings that are otherwise underserved for teleradiology services.
The macro trends for adoption of transformative medical technologies and service delivery methods will continue to rapidly accelerate over time.
As the LevelJump expands its footprint into other healthcare segments, it's innovative technologies and growing revenues could make the Company an attractive takeover target.
The Deep Dive views LevelJump Healthcare Corp. as a special situation for investors. It has garnered a 16 year track record of service delivery, it is expanding its product and services base, and is looking to expand across Canada and become the leading brand for Teleradiology services.
The trend of expectations of efficiently delivering more services at reduced costs within the healthcare system will continue, and will provide new market opportunities for the company over time. We expect the company to achieve a solid revenue growth track that should likely enhance the company's profitability, and add commensurate value for shareholders. It would not surprise us in the least if LevelJump becomes a takeover target at some point in time as its success grows.
The State Of Medical Care In Canada
The healthcare sector is constantly under pressure to provide better health outcomes for patients while simultaneously trying to reduce the costs of delivering services. In Canada, healthcare spending per person was $7,064 in 2019, according to the Canadian Institute for Health Information. In 2019, the Canadian healthcare sector accounted for 11.5% of Canada's gross domestic product (GDP) with total healthcare expenditures in excess of $265 billion.
There is continual political pressure to contain costs and many provinces have been meeting these challenges by redesigning how they deliver services to patients. In Ontario, for example, the province is divided into regional operating units called Local Health Integration Networks, commonly referred to as LIHNs, which are responsible for administering healthcare in their respective regions.
Money from the province flows into the LIHNs who then direct how the funds are distributed. Hospitals are the key regional hubs in their respective areas and medical services are provided, where possible, outside of hospitals so that only the most necessary cases such as surgeries, emergencies and other treatments that require a hospital are treated in hospitals.
Individual care stems from family doctors and specialists who deal with patients in the community and report to the hospitals. In many areas, specialties such as cardiology, triage, pain management etc., are managed through outpatient facilities in the community, so that hospitals only deal with the most critical cases. This is aimed at streamlining the service delivery process and making it more cost effective and efficient.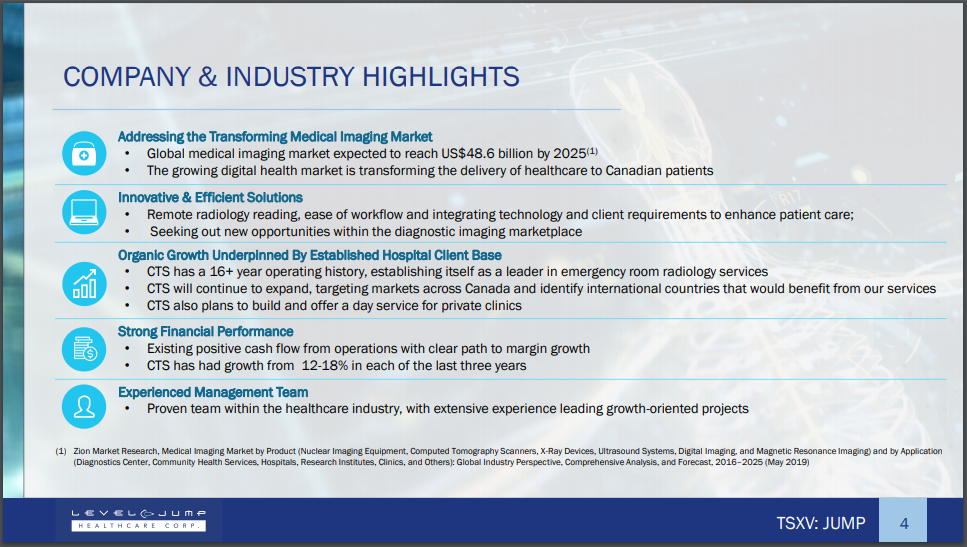 We expect that political pressure for cost reductions will be a constant in healthcare delivery in the future, therefore we believe that companies such as LevelJump will be significant contributors to the delivery of healthcare services in the future as breakthroughs in technology enable remote treatment and service options to proliferate.
The global Covid-19 pandemic has negatively impacted the global economy and underscored the awareness and need to maintain healthy lifestyle habits, as many Covid-19 victims had pre-existing health conditions and reduced immune systems brought on by obesity, poor dietary habits, and poor cardiovascular health. We believe that the post-pandemic world will see a greater emphasis towards healthy living as a preventative measure. Covid-19 changed that way people work, shop, learn and also interact with their medical professionals.
Telehealth, which has been growing incrementally over the past number of years, has taken on accelerated importance as a result of Covid-19. Medical consultations are now often conducted via phone or video conference. Medical professionals and patients alike now see that this can save enormous amounts of time and inconvenience in terms of waiting rooms and travel to and from appointments. Visits to a hospital are now increasingly only for important issues that cannot be resolved otherwise. We believe these trends will continue into the post-pandemic era as the system will have learned to adapt to these new methodologies.
It is in this spirit that Leveljump Healthcare Corp. is building out and branding a national medical diagnostic imaging company by providing teleradiology – remote radiology services to its client hospitals and imaging centers. Diagnostic imaging is often an initial point of medical diagnosis for doctors, and LevelJump offers the ability to deliver the most common diagnostic imaging tests such as MRI, CT, PET, Ultrasound, Mammography, and X-rays.
The Business Model of Leveljump
Canadian Teleradiology Services Inc. (CTS)
CTS has provided teleradiology services for over 16 years, and has built up a solid client base of hospitals and radiology labs that depend on their services. They specialize in interpretation of MRI, CT, Ultrasound, Nuclear medicine, Mammograms, X-Ray and other diagnostic imaging tests, and their teleradiology network connects doctors with radiologists, enabling 24/7, 365 days a year access to dependable radiology services and expedited turnaround times, whether for urgent or elective testing.
As per the CTS mission statement, their goal is to ensure efficient and effective radiology reading reports with turnaround times that exceed industry standards. Every community they service should have the benefit of patient care that includes detailed radiology reports for the most optimal outcomes. CTS builds a cohesive relationship with ER departments, doctors, technicians, and hospital administrations that act as the cornerstone for the values of CTS. JUMP plans to brand and expand its teleradiology services across Canada, with the goal of forming a nationwide teleradiology network of physicians and diagnostic imaging service providers.
There is often a shortage of radiologists, particularly in remote locations where there is limited access to quality doctors. The CTS system enables its client hospitals and clinics with ready access to the company's network of doctors and radiologists, improving quality of care in remote and rural settings, among other applications.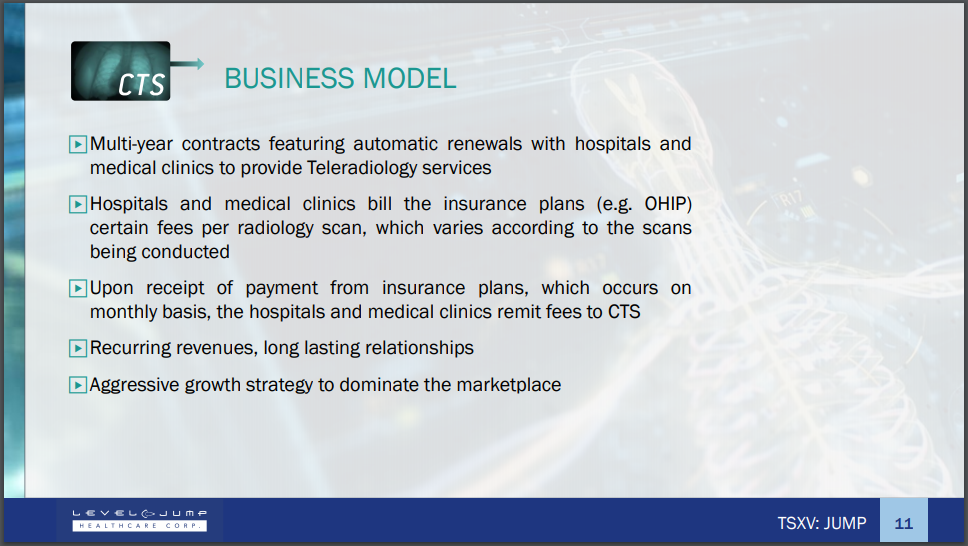 How Teleradiology Works
Hospitals and clinics provide CTS with diagnostic imaging scans and then transmit them to approved, certified radiologists via specialized computer software known as PACS.
The radiologist views the images on their workstation, reading the scans and then preparing medical reports.
The report is transmitted to the client EMR system in real-time for immediate patient care. In cases where a separate in-hospital reporting system is required, CTS would work with its client's IT department to customize the workflow enabling its specific needs.
All aspects are compliant with the relevant privacy and confidentiality guidelines under HIPAA, PIPEDA and any other patient and technology privacy requirements.
LevelJump Technologies Inc. (LJT)
On February 10, 2021, LevelJump Healthcare announced the formation of a subsidiary, LevelJump Technologies Inc. (LJT), which will develop new telehealth products and services for other healthcare market segments as a means of diversifying its product lines and generating additional streams of revenue.
The strategy is to identify areas where the company can provide disruptive technologies to achieve rapid market share. They are currently exploring segments such as eyecare, but also ways to enhance other patient care opportunities through the benefits of telehealth. The company is also considering investing in or acquiring companies that can bring innovative synergies to LJT.
The Management Team
Mitch Geisler – CEO, Chairman
Mr. Geisler holds a BA degree in History from York University and has been the CTS CEO since 2010, growing the company from $850,000 in gross revenues to approximately $5.4 million in gross revenues. He is an entrepreneur who has built a number of companies from the ground up in a variety of diverse industries ranging from healthcare to hospitality and mining. He has extensive experience in directing marketing and growth strategies, operations management and oversight and creating the foundation for long term corporate success.
Rob Landau – Chief Operating Officer, Director
Mr. Landau holds a B. Commerce from the University of Toronto, specializing in Actuarial Science and Corporate Finance and been a consultant to CTS since 2009 and in 2019 became its CFO. During his career he has specialized in corporate finance and structuring, accounting and auditing, and has experience working with start-up companies. He has advised on its operational growth and accounting matters.
Michael Newman – Director
Mr. Newman has more than 35 years experience as an entrepreneur and has served on a variety of Boards of Directors of over 20 public companies ranging from telecommunications and real estate to mining. He has been responsible for raising the financing for many of those companies he served as director of.
Jeff Stevens – Director
Mr. Stevens is a seasoned capital markets and corporate structuring professional who has taken several companies public. He has held senior officer and director roles with a number of public companies and has overseen numerous mergers and acquisitions, reverse takeovers and other corporate finance situations.
Comparables For Leveljump
When it comes to public market comparables, the larger segment of telehealth as a whole has seen a boon in positive investor sentiment, particularly since the onset of the Covid-19 pandemic. Over the course of the last year, a number of such equities have seen investor interest grow, including the likes of Well Health Technologies, CloudMD Software & Services, Skylight Health Group, and others.
The common narrative among its peers, is that these companies are looking to seek growth inorganically, typically through frequent acquisitions of clinics and care providers, from which they can gain topline revenue at the expense of their bottom line results. Notably, Leveljump stands out in that has posted positive earnings, while featuring a lower multiple on topline revenue compared to peers, and as a result, has a lower market capitalization than most in the field.
Teleradiology has been around for approximately 20 years and has gone through a number of evolutions during that time. The advent of EMRs enabled greater use of internet-based technologies and networking tools that has enabled service providers to assist physicians and radiologists in remote regions.
Hospitals typically employ proprietary operating systems that require service providers to adapt to those systems. There has been a move towards more ubiquitous, platform independent systems that can read any proprietary system's operating language, which is helping to a broader adoption of EMRs and supporting technologies such as LevelJump's.
Many large healthcare system providers offer a subset of services such as teleradiology that are embedded within their primary systems. This can make selling into organizations difficult as many believe they are covered by those offerings. Fortunately for LevelJump, they have been successfully competing in this arena for over 16 years and have a proven track record that will help them with future products as they have established their credibility within the healthcare industry. CTS is a proven brand, and the Company's future will be enhanced once they embark on branding their network across Canada.
The Risks
From our view the following risks are worth considering.
Acceptance of the company's products. Emerging technology companies often have an uphill climb to generate revenues and gain market share. With LJTs new products and services enabling diversified income streams, there is no guarantee these new products will gain enough significant market share or could even encounter a serious competitor.
Being rendered obsolete by newer competing technologies. Technology plays carry an inherent risk due to a dependence on market acceptance of their products. If a newer, better product enters the market, it can reduce the appeal of the Company's product or completely replace it. First mover advantage and rapid market penetration can serve to prevent or lessen the impact of a strong competitor.
Jurisdictional Risk. For products and technologies such as those of LevelJump, certain jurisdictions could impose restrictions or protectionist policies to protect their own market participants and shut out a company such as LevelJump.
Market Sentiment. Markets can fluctuate wildly as investor expectations can change rapidly depending on the two most common drivers; fear and greed.
The Potential Catalysts
Some of the potential catalysts we see that could have a large impact on the share price include:
The Covid-19 effect. The post-pandemic era may see an accelerated use of remote communications technologies across a broad spectrum of the economy, and healthcare in particular. Doctors and patients have been forced into remote communication due to social distancing requirements to prevent the spread of Covid-19. Now after a year of having to adapt to this means of doctor/patient interaction, this has become normalized and we expect this trend to continue once the pandemic subsides.
Growth of Teleradiology. Improvements in internet-based networking communications and advances in diagnostic imaging testing and reporting has created a growth opportunity for LevelJump to expand its network across Canada and offers the opportunity to imbed other products and services into their business model.
Expansion across Canada. JUMP is planning to brand and expand its services across Canada, and if successful, the economies of scale could lead to a sharp uptick in revenue growth and profitability.
Development of new products and services. Through its LJT subsidiary, the company is looking to develop new disruptive technologies and services into other aspects of the medical industry.
Potential future Merger and Acquisition activity. Due to LevelJump's management's extensive experience, expertise, and credibility in the diagnostic imaging sector, as well as its planned branding and expansion across Canada initiative, a successful expansion could generate rapid revenue and profit growth which could lead to a potential takeover by a larger healthcare sector player.
Conclusion
At the Deep Dive, we like the overall prospects for the healthcare industry, largely because we view it as recession proof. Although the company operates in a relatively mature and crowded industry, we believe LevelJump has a solid base of business, acquired industry credibility through over 16 years of operations, and is developing new products and services to help support revenue growth and diversification of income streams. We believe if they can establish their national brand and successfully expand across Canada, they will be difficult to displace.
JUMP has a quality management team with vast experience in growing companies from the ground up. They also have extensive experience in operating public companies and in capital formation, which is a very important element when embarking on an aggressive growth strategy. We believe that the post-pandemic era will usher in a period of continued and ongoing use of telehealth services in healthcare delivery, which should bode well for LevelJump.
With a modest market capitalization of $14.93 million, we feel that LevelJump is a proven industry player that offers investors a reasonable risk/reward play in what is generally a recession proof sector of the economy. If the Canadian expansion program is successful, there could be a significant acceleration of revenue and profit growth which in turn could result in a potential of a takeover by a larger industry player looking to acquire successful businesses with consistent topline revenues.
---
FULL DISCLOSURE: Leveljump Healthcare Corp is a client of Canacom Group, the parent company of The Deep Dive. The author has been compensated to cover Leveljump Healthcare Corp on The Deep Dive, with The Deep Dive having full editorial control. Not a recommendation to buy or sell. Always do additional research and consult a professional before purchasing a security.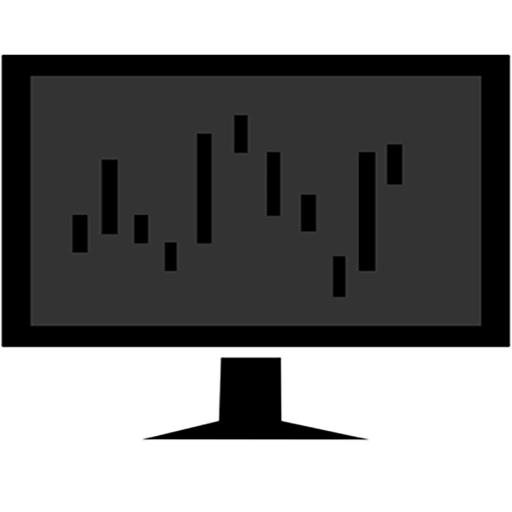 As the founder of The Deep Dive, Jay is focused on all aspects of the firm. This includes operations, as well as acting as the primary writer for The Deep Dive's stock analysis. In addition to The Deep Dive, Jay performs freelance writing for a number of firms and has been published on Stockhouse.com and CannaInvestor Magazine among others.