Revive Therapeutics Ltd. (CSE: RVV) is a life sciences company focused on the research and development of therapeutics for infectious diseases and rare disorders, and it is prioritizing drug development efforts to take advantage of several regulatory incentives awarded by the FDA such as Orphan Drug, Fast Track, Breakthrough Therapy and Rare Pediatric Disease designations.
Currently, the Company is exploring the use of Bucillamine for the potential treatment of infectious diseases, with an initial focus on severe influenza strains including COVID-19. With its recent acquisition of Psilocin Pharma Corp, Revive is advancing the development of Psilocybin-based therapeutics in various diseases and disorders. Revive's cannabinoid pharmaceutical portfolio focuses on rare inflammatory diseases and the company was granted FDA orphan drug status designation for the use of Cannabidiol (CBD) to treat autoimmune hepatitis (liver disease) and to treat ischemia and reperfusion injury from organ transplantation.
The Investment Thesis
We can break the investment thesis for Revive into the following key points:
Revive has optionality in three different biotech arenas including CBD, psilocybin, and infectious diseases (COVID-19).
The company is now in the process of applying for Phase 3 clinical trials for their influenza based studies: Bucillamine.
The company was also granted FDA orphan drug status designation for CBD to treat liver disease.
The company has recently acquired Psilocin Pharma Corp, with a focus on using psilocybin-based therapeutics in various diseases and disorders.
The three spaces the company studies have favorable comparables relative to Revive.
Overall we feel that Revive is a misunderstood microcap focusing on developing drugs in spaces that have strong sector tailwinds. We believe this optionality gives the company a favorable risk/reward profile for biotech investors.
The Business Model
Revive's business model can be broken down to three main categories:
The study of Bucillamine to treat infectious diseases including influenza.
The study of psilocybin with their drug delivery license.
Studying to treat liver disease with the use of CBD.
Bucillamine in the treatment of COVID-19
In April, the FDA recommended Revive proceed directly into a confirmatory clinical trial. Also, they are working towards updating their current IND with the FDA for Bucillamine, which allows the IND to serve as the foundation to pursue future programs with Bucillamine in infectious diseases and inflammatory and respiratory disorders. Revive aims to submit the FDA IND package in June 2020. They are also seeking to conduct a clinical study with Bucillamine in the treatment of COVID-19 in Canada and are preparing a pre-Clinical Trial Application package for Health Canada. The Company estimates to have feedback from Health Canada in June 2020 and expects to initiate a clinical study as soon as the receive regulatory clearance.
Drug Delivery License and Psilocybin Research and Development
On April 21st, Revive announced they are entering into a sponsored research partnership agreement with the University of Wisconsin-Madison to evaluate novel formulations and drug delivery technology focused on psilocybin-based pharmaceuticals. They expanded their exclusive license of the drug delivery technology from the Wisconsin Alumni Research Foundation to include all hallucinogenic compounds.
Revive has a worldwide license agreement with WARF for the drug delivery technology in the research and development and commercialization of all cannabinoids and hallucinogenic compounds using the drug delivery technology. The tech initially aims to deliver both synthetic and natural extract of psilocybin in a potential number of ways such as topical gels, creams or ointments, oral or transdermal patches, oral dosages and foams. They are currently evaluating novel oral dosage forms of psilocybin, such as oral dissolvable thin films or tablets, and is working with the Reed Research Group out of the University of Wisconsin-Madison to complete formulation development with the intent to pursue clinical studies for indications currently not being evaluated with psilocybin.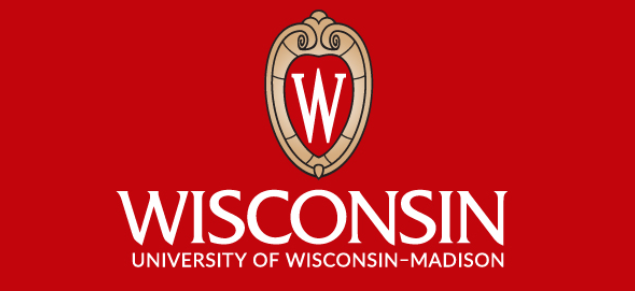 Clinical Development Plan for Cannabidiol in the Treatment of Autoimmune Hepatitis (Liver Disease) Hepatitis
Revive's program is to meet a clear unmet medical need in patients with liver disease. Liver disease is a rare inflammatory condition of the liver that can affect all ages and gender across the world. If not treated properly, liver disease may cause liver fibrosis or cirrhosis requiring a liver transplant, and even death.
The prevalence of liver disease is currently estimated upto 75,000 patients in the U.S. The current standard of care for the disease is the use of steroids alone or steroids combined with azathioprine. It has been noted in medical literature that the current standard of care when used in a certain period of time has caused severe treatment-related side effects in 13%, treatment failure in 9%, incomplete response in 13%, and relapse after drug withdrawal up to 86% of patients with the disease. Therefore, given the unwanted outcomes associated with a steroid-based therapy, an alternative steroid-free treatment option such as CBD, with its known safety profile, may provide a potential solution for an improved treatment strategy for those patients unresponsive to, intolerant of, or non-adherent with a steroid-based therapy for liver disease.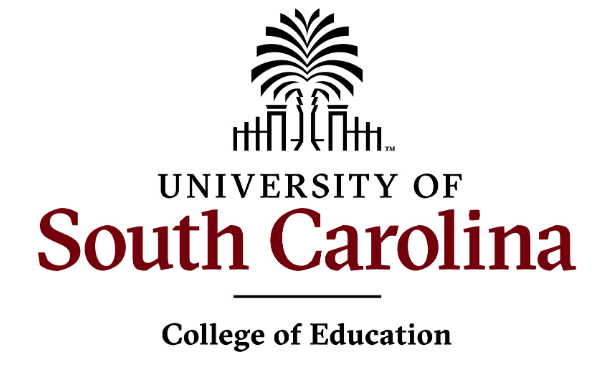 Revive has an exclusive license from South Carolina Research Foundation for its intellectual property for the use of CBD, either in synthetic or natural form, in the treatment of autoimmune hepatitis (U.S. patent No. 8242178). Also, the FDA has granted to Revive orphan drug designation for CBD in the treatment of AIH, which provides valuable incentives that could accelerate the approval process, including seven-year market exclusivity, tax credits on U.S. clinical trials, fast-tracking of regulatory proceedings, and exemption from certain fees, such as waiver of filing fees under the Prescription Drug User Fee Act, and orphan drug grants.
The Patent Portfolio
The company breaks down their patent portfolio for us in their most recent investor deck: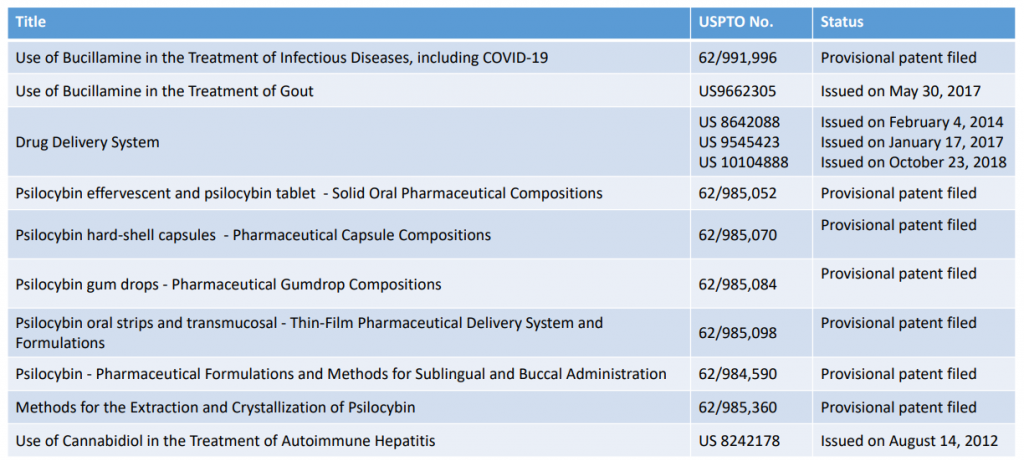 Management Team
A few of the key members of Revive's management team include:
Michael Frank, Chairman and CEO
Michael has a strong background in operations, business development, M&A and the capital markets. In the past, Michael has served as the CEO and Director of Sprylogics International and the Internet of Things Inc., as well as holding senior management positions at Ernst & Young, Data General, and NCR. He has had successful exits in the technology sector including one to Intuit Corporation, and has been instrumental in advising several early stage software companies including a number in the cannabis sector over the last few years.
Carmelo Marrelli, Chief Financial Officer
Carmelo holds a Bachelor of Commerce degree from the University of Toronto and is qualified as a Chartered Accountant and as a Certified General Accountant in Canada. He has been a principal of Marrelli Support Services Inc., a firm providing administration services to Canadian public companies, since February 2009 and, prior to February 2009, a partner with Marrelli & Drake Corporate Services. Carmelo also serves as the Chief Financial Officer of several publicly-listed junior mining companies and as a director of Odyssey Resources Limited, an Exchange listed issuer.
Derrick Welsh, Founder, Psilocin Pharma Corp.
Derrick has 14 years of Health Care experience, with the past 5 years in the Cannabis industry. He has worked with several high profile publicly-traded Cannabis companies such as Xanthic Bio Pharma and Green Growth (CSE: GGB) Brands. Derrick has developed several patent pending formulations such as water Soluble THC and CBD products such as beverages, water enhancers and effervescent tablets.
​William Jackson, Director
William is currently Chief Executive Officer of Atwill Medical Solutions. Mr. Jackson was a cofounder of Covalon Technologies Ltd. (TSXV: COV) and held senior management roles such as Chief Financial Officer, Chief Operating Officer and Chief Business Officer, and director from December 2004 to January 2013. He served as a director of Titan Medical Inc. (TSXV: TMD) from April 2008 to June 2010.
Christian Scovenna, Director
Christian recently worked with Mojave Jane Brands (CSE: JANE), where he was a member of the management team as interim CEO and Senior VP Corporate Finance while also serving on the board as a director. As Managing Director at a boutique firm, Mr. Scovenna led six portfolio companies within the group where he focused on raising capital and business development.
Comparables: Three Categories
From our perspective Revive can be broken down in three different categories for valuation purposes:
COVID stocks
'Shroom' Stocks (Psylocybin)
Cannabidiol Pharma Stocks.
COVID Stocks:
When it comes to the COVID-19 stocks it is difficult to find a direct comparison. Revive recently announced they are in the process of applying for Phase 3 trials for the use of Bucilimine to treat influenza and infectious diseases. Each of these companies comes with different assets, strategies and models, but to put a light on where the valuations can head, we put together the following chart: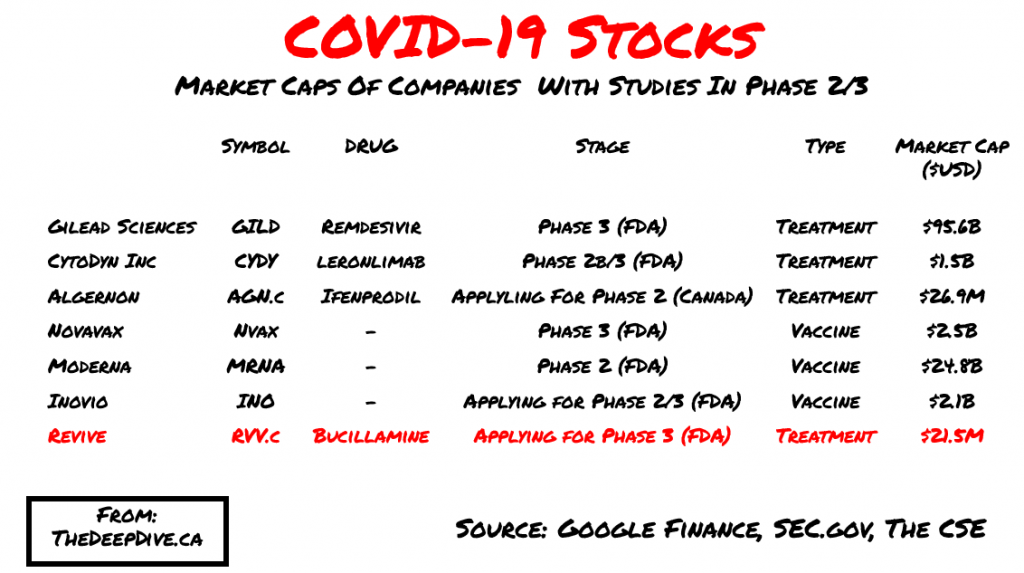 Biotech stocks are a gamble to value. In an article trying to assess the dollar value of a company entering each phase, Bay Bridge Bio attempts to break it down for us here:

This is where Revive is interesting. They went public on a drug that previously made it to Phase 2 and then failed to raise money. With COVID-19 and the search for treatments, suddenly the company finds itself applying for Phase 3 with Doctors offering to help the project that have serious track records. For example, Dr. Boulware studies infectious diseases where he is the Professor of Medicine for the Division of Infectious Diseases and International Medicine at The University of Minnesota. He currently is the principal investigator to test if post-exposure prophylaxis with hydroxychloroquine may prevent progression development of symptomatic COVID-19 disease after a patient has had known exposure to the SARS-CoV-2 virus. Given that Dr. Boulware has attached his name to this project, it safe to assume the project has at least some hope.
Shroom/ Psychedelic Stocks
Revive is also studying novel formulations and drug delivery technology focused on psilocybin-based pharmaceuticals at the University of Wisconsin-Madison. None of these companies are apples to apples. But for the sake of understanding how the market feels about this emerging space, we have broken down the early entrants here: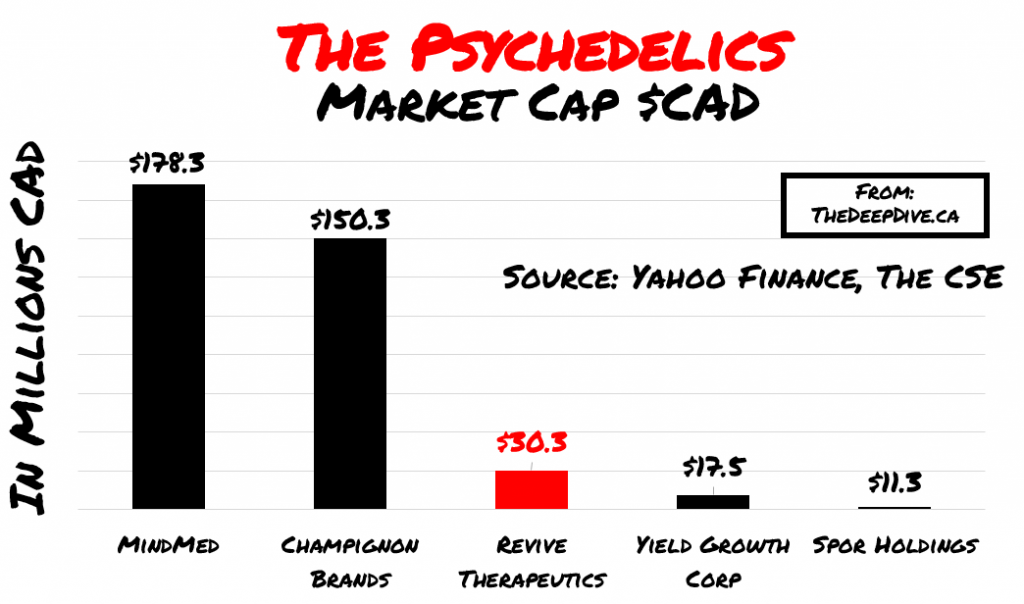 The CBD Pharma Stocks
Revive was granted FDA orphan drug status designation for the use of Cannabidiol (CBD) to treat autoimmune hepatitis (liver disease) and to treat ischemia and reperfusion injury from organ transplantation. The main comparables in the space include GW Pharma, Cardiol and Tetra Biopharma. Again, the purpose of this isn't to do apply an apples to apples comparison but to look at where some level of success has taken each company to in terms of valuation.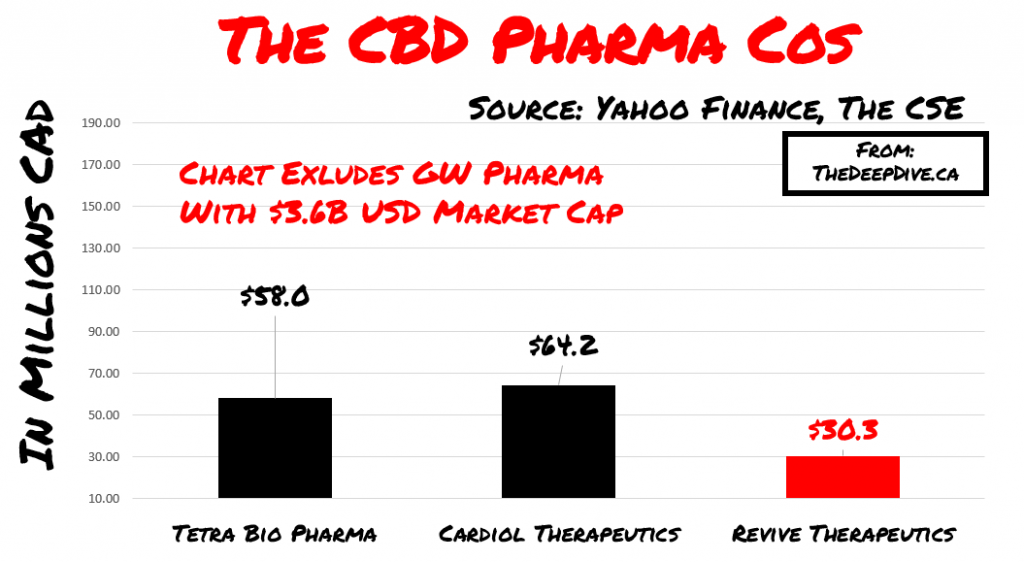 Potential Catalysts
The company has multiple catalysts that could unlock shareholder value to another level. They present us with a list of the potential milestones to look out for in the upcoming quarters: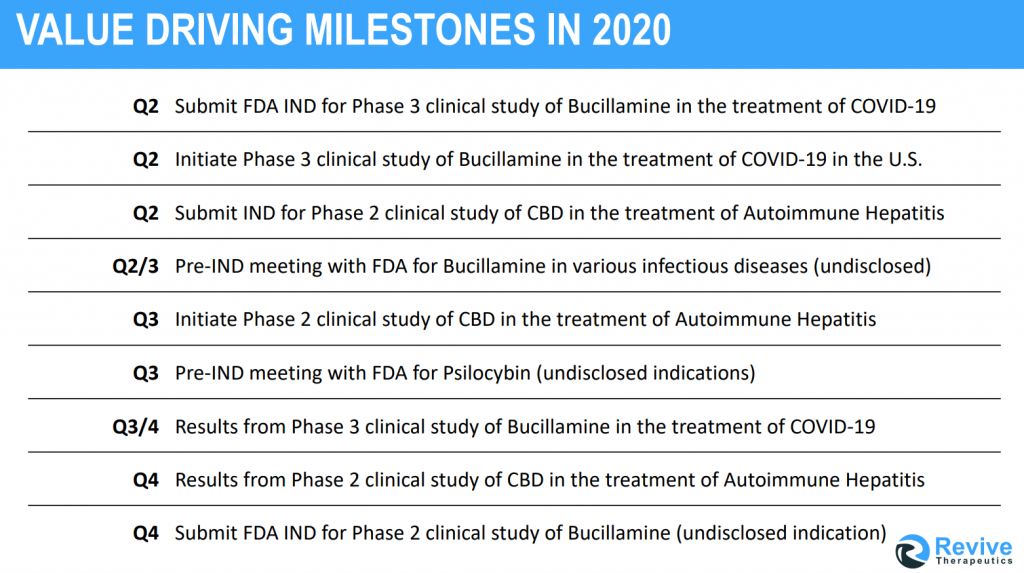 Risks
From our view the largest risks for investors of Revive include:
Failure to progress Psilocybin into Phase 1 clinical studies.
Failure to enter Phase 3 FDA for studying Bucillamine
Failure to enter Phase 2 for studying CBD and the treatment of Liver Disease
Economic activity and the broad market
Regulatory risks with associate the study of psilocybin in the United States
Access to Capital
For a further look at the risks of the Revive Therapeutics investment opportunity, we encourage readers to read the risk section of the company's most recent MD&A posted on Sedar.
Conclusion
Overall we feel Revive is a misunderstood story. Many in the investment community look at Revive and think of them as 'a stock chasing the next hot sector.' From a quick look, it's fair. But if appealing to where investor appetite is roaring is a problem, then every mining company who acquires a new asset in a new area/commodity is guilty of the same. Revive is in the business of acquiring and developing pharma IP; shareholders should applaud them for seeking to enter sectors where capital is available. This isn't a private company with established cash flows, it's a microcap studying biotech that can create massive shareholder value if one of it's patents hit.
Revive has validated everything they are trying with merit. They keep moving the ball forward with Psilocin Pharma Corp and the University of Madison-Wisconsin. Most importantly Buccalimine is a real drug, that has already entered Phase 2 in the past, which is now applying for Phase 3 trials. And giving more merit to this study, the Buccalimine research is being advised by reputable doctors who are leading some of the most important studies involving COVID-19 treatments (see hydroxychloroquine).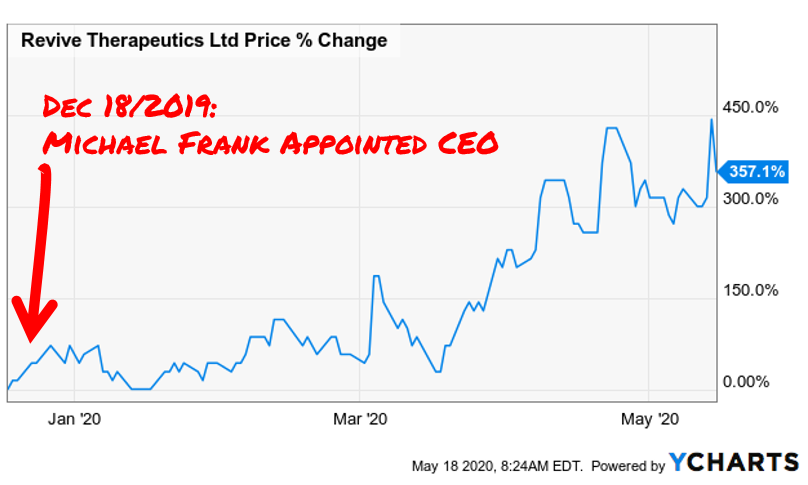 Revive offers interesting optionality for investors. They have three paths to unlock shareholder value through each biotech play. This is a classic venture investment. There is tremendous upside coupled with tremendous risk. In our opinion, given the areas they research, we will continue to see great investor appetite in a stock that has already increased 357% since Frank took over as CEO (12/18/2019) and continues to gain momentum with sector tailwinds at their back.
---
FULL DISCLOSURE: Revive Therapeutics is a client of Canacom Group, the parent company of The Deep Dive. The author has been compensated to cover Revive Therapeutics on The Deep Dive, with The Deep Dive having full editorial control. Not a recommendation to buy or sell. Always do additional research and consult a professional before purchasing a security.