Company Profile: Power Nickel
Power Nickel (TSXV: PNPN) is developing its flagship Nisk high-grade nickel project in the James Bay region of Quebec near the town of Nemaska. The 20 kilometre long Nisk property consists of two blocks totaling 90 claims that cover a large land position of 45.9 square kilometres. The company is focused on supplying raw materials for the rapidly expanding electric vehicle (EV) industry and the batteries required to power them. Nickel is an increasingly important component in the production of lithium-ion batteries, as well as renewable energy technologies.
Formerly known as Chilean Metals, the company also still holds an interest in three Chilean copper properties through its 100% owned Consolidation Gold & Copper subsidiary. Consolidation also holds a 100% interest in the Golden Ivan property located in British Columbia's prolific Golden Triangle region. In order to focus solely on battery metals, the firm is in the process to spin out Consolidation Gold & Copper as a separate public exploration company to Power Nickel shareholders, who will then own shares in both companies.
The Investment Thesis
We base our investment thesis on the following factors:
Power Nickel is aiming to become a leading supplier of Class-1 nickel.
The Nisk project benefits from well established infrastructure in the region.
Mining-friendly Quebec is trying to promote a homegrown electric vehicle and battery industry.

Power Nickel will spin off its British Columbia and Chile assets into a separate public company.

The company has an experienced management team with extensive mining and public company experience.
The Deep Dive views Power Nickel Inc. as a battery metals company with a potentially world-class nickel asset. We view Power Nickel as having upside potential due to the rising demand for high quality nickel and other battery metals. If the exploration activity advances the Nisk project to pre-feasibility, it could potentially become an attractive takeout candidate for a major mining company, and provide shareholders with a lucrative windfall. The project itself will benefit as a domestic nickel supplier to Quebec's emerging EV and battery industries, if the firm is able to get the property to the production stage.
The Big Picture
The current global macro environment provides a bullish catalyst for the demand for nickel, cobalt, lithium, and other minerals used in lithium ion batteries for the electric vehicle industry. According to Bloomberg's 2020 New Energy Finance study, it is expected that by 2050, electric vehicles will account for 65% of global passenger vehicle sales by 2050.
China has the largest share of the global electric vehicle market and the Chinese government is aggressively promoting the shift to EVs to reduce its dependence on energy imports and to reduce its air pollution. European countries are also actively promoting a move away from gasoline-powered vehicles as the continent continues its shift to renewable energy technologies to meet carbon emission standards and achieve carbon neutrality by 2050.
We expect the battery minerals market to grow significantly due to continuing growth of the electric vehicle market caused by a global shift to renewable energy sources, and continued improvement in battery technologies. According to mining giant Glencore, it is estimated that demand from the EV industry will consume 59% of all nickel production output by 2030. EVs require high-purity (99.8%) Class-1 nickel, therefore this bodes very well for nickel explorers such as Power Nickel, who could potentially become become a leading supplier.
The Nisk Nickel Sulfide Project
The Nisk property is located in the James Bay region of Quebec near the town of Nemaska. The property consists of two blocks totaling 90 claims, that cover a large land position of 45.9 square kilometres. The property itself is hosted within the Lac des Montagnes volcano-sedimentary formation that underlies a large part of this region.
The region has excellent infrastructure due to the proximity of the James Bay Hydroelectric plant and a road network that was built to support the local communities and previous mining exploration activities in the area. The Nisk project is accessible by road and a power line cuts across the property, enabling Power Nickel to benefit from the availability of low-cost, low-carbon electricity..
Historical exploration of the property identified numerous high-grade intercepts of Class-1 Nickel, which is highly sought after and relatively rare. The property also has a variety of battery metals mineralization, including copper, cobalt, palladium, and platinum.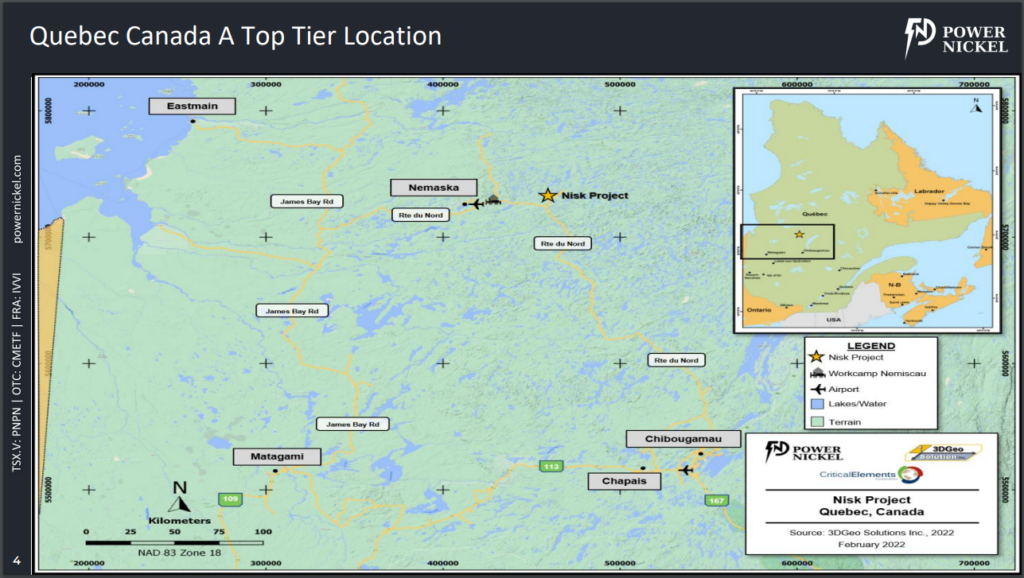 Nisk is considered to be a nickel sulfide deposit and a characteristic of nickel sulfide deposits found around the world is that they appear as pods. This seems to be the case at the Nisk property, where there are a series of pods that the company describes as "a string of pearls," along the strike length of the property. Previous drilling indicates that mineralization is open along strike and at depth, and due to the size of the property, Nisk has the potential to be one of the greenest sources of class-1 nickel in the world while also containing other battery metals.
Although not NI 43-101 compliant, a December 2009 technical report on the property completed by RSW Inc entitled, "Resource Estimate for the NISK-1 Deposit, Lac Levac Property, Nemiscau, Quebec," and filed on Sedar, showed historical resources of the following.
Measured – 1,255,000 tonnes of 1.09% nickel, 0.56% copper, 0.07% cobalt, 1.11 g/t palladium, and 0.20 g/t platinum.
Indicated – 783,000 tonnes of 1.00% nickel, 0.53% copper, 0.06% cobalt, 0.91 g/t palladium, and 0.29 g/t platinum
Inferred – 1,053,000 tonnes of 0.81% nickel, 0.32% copper, 0.06% cobalt, 1.06 g/t palladium, and 0.50 g/t platinum.
Existing drilling indicates that mineralization is open along strike and at depth, and due to the size of the property, Power Nickel recently completed a drill program as it works to confirm the historical resource calculation and to increase additional resources in preparation of filing a new NI 43-101 technical report for the Nisk project.
Just last week, Power Nickel reported the first results from its recently completed 11-hole fall drill program at the Nisk Main Zone. The results are very encouraging, showing that not only has mineralization now been extended at depth by 150 metres and to the east, but also appears to confirm the presence of high grade nickel, copper, cobalt, and platinum group minerals.
So far, assays have been returned for two holes. Highlights include:
Hole PN-22-009: 1.17% nickel, 0.80% copper, 0.08% cobalt, 1.46 g/t palladium and 0.23 g/t platinum over 25.86 metres from a depth of 337.70 metres

Including 1.50% nickel, 0.93% copper, 0.10% cobalt, 1.85 g/t palladium and 0.36 g/t platinum over 11.00 metres

Hole PN-22-013: 1.11% nickel, 0.54% g/t copper, 0.09% cobalt, 0.58 g/t palladium and 0.07 g/t platinum over 4.70 metres from a depth of 475.0 metres

Including 1.60% nickel, 0.54% copper, 0.13% cobalt, 0.65 g/t palladium and 0.06 g/t platinum over 2.50 metres
What makes these results particularly significant is that these holes were drilled in an area where no resource was previously modeled, therefore it represents the potential for increased tonnage for the property's resources calculation.
Assays from nine drill holes remain pending as of the time of writing, with drilling still ongoing. The drill program itself was conducted as a means of confirming the historical resource calculation, while at the same time increasing tonnage for a fresh NI 43-101 resource estimate.
"The initial assays of our fall program are very encouraging for Power Nickel shareholders. These holes were drilled in an area where no resource was modeled and as a result, will not only help us better understand our deposit but also of course add substantial tonnage to our model. The PN-22-009 hole in particular shows that there will be solid very high-grade sections of the deposit which will raise resource grade and improve economics in any future mine plan. From what we have seen in this drilling round we believe our aspiration to become Canada's next Nickel mine is something our drill bit is turning into a very high probability outcome," commented CEO Terry Lynch upon the release of the results.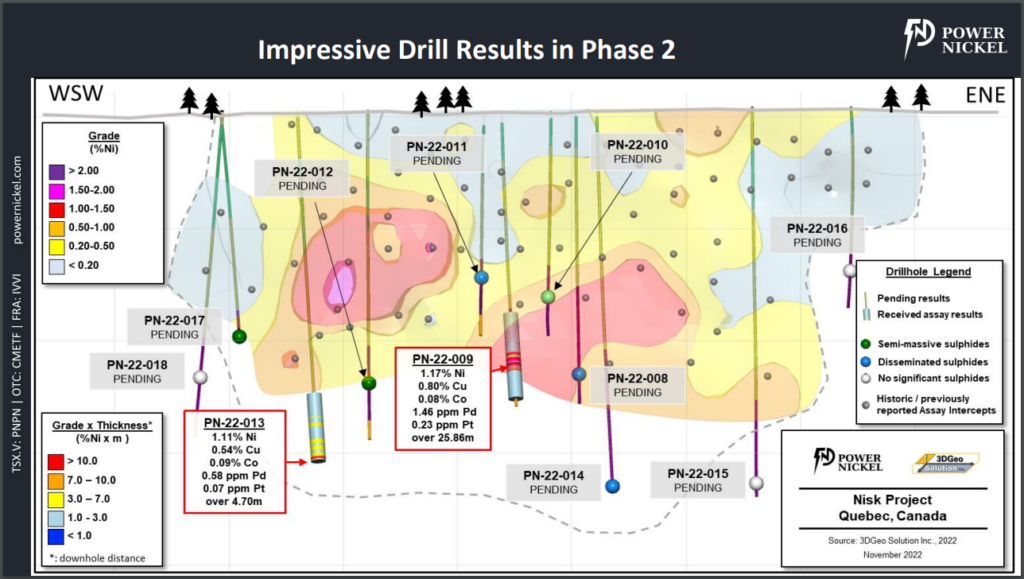 The Management Team
Terry Lynch – Chief Executive Officer
Mr. Lynch holds a joint honours degree in Economics and BBA from St. Francis Xavier University. Before joining Kingsmill Capital where he advised public and private early stage growth companies, he operated and served in senior executive roles with startup companies in a range of industries, including industrial products, oil & gas, biotech, and media. Mr. Lynch served as a director and CEO of TSX-listed Firstgold Corp, as well as serving as a director with a number of other public companies.
Peter Kent – Chairman of the Board
Mr. Kent is a commercial corporate lawyer with over 25 years of business experience. He formerly served as Vice President, General Counsel, and Corporate Secretary. with the TecSyn Group of Companies.
Greg McKenzie LL.B, MBA – Director
Mr. McKenzie earned his law degree from Queen's University and a MBA from the Ivey Business School at Western University. He has over 20 years of experience as a senior investment banker with a number of prestigious investment banking firms in New York and Toronto specializing in financing, M&A, financial advisory, valuation, and strategic advice primarily to mid-cap companies. His transactions are valued in excess of $18 billion in aggregrate across a broad range of industries, including metals & mining, industrials, consumer products, technology and healthcare.
Les Mallard -Director
Mr. Mallard holds a BA in Economics from the University of Prince Edward Island with a BA in Economics and has spent over 30 years in the Canadian Produce Industry, serving in various capacities with Chiquita Canada and Chiquita Brands North America. Upon retiring from Chiquita, he founded Mallard Produce Solutions, a consulting firm focused on providing North American and Latin American clients business solutions to expand their market potential.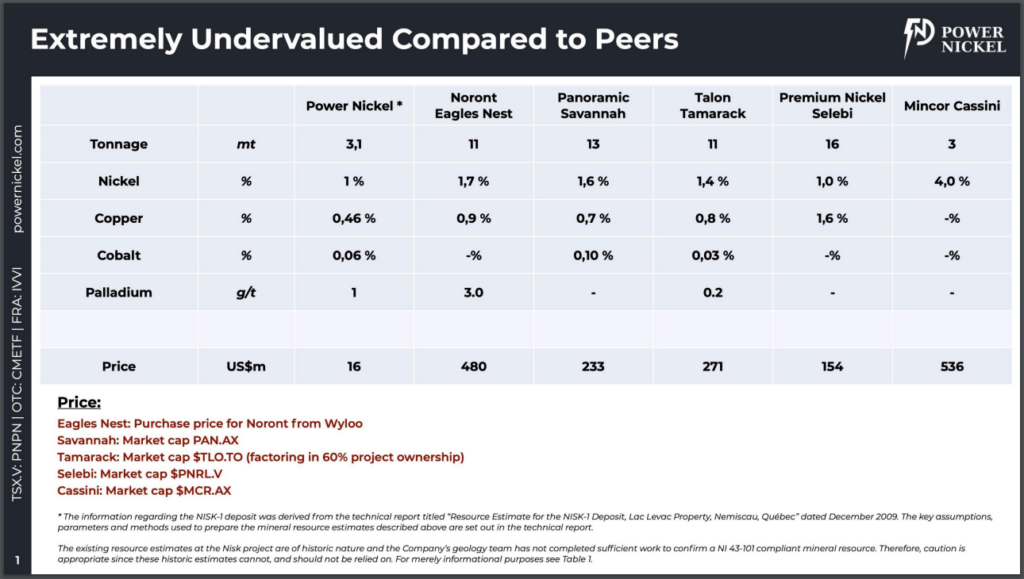 The Risks
From our view the following risks are worth considering.
Price of Nickel and other battery metals. Just as nickel and base metal prices can be a catalyst, a potential decline in price would have a negative impact on exploration and producer stocks.
Exploration Results. If there are poor exploration results reported from the project, this could adversely affect price performance of the stock.
Jurisdictional Risk. While Quebec is a highly regarded mining friendly jurisdiction, any serious environmental issues could negatively impact the project..
Market Sentiment. Markets can fluctuate wildly as investor expectations can change rapidly depending on the two most common drivers; fear and greed.
For further potential risks, please see the most recent MD&A filed by the company.
The Potential Catalysts
Some of the potential catalysts we see that could have a large impact on the share price include:
The price of Nickel and Cobalt. The most obvious variable for any metals explorer, developer, or producer is the price of the underlying commodity. As the prices of nickel and cobalt rise so does the net asset value of projects rise, which increases shareholder value. We expect nickel and cobalt prices to rise as demand from the electric vehicle industry overtakes the general global industrial demand over the next decade.
Continued project development. The company is currently in the process of conducting a drill program as it works towards potential production on the property.
Growth of the Electric Vehicle Market. The electric vehicle (EV) market will expand exponentially over the coming decades as global governments mandate their use as a means of replacing gasoline-based vehicles to reduce emissions and meet carbon targets.
Potential future Merger and Acquisition activity. The Deep Dive believes we are in the early stages of a secular bull market for metals. We see potential for PNPN itself to become an acquisition target by a larger entity looking to expand into nickel, cobalt and other battery metals as the property continues to be developed.
Supply of Nickel. The supply of nickel has declined in recent years as mines have depleted reserves and not very many new mines have come on stream, or are even in the pipeline. Demand by the electric vehicle industry has sent explorers seeking to find new deposits to fill the rising demand.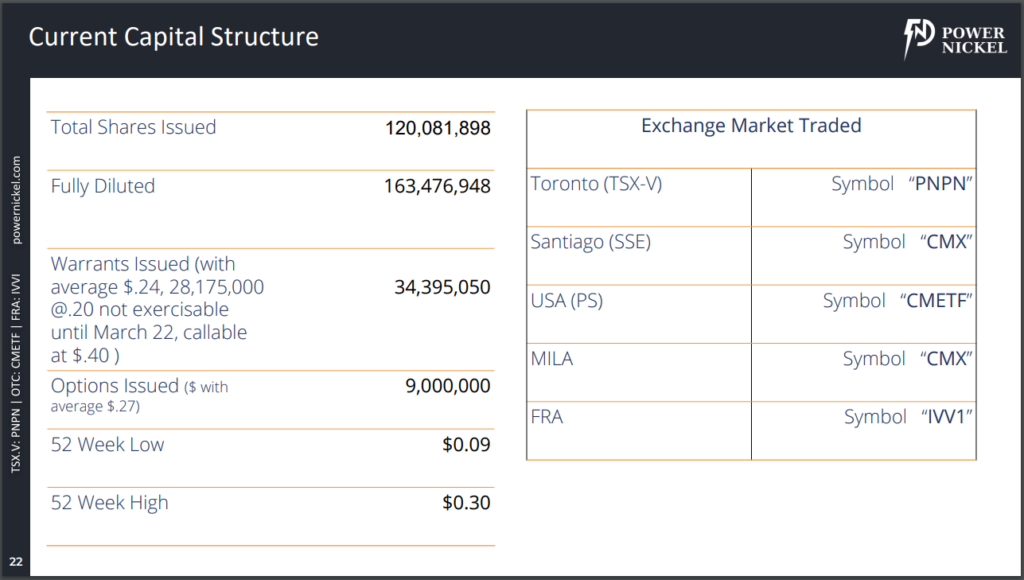 In Conclusion
At the Deep Dive, we like the macro prospects for nickel and other battery metals, and the underlying fundamentals would suggest we are in the early stages of a battery metals bull market. We especially like projects in safe, mining friendly jurisdictions. Nickel is benefiting from the recovering post-pandemic economy as well as extraordinary demand from the EV industry that is expected to consume 60% of available supply by 2030. This should bode well for nickel and other battery metals as other industries compete for their supplies.
We view Power Nickel as an interesting situation due to its potential high-purity Class-1 nickel project in Quebec, which is aiming to become a leading hub for EV and battery manufacturing, which will seek domestically (and more importantly, locally)-sourced raw materials. Meanwhile the pending spinout of Consolidation Gold & Copper could provide a value add for shareholders.
With 120.1 million shares outstanding and a market capitalization of $19.69 million, Power Nickel is in a great position to continue to advance the Nisk project into potentially becoming Canada's next nickel mine and become a supplier of Class-1 nickel to North America's EV battery manufacturers.
---
FULL DISCLOSURE: Power Nickel is a client of Canacom Group, the parent company of The Deep Dive. The author has been compensated to cover Power Nickel on The Deep Dive, with The Deep Dive having full editorial control. Not a recommendation to buy or sell. We may buy or sell securities in the company at any time. Always do additional research and consult a professional before purchasing a security.