Investment Thesis

CloudMD Software & Services (CSE: DOC), previously known as Premier Health, is a forward-thinking healthcare technology company in Canada that uses software as a service (SaaS) to connect patients, doctors, clinics and pharmacies with the goal of eliminating inefficiencies in the current brick and mortar-based system. The firm has utilized technology and artificial intelligence to develop programs that offer telemedicine offerings to patients, and in doing so, improving the efficiency and effectiveness of trained medical practitioners.
The investment thesis for CloudMD is focused on the following main points:
Access to quality healthcare within Canada has become an increasingly prevalent problem, with patients subjected to long wait times and lost work time.
Continuity of care within Canada is virtually non-existent due to fragmented systems across countless medical offices.
Telemedicine offers an opportunity for medical offices to reduce overhead expenses while increasing patient access to care.
Embracement of technology by medical clinics will allow for greater efficiencies.
Pharmacies currently turn away numerous patients per day as a result of expired prescriptions that require a doctor visit for refill.
Introduction
Primary health care is vital to Canadians; it provides continuous and comprehensive care and serves as the initial point of contact for all health services in both rural and urban areas. However, according to a recent Statistics Canada survey, Canadians feel they are not receiving adequate primary care in their communities, citing the most common frustration as long wait times, lack of access to physicians, and insufficient information and advice.[1] Moreover, the growing dissatisfaction with primary care can be largely attributed to increasing healthcare costs, shortage of primary care doctors and nurses, lack of accessibility, and inefficient use of healthcare resources.
With healthcare frustrations mounting, Canadians are looking for improvements. CloudMD acknowledges the shortcomings in primary care and is introducing a new multidisciplinary model of healthcare delivery that encompasses technology to reduce inefficiencies and focus on quality and continuity of care for patients. Currently, CloudMD has developed proprietary technology to deliver quality healthcare through the combination of connected primary care clinics, telemedicine, and artificial intelligence.
Given the current state of healthcare within Canada, CloudMD is focused on positively impacting the patient experience within the health sector. Through the use of telemedicine, combined with the firm's electronic medical record (EMR) technology, CloudMD is focused heavily on improving continuity of care for patients, while improving operational functions for medical clinics.
Who is CloudMD?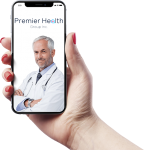 CloudMD is a Canadian based healthcare firm focusing on innovative healthcare approaches that combine human skill-based expertise with emerging technologies. The strategic goal of CloudMD is to address the growing inefficiencies in Canadian primary health care and improve the patient and doctor experience.
The company plans on achieving this through four main portals:
Patient focus:
Deploying a patient portal which enables patients within the company's EMR access to telemedicine visits, 24/7 online booking and secure chat with medical professionals.
Increasing accessibility to convenience care by offering a direct to consumer doctor on demand service. This includes offering telemedicine kiosks within pharmacies.
Physician focus:
CloudMD will assist physicians and medical staff through applications that utilize the patient portal to provide basic office functions such as access to book appointments online 24/7, following up with patients, and ensuring that general clinic inefficiencies are kept to a minimum. This allows physicians to be more focused on their patients rather than paperwork and office duties, and thereby increases billable hours on a daily basis.
Integrated software applications that include electronic record keeping of patient files, medical billing, telemedicine, and educational platforms that the physician can refer to for support, and prescription decisions     
Industry Background
Currently, there are shortcomings in the medical field; the delivery methods as well as access to primary care are not adequate, and patient records are fragmented with physicians relying on the patient's own recollection of their medical history. As a result, the demand for telemedicine and continuity of care has increased. Consumers' lives are becoming busier, and access to straightforward and swift primary care is even more vital.
Companies such as CloudMD have addressed some of the deficiencies in primary medical care, such as increasing access for patients, and reducing costs for medical clinics. This is predominantly done through offering services such as telemedicine, where the patient can conduct their doctor's appointment through an app anywhere – from home or directly from their office desk. With technology becoming more and more readily available to consumers, patients are seeing first-hand the benefits of a shift towards digital delivery of care. Patients are more empowered than ever to be engaged and involved in their health and wellness.
The Model
CloudMD is focused on increasing the quality of primary care, while utilizing the benefits of increasing technology and AI. Focusing on the patient, CloudMD introduces three unique models of healthcare, including a telemedicine app, pharmacy kiosks, and more efficiently run primary care clinics. Then, focusing on reducing inefficiencies for clinicians, CloudMD offers software applications that drastically improve the EMR system, billable hours, and utilize AI to perform basic office tasks.
MyHealthAccess App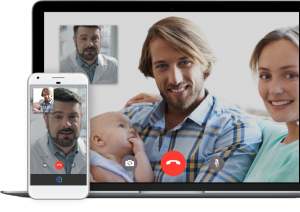 The MyHealthAccess app allows patients to receive convenient care using their smartphone from the comfort of their own home. When utilized by patients, the patient will be able to visit and interact with their health team on their time. The app also enables patients to book appointments, review medical charts and lab results and reorder prescriptions. Best of all, they can skip the waiting room and see their doctor remotely, whether from home or the office. Thus, removing the hassle of sometimes costly or time-consuming visits.
MyHealthAccess also benefits the doctor, enabling them to bill for a visit that requires less operational overhead than that of an in-office visit. Using the integrated symptom checker, the patient will answer a series of questions ahead of their appointment, which will be relayed to the doctor along with a differential on possible diagnoses. This information will be prepopulated to the physicians Juno EMR software and will provide key patient information prior to the scheduled virtual visit. Thus the required time per visit is reduced, as a result of all data being available via the fully integrated Juno EMR system that the doctor utilizes to conduct the visit, and less time being consumed from going to room to room to interface with patients.
CloudMD's MyHealthAccess mobile app is currently utilized by over 80,000 patients across Canada.
Pharmacy Kiosk
The patient can receive the same services offered through the MyHealth Access app, but at a private kiosk located at the pharmacy. This is beneficial for individuals that may need a time-sensitive refill on their prescription which requires a doctor consultation beforehand, or for those that feel more comfortable with a telemedicine consultation where they can receive guidance from a nearby pharmacist.
Currently, CloudMD has acquired two pharmacies, which will be equipped with telemedicine kiosks in the near term.
Revenue from this model comes from two separate streams, which highlights the benefits for CloudMD:
The pharmacy will be charged a monthly recurring fee for housing the kiosk;
CloudMD will charge the BC Medical Services Plan (MSP) for BC-based patients and privately to other provinces, similar to a traditional in-office visit.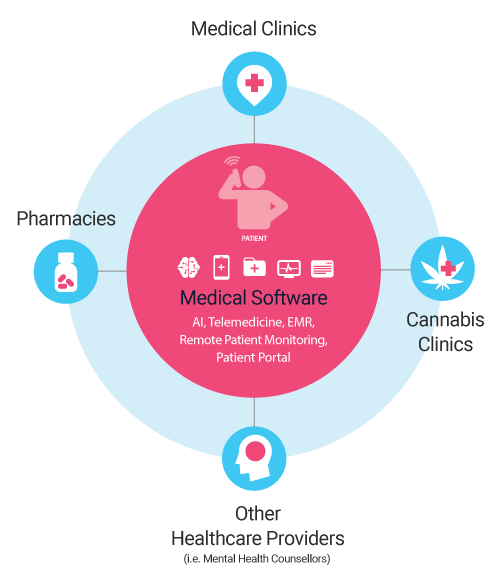 The pharmacy itself is responsible for the monthly fee for the use of the telemedicine kiosk, however the benefit is that patients who utilize the kiosk are most likely to have issued prescriptions and refills filled at the pharmacy based on ease of use. Data collected by pharmacies suggests that eight individuals per day or more are refused refills on expired or consumed prescriptions, which requires a doctor visit for renewal. By having the kiosk, the pharmacy is able to capitalize on these lost sales by enabling the client to see a doctor immediately.
CloudMD's pharmacy kiosks are set to be implemented in the near term within several pharmacies in British Columbia. The firm has a 2020 operational target of having these kiosks also implemented in pharmacies across Alberta and Ontario.
Juno EMR
EMR, or electronic medical records, are the digital equivalent of paper records and charts that are used by the physician's office. EMRs contain the patient's treatment and medical history – collected and kept at the patient's individual medical clinic.
CloudMD's Juno EMR software system offers many additional services than that of basic EMR software. Namely, it is cloud-based, so physicians can access it from anywhere using a web-browser. In addition to record keeping, the Juno EMR can access the entirety of the patient's medical history from any previous clinic that also utilizes Juno – vastly improving current continuity of care standards within Canada. The program will eventually be equipped with a virtual AI assistant for symptom checking to compile patient data prior to the actual visit and is also fully integrated with telemedicine connection for the physician to securely chat with the patient.
The Juno EMR software is also integrated with clinical decision support (CDS) tools, which will soon be expanded to include an evidence-based medical cannabis decision tools to provide physicians with a safe and secure way to qualify, educate and prescribe medical cannabis.
In terms of revenue, Juno generates monthly recurring revenue for CloudMD from the clinics across Canada that have implemented the software. Additional add-on services, such as the implementation of telemedicine or the virtual medical office assistant (MOA) also offer areas for recurring revenue expansion within the Juno software, while also increasing benefits for medical clinics.
Juno EMR is currently utilized by over 315 Canadian clinics across 8 provinces. The result of this scale is that over 3,000 practitioners use CloudMD's software on a daily basis, to serve more than 2.87 million registered patients. Their integrated medical billing software called ClinicAid bills over $30.0 million on a monthly basis, resulting in significant data collection. Implementation of additional add-on services thus yields a significant potential growth segment for CloudMD.
Virtual Medical Office Assistant
CloudMD is working directly with IBM to help build and integrate Watson AI as a virtual medical office assistant (MOA). This solution will allow medical staff to focus on patient-care activities while the virtual assistant performs administrative tasks such as booking appointments and helping triage care with the overall goal to increase clinic efficiency and reduce burdensome overhead and burnout.
The Virtual MOA solution will generate a monthly recurring fee for CloudMD, while also being fully integrated into the Juno EMR system to capitalize on maintaining a centralized database for patient records.
Management Team
Dr. Essam Hamza, MD – CEO, founder
Obtained a medical degree and family practice degree from the University of Alberta
Has substantial experience in capital markets
Has funded and created public companies, and has sat on public company boards
Dr. Hamza has founded HealthVue, which grew into 4 advanced clinics that serve over 100,000 patients
Kanchan Thindal, MBA – COO
Obtained an MBA from the University of Toronto
Worked at Scotiabank's head office prior to joining the management team at CloudMD
Has previous experience working with start-ups in the healthcare and technology spaces
Mena Beshay, CPA, CMA, CFE – CFO
Graduated from McGill University with a BCOMM in accounting and finance
Over 16 years experience in accounting, auditing, and entrepreneurship fields
Previously employed at Deloitte, Enercare, and Domtar
Obtained accounting designations in both Canada and US
Comparables
There are two currently public comparables to CloudMD. Teladoc, a telemedicine company that uses telephone and videoconferencing technology to provide on-demand remote medical care via mobile devices, Internet, video and telephone. And Well Health, who operates 19 medical clinics and provides EMR software and services to 852 medical clinics across Canada.

Share Structure (As of 6/30/2019)

Risks
One of the most common questions we receive at the Deep Dive when chatting with brokers, fund managers and analysts is "What are the risks?" In this case, CloudMD has an incredible upside, but we want readers to understand the variables and risks associated with the upside.
Healthcare Regulations
Although healthcare in Canada is conducted through Health Canada and is federally funded, each province sets its own jurisdiction in terms of healthcare services billing. Consequently, some provinces currently do not fully reimburse the patient for telemedicine services; however, industry lobbyists are focused on modifying the current billing structure. This could impact the revenues generated from telemedicine billings in jurisdictions that currently do not fully reimburse patients for telemedicine visits.
Dependence on key personnel
The company's future is reliant on the success of the executive leadership team. If top management is not successful in retaining or acquiring employees that possess adequate skills necessary for company operations, then profits and growth may be impacted. Additionally, if members of the executive team abandon their positions or pass away, the firm's success may be significantly impacted.
Cyber risk
Cyber risk is inherent in any technology focused company, especially when it comes to patient medical records. Despite CloudMD's exercise of safety measures to limit or eliminate cybersecurity risk when using and creating software, some services may become compromised via cyber threats. Risk may occur if someone gains unauthorized access to confidential information, such as patient data, financials, or sensitive material. If someone does gain access to CloudMD's data, decreased revenue, additional regulation compliance, or damage to reputation might occur, resulting in a material impact to CloudMD's operations.
Physician Cooperation
The services that CloudMD offers are incorporated with advanced technology; this may cause some physicians to be uncomfortable with transitioning towards new medical care delivery methods, thus impacting the firm's projected growth and revenues. Adding additional physicians will be crucial for CloudMD to the success of CloudMD's business strategy.
Patient Cooperation
As previously mentioned, CloudMD encompasses technological advancement in the delivery of primary care; besides physician skepticism affecting the firm's success, patients may be reluctant to engage in the services that CloudMD offers. This may be due to patient data concerns, or patients may not perceive the quality of care offered through telemedicine being the same as a doctor's visit.             
For further risks that may be associated with CloudMD, refer to the firm's latest MD&A release.
Conclusion
CloudMD is a firm that is solely focused on two tasks: improving patient access to quality medical care and providing technological solutions to medical clinics. The firm over the last year has taken a series of steps to operationalize this objective, including acquiring two pharmacies, as well as four medical clinics as a means of having a proof-of-concept for the new offerings they seek to provide.
With the proof-of-concept showing positive results, the firm is focused on expanding the implementation of these technologies in the near term, generating significant recurring revenues in the process. Given the ongoing social acceptance of telemedicine and technology adoption, CloudMD provides a reasonable path to profitability as its services expand amid continued adoption.
Through their four primary technological offerings, CloudMD is on a path of increasing healthcare accessibility to Canadians, while providing viable solutions to medical practitioners in the process.

---
[1] Statistics Canada, "Health at a GlanceDifficulty Accessing Health Care Services in Canada Health at a GlanceDifficulty Accessing Health Care Services in Canada," Difficulty accessing health care services in Canada, December 8, 2016, https://www150.statcan.gc.ca/n1/pub/82-624-x/2016001/article/14683-eng.htm)
---
FULL DISCLOSURE: CloudMD Software & Services is a client of Canacom Group, the parent company of The Deep Dive. The author has been compensated to cover CloudMD on The Deep Dive, with The Deep Dive having full editorial control. Not a recommendation to buy or sell. Always do additional research and consult a professional before purchasing a security.