Riverside Resources (TSXV: RRI) (OTCQB: RVSDF) (FSE: R99) is a Canadian mineral exploration company headquartered in Vancouver, Canada with gold, silver and copper developing projects in Canada and Mexico. The company holds strong large mineral assets with high quality exploration mining partners BHP, Hochschild Mining, and others.

Riverside has major shareholders such as Rick Rule from the Sprott Global Resource Investment Fund and Adrian Day from the Adrian Day Asset Management, a strong committed long-term holding group from Europe and focused proven unwavering management. The Company is armed with a healthy treasury, a vast collection of proprietary mining related databases and strong strategic partnerships with the world's largest mining company, BHP.
Riverside is taking advantage of this increasing gold and commodities bull market by working to deliver demonstrable value to its shareholders through its projects and particularly the upcoming exploration drilling and ensuing results during this critical time in the resource development industry.
Investment Thesis
The thesis for Riverside is based on several key factors:
Riverside's business model is focused on mitigating risk in the mineral exploration-mining sector.

This is strategically very important, with the firms business approach delivering this as it has over the past nearly 15 years. The unique approach continues to give shareholders the upside of success while limiting the downside of failure through its joint-venture and prospect generator business model.

Riverside does this through its innovative business model of holding a healthy portfolio of projects that are advanced through limited shareholder dilution and with the use of partner funding. This model represents an excellent way of maintaining and growing a strong shareholder value by considering that for every $1 Riverside has spent on exploration, the company has generated ~$2 in partner funded exploration.


Riverside's project portfolio is well diversified.

By having a wide array of high quality exploration projects at different development stages and in multiple stable jurisdictions, the company is enabled and well positioned for long term success. Similarly, Riverside's project portfolio lends solid exposure to the current precious metals bull market by providing an upcoming series of simultaneous discovery drilling activities on multiple projects with multiple partners at the same time, enabling many shots for success with silver and gold without diluting Riverside treasury.


The Riverside executive team has wide-ranging experience across the minerals sector.

Perhaps the most critical parameter that determines a company's success is its team. Riverside has assembled one of the best teams in the business with decades of collective experience across a range of functions. Riverside's technical team has worked with companies such as BHP, Rio Tinto, Teck, Argonaut Gold, Yamana Gold, and Freeport.

This highly experienced team is led by its CEO, Dr. John-Mark Staude, who himself has accumulated over 25+ years of experience in the industry, along with a degree from Harvard University and a Ph.D from the University of Arizona. Dr. Staude has never sold a single share of Riverside and continues accumulating Riverside shares in the company.


The new case for gold following numerous macro economic events.

The current macro-economic environment, driven as it is by central bank balance sheet expansion, money printing and overall economic uncertainty has created a bullish environment for gold. The covid-19 pandemic has only accelerated this price appreciation which has in-turn tipped several gold exploration projects into being economical.

To the extent that Riverside has a healthy portfolio of gold projects, this new gold bull market bodes well for the company and Riverside has jumped on this with the recent spin-out shares to shareholders of Capitan Mining (TSXV: CAPT) and continues with the next gold catalysts.
Riverside's Unique Business Model
Riverside Resources follows the prospect generator business model, leveraging the company's 23 diverse databases including its proprietary 75,000+ location mineral occurrence database. This data is then applied with computer machine learning and integrated with partner information, such as world mining leader BHP and others to give the experienced technical team at Riverside unique tools to discover and acquire the best quality exploration assets.
With a recent history of multiple discoveries and spinouts, Riverside checks many of the guidelines investors use to pick junior gold mining stocks:
Well financed
Tight share structure
Strong balance sheet and no debt
Experienced management with a history of prior discoveries
Top tier projects with joint ventures or partnerships and new discovery drilling
Due to its current model, Riverside has managed to go over 14 years without blowing out its cap structure while delivering value to shareholders with relatively less risk, and by using partners to fund and de-risk assets that it owns or controls. Riverside further works to retain royalties on projects and progress these with partners, thus limiting the share dilution and providing the opportunity for value from upside of discovery and development.
Riverside's healthy project portfolio is being advanced through funding partnerships and discovery drilling with such world class partners as BHP and Hochschild.
The Management Team
John-Mark Staude, President & CEO
John-Mark Staude holds a Ph.D. in economic geology and has over 25 years of diverse mining and exploration experience in precious and base metals. He earned a Master of Science from Harvard University in 1989 and a Ph.D. in economic geology from the University of Arizona in 1995.
Mr. Staude has led Riverside forward with passion and focus, not being a director of other businesses but focused on creating value for shareholders in Riverside. Mr. Staude worked with major producers like BHP, Teck, and Rio Tinto. His technical and managerial experience spans more than 30 countries in diverse geologic environments with a focus on Canada and Mexico. Through Riverside Resources, Mr. Staude will continue to build strong portfolios and profitable businesses through prospect generation, multi- stage partnering and drill discoveries.
Freeman Smith, VP Exploration
Freeman has 18 years of work experience in the minerals industry focused on generating and evaluating exploration properties primarily in the Americas. Freeman has worked primarily with prospect generators, forming his first company in 2005 (BCGold) focussing on the western cordillera in BC and the Yukon.
Mr Smith has also worked in Mexico with the prospect generator (Oro Gold) which defined the Tanuas deposit (Marlin Mining) and the El Compas deposit (Endeavour Silver). Subsequent to this, he formed Goldplay Exploration which is a project generator focused in Latin America. Freeman has also worked in the greenstone belts in Northern Canada and Ontario-Quebec (Integra). Throughout his 18 years of work experience, Freeman has held the position of exploration manager, VP of Corporate Development and CEO with junior exploration companies based in Vancouver.
Erika Sweeney, Manager For Exploration and Business Development
Erika is highly experienced in mineral exploration having worked in mine sites and exploration in Canada, USA, Mexico and other countries with a profound passion for discovery and building great companies. Erika is driven for success and contributes actively to Riverside's growth objectives including overseeing drilling in Mexico and generative work in Canada.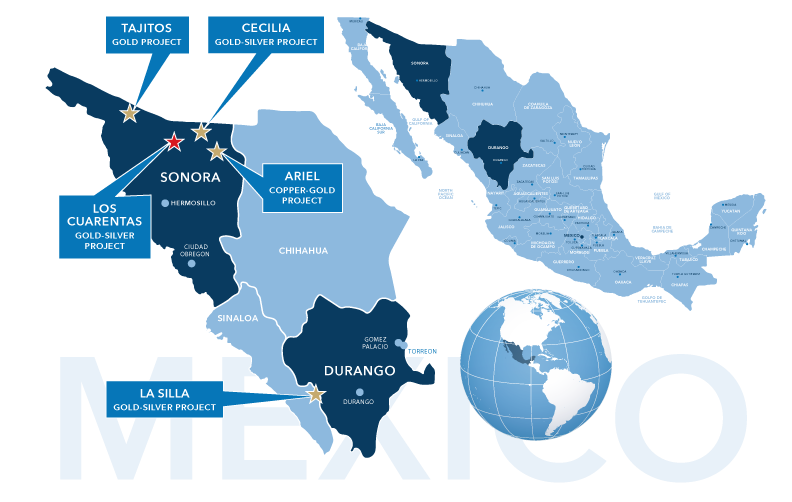 The Inherent Risks
Exploration Risk.

A key risk for any exploration stage company, including a prospect generator, is that exploration results turn out to be less than ideal. At the same though, a prospect generator is able to mitigate most of this risk by having a portfolio of projects that are being advanced in parallel using partner funding so the unsuccessful projects may be dropped but the costs have not been on the company balance sheet due to using OPM of partners.


Market Risk.

A public company will always have market risk, but when it comes to mining stocks that are sometimes categorized as speculative in nature, the risk is that market sentiments shift towards other industries such as cannabis or cryptocurrencies. This is why it is always important for any public company to have a good shareholder base that is there for the long haul and capital in the bank to act when others don't.


Commodity Risk.

The current bull market is being driven by gold, and many are predicting a silver and copper bull market to follow. To the extent that sentiments on certain commodities will shift over the next few years, this certainly creates some risk insofar as a company's exposure to specific commodities at any given time.


Global Public Health Risk.

While the aforementioned risks have always been there, this new form of risk, brought on by the global pandemic, will certainly play a part as the pandemic continues to grow and expand around the world. With that being said, Riverside has been working safely throughout the pandemic and has been able to generate two joint venture partnerships while renewing its copper generative program with BHP into it's 2nd year with increased funding.
The Catalysts For Riverside
The price of gold.

The most obvious variable for any gold prospector, explorer, developer or producer is the price of gold. Simply put, as the price of gold goes up, the net asset value of projects go up, which make the companies more valuable.


Broad economic indicators.

Given the recent COVID stimulus packages which have seen a massive number of jobless claims, the assumption is that governments and central banks will take on debt funded through quantitative easing (money printing) to fill the gap. This in turn is expected to positive impact the price of metals.


The results of upcoming drill programs.

Riverside's upcoming series of discovery drilling activities will be progressing on multiple drill programs simultaneously, providing shareholders with a number of discovery chances in gold and silver.


Partnership with Hochschild Mining.

Plans are now underway for Riverside to deliver a robust exploration program at its partner-funded Los Cuarentas Project with Hochschild Mining. Results from this exploration program (investing a total of US$8 million) should result in robust news flow in the months ahead. A key value creation outcome will be the discovery re-rating of the project like was seen for Silvercrest Metals with their good rise at Las Chispas project just 20kms to the east.


Generative exploration with BHP.

Riverside has continued its exploration funding agreement with BHP, and is now progressing to its 2nd year in this partnership with increased funding of additional 50%. This is a result of the targets having been positive while the current outlook is favorable for copper discoveries. To that end, Riverside has acquired five (5) new properties for the BHP program. Lead generation and copper discovery are the key drivers for this partnership stretching into the future, giving Riverside a strong portfolio for years to come.


Growing the portfolio.

As a prospect generator, Riverside takes its project portfolio very seriously. New project acquisitions and portfolio expansion continue to be at the forefront of the company's growth strategy. With a strong roster of Mexico projects, the company has turned its attention in the last year to Canada, having acquired four (4) high-quality projects in western Ontario's Greenstone belts.


Exploration, Exploration, Exploration.

Continued exploration at Riverside owned projects in Mexico and Canada remains a standing feature of the company's growth agenda. As an example, new targets have been identified and permitted for drilling at the Cecilia Project in Mexico and other targets are being advanced at Riverside's Ontario projects for further exploration.
In Conclusion
Mining is not an easy business. The risk of failure can be high. Single asset companies are commonly teetering on the edge, trying to manage sentiments around commodity price, jurisdiction, grades, tonnage and so forth. In Riverside Resources, an investor is able to mitigate a lot of the usual risks associated with exploration stage companies.
Riverside's prospect generator business model is built for long-term success, where exposure to multiple projects that are advanced using partner funding enables demonstrable shareholder value creation. That the macro-economic environment is now in favour of this sector, as it is being led by the upward momentum in the gold price, bodes well in the near term. For Riverside Resources, the near-term tailwinds certainly are a boon to its growth plans, and given that the company was built to last, these tailwinds are only an added push in the company's long term growth and success.
---
Riverside Resources is a marketing client of the CanaCom Group. This is not intended to be used as financial advice. This Report is meant for general information purposes only. This report is not a buy or sell recommendation. The authors are not licensed financial advisors. We encourage readers to seek a licensed financial professional in making investment decisions. Please do your own due diligence and understand the risks before investing.
The information collected for this Report is collected on a best-efforts basis, and/or may not accurately reflect up to date information. All charts and diagrams refer to the prices as of market close September 26, 2020.
For more information, please email info@canacomgroup.com – or contact us on twitter @thedeepdive_ca