SKRR Exploration Inc. (TSXV: SKRR) is a Canadian junior mining company with gold exploration operations in the mining friendly jurisdiction of Saskatchewan, led by a team of distinguished veterans of the mining industry with extensive knowledge and experience in the region.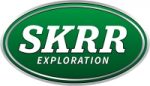 With major discoveries to their credit, the management team brings their project development expertise to SKRR with the intent of finding and developing Saskatchewan's next gold mine. The Company has three main projects in the under-explored Trans Hudson Corridor in Saskatchewan, in close proximity to the Seabee and Santoy Mines 125km northeast of La Ronge.
The Investment Thesis
The current global macro environment provides a bullish catalyst for the price of gold due to a spike in gold demand from central banks as they expand their balance sheets to fill the gap in GDP from reduced productivity. Mining industry gold reserves are down almost 60% in the past 8 years and are currently at a 30-year low, and combined with a shortage of new gold mines in the pipeline, the picture for gold exploration appears compelling for the next few years at least.
The Trans-Hudson Corridor contains similar geological characteristics to the Abitibi Greenstone Belt that runs through northern Ontario and Quebec but is substantially under-explored, which presents a compelling opportunity for SKRR and their investors.
The management of SKRR are proven mine finders and project developers who bring their considerable experience and expertise to a region they have a deep knowledge of.
Saskatchewan was rated the number 2 mining investment-friendly jurisdiction by the Fraser Institute in 2018.
SKRR's flagship Olson project is located within the same geological formation that hosts the high-grade Seabee and Santoy gold mines, well known for its orogenic gold and Volcanogenic Massive Sulphide (VMS) mineralization common to the region.
Preliminary drilling work at Olson identified encouraging gold mineralization in a few locations, including intercepts of 18.3 meters grading at 1.11 g/t gold and 8.5 meters grading at 2.82 g/t gold.
There is little competition in the area from other exploration companies.
The Deep Dive views SKRR as an early-stage exploration company. The Company has a stellar management team and knows the area very well. We see the potential for a regional gold rush if, as, and when SKRR makes a promising discovery. As the principal player, SKRR would likely receive considerable attention from the markets, the investment community, and larger industry participants upon such an event, which would enable the Company to gain easier access to the capital that would be required to fund the advanced development of the project.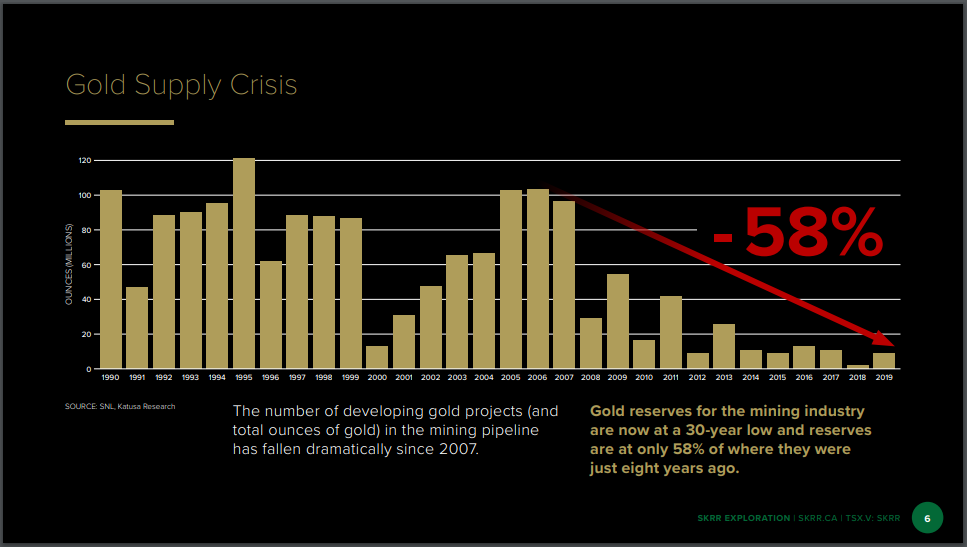 Current Holdings
The Olson Project
SKRR's flagship project is the Olson Project, located 100 km east of La Ronge in northern Saskatchewan, which was acquired from Eagle Plains Resources through a October 24, 2019 option agreement with Canex Energy, subsequently renamed SKRR Exploration Inc., which can earn a 75% interest in the 5,038 hectare property by completing exploration expenditures of $3,000,000, making cash payments of $250,000 and issuing 1,000,000 voting class common shares to Eagle Plains over a 4 year period.
SKRR recently completed a fieldwork program on the property to determine the drill targets for its fall 2020 drill program.
The Olson property is compelling because its geology is prospective for orogenic gold and VMS mineralization and is hosted in the Glennie Domain, which is the source of the Seabee gold mine, which is the largest known orogenic gold deposit in Saskatchewan. Gold mineralization has been previously identified in several locations through both surface channel sampling and preliminary drilling, and new gold targets were identified by Eagle Plains in 2018.
Historical drilling at Olson Lake has intersected 7.5 m grading 2.07 g/t Au including 13.00 g/t Au over 0.65 m and grab samples of up to 105.52 g/t Au have been collected. While the project is considered to be underexplored, there are known gold occurrences open at depth and along strike which are deemed to be reliable and a reason for more exploration work.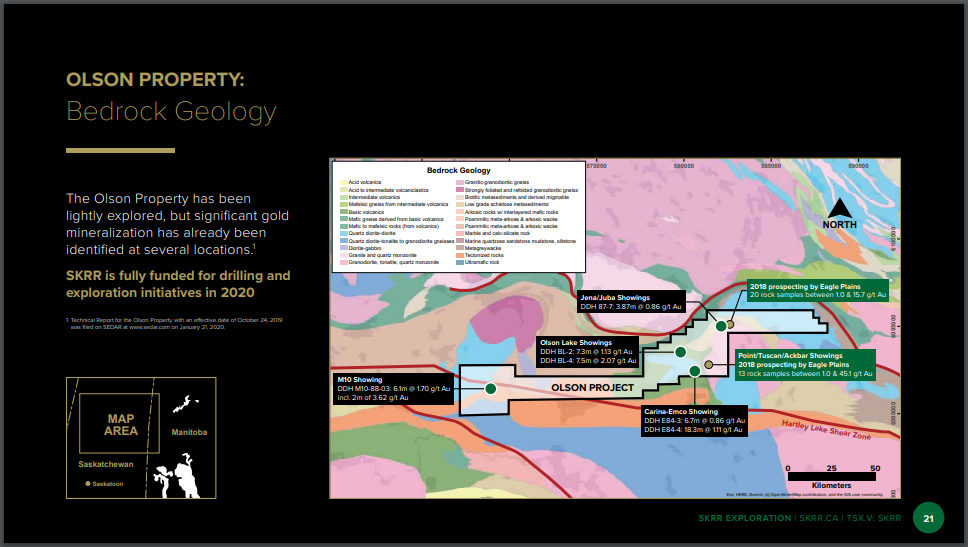 The Leland/Irving Project
On May 20, 2020, SKRR obtained an option for 75% of the Leland Project from Taiga Resources. Leland, combined with SKRR's Irving Project, results in a 23,500 hectare land package. Both have shown gold mineralization from previous work done on the properties, showing numerous high-grade gold occurrences, including up to 60 g/t gold associated with structurally hosted quartz veins.
On May 21, 2020, SKRR acquired 100% rights of the Irving Lake property from Edge Geological Consulting Inc. Edge holds 100% unencumbered title rights to 15 non-contiguous mineral claims encompassing the Property. Ross McElroy is a director of SKRR and is also a director of Edge. Highlights from this property included outcrop samples that indicated up to 3.93 g/t gold and 413 ppm copper.
SKRR is set to conduct an exploration campaign on the property this fall, which will be funded by Taiga Gold whom is the current owner of the property. Fieldwork to be conducted includes an 83 kilometre magnetic line survey, stripping and channeling, soil geochemical surveys and or drone magnetic surveys.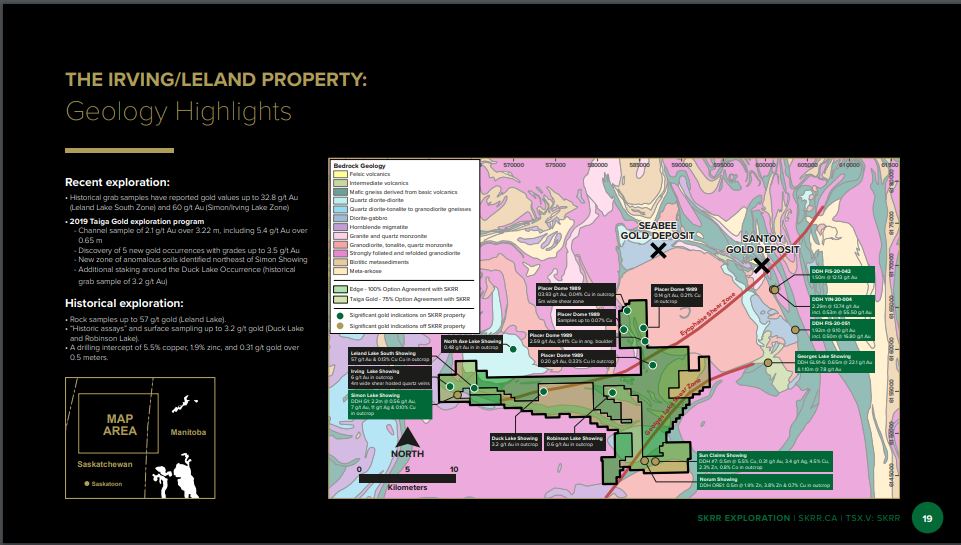 The Ithingo Project
The Ithingo Project comprises 2849 hectares spread over 12 contiguous mineral claims located 235 km northwest of La Ronge. SKKR acquired the project through a non-arm's length option agreement to acquire 100% of the Ithingo Lake property from Edge Geological Consulting Inc. a company owned and controlled by Ross McElroy, a director of SKRR.
SKRR's interest in this project stems from historical drill data from 57 drill holes done by previous exploration companies such as Claude Resources and Newmont Exploration of Canada that indicated strong gold showings and the potential for a high-grade deposit. This consisted of 5,200 meters of near surface drilling showing intercepts of 7.5 meters at 11.5 g/t gold, including 0.5 meters at 138.97 g/t gold in the Main Zone, and grab samples of up to 27.37 g/t gold. Channel sampling also indicated a 6.1 meter interval of 4.98 g/t gold and a 2.7 meter interval of 9.33 g/t gold also in the Main Zone.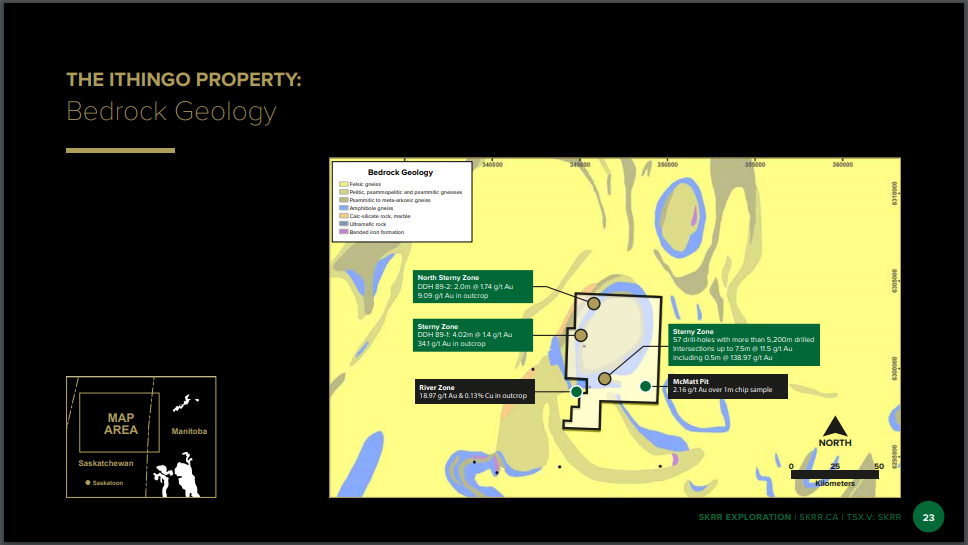 The Cathro Project
The Cathro Project is an early stage 3277 hectare property with gold-bearing geology that appears to be promising. It was acquired on February 12, 2020 in an agreement that provides SKRR with the exclusive right to acquire from Eagle Plains a 100% interest in the Cathro gold exploration project, which is located 50km northeast of La Ronge.
SKRR can acquire a 100% interest in the Project by making a cash payment of $4,000 and transferring an initial 250,000 shares of SKRR to Eagle Plains. SKRR also agreed to make additional share payments to Eagle Plains of 650,000 shares over a 5 year period. Eagle Plains will retain a 2.0% NSR Royalty with SKRR having the option to repurchase 1.0% NSR Royalty for $1 million.
Prospectors first identified gold mineralization in the area in 1958, with four documented gold occurrences within the claim boundaries. Cogemo conducted a work program in 1988 and reported sample results ranging for trace gold values to highlights as summarized as follows:
A grab sample of sheared quartz in metavolcanics returned 72 g/t gold.
Another grab sample of grey quartz returned 100 g/t gold, a quartz vein chip sample of unknown width returned 21.2 g/t gold.
A quartz vein chip sample of unknown width with visible gold returned 29.2 g/t gold.
Other grab samples showed a range of interesting gold values. Cogema exposed the main Vidgy Zone over a strike length of 21m with a maximum vein width of 2.5m. Five lines of continuous chip samples collected at 4.0m intervals across the Vidgy structure returned results including 0m at 8.1g/t gold, 7m at 4.4/t gold, 5m at 5.6/t gold, 0m at 1.5 g/t gold, and 0m at 0.93 g/t gold. Uranerz Mining and Exploration completed the last significant work program in 1994, using soil sampling and prospecting to identify a number of target areas.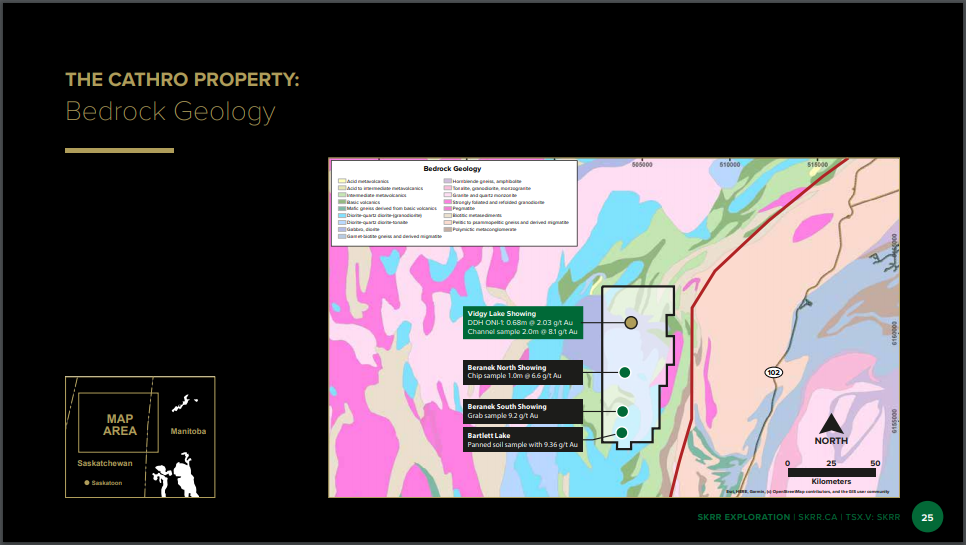 Management Team
SHERMAN DAHL, President and Director
Mr. Dahl brings over 20 years of senior executive level investment industry experience to SKRR. As an investor and financier for small cap public Canadian companies, Dahl has a proven record of raising capital and increasing investor awareness. His expertise lies in identifying undervalued companies and presenting these opportunities to his network of clients, strategic investors, and marketing participants. Mr. Dahl is a graduate of the University of Regina and holds a Bachelor of Business Administration (Economic and Finance Major) degree.
ROSS McELROY, P.Geol. Chairman of the Board and Director
Mr. McElroy is a professional geologist with over 30 years of experience in the mining industry, and was part of the Cameco exploration team that discovered the world's largest high-grade uranium deposit at McArthur River in the Athabasca Basin in northern Saskatchewan as well as Fission Uranium's PLS uranium discovery. As Senior Geologist for BHP Billiton, McElroy and his team discovered and advanced 3 major high-grade gold deposits in the vast Hope Bay Gold Project in Nunavut.
McElroy was recognized as the Northern Miner mining person of the year in 2013 and was the winner of the Prospectors & Developers Association of Canada (PDAC) Bill Dennis award for exploration success in 2014. He brings his considerable varied experience at both a technical and executive level for junior public companies and major mining companies, having worked with, and managed, many types of mineral projects; from grassroots exploration to feasibility and production.
RON NETOLITZKY, Advisor to the Board
Mr. Netolitzky brings over 40 years of extensive mining exploration experience to SKRR, having been directly associated with three major gold discoveries in Canada that have subsequently been put into production: the Eskay Creek and Snip mines in BC, and the Brewery Creek mine in Yukon. He is a director of several publicly traded exploration companies. In addition to being inducted in the Canadian Mining Hall of Fame in 2015, Mr. Netolitzky has been honored with the Prospector of the Year award from the PDAC in 1990, and Developer of the Year award from the BC & Yukon Chamber of Mines.
Mr. Netolitzky, in addition to currently serving as a director of several publicly-traded exploration companies, has contributed to the growth of many junior companies as well as being involved in a number of significant merger-and-acquisition events. As Chairman and President of Viceroy Exploration Ltd, which achieved exploration success with its Gualcamayo gold project in Argentina, he presided over the acquisition of Viceroy by Yamana Gold in 2006. In 2010, in his role as Chairman of Brett Resource Inc, Mr. Netolitzky oversaw the $372 million acquisition of Brett's Hammond Reef gold project in Ontario by Osisko Mining Corp.
Share Capitalization
| | |
| --- | --- |
| Shares Outstanding | 12,614,775 |
| Warrants Outstanding | 4,998,897 |
| Options Outstanding | 200,000 |
| Total Shares Out | 17,813,672 |
Comparables
The primary gold camp in northern Saskatchewan is the Seabee and Santoy Lake Gold project operated by SSR Mining. While there was some historical gold exploration activity in the region, it was sporadic. At the moment SKRR is really the only company actively exploring for gold, so there are not any meaningful comparisons with other explorers.
Alamos Gold Inc. (TSX: AGI) is an advanced project development company which is in the process of putting its Lynn Lake Gold Project into production after a 2017 feasibility study determined that the mine could produce 143,000 ounces of gold per year over a 10-year mine life. The Project is situated within the Lynn Lake Greenstone Belt on the site of the MacLellan and Gordon past-producing gold mines, providing the project with existing infrastructure and access to low-cost power. Lynn Lake is now in the permitting stage, which may take up to two years to complete. An Environmental Assessment Plan has already been filed and if permits are granted it will take another two years to complete the mine construction, which will be an open pit operation with an all-in operating cost of $745 per ounce gold.
According to Alamos, the project has total proven and probable reserves of 26.8 million tonnes at 1.89 g/t gold and 2.99 g/t silver. Estimated contained gold is over 1.6 million ounces. 4.8 million is the measured and indicated tonnes at 1.58 g/t gold and 1.4 million inferred tonnes at 1.48 g/t gold.
Currently the only other junior exploration company with current activity in the area is Taiga Gold Corp (CSE: TGC). Taiga has five projects in the vicinity of the Seabee and Santoy mine complex. Their flagship Fisher project is strategically located on the north and south sides of the Seabee Complex and was optioned to SSR Mining, who have been drilling since early 2018 in an effort to expand the mineral reserves around the mine.
Taiga has four other early stage projects; The Orchid property, located 70km south of the Seabee Mine, on which in June 2020 Taiga announced that it had completed staking activity. The Chico project located 45 km southeast of the Seabee Mine which Taiga optioned 80% of the property to Aben Resources (TSX-V:ABN) in 2018. However, a planned 2018 drill program was suspended at the request of two local First Nation groups. The SAM property is located 15 km east of Flin Flon, Manitoba. While searching primarily for gold, work on the property revealed the presence of copper and zinc. In June 2020, Taiga initiated a fieldwork program intended to build upon the results from their 2018 fieldwork program.
Taiga's Leland property is located 23 km southwest of the Seabee Mine and previous work on the property indicated a number of high-grade gold occurrences that warrant additional exploration. On May 21, 2020, Taiga entered into an option agreement with SKRR, which enables SKRR to earn up to 75% of the Leland property.
Risks
From our view the following risks are worth considering.
Price of Gold. Just as the gold price can be a catalyst, a potential decline in price would have a negative impact on gold exploration stocks. We are of the mindset that if gold remains above $1800, there will likely be an influx of capital coming into the juniors. However, if it drops below, explorers could likely struggle.
Drill Results. Poor drill results could negatively affect price performance of the stock.
Market Sentiment. Markets can fluctuate wildly as investor expectations can change rapidly depending on the two most common drivers; fear and greed. Currently global macroeconomic concerns due to the coronavirus pandemic and the corresponding economic impact, has caused the world's central banks to flood the banking system with almost zero-cost money. Cheap money is pouring into stock markets and fueling a sharp rise in prices, which tends to draw more investors to buy stocks. With the global economy under severe pressure, this could lead to increasingly market volatility. We believe part of the explanation for the sharp rise in gold prices is due to concerns about an eventual return to inflationary conditions caused by an extended period of cheap money and rising global government debt and deficits. This could enable gold stocks to better withstand market volatility as investors seek to own gold as a hedge against global uncertainty.
Supply of Gold. The supply of gold has declined sharply in recent years as mines have depleted reserves and not very many new mines have come on stream, or are even in the pipeline. Demand by central banks has risen steadily over the past 10 years, and there is continued retail demand from Asia, particularly China and India. Gold bull markets tend to result in a reopening of older, shuttered mines, and reactivation of promising development projects which were abandoned when gold markets declined and the economic viability of the projects declined. We believe we are at the early stages of a new gold bull market, and as the cycle ramps up, supply will ramp up. We think these conditions will enable SKRR to move their projects forward in a relatively efficient manner.
For a full list of risks, we encourage readers to look at the company's risk section of their most recent MD&A on Sedar.
Catalysts
Some of the potential catalysts we see that could have a large impact on the share price include:
The price of gold. The most obvious variable for any gold explorer, developer, or producer is the price of gold. As the price of gold rises so does the net asset value of projects rise, which increases shareholder value.
Broad economic indicators. Given the recent COVID stimulus packages which have seen a massive number of jobless claims, the assumption is that governments and central banks will take on debt funded through quantitative easing (money printing) to fill the gap. Eventually this will likely become inflationary; historically the price of gold increases with an increase in inflation as investors seek a hedge against inflation. In the interim, unexpected negative shocks to the global economy could impact the price of gold from investors seeking a safe haven.
The results of a potential future drill program at the Olson Project. The company recently raised over $10M in an oversubscribed bought deal. The use of these proceeds will primarily go towards exploring and drilling the property with the goal of expanding the resource. Should the company find a material amount of more gold in the ground, it would serve as a catalyst for the common shares.
Potential future Merger and Acquisition activity. The Deep Dive believes we are in the early stages of a secular bull market for gold. Due to SKRR management's extensive experience, expertise, and credibility in the region, it has the ability to attract opportunities to acquire additional quality projects through acquisition or joint venture.
Conclusion
At the Deep Dive, we like the prospects for gold and its underlying fundamentals that would suggest we are in the early stages of a gold bull market. We especially like projects in safe jurisdictions that are close to existing producing mines. When gold juniors get frothy they often trade up to 10% of the price of gold for what they have in the ground.
From our view, a company like SKRR has a very modest market cap of a little over $5.3 million, providing investors with a minimal risk play and all the potential upside if they make a discovery. SKRR essentially has an all-star management team that brings a vast amount of credibility to the table from the outset. SKRR is operating close to existing mines in an under-explored area. If they succeed with a discovery, it could ignite a gold rush to the area with SKRR enjoying first-mover status, and the resulting prestige and popularity for the stock that typically follows a discovery.
---
SKRR Exploration is a marketing client of the CanaCom Group. This is not intended to be used as financial advice. This Report is meant for general information purposes only. This report is not a buy or sell recommendation. The authors are not licensed financial advisors. We encourage readers to seek a licensed financial professional in making investment decisions. Please do your own due diligence and understand the risks before investing.
The information collected for this Report is collected on a best-efforts basis, and/or may not accurately reflect up to date information. All charts and diagrams refer to the prices as of market close Monday, August 10, 2020.
For more information, please email info@canacomgroup.com – or contact us on twitter @thedeepdive_ca