Company Profile: Vortex Metals
Vortex Metals Inc. (TSXV: VMS) is an early-stage junior mineral exploration company focused on the discovery of large mineral deposits in North America. The company owns a 100% interest in three highly prospective drill ready copper/gold volcanogenic massive sulfide (VMS) properties in the state of Oaxaca, Mexico.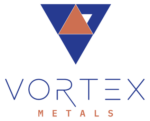 The Oaxaca projects, the Riqueza Marina and the Zaachila, as well as the high-potential El Rescate gold property, consist of highly prospective areas of high-grade copper mineralized surface exposures and prominent gravity anomalies along an emerging copper-gold VMS belt that includes Minaurum Gold's Santa Marta project.
Vortex Metals' management team and board have extensive exploration and public-company experience with a proven track record in creating shareholder value. Their operating philosophy, which is based on the vision of the late David Jones whom discovered the Los Filos mine, is to hunt for elephants; large, district scale projects near existing or past-producing mines where there is potential to employ modern exploration methods and technologies to develop projects to the level where they can be taken over at a premium by larger, extraction-oriented mining companies and provide VMS shareholders with a windfall exit.
The Investment Thesis
We base our investment thesis on the following factors:
Mexico's Oaxaca state, while currently Mexico's fifth-biggest silver producer, is largely under-explored for gold, but the underlying geology indicates highly prospective exploration potential in the region.
The company has an experienced management team that is focused on developing its exploration projects to a point where the added value will attract potential merger and acquisition partners.
The exploration guidance is based on a world-renowned exploration geologist who is credited with several major discoveries in Mexico over the past 30 years.
The demand for copper will continue to rise as a result of the drive towards green technology, such as electric vehicles.
The Deep Dive views Vortex Metals Corp as an early-stage exploration company with considerable potential, but like all junior exploration firms, contains risk. 
The Projects
The southern state of Oaxaca is currently Mexico's fifth-largest silver producer but has been largely underexplored for gold due to its remote terrain and the challenges of accessing land owned by indigenous communities, who are often suspicious of outsiders. In recent years, the region's infrastructure has been upgraded with a network of major highways, which will enable easier access to some parts of the state.
Riqueza Marina Project
The 15,840 hectare Riqueza Marina Project is a highly prospective copper-gold VMS project comprising three mineral leases and is characterized by "Black Smokers," which are rare hydrothermal vents that were created through intense volcanic activity when mineral-bearing magma was forced to the surface and cooled when encountering sea water.
These typically contain high-grade mineralization and the underlying regional geology is similar to several other large Latin American VMS deposits; San Nicholas in Zacatecas, Mexico, Campo Morado in Guerrero, Mexico, and Tambo Grande in Peru. Mr. Jones strongly believed that because these properties have never been drilled, there could be potential for multiple new deposit discoveries within the underlying VMS belt.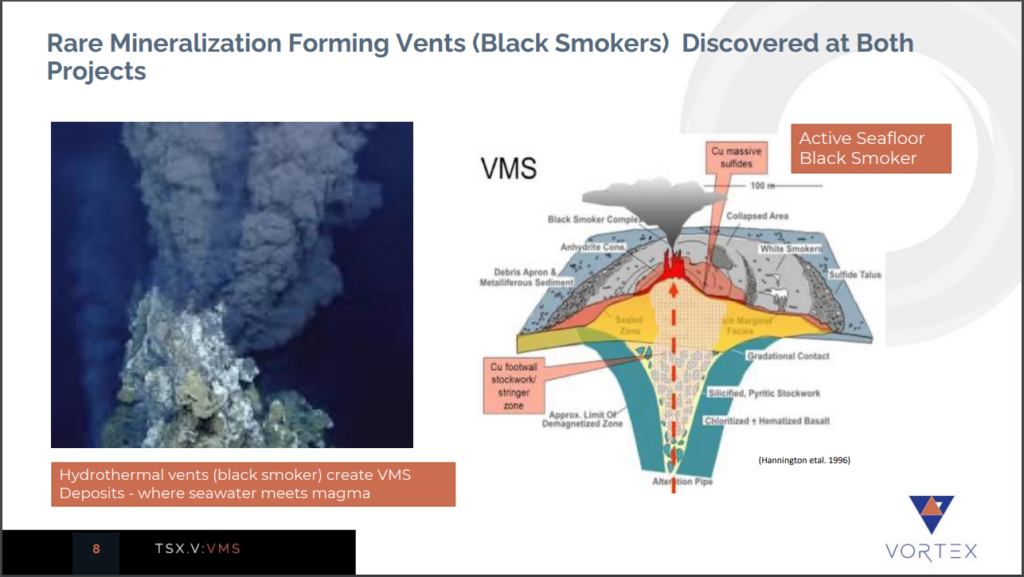 The property hosts a number of extensive outcrops and subcrops of high-grade mineralized copper-gold-zinc-lead occurring along a 3 kilometre strike length at the Laminas West and Laminas East priority targets, which have a number of areas of high-grade copper surface mineralization. In the northern area of the property, large gravity anomalies may represent buried massive sulfide structures that require more geological mapping and work to formulate an exploration strategy.
Based on geology, geophysics and geochemistry, five high potential target areas have been identified and are drill ready, and work on these is expected to begin in Q4-2022.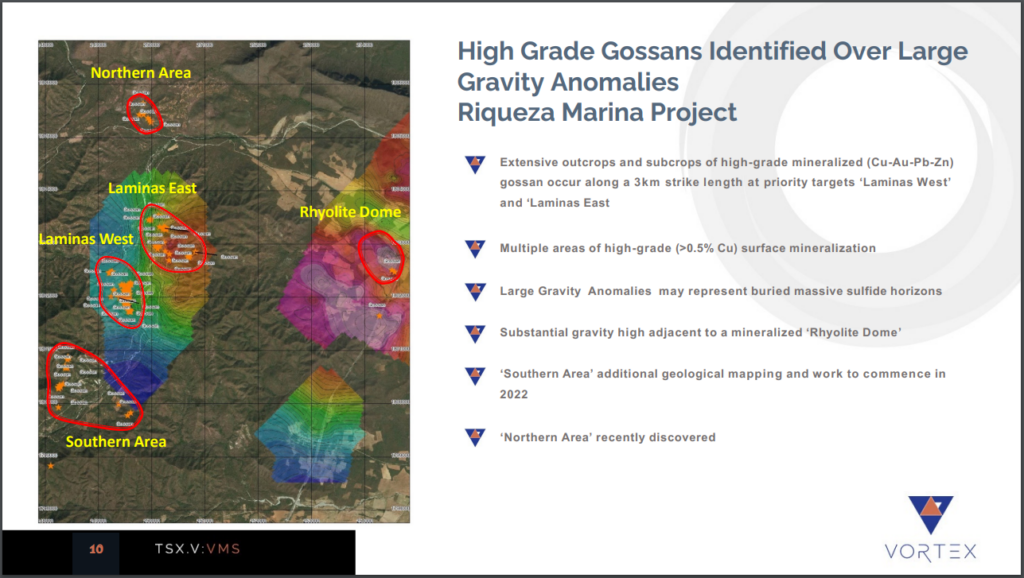 Zaachila Project
The 3,264 hectare Zaachila Project is another property hosting "black smokers" and a 5 km trend of copper-gold surface mineralization has been previously identified through a gravity survey, geophysical and geochemical analysis. This analysis was based on samples conducted by renowned VMS expert and Vortex Metals advisor, Jim Franklin, with coincident gravity and magnetic anomalies having been identified along the principal mineralized trend.
The underlying geology hosts Cretaceous volcanic and sedimentary rocks that are similar that of the Riqueza Marina property. Zaachila has a strong copper mineralization anomaly which appears to be related to magnetite destruction in the presence of strong hydrothermal fluid flow. Magnetite destruction is typically found in primary fluid conduits associated with VMS deposits as well in seafloor 'black smoker' hydrothermal fields.
Vortex has currently proposed a 2,000 metre first round of drilling for the property, which is to focus on surface copper mineralization. Drilling is also to target magnetic and gravity anomalies, with a target of completing the program in the fourth quarter of 2022.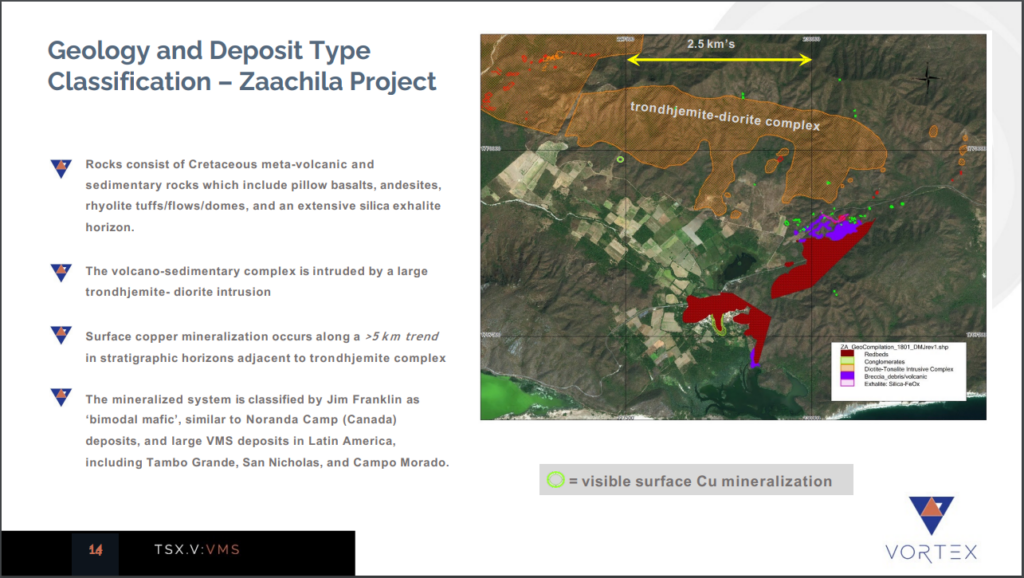 El Rescate Project
The 5,673 hectare El Rescate Project is located in neighboring Puebla State. The property is adjacent to the producing high-grade Socorro open-pit and underground gold mine. El Rescate contains a recently discovered, highly prospective 2 km vein system, which is on trend with the Socorro Mine. This epithermal vein system is still untested, but sampling results show indications of high-grade lead values in barite-galena veins, similar to the high-grade ore found at the Socorro Mine, which is being mined with gold values of between 4-6 g/t.
Vortex Metals will be analyzing data to determine next steps, but believes with a limited amount of work, the property could be drill testing ready. The company will continue systematic mapping and sampling of the 2 km vein trend and following up the more recently identified outlying mineralized zones. The company must still negotiate land access agreements and obtain drilling permits.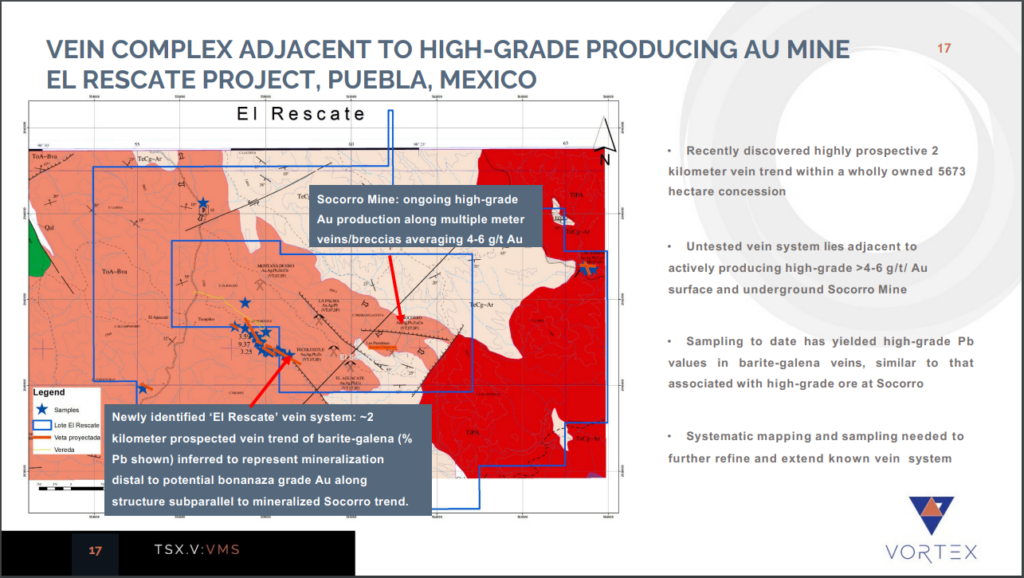 The Management Team
Michael Williams – Executive Chairman
Mr. Williams has over 24 years of experience as a senior executive within the mining industry, with expertise in the structuring, administrating and marketing of Toronto Stock Exchange listed companies. He has held the role of Executive Chairman for numerous public companies including Underworld Resources Ltd, which was acquired by Kinross Gold Corp for $138,000,000.
Mr. Williams is currently the President and CEO of Vendetta Mining which is advancing the Pegmont Lead Zinc Project in Queensland, Australia, and is also the Founder and Executive Chairman of Aftermath Silver, which is focused on projects in Latin America.
David Jones – Vice President, Exploration (In Memoriam)
Mr. Jones was the Co-Founder and largest shareholder of Acapulco Gold Corp., which is the principal asset of Vortex Metals. He was the driving force in the company's exploration efforts in Oaxaca, which he believed had tremendous potential and was going to become the next discovery zone in Mexico. Sadly, Mr. Jones passed away in December 2021 before he was able to realize his vision of turning Oaxaca into Mexico's next major mining camp.
Mr. Jones had over 40 years of exploration experience throughout the Americas during his illustrious career and was considered a foremost expert on the Guerrero Gold Belt where he was credited with the discovery of one of the world's largest gold mines, Los Filos in Mexico, with an estimated resource of 7.43 million ounces of gold and 52.54 million ounces of silver. The geological model that Mr. Jones developed for Los Filos has been used to find over 30 million ounces of gold. He led the technical team for Teck Corp. to acquire the Morelos Norte reserve, now the El Limon-Guajes deposit, that contains over 2 million ounces of gold. Mr. Jones was responsible for identifying the exploration targets that led to discovery of Gold Resource Corp Switchback Mine in Oaxaca, Mexico.
Vikas Ranjan – Chief Executive Officer, Director
Mr. Ranjan holds an MBA in Finance from McGill and has over 25 years experience in finance, capital markets, entrepreneurship and investing. He is a co-founder of the Gravitas Group of companies and has served in a variety of senior executive roles and on the boards of a number of public and private companies.
Dr. John Larson Ph.D – Director
Dr. Larson holds advanced degrees in geology and chemistry from the University of Western Ontario (M.Sc.) and the Colorado School of Mines (Ph.D.). His distinguished 42-year career spanned the globe, leading projects in diverse locales that included Australia and South America, including 16 years with mining giant BHP where he held senior executive roles as Manager, North America Copper Exploration, Leader, Global Porphyry Copper Exploration, and Manager, Latin America Exploration, overseeing exploration, mining and resource/reserve/mine development.
He has also worked with government geophysical surveys, junior mining companies and major international minerals companies. Dr. Larson has served on the Boards of a number of junior exploration companies.
James Franklin – Advisor
Mr. Franklin holds a Ph.D in Economic Geology from the University of Western Ontario and is a distinguished and highly sought-after geoscientist. He was instrumental in helping build and advance the knowledge base of Canada's minerals industry during his career with the Geological Survey of Canada (GSC), particularly in helping to understand the links between the Canadian Shield and its vast mineral resources and creating models and techniques to better guide exploration for volcanogenic massive sulphide (VMS) deposits.
Of particular importance to Vortex Metals, Mr. Franklin led ocean-based research into "black smoker" systems to better understand how VMS deposits form. Mr. Franklin has served in multiple industry roles as a consulting geologist, lecturer, educator, and author.
The Comparables
Oaxaca state currently hosts several operating mines, such as Fortuna Silver's (TSX: FVI) San Jose silver-gold mine, and AMEX-listed Gold Resource Corporation's (AMEX:GORO) Don David operation, which have the El Aguila and Alta Gracia producing mines.
Gold Resource Corporation (AMEX: GORO) holds a massive land position in Oaxaca State of over 68,000 hectares comprising 6 properties that include 55 kms of the San Jose structural fault corridor. The company's high-grade polymetallic Arista deposit, first discovered in 2007 at its El Aguila Project, entered into production in 2011. The open-pit gold-silver deposit that is part of the Don David Mine Operation also hosts copper, zinc, and lead, and has proven and probable reserves of 2.26 million tonnes containing 156,300 ounces of gold at 2.1 g/t and 260,800 ounces of gold at 3.5 g/t gold Eq, 8.825 million ounces of silver at 12 g/t,0.04% copper, 1.6% lead, and 4.5% zinc. The Don David property also hosts the smaller Mirador Mine.
We are aware of two other junior exploration companies that are currently working in Oaxaca State::
Madoro Metals Corp. (TSXV: MDM) is a Vancouver, British Columbia-based junior exploration company focused on developing 3 gold-silver projects in Oaxaca. Mr. Jones was the lead advisor for these projects. The geology of its Yautepec, Magdalena, and Rama de Oro projects is structurally similar to the existing mines nearby and are highly prospective for gold and silver mineralization hosted within large epithermal systems. Madoro is developing these properties to determine their potential economic viability.
Minaurum Gold Inc. (TSXV: MGG) is developing its Santa Marta volcanogenic massive sulfide (VMS) copper-gold project, which may be part of a new, previously unknown, VMS system. The largely underexplored property had minimal open-pit production during the 1960s of 50,000-70,000 tonnes with grades of 3% copper and 2 g/t gold, according to reports from the time. Santa Marta is believed to represent a volcanogenic massive sulfide (VMS) with an underlying leached massive sulfide horizon.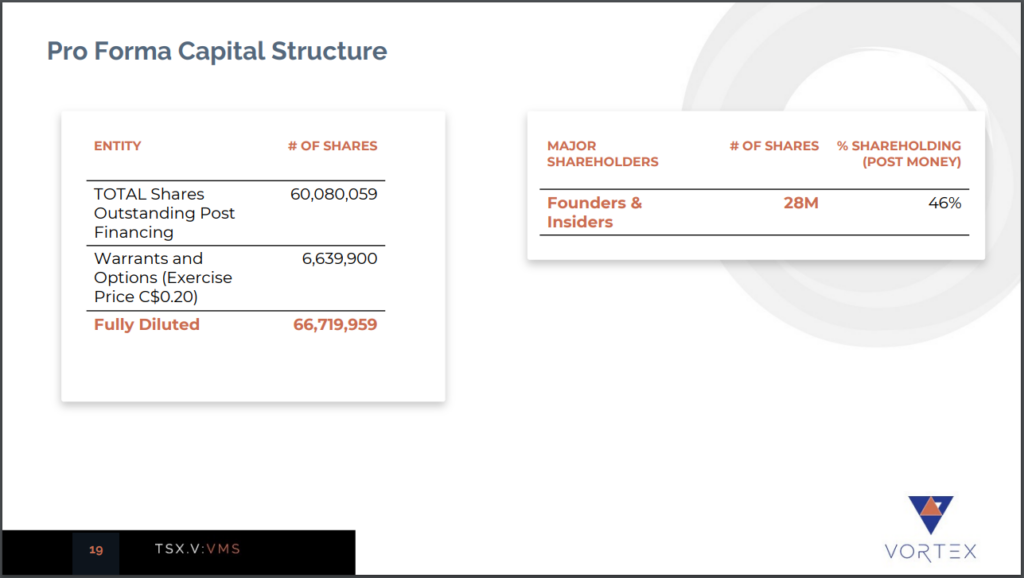 The Risks
From our view the following risks are worth considering.
Price of Gold, Silver and Copper. Just as the gold price can be a catalyst, a potential decline in price would have a negative impact on gold exploration stocks and other precious metals.
Jurisdictional Risk. While Mexico is a highly regarded mining-friendly jurisdiction, environmental sensitivity has the potential to block mining projects due to environmental concerns. In addition, Oaxaca state does not have a widespread history of mining due to its difficult, jungle-like terrain as well as distrust of outsiders by its indigenous population, which could potentially affect the Company's activities in the region.
Market Sentiment. Markets can fluctuate wildly as investor expectations can change rapidly depending on the two most common drivers; fear and greed.
For investors looking to examine further risks, we encourage the reader to examine the companies risks section under the most recent MD&A.
The Catalysts
Some of the potential catalysts we see that could have a large impact on the share price include:
The price of gold, silver and copper. The most obvious variable for any gold explorer, developer, or producer is the price of gold. As the price of gold rises so does the net asset value of projects rise, which increases shareholder value.
The results of any exploration programs. Vortex will continue exploring and drilling its properties with the objective of expanding the resource and getting a better understanding of the underlying geology. Any meaningful discovery or confirmation of more promising mineralization could serve as an upside catalyst for the common shares.
Potential future merger and acquisition activity. While early stage, if Vortex were to make a major discovery, there is the potential for M&A activity to occur that could drive further value for investors.
In Conclusion
Vortex Metals is a new name for junior exploration investors. The company has a well-versed management and professional team with expensive experience in all facets of junior mining. The advisory team has a world-renowned VMS expert on board, and the company's Mexico projects were the inspiration of the late David Jones, who was one of the most highly regarded geologists in Mexico, and who believed with high confidence that Oaxaca State might be the next major mining camp in Mexico.
Vortex Metals is well funded to carry out its initial exploration phase, having raised roughly $4.3 million under its qualifying transaction to list. With 60.08 million shares outstanding and a relatively small market capitalization of $6.01 million, VMS represents a ground floor opportunity in a largely unexplored region of Mexico, but who's projects are located near existing mines.
---
FULL DISCLOSURE: Vortex Metals is a client of Canacom Group, the parent company of The Deep Dive. The author has been compensated to cover Vortex Metals on The Deep Dive, with The Deep Dive having full editorial control. Not a recommendation to buy or sell. Always do additional research and consult a professional before purchasing a security.