Vortex Metals: Exploring For Copper & Gold In Mexico
Vortex Metals Inc. (TSXV: VMS) made its public market debut on May 9, 2022. The firm is an early-stage junior mineral exploration company focused on discovering large mineral deposits in North America. The company owns 100% interest in three highly prospective copper-gold projects in southern Mexico; the Riqueza Marina and the Zaachila projects in the State of Oaxaca, and the El Rescate gold property in the neighboring State of Puebla to the north.
Vortex acquired these projects in a reverse takeover of Acapulco Gold through Vortex's predecessor company, Victory Capital Corp, a capital pool corporation, resulting in Acapulco Gold becoming a wholly owned subsidiary of Victory. The transaction constituted the completion of Victory's qualifying transaction under the exchange's CPC policy. Victory Capital was subsequently renamed Vortex Metals Corp.
The Vision of Vortex
Acapulco Gold constituted the vision of its co-founder and largest shareholder, David Jones, who was the driving force in the company's exploration efforts in Oaxaca, which he believed had tremendous potential and was destined to become the next discovery zone in Mexico. Sadly, Mr. Jones passed away in December 2021 before that could happen. Mr. Jones had over 40 years of exploration experience throughout the Americas during his illustrious career. He was considered the foremost expert on the Guerrero Gold Belt in Mexico, where he was credited with the discovery of one of the world's largest gold mines, Los Filo, with an estimated resource of 7.43 million ounces of gold and 52.54 million ounces of silver.
The geological model that Mr. Jones developed for Los Filos has been used to find over 30 million ounces of gold. He led the technical team for Teck Corp. to acquire the Morelos Norte reserve, now the El Limon-Guajes deposit, that contains over 2 million ounces of gold. Mr. Jones was also responsible for identifying the exploration targets that led to discovery of the Gold Resource Corp (AMEX: GORO) Switchback Mine in Oaxaca, Mexico. Now Vortex Metals will continue to fulfill what Mr. Jones began by applying his exploration model to turn Oaxaca into Mexico's next major mining camp.
Mexico is the world's largest silver producer with 17% of the world's silver production and globally the 8th largest gold producer. Mexico has had a long, 500-year history of mining, a strong mining code, and mining is enshrined in the country's Constitution. Much of its mining activity occurs in the northern and central states such as Sonora, Zacatecas, Chihuahua, and Guerrero. The southern state of Oaxaca is currently Mexico's fifth-largest silver producer, but has been largely underexplored for gold due to its remote terrain and the challenges of accessing land owned by indigenous communities, who are often suspicious of outsiders. In recent years, the region's infrastructure has been upgraded with a network of major highways, which will enable easier access to some parts of the state.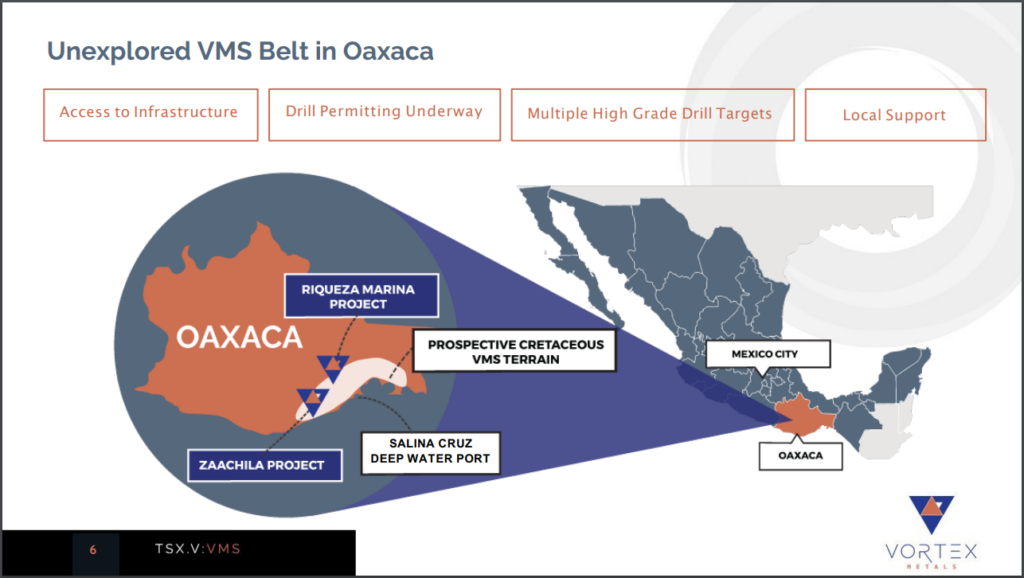 Oaxaca State is currently home to several operating mines, including the San Jose silver-gold mine operated by Fortuna Silver Mines Inc. (TSX: FVI) which boasts proven and probable reserves of 2,289,000 tonnes containing 113,000 ounces of gold at 1.17 g/t and 17.3 million ounces of silver at 180 g/t. Gold Resource Corp, which holds a massive land position of over 68,000 hectares in Oaxaca State, operates the Don David Mine Operation, which hosts the high-grade polymetallic Arista deposit that was first discovered in 2007 at its El Aguila Project and entered into production in 2011. The open-pit gold-silver deposit has proven and probable reserves of 2.26 million tonnes containing 156,300 ounces of gold at 2.1 g/t and 260,800 ounces of gold at 3.5 g/t gold equivalent, 8.825 million ounces of silver at 12 g/t, 0.04% copper, 1.6% lead, and 4.5% zinc. The Don David property also hosts the smaller Mirador Mine. What makes the prospects for Vortex Metals compelling is the proximity to these mines.
The VMS Projects
Vortex Metals' two projects in Oaxaca are characterized by "black smokers," which are rare hydrothermal vents created through intense volcanic activity when mineral-bearing magma was forced to the surface and then cooled when encountering sea water.
These typically contain high-grade mineralization, and the underlying regional geology is similar to several other large Mexico VMS deposits such as San Nicholas in Zacatecas, and Campo Morado in Guerrero. The Riqueza Marina and Zaachila properties share similar underlying volcanogenic massive sulfide (VMS) geology hosting Cretaceous-period volcanic and sedimentary rocks. Mr. Jones strongly believed that because the Vortex Metals properties have never been drilled, there could be potential for multiple new deposit discoveries within the underlying VMS belt.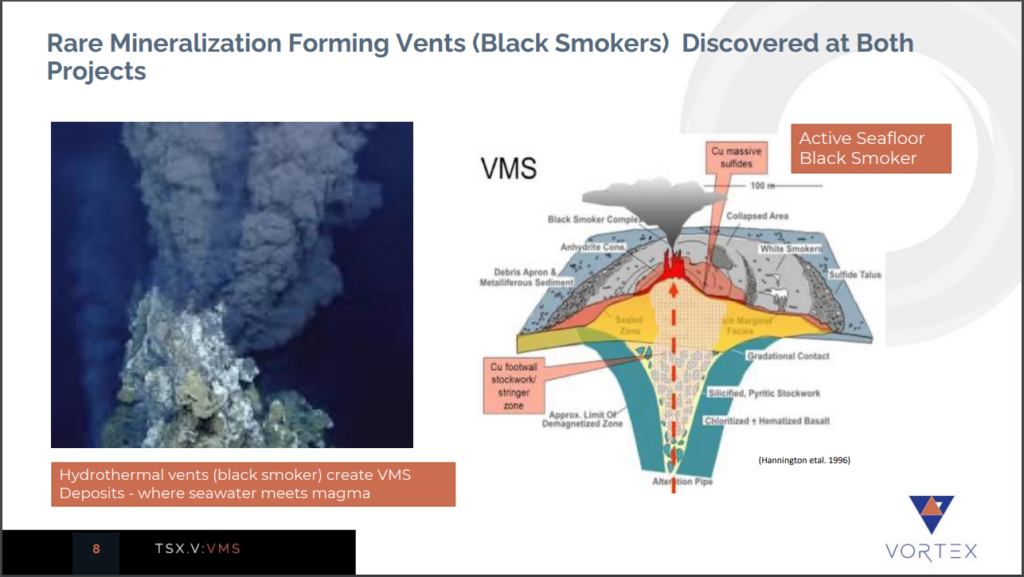 The 15,840-hectare Riqueza Marina Project is a highly prospective copper-gold VMS project comprising three mineral leases. The property hosts a number of extensive outcrops and sub crops of high-grade mineralized copper-gold-zinc-lead occurring along a 3 kilometer strike length at the Laminas West and Laminas East priority targets, which have a number of areas of high-grade copper surface mineralization.
In the northern area of the property, large gravity anomalies may represent buried massive sulfide structures that require more geological mapping and work to formulate an exploration strategy. Based on geology, geophysics, and geochemistry, five high potential target areas have been identified and are drill ready, and work on these is expected to begin in Q4 2022.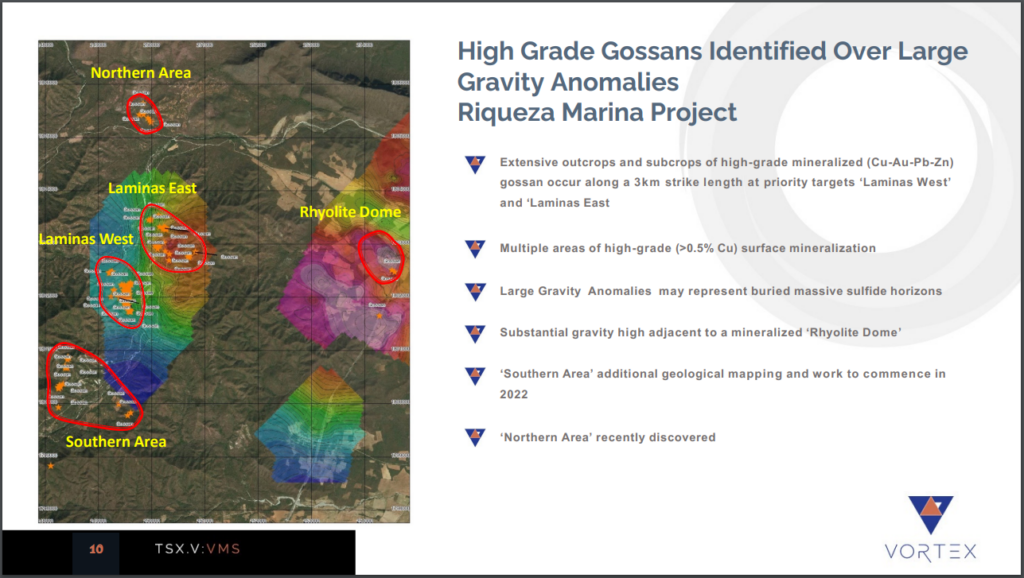 The 3,264-hectare Zaachila Project also hosts "black smokers" and has a 5 kilometer trend of copper-gold surface mineralization. This mineralization has been previously identified through a gravity survey, as well as the geophysical and geochemical analysis of samples that was conducted by renowned VMS expert and Vortex Metals advisor, Jim Franklin, with coincident gravity and magnetic anomalies having been identified along the principal mineralized trend.
Franklin also identified the similarity of the two properties underlying geology. According to Mr. Franklin, Zaachila has a strong copper mineralization anomaly which appears to be related to magnetite destruction in the presence of strong hydrothermal fluid flow. Magnetite destruction is typically found in primary fluid conduits associated with VMS deposits as well in seafloor 'black smoker' hydrothermal fields.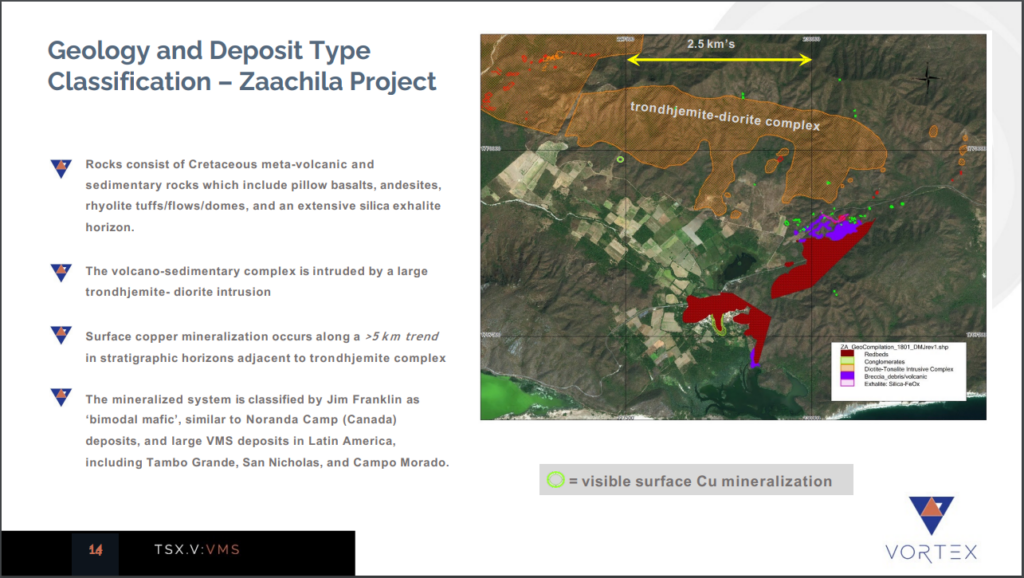 Vortex Metals is considering an initial 2,000 metre diamond drilling program to commence in Q4 2022 that will test the surface copper mineralization trend, as well as the magnetic and gravity anomalies.
Vortex Metals also owns the 5,673 hectare El Rescate Project, located in neighboring Puebla State, adjacent to the producing high-grade Socorro open-pit and underground gold mine. El Rescate contains a recently discovered, highly prospective 2 kilometer vein system, which is on trend with the Socorro Mine. This epithermal vein system is still untested, but sampling results show indications of high-grade lead values in barite-galena veins similar to the high-grade ore found at the Socorro Mine, which is being mined with gold values of between 4-6 g/t.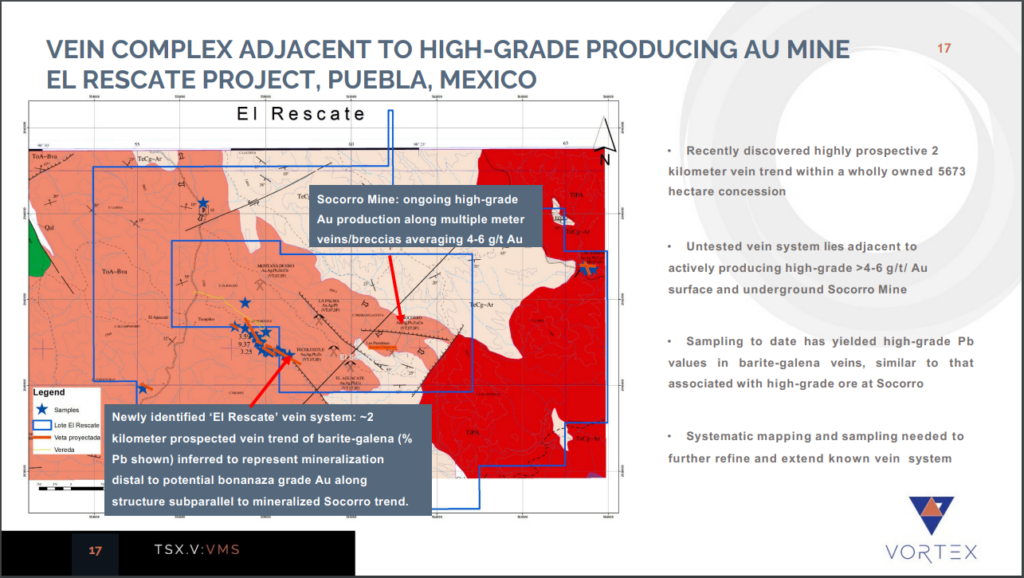 Vortex Metals will be analyzing data to determine its next steps, but believes that with a limited amount of work, the property could be drill testing ready. The company will continue systematic mapping and sampling of the 2 kilometer vein trend and following up the more recently identified outlying mineralized zones. The company must still negotiate land access agreements and obtain drilling permits.
Vortex Metals is a new name for junior exploration investors. The company has a strong management and professional team with expensive experience in all facets of exploration, mining, capital markets and corporate finance. The Vortex advisory team has a world-renowned VMS expert on board in Mr. Franklin, and the company's Mexico projects were the inspiration of the late David Jones, who was one of the most highly regarded geologists in Mexico, and who believed with high confidence that Oaxaca State could become the next major mining camp in Mexico.
Vortex Metals is well funded to carry out its initial exploration phase. With 60.08 million shares outstanding and a relatively small market capitalization of $9.01 million, VMS represents a potential ground floor opportunity in a largely unexplored region of Mexico, but with their projects located near existing mines.
---
FULL DISCLOSURE: Vortex Metals is a client of Canacom Group, the parent company of The Deep Dive. The author has been compensated to cover Vortex Metals on The Deep Dive, with The Deep Dive having full editorial control. Not a recommendation to buy or sell. Always do additional research and consult a professional before purchasing a security.