Data: Is Mexico Really Safer Than The US?
Mexico's president declared on Monday that his country is safer than the United States, responding to US criticism of his security record in the aftermath of a tragic kidnapping along the border earlier this month that killed two Americans.
The March 3 attack on four Americans in the Mexican city of Matamoros, and their subsequent kidnapping, drew recriminations from lawmakers in the United States, particularly Republicans.
Two of the Americans had died by the time Mexican officials found them. Five alleged Mexican drug cartel members have now been apprehended in connection with the kidnapping.
President Andres Manuel Lopez Obrador, who has threatened to discourage Mexican-Americans from voting for Republican candidates if they continue to criticize him, has ignored official U.S. security advisories that portray much of Mexico as a dangerous place to visit.
"Mexico is safer than the United States," he told reporters. "There's no problem with traveling safely around Mexico."
Lopez Obrador stated both American visitors and Mexicans living in the United States are aware of the country's safety, citing a recent increase in Americans residing in Mexico. The number of Americans visiting Mexico increased dramatically last year.
He blamed bad security reports on an "anti-Mexico" campaign by conservative US politicians.
What does the data say?
According to World Bank data, Mexico's murder rate in 2020 was around four times that of the United States, at 28 per 100,000 people. Homicides in Mexico reduced by roughly 7% last year, but the current administration is on track to set a record for any six-year administration.
In Mexico City, the police count reached a high of 1,597 murder victims in 2018, before falling to 1,006 in 2021. The capital city had a murder rate per capita of roughly 10.9 per 100,000 people in that year and has fallen since then.
When the data for 2021 is compared, Mexico City still has a greater murder rate than New York (which had around 5.7 homicides per 100,000), but it is lower than Portland (12.9), Dallas (14.6), or Minneapolis (22.1).
The most murderous cities in the United States are Baltimore (57.5) and St. Louis (65.3), which have unusually high levels given the country's riches and power. In 2021, the most homicidal cities in Mexico have horrendous rates, ranking among the worst in the world, with Zamora at 196, Zacatecas at 107, and Tijuana at 103.
In 2022, Tijuana topped the world's list of most dangerous cities by murder rate, leading the five Mexican cities out of the top 10 in the ranking. St. Louis in Missouri is the most dangerous in the US, landing in the 14th slot.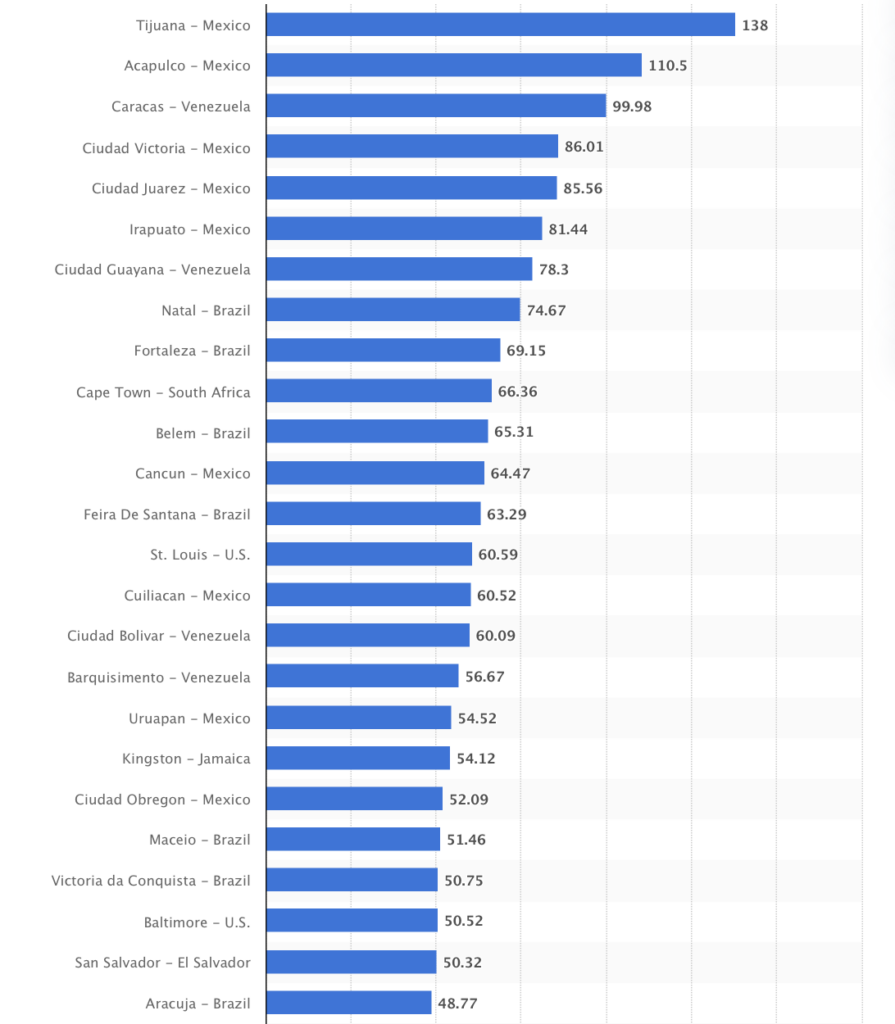 ---
Information for this briefing was found via Reuters and the sources mentioned. The author has no securities or affiliations related to this organization. Not a recommendation to buy or sell. Always do additional research and consult a professional before purchasing a security. The author holds no licenses.