Donald Trump Signs Executive Order Aimed at Eliminating Liability Protection for Social Media Giants
It appears that US President Donald Trump used his last remaining nerve to finally put social media behemoth Twitter into a corner, and thus exposing the rampant double standards that have infiltrated Big Tech oligarchs.
The ongoing coronavirus social distancing measures have put the state of the upcoming election up in the air, as a result, the Democrats have been pushing in favor of mail-in-voting, with 77% of their supporters backing the idea. On the other hand, the Republicans, along with Trump, have been strongly opposing the idea, stating that it would open the door to copious amounts of voter fraud. And as always, the president turned to Twitter to express his discontent – except this time Twitter poked the American bear a little too hard, and slapped Trump's tweets with fact-check links.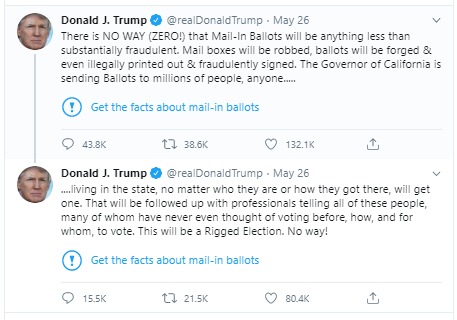 Undoubtedly, Trump did not respond to Twitter's deliberate censorship too kindly, and enacted an executive order that would strip tech giants such as Twitter, Google, and Facebook from liability protection. Since Twitter and other social media are categorized as platforms and not publishers, they cannot be sued for content from third-party users. However, they also cannot sensor content on their site unless they are acting in "good faith," which in that case they can limit the visibility of inappropriate tweets. The problem that Trump pointed out though, is that Silicon Valley is picking and choosing what it wants viewers to see and censoring content that does not fit their mantra.
Once enacted, the Federal Communications Commission would strip censorship-savvy tech giants of their Section 230 liability protection, and thus categorize them as publishers. Once the tech giants are no longer deemed as platforms, users that are subject to content removals would be able to sue if the company does maintain consistency with their terms of service, does not provide the user with adequate notice, or the post does not meet other suggested criteria for inappropriateness. Now surely one would think that Trump's order declaration would have any social media platform thinking twice about what they sensor going forward – except that Twitter inadvertently missed the memo.
Following the mail-in ballots tweet fiasco, Donald Trump published yet another tweet – this time taking aim at the intensifying Minneapolis riots: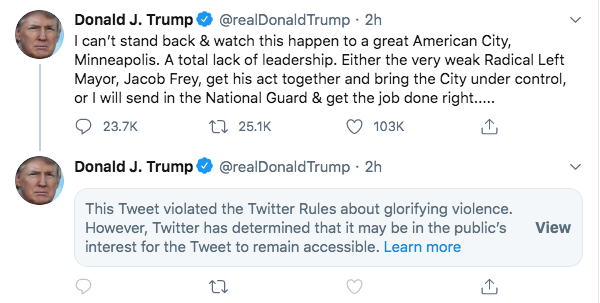 And surely enough, Twitter took the bait. President Trump's tweet got flagged as "glorifying violence" and so did a tweet from the White House which has similar content, thus providing further evidence that Twitter does not in fact act as a platform but rather a publisher. However, Twitter isn't done with its self-destruction just yet. Getting caught red-handed, the social media giant furiously began to back-pedal, and retroactively started flagging tweets published by top Chinese officials- which unfortunately still was not enough to fool the greater portion of the observing public.
So what's next for Twitter? Well for starters, Trump's new order has the potential to bring on a tsunami of lawsuits for unfair censoring practices, which could end up costing the social media giant a lot of money- and credibility. Or, Twitter begins the long-overdue process of draining Silicon Valley of its biased moderator proxies and liberal algorithms in favor of keeping the social media platform- a platform. Most likely however, the latter is not on Twitter's agenda.
---
Information for this briefing was found via Bloomberg, Politico, RT News, Twitter, and Zero Hedge. The author has no securities or affiliations related to this organization. Not a recommendation to buy or sell. Always do additional research and consult a professional before purchasing a security. The author holds no licenses.