El Salvador's Failed Bitcoin Experiment: Country Expected to Default as Crypto Carnage Continues
The massive slump in the world's biggest cryptocurrency is not faring too well for traders and is especially troublesome for El Salvador, which just last September made bitcoin legal tender in hopes of bringing more financial freedom to its citizens.
A number of global factors, including rising inflation and subsequent interest rate hikes, the war in Ukraine, and the looming potential of yet another recession has caused traders to offload their riskier assets, sending the price of bitcoin plummeting over 50% from its record-highs. Also derailing alongside bitcoin's slump has been the government of El Salvador's bonds, which are now trading at around 40% lower than their original value, all because President Nayib Bukele's ambitious plan to make the South American country the first in the world to adopt to volatile digital token as legal tender alongside the US dollar.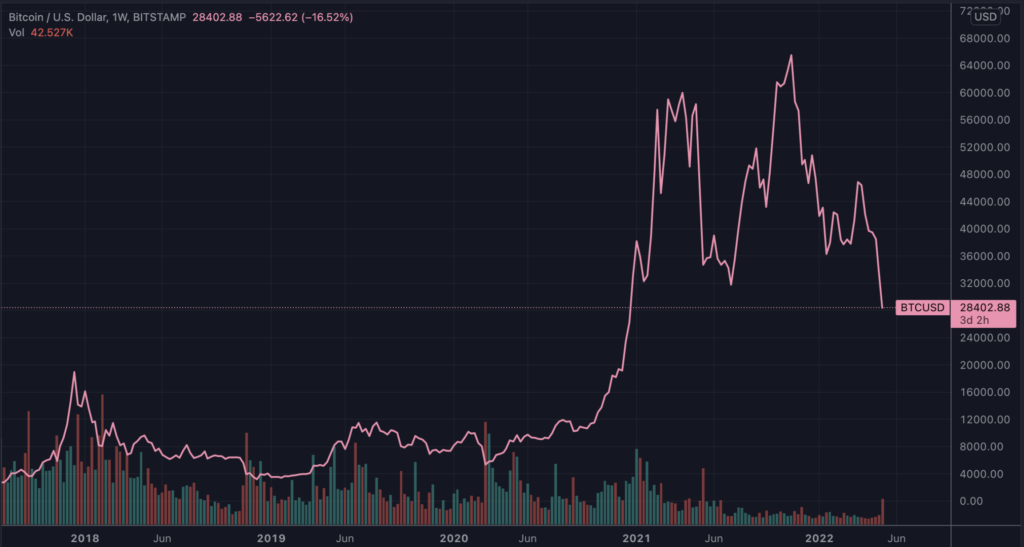 At the time, ratings agencies raised concerns that such a move could have a detrimental impact on the government's finances, which were not in a good state to begin with. However, Bukele continued with his bitcoin conviction, buying almost $25 million more of the token in October 2021, even despite a low population uptake in the new legal tender. The IMF, which was prepared to provide financial resources to help the country make its upcoming foreign debt payment also warned against Bukele's move, advising him that the cryptocurrency's price volatility would expose the state coffers to too much risk.
By February, Fitch Ratings downgraded El Salvador's credit rating to CCC, or "junk" status, with Moody's making the same decision come May. "The downgrade reflects heightened financing risks stemming from increased reliance on short-term debt, a $800 million Eurobond repayment due in January 2023, a still-high fiscal deficit, limited scope for additional local market financing, uncertain access to additional multilateral funding and external market financing given high borrowing costs," explained Fitch at the time.
In the meantime, Bukele, who appears to be unaware of his government's likely bond default, earlier this week trugged on with his fantasy of eventually creating a bitcoin city, sharing images of a scaled model whilst subsequently announcing that his government purchased another 500 bitcoins.
Bloomberg estimates that El Salvador has purchased about 2,300 bitcoins since granting the cryptocurrency legal tender status, which are currently valued at a combined $74 million— substantially lower than the $103 million Bukele paid for the tokens. Making matters worse, though, is that El Salvador is not in a financially healthy situation to be making such purchases, given that its sovereign debt plunged 15.1% in April to a historic low.
So, is Bukele's government steering straight into a default? Well, according to IMF calculations, the country's current policies will cause public debt to jump to 95% of GDP by 2026, putting the South American nation on "an unsustainable path." What's more, Bukele's eager transition towards bitcoin has not been replicated amongst El Salvadorians, with only 20% still using the Chivo Wallet— an app that facilitates cryptocurrency transactions— after spending the $30 the government gave out to incentivize the app's use.
---
Information for this briefing was found via Bloomberg, Fitch Ratings, Moodys, IMF, and the National Bureau of Economic Research. The author has no securities or affiliations related to this organization. Not a recommendation to buy or sell. Always do additional research and consult a professional before purchasing a security. The author holds no licenses.