EnerDynamic Hybrid Technologies: Corporate Overview
EnerDynamic Hybrid Technologies Corp (TSXV: EHT) is a Niagara Falls, Ontario-based renewable energy company that is focused on the development and production of innovative proprietary turn-key solar and wind energy solutions. The company currently offers a number of products that have seen its renewable tech incorporated as it pushes for a greener future.

The Investment Thesis
We base our investment thesis on the following factors:
EnerDyanmic has a pipeline of contracts that were delayed by the Covid-19 pandemic that will soon commence.
The firm has focused on several addressable niche markets
EHT can be nimble in responding to customer needs and can customize integrated energy solutions.
We expect that revenue growth will quickly accelerate now that the company can fulfil its contracts.
Investor demand for ESG related names continues to grow as markets shift towards "decarbonization."
The Deep Dive views EnerDynamic Hybrid Technologies as an advanced-stage renewable energy company with several innovative solutions that have a wide variety of applications. Revenue growth could be explosive in the near term as the company can finally execute on its contracts that were stalled during the pandemic.
Furthermore, the recent acquisition of Windular Technologies brings a number of significant revenue opportunities to the portfolio. The renewable energy market will continue to grow rapidly as more governments rush to meet their climate change carbon emission goals.
The Macro Renewable Space
The current global macro environment provides a bullish catalyst for the demand for renewable energy technologies and the companies that develop them, in order to slow the rate of climate change through measures outlined in the Paris Climate Agreement. To align themselves with the objectives of the Paris Agreement, many corporations are planning to be "net-zero," or zero net carbon emissions by 2050, with some planning to achieve this goal by 2030.
The global economy has seen a shift towards green energy such as wind, solar, geothermal, and other methods for power generation to move away from hydrocarbon and coal-based energy sources. Governments are providing incentives for a broad range of industries to reduce their carbon footprint and encourage a move to carbon-neutral industrial production.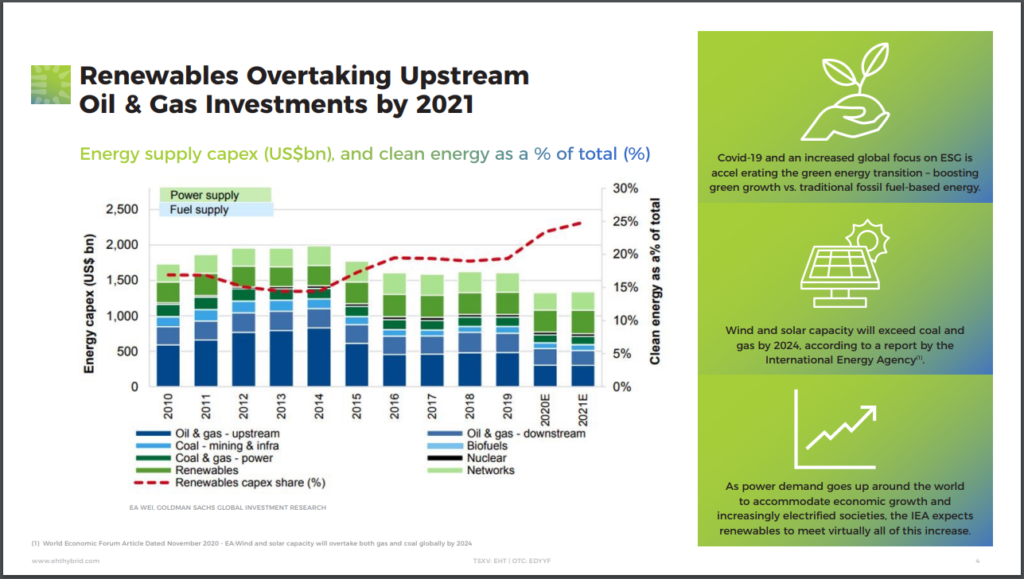 Carbon emission objectives will become an integral part of corporate growth strategies, whether they are driven by shareholders or a corporation's customers. There are three ways in which governments and corporations will be able to achieve these "net-zero" goals: 
Eliminate carbon emissions, 
Reduce carbon emissions,
Offset carbon emissions with carbon credits. 
Many industries are gradually implementing renewable energy technologies for their energy requirements, and we expect that trend will only accelerate as governments provide incentives to enable these shifts. There has been a global trend away from traditional coal-fired power plants, which are being replaced with renewables, not only for emission reduction, but also long-term sustainability. According to DNV GL's Energy Transition Outlook, by 2050 half of the power produced globally will come from renewable energy sources, such as those provided by EnerDynamic.
The Products
As the world quickly moves away from fossil fuel power generation to carbon friendly renewable energy sources, the opportunities for companies that can produce cost-effective and efficient solutions are seemingly without limit. EnerDynamic's products address energy issues across a broad range of target markets, providing diversification of income streams and mitigating risks. 
The 2020 global Covid-19 pandemic caused severe disruptions to the world's economy as lockdowns and travel restrictions prevented significant commercial activity. EnerDynamic was positioned to execute on several major projects at the beginning of 2020 that were put on hold when the lockdowns were instituted. Now that vaccination rates are enabling the economy to reopen, the company is set to capitalize on a number of important projects in a variety of its business silos, which should result in rapid growth acceleration. 
Enertech
EnerDynamic's signature ENERTEC Modular Wall and Roof System has among the highest energy efficiency ratings in today's market which is achieved by using a proprietary skin and foam core to provide more energy efficiency and is stronger than traditional wood or steel structures. The technology can be incorporated into modular building and home systems along with a variety of integrated hybrid alternative energy systems.
The ENERTEC Embedded Solar Roof Module is one of the key components of the Company's Enertec product line. Solar cells are embedded into a fireproof skin, and by eliminating aluminum racks and heavy glass panels, customers can achieve significant cost savings by eliminating the weight of traditional solar panels as well as high labour and transportation costs. This can result in a faster return on investment. EnerDynamic experts are sent to a customer's site to assist with the building installations, and the interior of each structure can be furnished and customized to the customer's needs and specifications.
Cat5 Renewable Energy Homes
The proprietary EnerDynamic Modular Building System enables customers to custom-build homes and other structures, which can be easily erected and customized. A two bedroom home can easily be converted to a four bedroom home without altering the structure's footprint. Modular homes use less energy than traditional homes because of the insulating advantage of the foam core and the proprietary skin. The modular homes generate their own power, which can be advantageous in underdeveloped countries with poor energy infrastructures or remote, off-the-grid locations.
EnerDynamic has a joint-venture in Puerto Rico called CAT 5 SOLAR AND MICROGRIDS which utilizes the Company's modular building technology that has been adapted to build quality inexpensive homes to replace those destroyed on the hurricane and earthquake ravaged island. It is designed so that unskilled labour can easily build the homes, which use colour-coded components that are assembled like "Lego" pieces, and provide R30 insulation.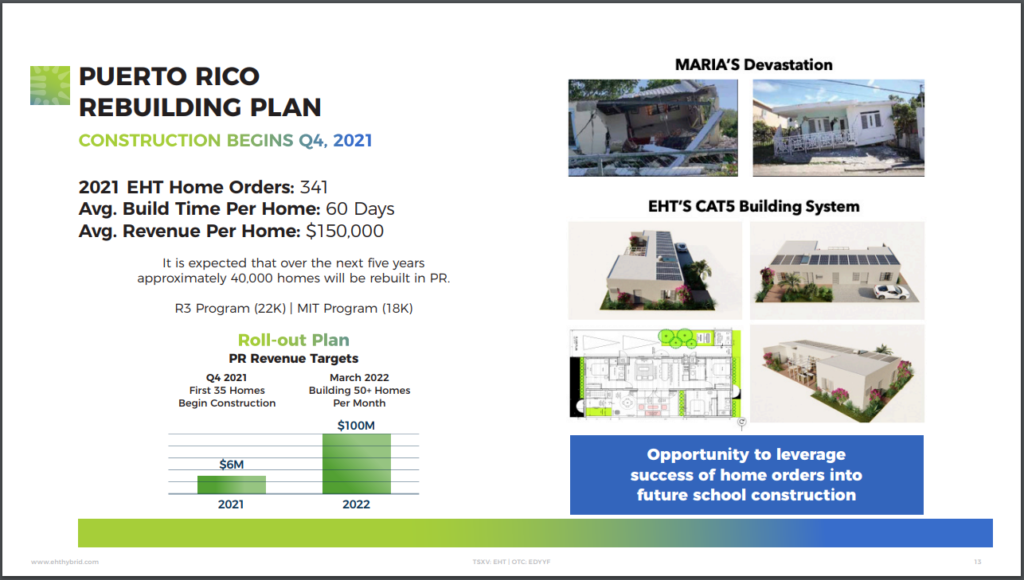 No other hurricane relief homes in Puerto Rico are built to net-zero standards that are achieved using R30 insulation in the external walls and R22 in the roof, and when combined, provide thermal resistance and enhanced energy efficiency. EHT's homes can be built in less than 60 days. The buildings are built to withstand Category 5 hurricanes and are virtually earthquake-proof. The company's "no glass" solar panels are essentially indestructible and continue generating power at all times. The emergency response housing initiative can be replicated in any disaster recovery situation and represents a viable long-term business opportunity.
On September 20, 2021, EnerDynamic announced that its Puerto Rico joint-venture residential rebuilding project received a $21 million order for 141 additional homes for three Puerto Rico based housing developments in Arroyo, Carolina and Vega Baja. Construction is slated to commence immediately and will increase the total housing orders to 341, which will begin construction immediately.
35 homes are expected to be built by Q1 2022, and thereafter, over 50 homes per month will be built until completion of the project. EnerDynamic's joint-venture is in great position to capitalize on a portion of the USD $50 billion of funding committed by federal agencies that is currently being allocated by the Office of Recovery, Reconstruction and Resiliency, with $34 million worth of new contracts expected to be issued on September 23, 2021.
Windular Research and Technologies Inc.
Windular has developed a proprietary rail assembly that is installed on telecom towers to which a "Smart Tracking" system is attached. The system is equipped with sensors that constantly evaluate prevailing weather conditions to enable the assembly to automatically move to a point on the rail to receive the optimum amount of solar and wind to generate power for the tower, as well as position it to provide protection against severe weather events. The system can be serviced and supported remotely, therefore reducing downtime and labour costs.
The tech is ideal for telecom providers, whom are aggressively expanding their mobile networks to ensure that populations everywhere can have reliable, cost-effective internet and cellular services, and they achieve that by erecting a series of telecom towers throughout any given country or region, often in remote locations. The challenge until now has been to ensure a steady supply of power to these towers, which until recently was often completed through the use of diesel generators and other inefficient and costly technologies.
One solution has been to install small wind turbines and/or solar planets to the towers to provide uninterrupted power. Windular has a contract with a major telecom company to install its proprietary "Smart Tracking" system to provide long-term uninterrupted power to telecom towers, which enables these firms to achieve their "green" initiative targets, while reducing the need to rely on diesel generators in remote locations.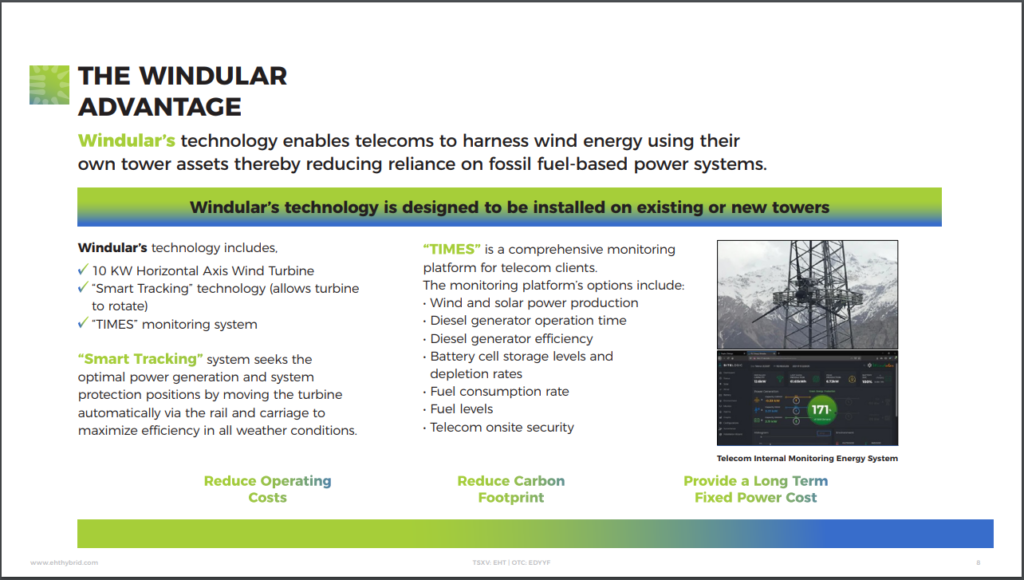 Agriculture
EnerDynamic's EHT Agriculture subsidiary distributes the company's proprietary modular and portable grow units all over the world, providing higher harvest yields and freedom for independent growers. These units can be run off-grid, through a hybrid wind-solar system, resulting in a 20-40% faster seed to harvest period for many types of crops, reduced waste, and reduced transportation costs while reducing carbon emissions.
EnerDynamic has supplied its climate controlled systems to a number of marijuana growers and hydroponic crop farmers. Hydroponic growing employs soilless growing systems to increase crop yields and uniform growing conditions for crop consistency and crop density. A principal advantage of indoor farming is the ability for year-round growing and the ability to harvest multiple crops per year.
Proper lighting is a key factor for optimum plant growth. Another is a consistent power supply to manage the electronic aspects of hydroponic farming, which can be achieved with EnerDynamic's EnerRoom modular energy units, a self-contained unit equipped with managed solar power, a battery system and any necessary electrical connections. These systems are scalable and easy to pack, transport and assemble, and are suitable for a wide variety of applications.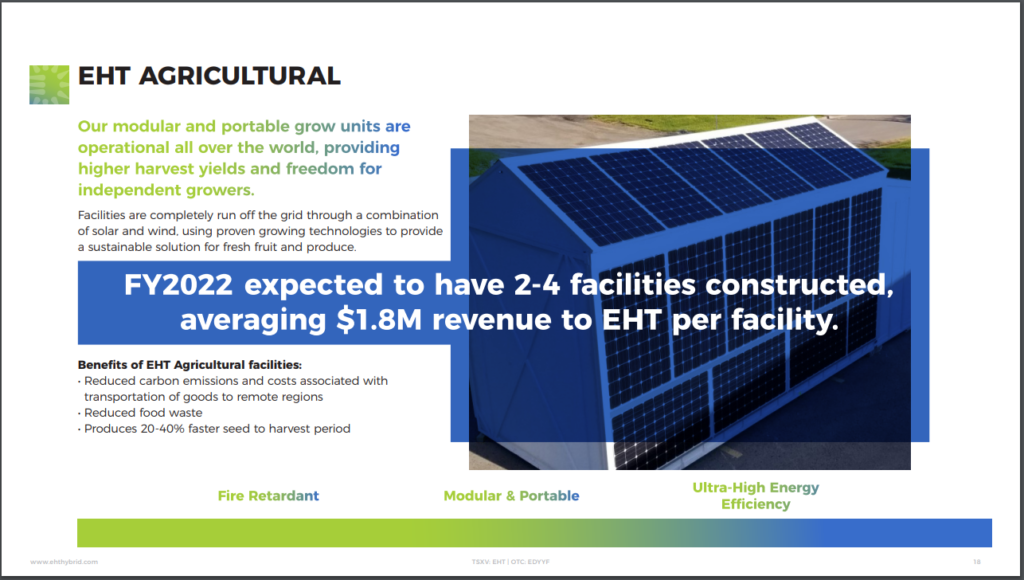 Power Carts
EnerDynamic has developed proprietary green energy power carts that can provide on-site power for construction sites, remote locations, disaster sites and many other applications. These carts can enable a convenient means of recharging power tools, cell phones and computers, water purification systems, and any other power consuming devices.
The Company believes that its power carts could be a massive business opportunity because they can be used in almost any circumstance that requires dependable mobile power.
Solastream
SOLASTREAM is the world's first mobile solar air-to-water system utilizing what the company calls "Atmospheric Water Generators." It uses humidity in the air to extract and provide users with clean and fresh drinking water. The system is powered by a 16KW solar-powered generator and battery back up to operate 24 hours per day. SOLASTREAM is available in two sizes:
GENNY – small scale system that can produce 30 liters of drinking water per day
GEN-M – mid-size system capable of producing 800 liters of drinking water per day
EnerDynamic has a 50/50 joint venture with Cinergex Solutions Ltd.,  a leading innovator and provider of economically feasible, scalable, and environmentally sustainable water solutions to more than 30 countries worldwide. The first system was recently sold to a hotel in Jamaica to provide drinking water to its guests.
Clean, potable drinking water is a critical need in many regions across the globe, and the need is being exacerbated by climate change. While SOLASTREAM is ideal for disaster relief scenarios, it can also be set up anywhere there is a public need for easily accessible drinking water, such as beaches, parks, sporting events etc.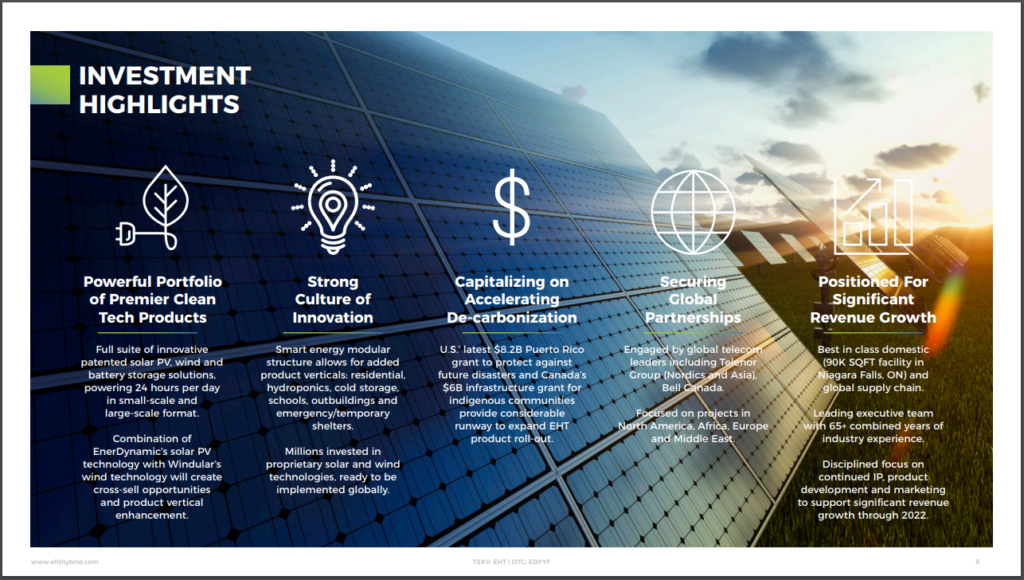 The Management Team
John Gamble – CEO and Director
Mr. Gambe has over 35 years of business consulting experience across a number of industries including corporate finance, where he has raised in excess of $100 million for various companies. For the past 15 years he has focused on renewable energy and has served in senior management positions, having designed and built solar installations around the world. 
Bruce Bent – Chairman 
Mr. Bent holds a B.Commerce from the University of Manitoba and is a Certified Public Accountant. He is currently CFO with Matthews Southwest Development, a $500 million real estate development company and has been responsible for over $2 billion of construction.
David Woolford – Director and Counsel
Mr. Woolford obtained his law degree from the University of Western Ontario and is the Principal at Woolford Venture Law, which specializes in corporate finance, corporate governance, intellectual property rights, and other aspects of securities law. He is a Member of the Law Society of Upper Canada and the Institute of Corporate Directors
Jerry Foster – President and Co-founder of Windular Research and Technologies
Mr. Foster holds a B.Commerce in Marketing and Management from Saint Mary's University in Halifax, Nova Scotia. He served over 20 years in the visual communications industry, and for over 13 years was a senior manager with the Jim Pattison Group, where he designed, developed and implemented many Fortune 500 re-image programs. He has extensive experience in domestic and international business development in various industry sectors, including telecom, automotive and financial.   
The Risks
From our view the following risks are worth considering.
Price of solar and wind technologies. Solar and wind technologies have experienced many fits and starts over the years. The price of solar panels have dropped precipitously as new and innovative technologies have enabled lower price points. Wind technologies have experienced similar circumstances. Price points become more important as the industry is commoditized. We believe EnerDynamic may better withstand this because it is more of a systems integrator, which enables it to price entire projects.
Sales Results. If there are poor sales or production results reported from the Company's various projects, this could adversely affect price performance of the stock. Shareholders would have to assess whether that would be a short-term issue or something that could signify greater problems at the deposit.
Jurisdictional Risk. While most governments are encouraging the shift to green energy, they may also give preference to their own domestic companies, which could create barriers to entry in some of the Company's target markets. Certain jurisdictions could have difficult regulatory frameworks that might be difficult to overcome. Governments can also dictate what they are prepared to pay for power.
Technology obsolescence. Technology companies such as EnerDynamic are always susceptible to competition from other technologies that could make its products redundant. EnerDynamic is focused on specific niche markets with current limited competition and if they establish a market leadership position in these niche markets, it could be easier to withstand disruptive competitors. EHT is somewhat protected due to its diversified portfolio of technologies and target markets.
The Catalysts
Some of the potential catalysts we see that could have a large impact on the share price include:
The growth of the renewable energy sector. Demand for renewable energy is expected to rise over the next two decades as the world races to slow climate change by replacing fossil fuel derived energy sources with green renewable energy technologies such as solar, wind and geothermal to meet the carbon emission reduction targets established by the Paris Climate Agreement.
Broad economic indicators. Given the recent COVID stimulus packages which have seen a massive global effort to bring back millions of lost jobs and boost a return to a post-Covid-19 economic rebound, the assumption is that governments and central banks will take on debt funded through quantitative easing (money printing) to fill the gap. Now that massive vaccination efforts are underway, the global economy is expected to have a significant rebound as business strives to return to pre-pandemic levels.
Resumption of pending contracts. Companies such as EnerDynamic, which had many of their contracts put on hold during the pandemic shutdowns and travel restrictions, should experience a sharp rebound as existing contracts commence and the Company can close on securing new business.
Potential future Merger and Acquisition activity. The Deep Dive believes we are in the early stages of a secular bull market for renewables due to rising global demand for green energy to replace existing fossil fuel based energy infrastructure. Due to EHT's extensive experience, expertise, and credibility, it has the ability to identify solid revenue producing opportunities or synergistic assets to invest in. If the company's revenue growth is as significant as we expect and it achieves a significant share of its target markets, that could make EnerDynamic an attractive acquisition target by a larger entity looking to expand its renewables portfolio.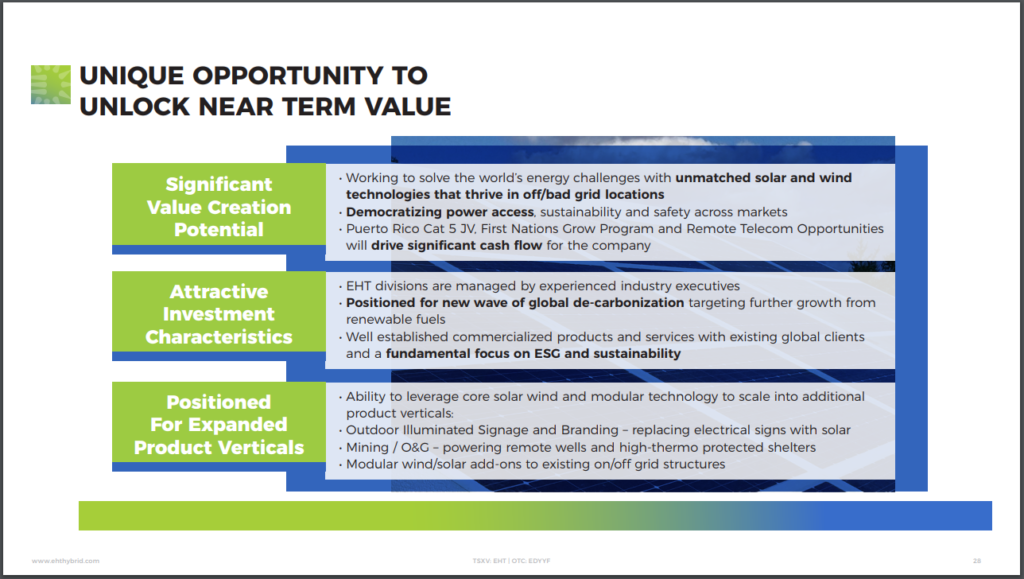 Conclusion
EnerDynamic Hybrid Technologies Corp. appears poised for a period of prolonged growth, as it executes on its project portfolio and continues to expand its pipeline of new business. Management has extensive experience in the renewable energy industry and the company, which has recently closed on a $3.2 million financing, is well-capitalized to kick start its projects and generate revenue.
With 69.5 million shares outstanding and a modest market capitalization of $21.1 million, EHT appears to offer investors a somewhat de-risked, diversified green energy company that has multiple target markets, existing contracts, and an expanding new business pipeline with tremendous upside potential.
---
FULL DISCLOSURE: EnerDynamic Hybrid Tech is a client of Canacom Group, the parent company of The Deep Dive. The author has been compensated to cover EnerDynamic Hybrid Tech on The Deep Dive, with The Deep Dive having full editorial control. Not a recommendation to buy or sell. Always do additional research and consult a professional before purchasing a security.