EU, G7 Say "Nyet" To Russian Gas As Renewables Take Over As Primary Electricity Source
According to officials involved in the negotiations, the G7 and EU will ban Russian gas imports on lines where Moscow has reduced supplies, marking the first time that western nations have stopped pipeline gas trade since the invasion of Ukraine.
The move, which G7 leaders will finalize next week in Hiroshima, will prohibit Russia from resuming pipeline gas exports to nations such as Poland and Germany, where Moscow cut off supplies last year, triggering an energy crisis across Europe.
As they strive to increase economic pressure 15 months after Moscow's full-scale invasion of Ukraine, Western nations want to ensure that Russia does not enjoy a boost in its energy income.
According to one of the officials, the step was made "to ensure that partners do not change their minds in the hypothetical future."
According to a draft G7 statement obtained by the Financial Times, the group of leading economies will reduce their use of Russian energy sources even further, "including preventing the reopening of avenues previously closed down by Russia's weaponization of energy," at least until "the conflict is resolved."
While the measures are unlikely to alter immediate gas flows, they highlight Brussels' profound commitment to complete the quick and painful transition away from decades of reliance on Russian energy.
The ban is especially symbolic because, at the start of the war, the EU avoided targeting pipeline flows due to their reliance on Russian gas. Russia reduced supply anyway, causing gas prices to skyrocket to more than ten times their regular amount.
However, prices have dropped significantly in recent months as Europe effectively reduced consumption over the winter, increased the deployment of renewable energy, and secured alternative sources such as seaborne LNG shipments.
Moscow's share of European gas imports has dropped from more than 40% to less than 10%, and a mild winter has increased gas storage in the EU.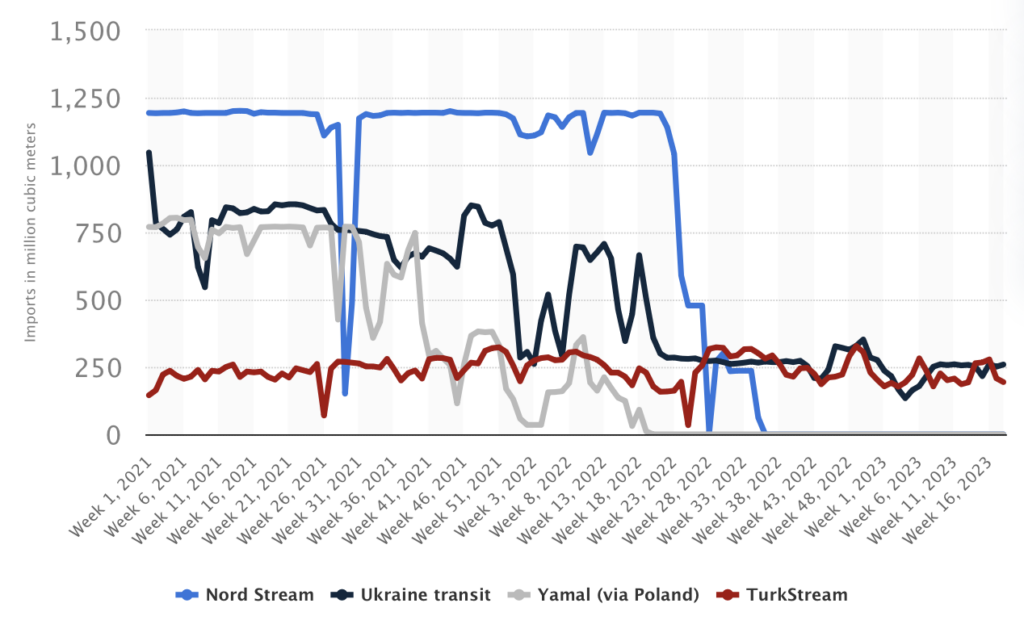 Officials are sure that gas storage, which is already 60% full compared to around 30% at the same time in 2022, will achieve capacity well before the following winter starts.
Diplomats are debating the embargo as part of the EU's 11th sanctions package. The commission stated that it would not comment on sanctions talks or leaks.
According to one EU diplomat, the idea needed further clarification from Brussels to clarify how the "status quo" would change, especially since some oil from Kazakhstan passes through Druzhba. "It has to be crystal clear exactly how it would work," they stated.
Despite being free from Russian oil sanctions, Berlin and Warsaw announced last year that they would voluntarily halt crude deliveries through Druzhba, while Poland continued to receive supplies until Russia cut off shipments in February. Beginning in January of this year, German refineries stopped ordering Russian crude.
The Nord Stream 1 and 2 pipelines, two of Russia's biggest gas conduits to Europe, were damaged last year, leaving only one of their four lines operational. Other pipelines, such as the Yamal line to Poland, remain operational.
Can EU survive without Russian gas?
The European Union is producing record amounts of wind and solar energy as the 27-country bloc strives to minimize its reliance on Russian fossil fuels.
The EU countries were already shifting toward renewable energy, but Russia's conflict against Ukraine hastened the process. Wind and solar power exceeded gas as a source of electricity for the first time in 2022. According to the London-based energy research tank Ember, wind and solar provided a record-breaking 22% of EU countries' electrical supply.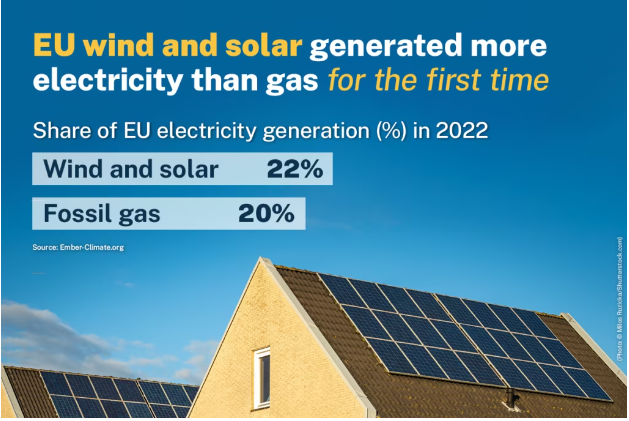 "We have to double down on investments in home-grown renewables," European Commission President Ursula von der Leyen said in October 2022. "Not only for the climate but also because the transition to the clean energy is the best way to gain independence and to have security of energy supply."
Analysts say Russian President Vladimir Putin's decision to stop Russia's gas and oil supplies to EU members failed to erode the EU's backing for Ukraine as hoped. Instead, EU members resisted Russian energy, and the EU is now more energy independent than it was a year ago.
Russia's revenue from oil and gas is down 45% year on year in the first quarter of 2023, according to business reports.
According to the International Energy Agency (IEA), revenue from oil and gas will account for about half of Russia's federal budget in 2021. Russia's energy exports are expected to shrink by 7% over the next decade.
---
Information for this briefing was found via Financial Times, Reuters, US Embassy, and the sources mentioned. The author has no securities or affiliations related to this organization. Not a recommendation to buy or sell. Always do additional research and consult a professional before purchasing a security. The author holds no licenses.