Explained: Why Thermal Scanners Are Better Than Thermal Imaging
In the 1990's, scientist Francine J. Prokoski demonstrated that facial thermograms are unique to individuals. So much so that identical twins have different thermograms. Modern thermal imaging technology involves the use of biosensor data for uniquely and automatically identifying individuals.
Most of the thermal technology planned for use in the future is welcomed as a result of COVID19. However, citizens should be very skeptical of those using camera's to administrate the technology in places outside of casinos and airports, where facial recognition is widely accepted. In the wrong hands, camera-based systems could become a clear invasion of privacy.
Thermography works very much like facial recognition by using an infrared camera's to provide an identification capability. It was not initially created to be used to solely detect a person with a fever. Biosensors produce detailed data, such as high-resolution infrared images that can result in unique identification of an individual from the determination of elemental shapes and their distribution. They were created to be a mechanism of biometric identification and are considered to be acceptable since the technology is a non-intrusive way of ensuring public health.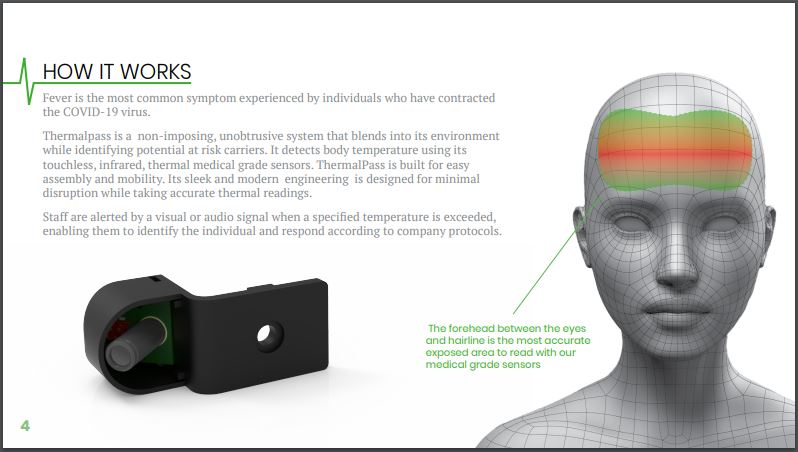 Thermal camera technology came into widespread use in airports in Asia after the SARS epidemic in 2003. Fever detection requirements around the world have renewed interest in the technology with COVID19. Intertwining the two is unnecessary and poses a threat to our civil liberties. We have deep dived into all the available systems that include the questionable use of infrared cameras. Both public and private companies were examined. Tech startups and surveillance companies have been selling thermal imaging for years. The only difference from today and then, is that they are now being marketed as fever detection solutions to address the post-pandemic realities. An unnecessary evil.
These intrusive cameras have been marketed as a perfect fit for populated locations where rapid temperature inspection is needed. However, can the data derived from such devices really be trusted in the hands of consumer centric businesses? Having real life, limitless and unchecked market data regarding consumer habits is exactly what put Facebook in hot water.
While there is revitalized demand from companies to use thermal imaging cameras to seek solutions to prevent the spread of COVID-19 and safely get back to work, many courts across North America have deemed that infrared cameras are in fact an invasion of privacy. It's pretty cut and dry. And this is not discouraging companies from selling their technology as a silver bullet to defeating the virus. These cameras threaten to build a future where public squares and sidewalks are filled with constant video surveillance. An Orwellian society on steroids.
Thermal cameras are still surveillance cameras. Spending money to acquire and install infrastructure like so-called 'fever detection' cameras increases the likelihood that the hardware will long outlive its usefulness during this public health crisis. They are not only unwanted by legal pundits but highly unnecessary. The technology society should embrace is that of thermal scanners like that being developed by Internet of Things Inc.'s (TSXV: ITT) AI Labs. Especially when it comes to managing the spread of COVID-19 where people need to wear masks while measuring the temperature.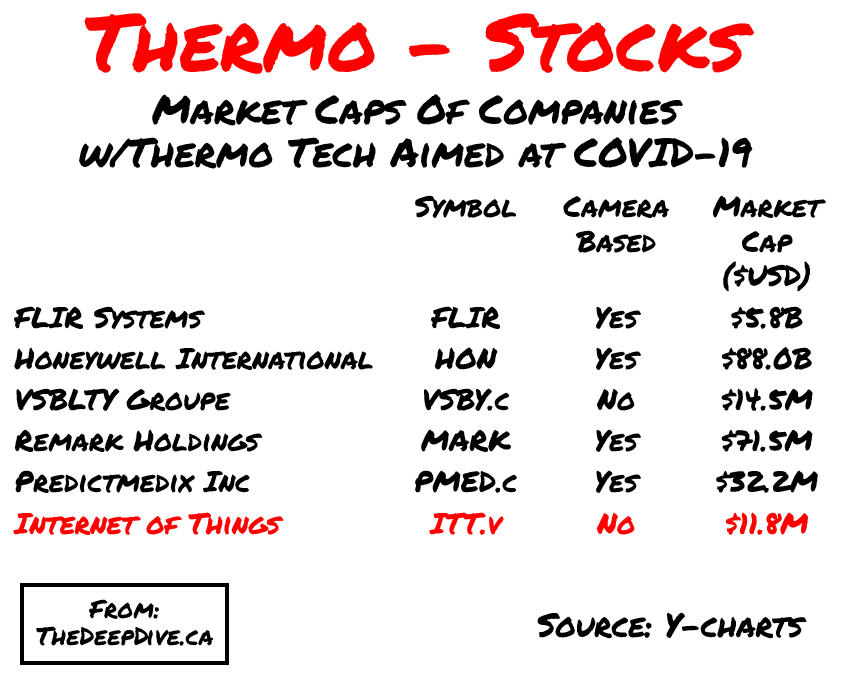 During a pandemic, it may be prudent to monitor a person's body temperature under specific circumstances. However, these should be implemented strategically and temporarily. For example, hospitals or nursing homes checking patient and staff temperatures at the door to make sure that no one with a fever unknowingly exposes the people inside the facility to the virus could be the difference between life and death. These more focused scanner technologies developed by the likes of AI Labs are a far cry from dragnet surveillance cameras. As hospitals and nursing homes are essentially people's temporary homes away from home, a reasonable expectation of privacy exist in the bedrooms of the nation.
That's why AI Labs Joint Venture with Commersive Solutions has differentiated itself from the others in the space. They have developed a new fever detection system, named ThermalPass, that uses thermal medical grade sensors vs. cameras that are less accurate, more expensive, obtrusive to personal space and infringe on privacy.
ThermalPass is a non-imposing, unobtrusive system that blends into its environment while identifying potential at risk carriers. It is built for easy assembly and mobility. The company's AI-powered system can rapidly scan individuals as they pass through entryways at malls, airports, corporate buildings, theme parks, arenas – any high-traffic public location. ThermalPass can instantly and quietly alert security personnel of any person with a skin temperature that suggests a higher-than-normal temperature, allowing staff to conduct a secondary temperature check to efficiently protect the public.
---
FULL DISCLOSURE: Internet of Things Inc is a client of Canacom Group, the parent company of The Deep Dive. The company has been compensated to cover Internet of Things Inc on The Deep Dive, with The Deep Dive having full editorial control. Not a recommendation to buy or sell. Always do additional research and consult a professional before purchasing a security.