Farm-To-Road: Wave Of Farmer Protests Spreads Across Europe
Amid the seemingly worldwide rising inflation – which started with the effects of the pandemic and worsened by the global oil crisis fueled by the Russia-Ukraine war – Europe is taking the brunt of it all. As if energy security wasn't enough of a problem, it has now begotten another potential (but expected) crisis – food security.
Europe's agricultural sector is giving a different meaning to "farm-to-road" as a wave of protests has been spreading across the continent, demanding government policies to reflect the needs of the industry.
The Netherlands started the wave with Dutch farmers staging protests over their government's environmental regulations proposals to reduce pollutant emissions. The country's cabinet proposed a £22 billion program after it was instructed by the courts to slash nitrogen oxide and ammonia emissions generated by livestock by 50% come 2030.
As part of the government's measure to tackle this, The Hague is eyeing mandatory purchases of farms that would lead to closures. This could force 30% of the country's farms out of business, according to a Dutch farmers' union.
Dutch farmers took it to the streets to protest the upcoming regulations, blocking main roads and supermarket entrances.
Germany in solidarity; Poland joins from across the land
Soon after, German farmers joined the Dutch protesters in blocking the road on their shared border.
Germany itself has seen its farmers' associations contesting a recently passed renewable energy act amendment by the country's parliament. While it aims to accelerate Berlin's renewable energy expansion, the group is lamenting that the amendment does not provide enough support for biogas production.
"It is completely incomprehensible that in the middle of this far-reaching energy crisis, a sustainable domestic energy source such as biogas is being curbed in the production of electricity, heat, and biomethane," said Bernhard Krüsken, secretary-general of the German Farmers' Association.
Polish farmers also protested in solidarity, themselves objecting to their own government's policies related to the agricultural industry, including the rising cost of fertilizers and allowing cheap food imports to compete–causing a spike in local production costs.
The farmers rallied along the streets of Warsaw shouting protest cries: "Enough is enough! We won't let ourselves be robbed!" and "We workers cannot pay for the crisis created by politicians!"
Italy in heat
Adding to the drought Italy is currently facing, the heat of mounting farmers' protests is building up on roads in rural areas. The tractors holding up main roads are threatening to "come to Rome" should the government's inaction continues.
Italy declared earlier this week declared a state of emergency in five regions as the northern parts of the country face an economically-threatening drought. The country's largest river Po, which generates about 14% of Italy's agricultural output, is at its lowest level in 70 years.
A local farmers' confederation estimates around €3 billion worth of damage due to water shortage.
"We have about 30 percent less production of milk and about 30-40 percent less of cereals and maize," said Fabio Bonaccorso, spokesman of Italy's national farmers' confederation Coldiretti. "It's a strategic decision for the future to address this climate change. We have to spend money for a new kind of irrigation and a new kind of cultivation."
In 2020, the European Union produced a total of €335.9 billion in agricultural output, with France and Italy leading the pack in terms of contribution at around 18% and 14%, respectively.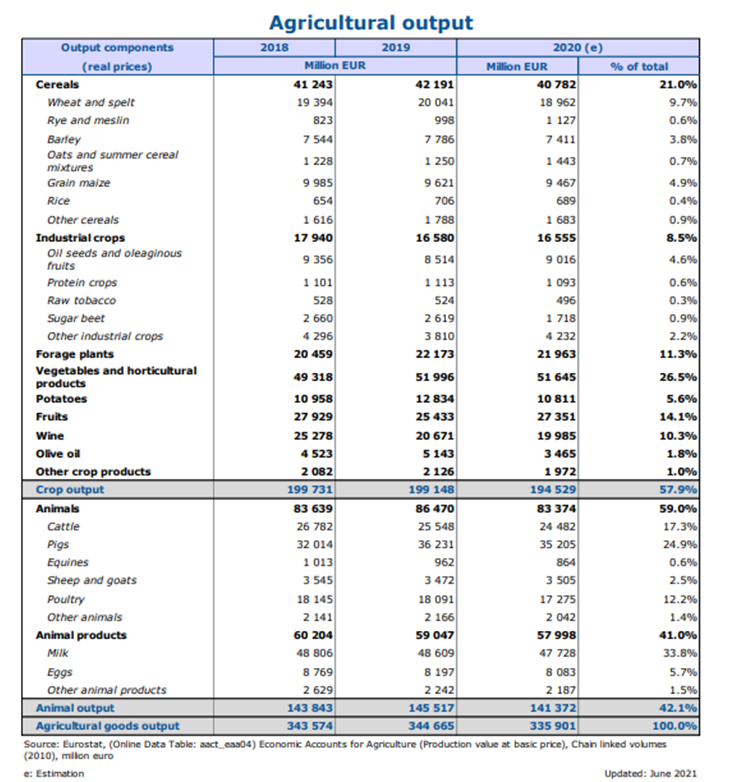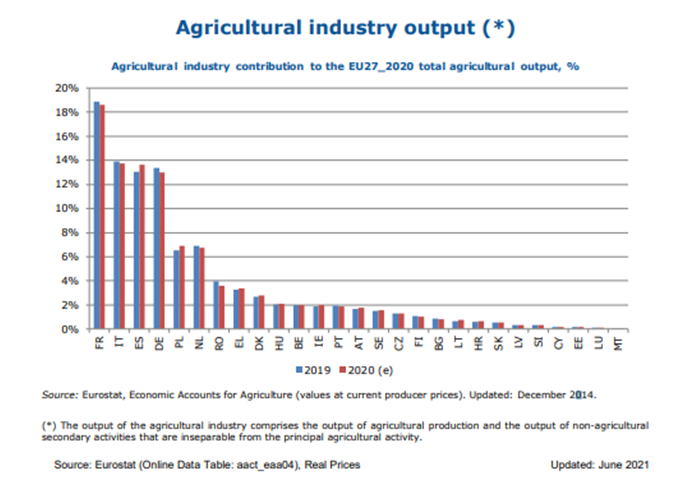 The Dutch farmers continue to protest, with uprisings now also coming from Moerdijk and Nijmegen.
---
Information for this briefing was found via Farmers Weekly, Euractiv, Bloomberg, and Financial Times. The author has no securities or affiliations related to this organization. Not a recommendation to buy or sell. Always do additional research and consult a professional before purchasing a security. The author holds no licenses.