Freedom Convoy: Canadian Truckers Spread Disinformation From Russia Against Trudeau
During last year's "Freedom Convoy" which occupied downtown Ottawa for three weeks and cost the Canadian economy over $4 billion, Russian propaganda outlets attacked Prime Minister Justin Trudeau, falsely accusing his government of "ordering" the use of violence against demonstrators.
Nevertheless, in addition to overt propaganda outlets such as Russia's RT, disinformation propagated via proxy sites and social media messaging apps such as Telegram, which was widely utilized by the convoy's actual grassroots supporters.
Another pillar of Russia's disinformation network is proxy websites. These websites, which include SouthFront and Global Research in Canada, have previously been linked to Russian intelligence operations and have even published stories written by fictitious personas fabricated by Russian intelligence agencies.
The goal of websites like these is to spread Russian propaganda while retaining plausible deniability. By making it look as if the content is supported by several independent agencies when it is really just additional Russian-backed sites, writers, and commentators, the use of proxy sources gives the impression of independence and builds false consensus.
Both SouthFront and Global Research offered continual coverage of the "Freedom Convoy," which frequently included misinformation and aggressive speech, as well as repeated calls for Trudeau to resign.
SouthFront and Global Research also made unsubstantiated accusations about "agent provocateurs" sent in by the Trudeau government to instigate violence – a familiar theme used by Russia in its active measures campaigns. The two proxy sites reposted each other's content as well as articles from other Russian proxy sites, revealing Russia's disinformation ecosystem's interconnectedness and coordination.
Fake news convoy
In January and February 2022, a large number of public Telegram channels were created or repurposed to support the "Freedom Convoy," initially sharing information about the convoy routes, soliciting donations, discussing ongoing convoy-related events, expressing opinions about politics and COVID restrictions, posting links to news stories, spreading conspiratorial content, sharing calls to action, and encouraging people to participate in the proclamation.
Yet, over time, many of these channels, including some with tens of thousands of members, began to mix Russian propaganda with convoy-related information.
This network of Telegram channels eventually became a repository for Russian propaganda, with some channels frequently posting Kremlin press releases and Russian-language content. Some of these channels continue to broadcast convoy-related content, such as planning for upcoming events and demonstrations, while others have abandoned the convoy totally and now solely post Russian propaganda, QAnon conspiracy theories, and other conspiratorial content.
Many of the conspiracy theories posted in these channels originated or were widely circulated in Russian propaganda networks, including claims that COVID-19 is a bioweapon and that Russia invaded Ukraine to shut down US-backed biolabs, claims that Russian meddling in the 2016 US presidential election was a hoax, and various conspiratorial narratives about COVID vaccines, 5G technology, and tracking chips.
Some of the most popular content on these channels depicts the Canadian government as being infested with Nazis and alleges that Canada supports Nazis in Ukraine. These assertions correspond to some of the most prevalent propaganda narratives employed by Russia to justify its invasion of Ukraine.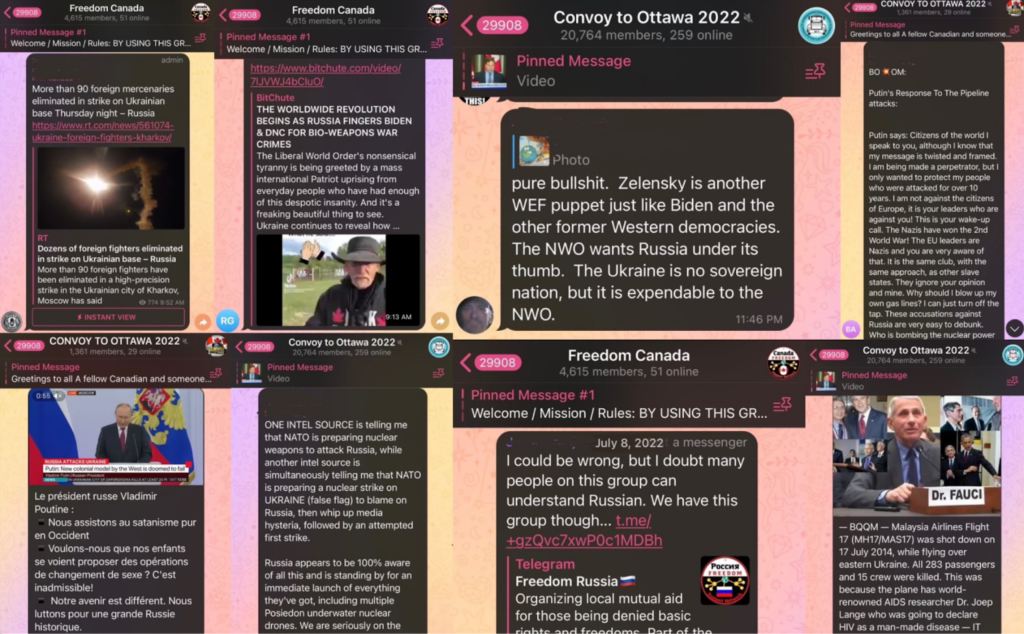 On a tactical level, the operators of these Telegram channels have previously been linked to Russian influence operations, including multilingual posting, repurposing existing channels, creating networks of interconnected channels, and using Telegram to coordinate talking points on other social media platforms.
This development, however, suggests that Russian state actors and affiliates had a strategic interest in the convoy and reveals a pattern of action typical of Russian influence programs.
This comes at the height of the conversation surrounding Chinese interference with Canadian elections. Recently, two high-level national security reports released before and after the 2019 election indicate that Trudeau and his government were warned that Chinese government officials were funneling money to Canadian political candidates.
Freedom Convoy lawsuit
An Ontario court judge denied Freedom Convoy organizers' request to dismiss an updated version of the case against them on Monday, allowing the prospective class-action claim to proceed. This effectively allows the lawsuit to expand and add more potential claimants in Ottawa.
"There is nothing fundamentally wrong with the plaintiffs seeking remedies against the defendants who were involved in one way or another with the activities of the 'Freedom Convoy' and their 'occupation' of downtown Ottawa," wrote Justice Calum MacLeod of the Ontario Superior Court.
His decision denied a petition by lawyers on behalf of several convoy organizers to strike an updated statement of claim. The revision, submitted by lawyer Paul Champ, broadens the scope of potential plaintiffs to cover a large portion of Ottawa's Lowertown neighborhood.
The so-called "occupied zone" also includes the Rideau Centre shopping mall, which was closed during the demonstration, putting many employees out of work temporarily. Champ stated that the increased parameters now cover 15,000 potential claimants.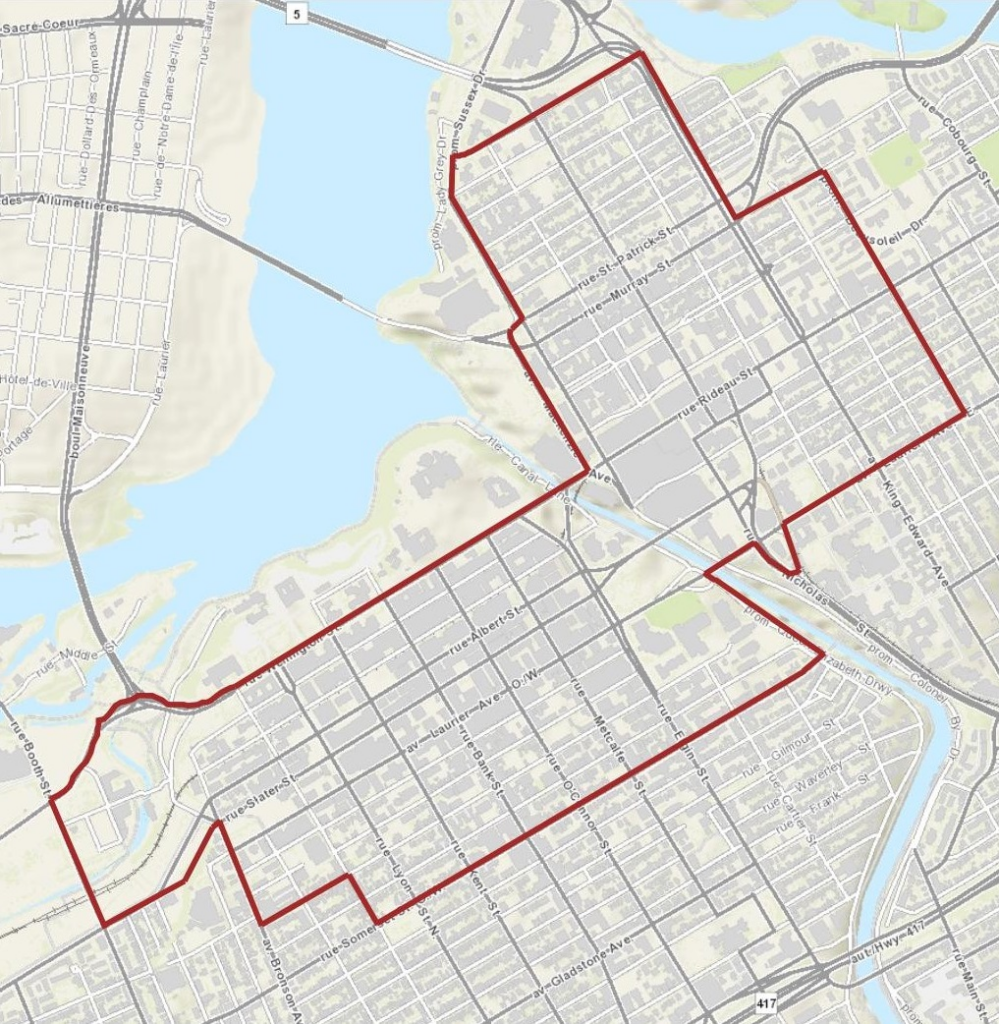 The lawsuit wants at least $290 million in damages from the organizers of the demonstration that held the city for three weeks in January and February 2022. The lawsuit claims that frequent horn blaring and diesel fumes damaged residents and cost businesses and their employees money during the three-week demonstration in January and February of last year.
The judgement on Monday also authorizes the plaintiffs to submit an amended lawsuit that adds a "donor class" of people who gave through GiveSendGo, GoFundMe, or other means to the list of defendants.
According to court filings, the additional defendants include New Brunswick businessman Brad Howland, who donated $75,000 to the convoy protesters, and Harold Jonker, whose trucking company had at least ten rigs parked in Ottawa.
Champ stated that the two defendants are being named as representative class defendants in order to represent the truckers who parked their rigs downtown and the protest donors.
"The vast majority of the truckers who clogged the streets of Ottawa for three weeks and were honking their horns day and night have really escaped any type of consequences up until now," Champ said. "The way we're leading this case, anyone who was a trucker who parked in downtown Ottawa, as well as anyone who donated a significant amount of money to the protest after Feb. 4, can be liable jointly and separately for the entire amount of damages."
The class action has not yet been certified by a court, but if it is, everybody who contributed to the convoy may be held accountable, while claimants in the occupied zone may benefit.
---
Information for this briefing was found via CTV News, National Observer, and the sources mentioned. The author has no securities or affiliations related to this organization. Not a recommendation to buy or sell. Always do additional research and consult a professional before purchasing a security. The author holds no licenses.