Freeman Gold: Getting Idaho Back To Its Gold Mining Roots
With +150 years of gold mining that dates back to the Pierce discovery of 1860, Idaho has been, and still is, one of the best jurisdictions to find gold.
Though sometimes overshadowed by its southerly neighbor, Nevada, America's top gold producing state, Idaho is no slouch when it comes to digging up and processing gold, along with a number of other important minerals including silver and phosphate. 
The leading gold-producing district is the Boise Basin. Discovered in 1862, the basin has produced 2.9 million troy ounces, mostly from placer deposits. The French Creek-Florence and the Silver City districts each mined about 1 million ounces, while the Coeur d'Alene district of northern Idaho racked up a historical 44,000 ounces, as a by-product of silver mining.
Although Idaho produces little primary gold, the potato state's still-untapped potential has captured the imaginations of junior gold explorers, as they seek to write new chapters of mining lore.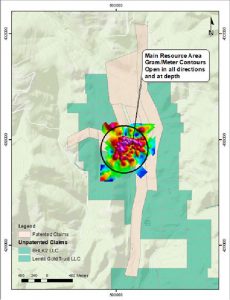 Of the Idaho juniors we have come across, one of the most interesting is Freeman Gold Corp (CSE: FMAN). Freeman is a new company that started off as Lodge Resources. Lodge's recent acquisition of the Lemhi Gold Project in Idaho preceded a financing and a name change, along with the appointment of Will Randall as president and CEO, and Dean Besserer as VP, Exploration. 
A professional geologist with over 20 years of mining industry experience, Will Randall is also a successful money man. While running the Sal de los Angeles lithium brine project in Argentina, he raised about $70 million to take the project through resource development, mine permitting and initial construction, before it was sold in an all-cash deal for $265 million.
Dean Besserer has more than two decades of exploration experience working in 50 countries, including much of North America, often leading projects with annual exploration budgets exceeding $20 million. He was previously vice president and partner of an international geoscience consulting firm, served as a director of Brilliant Mining, Niblack Resources, and Graphite One, and was vice president, exploration for a number of junior resource companies.
Vice President Kelvin Lee, CFO & Director Steve Mathiesen, and directors Ronald Stewart and Simon Marcotte, round out the management team.
The new entity trades on the Canadian Stock Exchange with a current market capitalization of $7 million, and 55.368 million shares outstanding. Freeman Gold's objective is to define a 1.5-2 million-ounce oxide gold, open-pittable deposit in Idaho.
Why Idaho?
Idaho is home to a number of mining districts, with both lode and placer deposits. Idaho is a great location to prospect for gold and one of THE states to be in right now in the gold space.
Why do companies want to be there? Over two-thirds of the state is public land, and of that, much is managed by the Bureau of Land Management and the Forest Service. Especially in northern Idaho, there are many right-wing California emigres who are all for mining. A pro-mining civic culture and a state government that sees the benefits of mineral exploration and extraction, make for easy permitting. In fact, Idaho was ranked No. 8 in the world and No. 3 in North America on the 2019 Fraser Institute rankings of mining attractiveness index.
There has been a good deal of deal-making in Idaho over the last year. Recent transactions include Coeur Mining, a $1.2 billion gold producer, announcing a $6.6 million investment in Integra Resources, validating Idaho as a desirable place to be; Liberty Gold selling its Kinsley property to focus development capital on an asset in Utah and its Black Pine project in Idaho; and Midas Gold announcing a $35 million financing, with Paulson & Co participating for $25 million. Black Pine is a large, Carlin-style sediment-hosted gold system, and Midas Gold owns the advanced-stage Stibnite Gold Project. In 2018 Barrick Gold bought $38 million of Midas Gold's shares, in return for an almost 20% stake in the junior.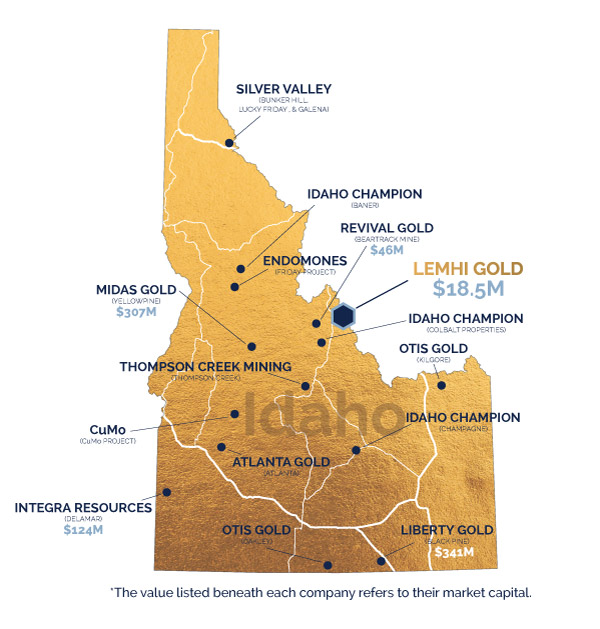 Lemhi Gold Project
The Lemhi Gold Project is strategically located in close proximity to Revival Gold (Beartrack-Arnett Project), Barrick and Agnico Eagle, among others.
When gold prices fell in the late '90s, the project was put on hold by AGR's acquirer, Meridian Gold, then picked up again in 2011 by Northern Vertex, which conducted a 10,000-meter drill program.
Fast forward to 2019 when Freeman, then called Lodge Resources, acquired Lower 48 Resources, which has an option to buy the project, located near Salmon, Idaho. In April 2020 Lodge acquired all of the shares of Lower 48, through the sale of 30.6 million of its shares. Lodge also did a private placement of $1.2 million at $0.20 per share. A second financing in May, at $0.35 per unit, raised $430,325, for gross proceeds of $1.494 million.
The property consists of 99 unpatented claims and 11 patented claims, with a combined 100,000 meters of historical drilling. Highlighted intercepts include 193.55 meters at 1.8 grams per tonne gold, 179.83m @ 1.81 g/t and 13.72m @ 15.19 g/t.
Over 355 holes have been drilled in the deposit area, with historical resource estimates ranging from 500,000 oz to 1.2 million oz (Moz), at grades of between 0.84 g/t and 1.3 g/t.
The Lemhi Gold Project has a historical non-compliant 43-101 resource of 29,357,894 tonnes grading 1.29g/t per tonne for a geological resource of 1.21 million contained ounces of gold, as reported by Pincock Allen & Holt in 1996 (the "PAH Report"). The objective of Freeman's upcoming drill and resource confirmation program is to prove up, and bring to National Instrument 43-101 standards, the PAH Reports historical gold resource previously identified on the Lemhi property.
Most of the ounces at Lemhi have been found in near-surface, oxide material that is potentially suitable for open-pit, heap leach operations. The gold occurs largely as free gold (not bound up in other minerals) in the oxide zone of 100-165 feet below surface.
While initial exploration concentrated on areas open along strike, Freeman believes there is an opportunity to find high-grade feeder zones at depth. There is also the chance to increase ounces by infill drilling within the consolidated >2,500-acre land package, much of which is unexplored.
Most of the historical resources at Lemhi are held within the patented claims. Baseline studies conducted by AGR show no major obstacles to mine permitting. There are no bull trout-bearing water bodies in the resource area, no settlements, and the gentle topography should facilitate further exploratory studies and drill programs.
Conclusion
The Lemhi Gold Project, recently acquired by Freeman Gold, is located in a mining-friendly jurisdiction, Idaho, where +150 years of gold exploration have unearthed millions of ounces from placer and lode deposits.
Over 355 holes have been drilled in the deposit area, which is open in all directions and at depth. Most of the ounces have been found in near-surface, oxide material that is potentially suitable for open-pit, heap leach operations.
The source of the shallow mineralization at Lemhi has yet to be found. Freeman Gold believes there are high-grade feeder zones at depth, and numerous opportunities to add ounces in the unexplored surrounding area.
Planned work programs at Lemhi show excellent potential for creating shareholder value in safe, mining-friendly, gold-rich Idaho.
---
FULL DISCLOSURE: Freeman Gold Corp is a client of Canacom Group, the parent company of The Deep Dive. The author has been compensated to cover Freeman Gold Corp on The Deep Dive, with The Deep Dive having full editorial control. Not a recommendation to buy or sell. Always do additional research and consult a professional before purchasing a security.