Germany Still Hates Nuclear: Berlin Rules Out Extending Nuclear Power Despite Worsening Energy Crisis
Germany's indecisiveness over its energy future continues, as the country's environmental and economic minsters on Tuesday once again shot down the possibility of extending the life-span of nuclear power plants, despite pedalling virtuous affirmations to reduce reliance on Russian natural gas.
Instead, Economy Minister Robert Habeck said Germany needs to focus on building a LNG terminal that could receive natural gas shipments from other international destinations such as the US, while building up alternative energy sources such as solar and wind power, while keeping coal-fired power plants— that were originally slated for phase-out— on standby. According to Habeck, the risks and costs associated with extending the lifespan of the country's existing nuclear power plants exceed both short-term and long-term benefits.
"As a result of weighing up the benefits and risks, an extension of the operating lives of the three remaining nuclear power plants is not recommended, also in view of the current gas crisis," a statement from the two ministries read, as cited by Reuters. The ministries' decision came after concerns were raised over the future of Germany's energy supply in wake of the Russia-Ukraine conflict, prompting government officials to reconsider the planned shutdown of the country's power plants, which was originally part of a nation-wide effort to phase out nuclear energy in wake of the 2011 Fukushina incident.
Russia's invasion of Ukraine in late February raised alarm over the potential interruption of natural gas supplies from Russia, after Moscow threatened to shutter gas shipments via the Nord Stream 1 pipeline in retaliation to `German chancellor Olaf Scholz's decision to indefinitely halt the certification process for Gazprom-owned Nord Stream 2. "We know we are fully entitled to take a 'mirror' decision and place an embargo on gas transit via Nord Stream 1 which is presently running at 100% capacity," warned Russian Deputy Prime Minister Alexander Novak.
"We have again examined very carefully whether a longer operation of the nuclear power plants would help us in this foreign policy situation," said Habeck. "The answer is negative – it would not help us." According to the assessment, reactivating Germany's nuclear power capabilities is not viable due to legal and practical uncertainties, as the permits to operate the three plants cannot be revived in a "legally certain way." Moreover, an extensive safety assessment would be imperative in order to extend the plants' runtime— something that was last conducted in 2009.
And, according to the ministries, even if they did decide to restart the power plants, the increase in energy would not be delivered in time for the 2022 winter season, because the plants only have enough fuel to last until December 31, 2022. In their analysis, the ministries are assuming "that other options will be available in the period until 2028 to ensure sufficient electricity supply despite gas shortages."
Ultimately, though, the ministries conceded there isn't a replacement for gas volumes, and as such, Berlin remains reluctant to completely cut ties with Russia over its military operation in Ukraine. Scholz insisted that continuing Russian gas imports is "essential" for Germany, because "Europe's supply of energy for heat generation, mobility, power supply and industry cannot be secured in any other way at the moment."
Germany has faced mounting pressure from the West and other European nations to stop natural gas purchases from Russia in support of Ukraine. However, Germany currently does not have a practical resolution to its long-term energy needs, and given the lunatic asylum that is Berlin's bureaucracy, keeping coal power plants on standby in lieu of nuclear power is surely bound to ignite some cognitive dissonance among environmentally-obsessed officials. Of course, the negative externalities from coal could certainly be outweighed with a stronger shift towards solar and wind energy, but when the sun doesn't shine and the wind doesn't blow…
In the interim, we will patiently wait for Germany to change its mind— which could be sooner rather than later given the current trajectory of crude prices… Yikes.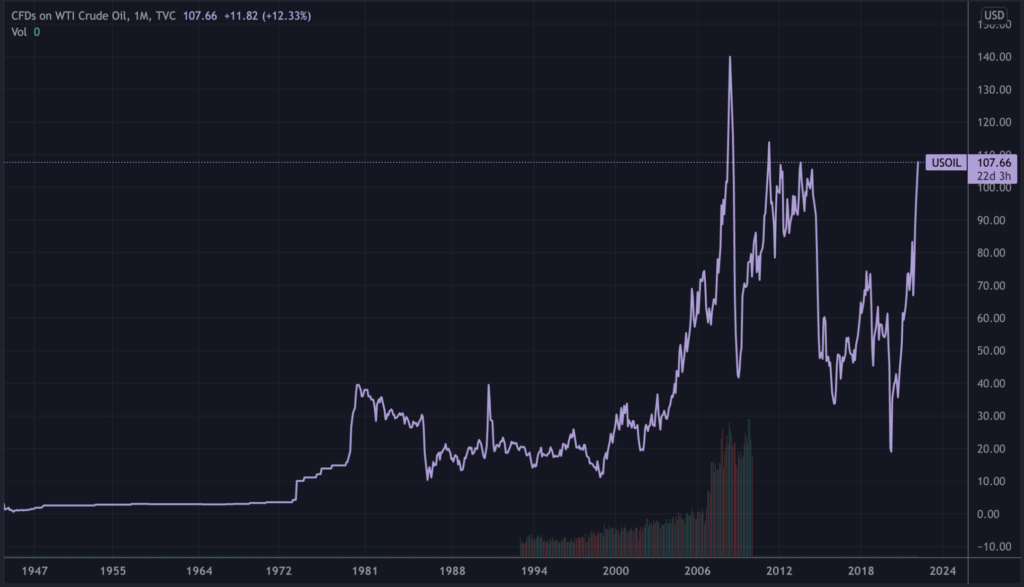 Information for this briefing was found via Reuters and Twitter. The author has no securities or affiliations related to this organization. Not a recommendation to buy or sell. Always do additional research and consult a professional before purchasing a security. The author holds no licenses.