Gold Mining Exploration in Idaho is Heating Up
The Deep Dive is currently doing due diligence on Lodge Resources (CSE: LDG), which just a week ago acquired the Lehmi Gold Project in the State of Idaho.
In the midst of a deep dive, we thought we might publish for our readership a synopsis of some of the pertinent Idaho mining and drilling info we've uncovered in our studies. That includes its favourability to mining exploration in general, some of the current M&A activities, and prominent mining entities' exploration initiatives.
More than a few people think gold has a great shot for a sustained run, what with all the government money being printed south of the border and elsewhere. As for real gold bears out there opposing this view, well, I have run into a few who feel that oil falling off a cliff will stop Russia and Kazakhstan from buying gold – sinking it. These people, though, are getting about as scarce as politicians who won't use helicopter money to get elected.
Up until recently, I knew two things for sure about Idaho: 1. They grow a lot of potatoes. & 2. The big college football game is called the Potato Bowl.
Real estate, though, I know a lot about. And the three biggest things I know are this: Location. Location. And Location. Idaho IS a great location to prospect for gold and one of THE States to be in right now in the gold space. Why do companies want to be there?
Over ⅔ of the State is public land, and of that, much is managed by the Bureau of Land Management and the Forest Service.
There's little federal resistance to much of anything – i.e. they are for the most part open to mineral exploration.
Easy permitting. (See above).
Gold has been found throughout Idaho and the State is home to a good number of mining districts, with both lode and placer deposits.
Especially in Northern Idaho, there are many right-wing California emigres who are all for mining – i.e. the civic culture is all for it.
The biggest gold discovery in the state was the Boise Basin gold strike of 1862 – with millions of ounces of eventual gold recovered in the region. There are other gold districts.
There has been a good deal of deal-making activity in Idaho over the last year. Let's take a quick walk through some of that.
Integra Resources Corp. (TSXV: ITR)
The Management of Integra has had past success, having grown Integra Gold Corp towards a sale of Quebec's Lamaque Project for $600M in May of 2017, before acquiring Idaho's DeLamar Project.
A development-stage company, Integra closed a financing for $31.9M (some of it bought deal) on December 4, 2019. The private placement included prominent North American and European institutional investors, with the syndicate led by Raymond James and included National, PI, Echelon, GMP and Roth Capital.
From the firms website:
"The DeLamar project is located in southwestern Idaho, approximately 100 miles (160 km) from Boise. The project includes the historic Kinross' DeLamar Mine that closed in 1998 due to low precious metal prices. The historic DeLamar Mine produced 1.6 million ounces of gold and 100 million ounces of silver1.

The DeLamar Project constitutes roughly 5,300 acres of patented and unpatented claims, and a further 4,100 acres of leased lands with approximately 1,575 historic drill holes and 145,940 meters of drilling outlined in historic databases. The DeLamar site includes all necessary infrastructure and existing on-site facilities, including all-season road access, grid power, a lined water treatment pond, workshop, and an office building."
With the financing, the company can drill 16,000 meters at Idaho's past-producing DeLamar Project and do advanced pre-feasibility studies. In essence, they are fully funded for an aggressive program through 2020 – and are underway.
For additional information, please reference the "Technical Report and Preliminary Economic Assessment for the DeLamar and Florida Mountain Gold – Silver Project, Owyhee County, Idaho, USA (October 22, 2019)."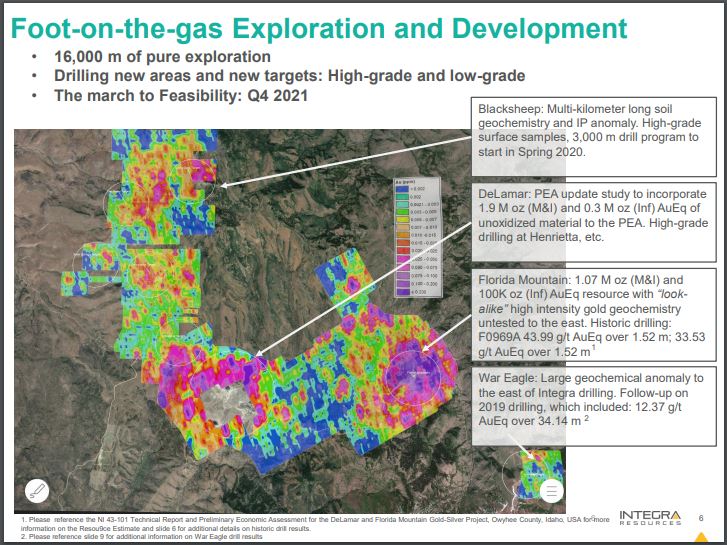 Liberty Gold Corp. (TSX: LGD)
Liberty Gold's raison d'etre is the exploration of the Great Basin of the United States. The Great Basin is prolific in gold production regions in the world and stretches across Nevada parts of Idaho and Utah. The goal is to develop large-scale gold projects ideal for profitable open-pit mining.
Liberty is selling their 40% interest in their copper gold project in Turkey, have a pending sale in Nevada of their Kinsley Mountain Project and are monetizing their Regent and Griffon Projects. They are doing this to focus exploration and commitment on two core projects:
The Black Pine oxide gold discovery in Idaho, a past producing open-pit mine; and
The Goldstrike oxide gold deposit in Utah, a past producing open-pit mine
Both the above are large-scale sediment hosted gold systems.
On April 1st. Liberty Gold released that they had started the 2020 exploration season at its Carlin-style Black Pine oxide gold property in southern Idaho.
Excellon Resources (TSXV: EXN)
On 24th February 2020, precious metals bull, Excellon Resources of Toronto announced it would buy Vancouver's Otis Gold. This acquisition launched it into the State of Idaho.
Says Brendan Cahill of Excellon, "…we truly believe we're in a full precious metals bull cycle. Once gold moved through US$1,375 per ounce, US$1,400 last spring, almost a year ago now, it was game on."
Under the terms of the transaction, Excellon will acquire all outstanding shares of Otis at a share exchange ratio of 0.23 Excellon shares for each Otis share – i.e. upon completion of the transaction, existing Excellon shareholders will own 74% and former Otis shareholders will own 26% of the combined company.
The Board of Directors of both firms, as well as Eric Sprott, a lead shareholder in both companies who owns 25% of Otis Gold and 20% of Excellon, are in favour.
The main reason for the takeover? Excellon, "adds two significantly undervalued gold assets: Kilgore hosting Indicated resource of 825,000 oz Au and Inferred resource of 136,000 oz Au and Oakley hosting Inferred resource of 163,000 oz Au."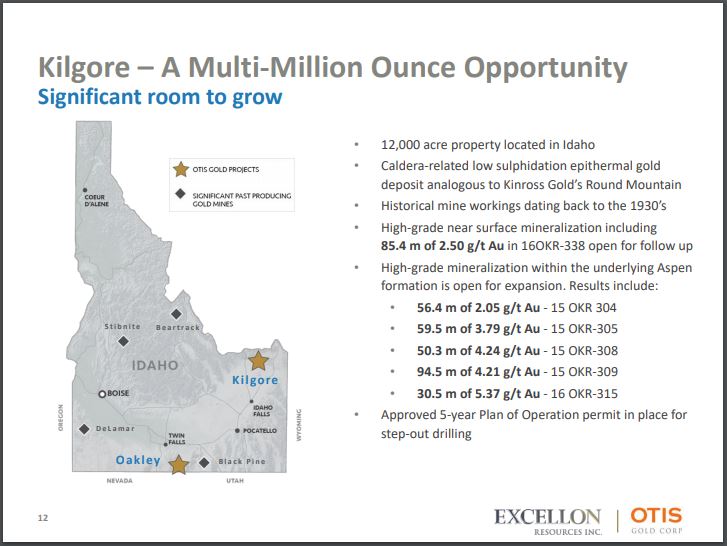 Centerra Gold (TSX: CG)
On March 9, 2020, a definitive option agreement was executed by Centerra Gold Inc. to earn up to a 70-per-cent interest in the Oakley property in exchange for total exploration expenditures of $7-million (U.S.) and cash payments to Otis Gold Corp. (TSXV: OOO) of $550,000 (U.S.) over a six-year period.
"The Oakley Project hosts gold-silver, epithermal hot spring-type mineralization at two targets: Blue Hill Creek and Cold Creek, and detachment-related gold-silver mineralization at Matrix Creek. Blue Hill Creek (Technical Report dated August 8, 2016) contains an Inferred Resource of 163,000 ounces Au in 9.97 million tonnes at a grade of 0.51 g/t Au. The Blue Hill Creek resource is hosted in rocks of the Tertiary Salt Lake Formation within a northwest-trending Tertiary graben that is part of a north trending, five-mile-long by one-mile–wide zone of low-sulphidation, hot spring-type gold occurrences along the western margin of the Albion Mountains.

Matrix Creek is located 1.5 km southeast of the Blue Hill Creek resource. The black matrix breccia ("BMB") mineralization at Matrix Creek is distinctive from the epithermal mineralization at Blue Hill Creek in terms of style, host rock lithology and structural controls, however, both occur within the Tertiary graben setting. The BMB from outcrop section observations is at least 12 metres thick and consists of quartzite fragments in a black to dark-grey matrix of fine-grained quartz and pyrite. The host rocks are part of a lower Paleozoic package of quartzite and limestone that occurs throughout eastern Nevada, western Utah, and southern Idaho."
Revival Gold (TSXV: RVG)
Before the Coronavirus hit, Revival Gold filed a short-form prospectus that would be marketing common shares to the tune of $5.0 million. Post Covid-19, Revival cancelled that offering, and instead closed a $1.0 million private placement on March 27.
"Revival Gold, a growth-focused gold exploration play has executed an agreement whereby it may acquire a 100% interest in Meridian Beartrack Co., owner of the former producing Beartrack Gold Project located in Lemhi County, Idaho.

Revival also owns rights to a 100% interest in the neighbouring Arnett Gold Gold Project.

The Company is pursuing other gold exploration and development opportunities and holds a 51% interest in the Diamond Mountain Phosphate Project located in Uintah County, Utah."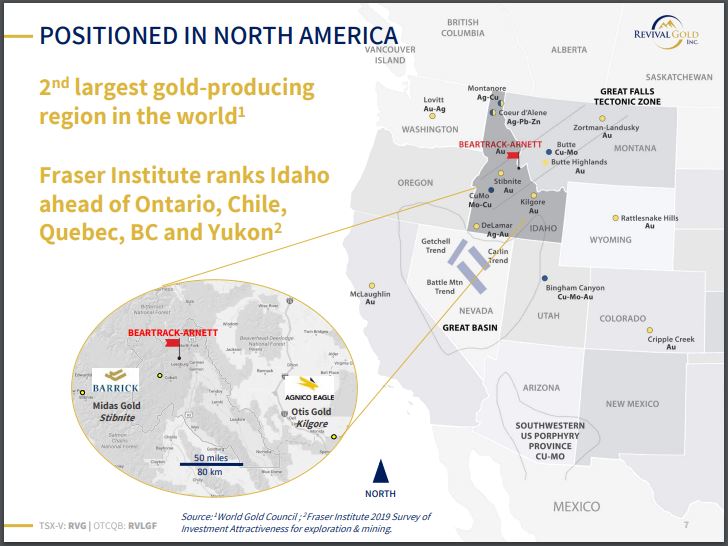 GoldMining Inc. (TSX: GOLD)
On March 3rd, GoldMining completed the acquisition of the Almaden Gold Project, located in west-central Idaho from Sailfish Royalty Corp and its wholly-owned subsidiary for a total purchase price of $1.15 million. Of this, $575,000 was paid in cash, and 337,619 GOLD shares were issued at a deemed price of $1.70 a share.
The Almaden Project covers approximately 1,724 Ha and is located approximately 140 km by road north of Boise, Idaho – and approximately 24 km east of Weiser in Washington County, Idaho.
"The Almaden Project is one of several low-sulphidation epithermal gold deposits related to the Northern Nevada Rift that includes Hecla Mining Company's Hollister and Midas Mines in northern Nevada, and Integra Resources Corp.'s Delamar and Florida Canyon projects in southwest Idaho.

Gold mineralization at the Almaden Project is hosted in sinter and silicified (opal) sedimentary rocks of the Miocene Payette Formation that are underlain by chalcedonic veins and stockworks that form a near surface, relatively flat lying deposit. Gold mineralization is associated with intense silicification and argillic alteration that measures approximately 1,900 m long by 500 m wide by 150 m thick."
Hopefully this gives you a good primer on some of the things happening in junior exploration in Idaho. As stated, we are giving Lodge Resources (CSE: LDG) a very close look , and plan on coming back to you with an assessment shortly.
---
FULL DISCLOSURE: Lodge Resources Inc is a client of Canacom Group, the parent company of The Deep Dive. The Deep Dive has been compensated to cover Lodge Resources Inc on The Deep Dive, with The Deep Dive having full editorial control. Not a recommendation to buy or sell. Always do additional research and consult a professional before purchasing a security.