Harvest Moon: Valens Company VS Medipharm Labs – Share Price Indicators
Of the 100 companies in the BI Global Cannabis Competitive Peers index tracked in 2019, The Valens Company (TSX: VLNS) & MediPharm Labs (TSX: LABS) were #2 and #3 top performers with gains of 127% and 122%, respectively. The BI index, by comparison, fell 50% over the same period. However, 2020 so far has been a much different story, with the 2020 share price performance of Valens being 27% and Medipharm 66% since the beginning of the calendar year.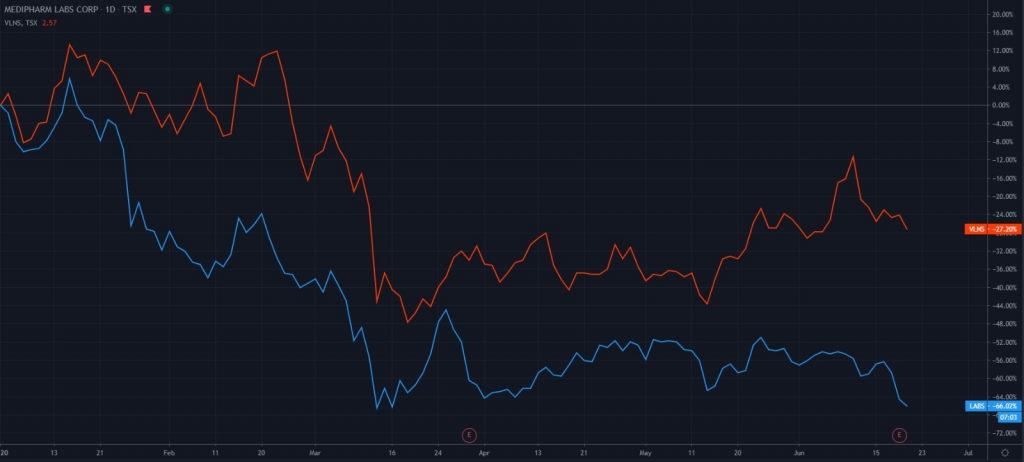 This once again gives rise to the misconception that extractors aren't as valuable as cannabis cultivators. To the contrary, MediPharm and Valens are trying to reposition themselves as Cannabis manufacturing companies and not extractors by essentially transforming its business models on the drop of a dime. Both companies are making a push to the forefront in an attempt of being the middlemen of choice for the legal cannabis industry. While Valens concentrates it's focus domestically, MediPharm is pursuing a path of international growth.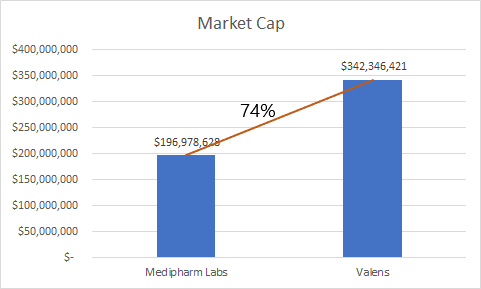 These manufacturing powerhouses as a whole partially help dictate the marketplace price points of cannabis related goods and services, giving long term investors rhyme and reason to invest long term. This is a result of both operators embracing ideologies of product refineries versus that of just being an extractor, which are becoming a dime a dozen in the current environment.
However, it is Valens that solidified itself as the leader in this category, as is evident by the most basic of performance metrics. FY20 Medipharm revenue estimates are now $54.5m, falling from a $187m which is a 71% decrease from 3 months ago, a result of a recently terrible quarter experienced by the firm. Comparatively, Valens FY20 revenue estimates remain strong at $138m.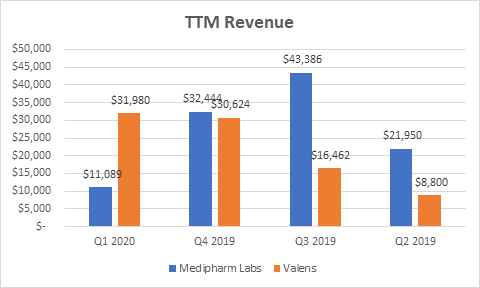 Valens quarterly revenues are 180%+ higher than that of MediPharm as of late, with the firms reporting $31m & $11m respectively in their latest reported quarter. In addition, Valens market cap is 74% higher than that of MediPharm's, with the respective capitzalizations currently sitting at $342 million and $197 million, giving Valens a significantly higher valuation then that of their main competitor. While VLNS has managed to produce a profit for three quarters since reporting, Medipharm has produced just two profitable quarters.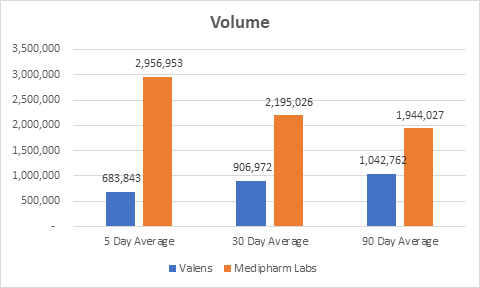 MediPharm's liquidity is greater comparatively, with a 30 day average volume of 2.2m shares, compared to that of Valens with average volume of 907k shares. This is believed to be only due to the sheer fact that Medipharm has been listed on TSX longer than that of Valens, with Medipharm being listed on the TSX 261 more days. MediPharm has also already submitted an application to list on the NASDAQ. Valens in turn has recently added three independent directors to its board which is indicative of a possible application to further up list to an American exchange.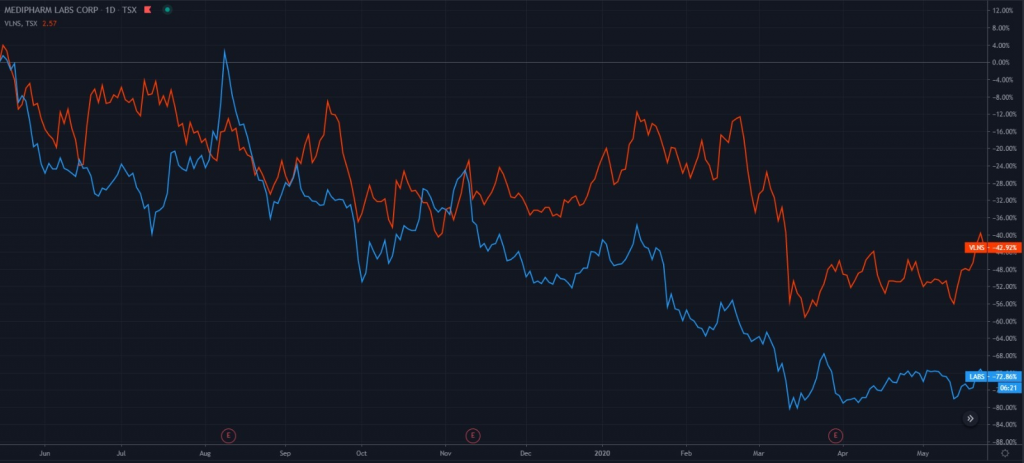 Valens advantages are exemplified by the fact that it's share price has consolidated much better than that of Medipharm, with Valens share price only falling around 40% from its all-time highs. Comparatively, Medipharm's market cap is a far cry from what it once was, declining significantly from its all-time highs with a 70%+ decrease. However, the greater upside in share price % performance still lies with that of Valens, with technical indicators pointing that it's heading in the right direction. Medipharm is treading water at best.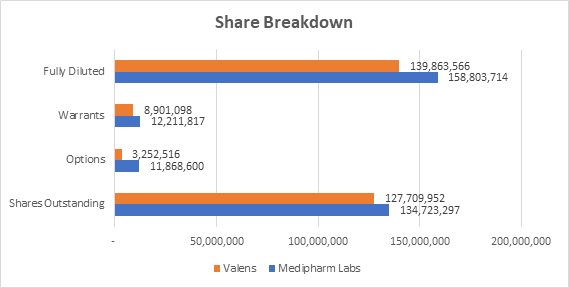 When comparing cap tables Valens seems to be the much stronger company than that of MediPharm from a fundamental standpoint, with Valens having 127m shares outstanding & Medipharm with 134m shares outstanding. Both have fairly healthy balance sheets; however, Valens has no convertible debt whatsoever, giving the firm much more ample opportunity in the future to leverage itself to enhance equity returns.
From a funding standpoint, both companies have recently raised about the same amount of money. MediPharm just raised $37.8m on a convert with fat cash commissions and a discount to the original issuance while tacking on an additional 3.6m warrants. Meanwhile, Valens went to the Schedule 1 banks CIBC and ATB Financial to acquire a secured debt facility for $40m. Although much of the agreement is redacted, Valens should have a good rate even if it is not public. However, the biggest takeaway is that Valens is trying to avoid dilution while MediPharm is now embracing it. Also of note, is that LABS has pending covenant non-compliance's arising from its credit facility with the Bank of Nova Scotia.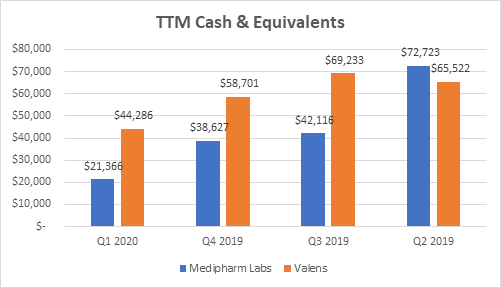 Despite turbulent capital markets for many cannabis companies in 2020, it seems Valens nor MediPharm have a cash on hand problem. With Valens having reported $35m+ within its last reported financials ending February 29, 2020 while Medipharm on the other hand has a freshly minted $21m as of March 31, 2020. Both companies should have little issues with raising money in the near-term future. However, Medipharm has a clear cheap paper problem compared to Valens. That needs to be examined in detail.

With MediPharm having 8.6m share purchase warrants outstanding with an average exercise price of $0.90, there remains cheap paper that is deep in the money and expires in well under a year now with an average remaining contractual life of 0.64 years. That means insiders are likely to exercise hard within the near future and likely will dump it onto the market. This is evident by the fact that over 700k warrants have already been dumped subsequent to March 31st.
Now looking at Valens, the average exercise price of its 8.9m exercisable warrants is $3.93, with the cheapest being $2.95. Valens' current share price is $2.60. However, with much longer expiry dates than that of Medipharm, Valens share price would need to go UP by ~50% before the options and warrants could all be exercised based on the current average. If insiders want to cash in, the share price needs to rise exponentially while taking long term investors along for the ride with it.
Overall, Valens has a clear and distinct advantage over Medipharm based on many share price performance indicators examined. While there are many other metrics and fundamentals that drive overall growth, these will be examined by Harvest Moon Research in Part 2 and 3 of this extended report. These performance indicators exemplified in this report create the foundation needed for a profitable long-term investment, while extraction capacity and customer satisfaction are considered complementary.
What remains to be undisputed is that the bare bones of Valens are much stronger than that of any competitors in it's class. It could be even argued further that MediPharm isn't even second best in its class anymore, where that distinction could be easily given to Neptune Wellness with next quarters revenue estimates ranging from $28m to $29.2m. However, there is no doubt in investors minds when it comes to cannabis that Valens will remain to be the leader of the pack for years to come.
Advantage Valens.
---
Content provided via Harvest Moon Research.
The Deep Dive, and it's parent company Canacom Group, has not reviewed the above content and is hereby not responsible for statements made within. The Deep Dive and it's parent company Canacom Group has no securities or affiliations related to any organization mentioned within the content, unless otherwise stated. Not a recommendation to buy or sell. Always do additional research and consult a professional before purchasing a security. The Deep Dive and it's parent company Canacom Group holds no licenses.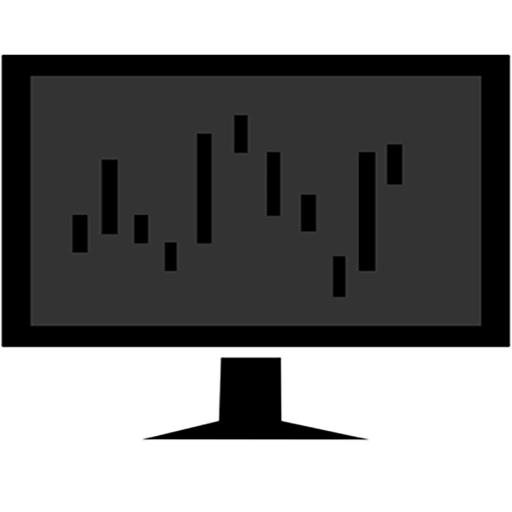 As the founder of The Deep Dive, Jay is focused on all aspects of the firm. This includes operations, as well as acting as the primary writer for The Deep Dive's stock analysis. In addition to The Deep Dive, Jay performs freelance writing for a number of firms and has been published on Stockhouse.com and CannaInvestor Magazine among others.