How Can We Prevent Another Guo's GTV Investment Scheme?
Almost a year ago, the Securities and Exchange Commission (SEC) issued a cease-and-desist on Steve Bannon and Guo Wengui's GTV Media Group, along with parent firm Saraca Media Group and Guo's Voice of Guo Media. The collective has been identified as offering unregistered securities and was able to raise US$487 million from more than 5,000 investors between April 2020 to June 2020.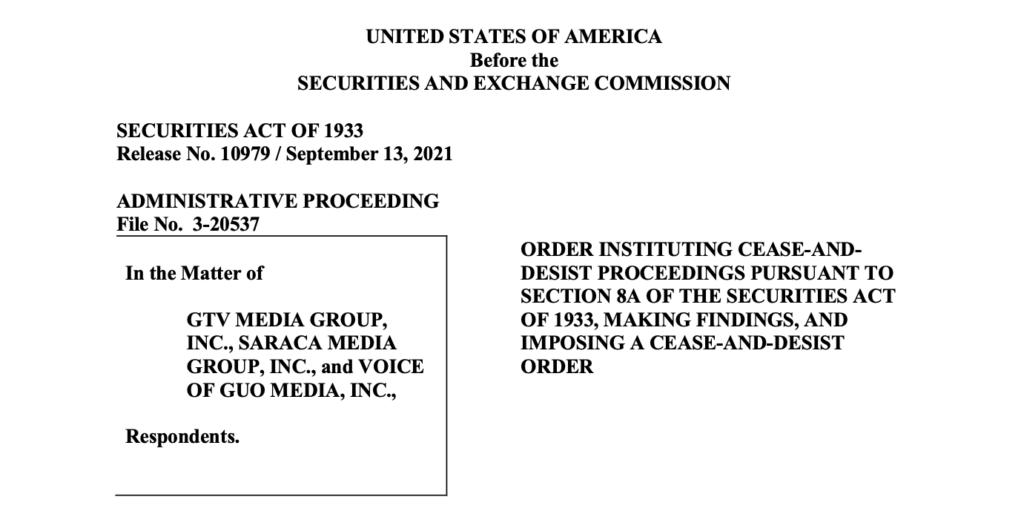 While all is said and done–the respondents were ordered to pay around US$539.4 million in disgorgement and penalties and has paid around US$455.5 million back so far–one could wonder how this kind of investment scheme slipped through the cracks.
Second-hand retail investment
In April 2020, months before the US general elections, GTV and Saraca launched a stock offering to sell between 20 million and 200 million shares of GTV common stock at US$1.00 per share, representing Saraca's 10% equity in GTV. In total, the entities were able to sell approximately US$339 million worth of shares to more than 1,000 investors. Based on the company's promotion about the stock offering, the minimum amount for investing was at US$100,000.
But that was not enough for the companies. The Guo-led media firms also tapped Voice of Guo–giving the latter a one-page Limited Purpose Agency Agreement–to distribute further GTV shares for investors who want to put in investments below the US$100,000-minimum.
"VOG then solicited investors and collected investor funds for the purpose of purchasing shares of GTV stock on their behalf. There was no minimum investment amount to invest in the Stock Offering through VOG and investment amounts were generally in the amount of $100 or more," read the SEC decision back in September 2021.
The move raised an additional US$114 million from more than 4,500 investors. None of these investors who bought through Voice of Guo were ultimately issued shares.
In both offerings, the majority of the investors were unaccredited.
While pooling funds for an investment is a common practice, one could argue the limits (or the lack thereof) to which retail investment can go–especially through a second-hand agent at that.
Invest-ception
A typical investment is usually based on an investor's faith in the investee's corporate governance, including business and investment acumen. While technically not illegal, investing pooled investments in another investment vehicle that will in turn utilize it to hedge its own investment bets is arguably far too removed from control of the original investee.
Shortly after raising the funds from the stock offering, Saraca is said to have transferred US$100 million to a certain "Hedge Fund A for purposes of investing in the fund." The hedge fund takes positions in various Asian currencies, particularly the Hong Kong dollar–also arguably far from GTV's media business in which most of the investors were sold to for their investment.
"By late July 2020, Hedge Fund A had invested $30 million of Saraca's $100 million transfer and, to date, that $30 million investment in Hedge Fund A has lost approximately $29.2 million in value," the decision read.
A school of thought might describe investment as learned gambling, but having a supposed freehand on utilizing funds that were invested in a specific company operating within a specific industry should at least raise some red flags.
Coins and dollars in one wallet
Completing the US$487 million investment raised by Guo's media companies is an additional US$34 million collected from its coin offering–giving investors so-called digital assets G-Coins and G-Dollars in exchange. Most of the investors in this coin offering "invested no more than $10,000" each and the companies "never inquired as to the financial or investment background of these investors."
As part of promoting G-Coin, GTV and Saraca launched promotional materials on its platforms, touting G-Coin's promise to be merged into G-Dollars that would soon "be usable to purchase goods or services or exchange for gold or fiat currency." But, apparently, it was all a smoke show.
"As part of its solicitation of G-Coin and G-Dollar investors, the G Entities did not provide investors with financial information about the plan to develop any digital asset or platform, or any written offering materials, including, for example, a white paper or private placement memorandum," read the decision.
On top of that, investments from the coin offering–effectively tied to a more volatile digital currency–were commingled with proceeds from the stock offering, all pooled in GTV's bank accounts.
Unregistered yet invested
What could be the most glaring slip up in this investment scheme is the fact that both securities were unregistered. Voice of Guo, which was tasked to offer stocks to investors, is also not registered with the SEC "in any capacity," let alone a registered broker.
The commission underscored that "no registration statements were filed or in effect for the G Entities' offers and sales of securities," in both the stock and coin offering–a clear violation of the Section 5(a) of the Securities Act.
How they were able to offer and successfully sell unregistered securities is still a mystery, and yet not an uncommon conundrum in the investing space. An investor would be smart to avoid any unregistered offerings unsecured by protection laws; if these illegal securities were misrepresented as registered, it could represent a more sinister violation than just failing to register.
If only there was a way to warn investors about unregistered securities being offered to them…
---
Information for this briefing was found via the SEC. The author has no securities or affiliations related to this organization. Not a recommendation to buy or sell. Always do additional research and consult a professional before purchasing a security. The author holds no licenses.