Inca One Gold: Company Overview
Inca One Gold Corp (TSXV:INCA) is a Vancouver-based gold producer operating two fully permitted gold processing facilities in Peru, the world's sixth-largest gold producer. Inca One is in its sixth year of commercial gold production in Peru, and was the first publicly-traded gold processing company to be granted permitting under Peru's formalization legislation.
Under Peruvian law, artisanal miners must send their ore to licensed processing facilities. The Company purchases gold ore from a network of artisanal miners and processes the ore through the Company's two mills to extract the gold. The gold dore is then sold to contracted buyers. Inca One has produced in excess of $125 million in revenue over its six year operating history, and is on track to have a record year in 2021. 
The Investment Thesis
We base our investment thesis on the following factors:
Peru is a mining-friendly jurisdiction with well established infrastructure to support all aspects of l mining operations.
Peru's new laws for small scale and artisanal miners will drive demand for licensed ore processing facilities such as those operated by Inca One
Inca One's gold loan facility will enable the Company to facilitate more gold ore purchases from artisanal miners. 
Inca One's facilities are currently only operating at 35% capacity so there is room for accelerated production growth.
The company also has royalty streaming income from its gold and silver production.
The company plans to issue dividends once it is cash flow positive.
The current global macro environment provides a bullish catalyst for the price of gold due to a spike in gold demand and reduced productivity. Mining industry gold reserves are down almost 60% in the past 8 years, while central banks continue to expand their balance sheets to fill the gap in GDP from reduced productivity at a 30-year low. Combined with a shortage of new gold mines in the pipeline, the picture for gold exploration appears compelling for the next few years at least.
The Deep Dive views INCA as a mid-level gold processing company with considerable upside potential and relatively low downside risk. The company has a stellar management team and intimate knowledge of the area. We see the potential for increased gold production as Inca One is able to buy greater quantities of ore to feed its mills. The company is well financed with its gold loan facility, and there is opportunity to enlarge the size of the gold loans as performance milestones are met. 
Operations
Ore processing is a very capital intensive business and the company recently received approximately US$2.45 million from a gold loan facility which is to be repaid in gold bullion by July 26, 2021. The loan facility enables Inca One to pay more artisanal miners for their gold ore and essentially helps to accelerate the rate of production, which is currently operating at approximately 35% of capacity. The more capital the company has, the faster it can increase the rate of production and increase cash flow and profitability growth.
Inca One can also be considered a quasi-royalty company as a result of the firm collecting royalty streams on its gold production, and while it keeps the revenue from any silver it processes. Much of Peru's gold-bearing geology also contains silver and copper.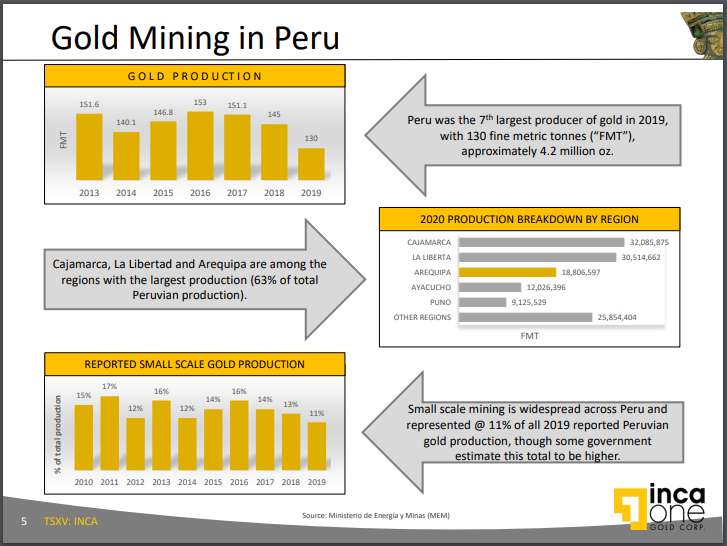 Chala One
The company's Chala One ore processing facility in Chala, Peru was acquired by its wholly-owned Peruvian subsidiary, Chala One S.A, in 2013. The acquisition saved the Inca One the time, resources, capital and having to go through the permitting and construction process that would have been required to build a new processing plant. After being upgraded to a capacity of 100 tonnes per day, the full-service milling facility began processing ore in 2015. 
After completing environmental and operating studies, Chala One became a fully government-permitted processing facility in Q3 of 2017. Inca One became the first publicly listed gold processing company to complete its permitting under Peru's formalization legislation, where under Peruvian law, artisanal miners must send their ore to licensed processing facilities.
The Chala One facility has the ability to conduct weighing, sampling and metallurgical testing on ore, and it also has full material handling, desorption and tailings disposal facilities, along with its crushing, grinding and carbon-leaching circuits, and smelting.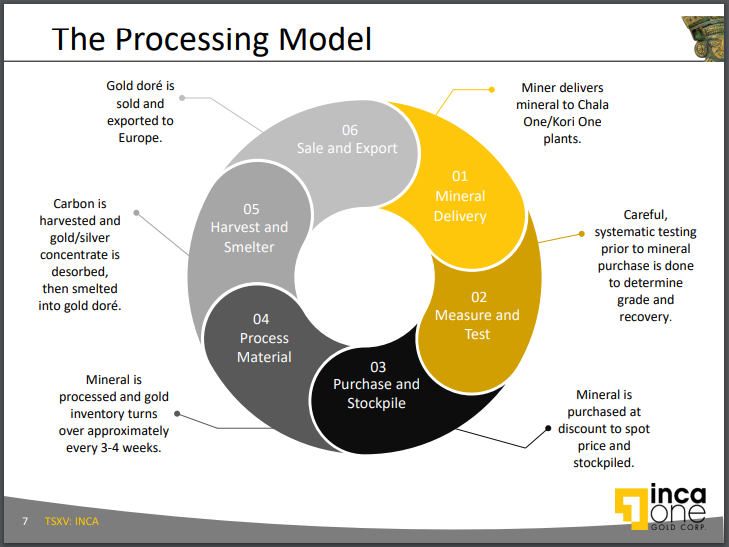 The company can purchase gold-bearing ore at a discount to spot prices or enter into multi-delivery Letters of Agreement (LOA) with legal small-scale miners. The operating strategy is to have 50% of the mill fed through LOAs, and 50% from spot priced purchases.
Recent legislation requires small millers to apply for commercial permits, which is creating high demand for milling operations such as the Chala One Plant. For strategic growth purposes, the Chala district is a highly concentrated high-grade, small-scale mining district, and it is important that Inca One maintains a strong presence in the region.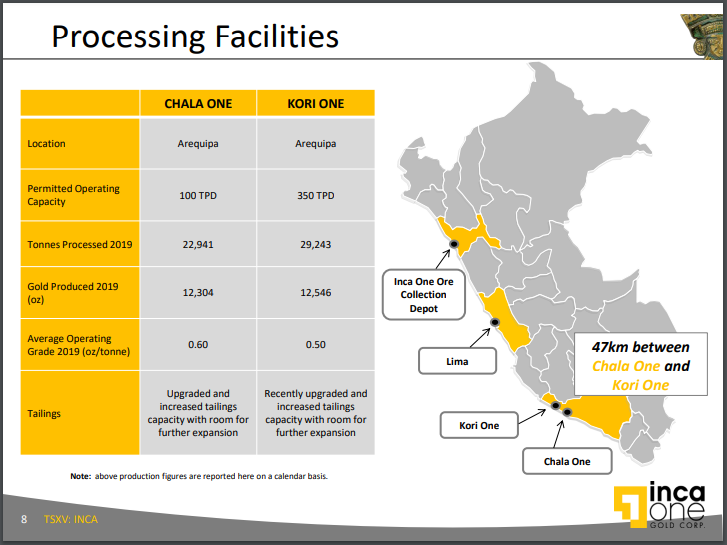 Kori One
Inca One acquired the 350 tonnes per day Koricancha (Kori One) processing facility from Equinox in 2018 through the acquisition of Anthem United Inc. which owned a 90.14% interest in the facility and it is now fully integrated into Inca One's operations. The facility is located in Southern Peru's Nazca-Ocona gold belt in the Arequipa region, 10 minutes from the Pan-American Highway and is supported by excellent infrastructure.
The custom-built plant, which is equipped with a carbon-leaching circuit, can potentially produce between 50,000 and 75,000 ounces of gold per year when operating at full capacity. It has averaged 135 tonnes per day of processing since 2018. The facility sits on a 42 acre property and can readily be expanded as the need arises. It is located only 47 kms from the Company's Chala One plant.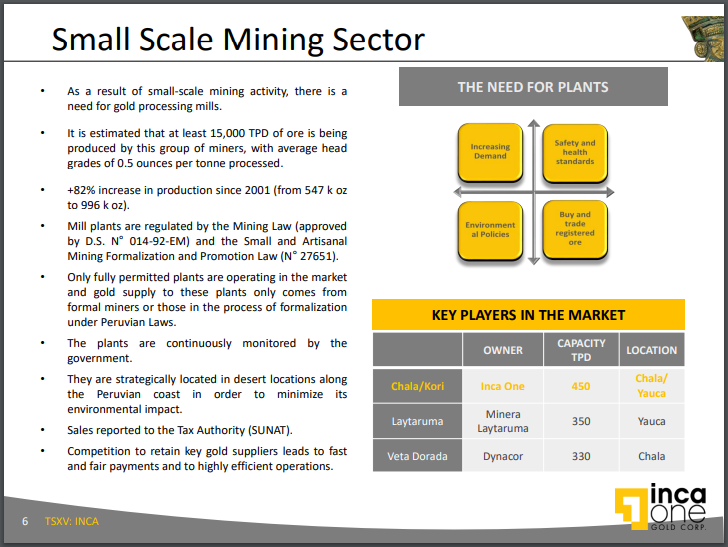 Management Team
Edward Kelly, BBA – CEO and Director
Mr. Kelly has over 15 years experience in capital markets, managing and running firms in a wide range of sectors from natural resources to technology. He has held senior executive positions and served as a Director of several public companies on the TSXV Exchange.
Bruce Bragagnolo – Chairman of the Board
Mr. Bragagnolo obtained his law degree from the University of British Columbia in 1983 and is a member of the Law Society of British Columbia. He practiced securities law, focussing on start-ups, mergers and acquisitions. He has extensive experience as a senior mining executive as the co-founder and former Chief Executive Officer of Timmins Gold Corp. a Mexican-focused gold producer, and also as the co-founder and the former CEO of Silvermex Resources Ltd., a silver explorer which was acquired by First Majestic Silver in 2011 for $120 million.
Mr. Bragagnolo oversaw the administration, business development strategy and the financing of Timmins Gold through its IPO and the acquisition and construction of its San Francisco Mine which subsequently became a producer of over 100,000 ounces of gold per year.
Kevin Hart – Chief Financial Officer
Mr. Hart is a Chartered Professional Accountant with over 20 years of international experience in finance, administration and corporate governance for TSX and NYSE listed mining companies. Most recently, during his tenure as Corporate Controller for Asanko Gold the company transitioned into a mid-tier gold producer in Ghana, West Africa.
Mr. Hart previously held senior finance and management positions for several companies founded by the Hunter Dickinson group, including Farallon, which built the G9 Mine in Mexico and was sold to Nyrstar in 2011. He was also involved in the restart of Taseko's Gibraltar Copper Mine in Williams Lake, BC. 
Eduardo Candela – Director, Plant Operations
Mr. Candela has over 20 years of experience as a professional metallurgist optimizing production of multiple commodities, including gold and silver. He is a specialist in optimization of a variety of metallurgical processes, focusing on health and safety standards, efficiency and continuous improvement.
Mr. Candela began his career with Barrick (Pierina), overseeing all aspects of plant construction and start up, and served 15 years with Newmont (Yanacocha) as Assistant Superintendent overseeing daily operations for a plant that produced over 1 million ounces of gold per year. Most recently, Mr. Candela was with Strategic and Precious Metals Processing (SPMP, Oman) for Antimony production. 
Mark St. John Wright – Vice President Operations and New Projects
Mr. St. John Wright, who holds both a B.Science and MBA, trained as a research chemist and process engineer. He has extensive experience in logistics and distribution, heavy industry, metal purification and extraction. 
Ivan Salas – Country Manager
Mr. Salas holds an MBA and is a Peru-based business executive with proven experience in B2B and business management. He has over 12 years of experience managing the growth of mining and energy companies from start-up through to exit transactions. 
Comparables
Montreal-based Dynacor Gold Mines Inc. (TSX: DNG) would be considered Inca One's closest competitor in Peru. Since 2016, DNG has been operating a 300 tonnes per day processing plant and is currently operating at 100% capacity. Dynacor has been processing gold ore purchased from Peru's artisanal miners since 1998. Like Inca One, Dynacor promotes socially responsible mining practices, which are essential for maintaining good relationships and credibility with the artisanal miners and their communities.
As a comparison, Dynacor has a market capitalization of $94.9 million and in 2020 generated US$101.5 million in revenue with a net income of US$4.3 million. Meanwhile, Inca One has a market capitalization of only $14.1 million, and for the year ended April 30, 2020, the Company had US$31.4 million in revenue and a net loss of US$3.9 million. Inca One is only operating at 35% of its 450 tonnes per day capacity. It should be noted that the Peruvian government implemented strict Covid-19 protocols to stem the spread of the pandemic in 2020 which resulted in the suspension of mining operations in Peru for several months, and these measures negatively impacted the financial performance of both companies.
Both companies have similar operating philosophies regarding socially responsible mining practices. Both have operated in Peru for roughly the same period of time. The key to growing capacity is the ability to purchase the ore from the small scale and artisanal miners, and that takes capital. Dynacor has more capital at its disposal but its plant is operating at full capacity.
We believe that as Inca One continues to attract the capital necessary to purchase greater quantities of ore, the Company has plenty of room to add production capacity and therefore enjoy a more rapid growth in cash flow and profitability over the next few years. If this indeed does materialize, we believe that should enhance INCA's market capitalization significantly.
Risks
From our view the following risks are worth considering.
Price of Gold and Silver. Just as the gold price can be a catalyst, a potential decline in price would have a negative impact on gold exploration stocks and other precious metals. We are of the mindset that if gold remains above $1800, there will likely be an influx of capital coming into the juniors. While we believe INCA is somewhat protected from volatile commodity prices due to the nature of its business, low gold prices could result in less mining and therefore less ore to process.
Jurisdictional Risk. While Peru is a highly regarded mining friendly jurisdiction, any potential environmentally sensitive issues could prevent its projects from progressing. Inca One has strong socially responsible mining practices so the probability is very low, but it cannot be completely discounted.
Market Sentiment. Markets can fluctuate wildly as investor expectations can change rapidly depending on the two most common drivers; fear and greed. Currently global macroeconomic concerns due to the coronavirus pandemic and the corresponding economic impact, has caused the world's central banks to flood the banking system with almost zero-cost money. Cheap money is pouring into stock markets and fueling a sharp rise in prices, which tends to draw more investors to buy stocks.
Catalysts
Some of the potential catalysts we see that could have a large impact on the share price include:
The price of Gold and Silver. The most obvious variable for any gold explorer, developer, or producer is the price of gold. As the price of gold rises so does the net asset value of projects rise, which increases shareholder value. 
Broad economic indicators. Given the recent COVID stimulus packages which have seen a massive number of jobless claims, the assumption is that governments and central banks will take on debt funded through quantitative easing (money printing) to fill the gap. Eventually this will likely become inflationary; historically the price of gold increases with an increase in inflation as investors seek a hedge against inflation. In the interim, unexpected negative shocks to the global economy could impact the price of gold from investors seeking a safe haven.
Future processing levels. INCA will continue to drive volumes to its facilities and has the capacity to triple production from current levels. New rules for artisanal and small scale miners are expected to drive up demand for the services of licensed mills such as Inca One operates..
Potential future Merger and Acquisition activity. The Deep Dive believes we are in the early stages of a secular bull market for gold. Due to INCA management's extensive experience, expertise, and credibility in the region, it has the ability to expand its ore purchase contracts in the area and continue to grow the cash flows. There is plenty of land at the Kori One site to expand the size and scope of the operations if demand calls for it. The company's cash flows from rising processing volumes could create an opportunity for a take out or joint-venture by a larger entity looking to expand into the area or this particular segment of the industry.
Supply of Gold. The supply of gold has declined sharply in recent years as mines have depleted reserves and not very many new mines have come on stream, or are even in the pipeline. Demand by central banks has risen steadily over the past 10 years, and there is continued retail demand from Asia, particularly China and India.
Conclusion
At the Deep Dive, we like the macro prospects for gold and other precious minerals such as silver, and the underlying fundamentals that would suggest we are in the early stages of a gold bull market. We view Inca One as a moderately low-risk company due to its revenue from gold production and royalties. The company is a strong adherent of socially responsible mining practices, which ensures healthy and friendly cooperation with its local artisanal miners and their communities.
Inca One is poised to deliver record results in 2021 and is targeting a fourth consecutive year of increased production and sales growth. The gold loan facility will enable the company to purchase more gold for its mills, and therefore this will generate higher revenues. The goal of the company is to pay out monthly dividends once the Company is cash flow positive, either in the form of cash or gold bullion. 
Inca One has the capacity to triple production from current levels. Assuming that the company can leverage increased production that the gold loan enables, it is reasonable to expect that the company can repeat the loan process, and perhaps even increase the size of the loan. If so, shareholders could reasonably expect to see accelerated production and cash flows, and a corresponding growth in profitability. This would add value to the company's shares and likely increase its market capitalization to reflect the improved performance.
---
FULL DISCLOSURE: Inca One Gold Corp is a client of Canacom Group, the parent company of The Deep Dive. The author has been compensated to cover Inca One Gold Corp on The Deep Dive, with The Deep Dive having full editorial control. Not a recommendation to buy or sell. Always do additional research and consult a professional before purchasing a security.