Inca One Gold: Increasing Revenues From Peru Gold Operations
Inca One Gold Corp (TSXV: INCA) is a Vancouver-based gold producer operating two fully permitted gold processing facilities in Peru, the world's sixth-largest gold producer. Inca One is in its sixth year of commercial gold production in Peru, and was the first publicly-traded gold processing company to be granted permitting under Peru's formalization legislation.
Under Peruvian law, artisanal miners must send their ore to licensed processing facilities. The company purchases gold ore from a network of artisanal miners and processes the ore through the firms two mills to extract the gold. The gold dore is then sold to contracted buyers.
Inca One has produced in excess of $100 million worth of gold during its six years of operations and is on track to have a record year in 2021. 
Inca One began its operations with a 100 tonnes per day processing facility, referred to as Chala One. After several years of operations, they then acquired the 350 tonnes per day Kori One processing facility from Equinox in 2018, which is now fully integrated into Inca One's operations.
Ore processing is a very capital intensive business. The firm recently received approximately US$2.45 million from a gold loan facility which is to be repaid in gold bullion by July 26, 2021. The facility enables Inca One to effectively acquire more gold ore at one time, and essentially helps to accelerate the rate of production, which previously was operating at approximately 35% of capacity. The more capital they have, the faster they can increase the rate of production and increase cash flow and profitability growth.
Inca One management believes that the Company is poised to post record results for its operations in 2021. The firm can also be considered a quasi-royalty company because it also collects royalty streams on its gold production and keeps the revenue from any silver it processes. Much of Peru's gold-bearing geology also contains silver and copper.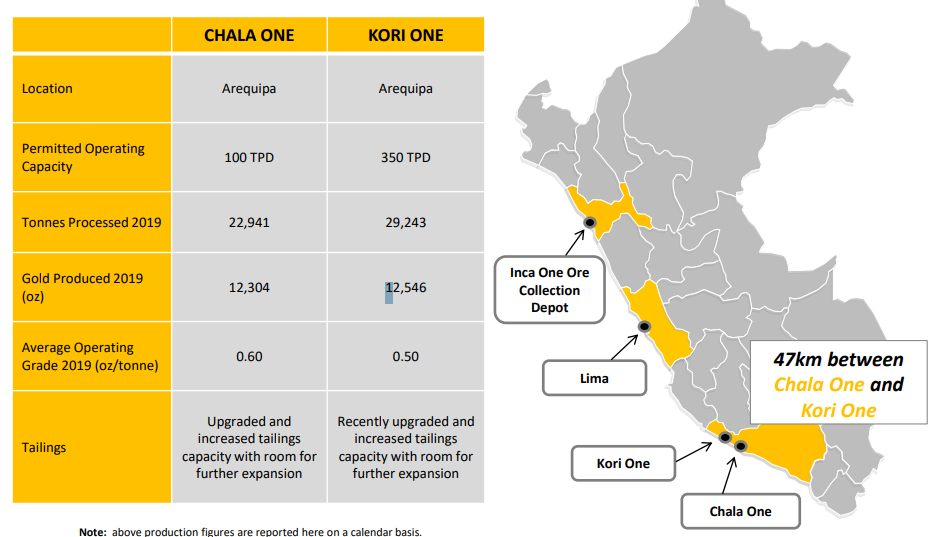 Montreal-based Dynacor Gold Mines Inc. (TSX: DNG) would be considered Inca One's closest competitor in Peru. Since 2016, it has been operating a 300 tonnes per day processing plant and is currently operating at 100% capacity. 
Dynacor has been processing gold ore purchased from Peru's artisanal miners since 1998. The company also pays dividends to its shareholders, and is developing two wholly-owned gold exploration properties in Peru. Like Inca One, Dynacor promotes socially responsible mining practices, which are essential for maintaining good relationships and credibility with the artisanal miners and their communities.
As a comparison, Dynacor has 38.73 million shares outstanding and a market capitalization of $98 million. The company in 2020 generated US$101.5 in revenue with a net income of US$4.3 million. Inca One comparatively has 35.45 million shares outstanding and a market capitalization of only $13.7 million, and for the year ended April 30, 2020, the company had US$31.4 million in revenue and a net loss of US$3.9 million.
Inca One for the year comparatively was only operating at 35% of its 450 tonnes per day capacity. This has been improving in 2021 as a result of the gold loan facility that the firm has already obtained, with the company in ongoing discussions with the facility provider to significantly increase the size of the gold loan facility, which will provide Inca with significant working capital for further capacity improvements.
It should be noted that the Peruvian government implemented strict Covid-19 protocols to stem the spread of the pandemic in 2020, which resulted in the suspension of mining operations in Peru for several months, and these measures negatively impacted the financial performance of both companies. 
We view Inca One as a moderately low-risk company due to its revenue from gold production and royalties. The company operates in Peru, a very mining friendly jurisdiction, and the company is a strong adherent of socially responsible mining practices, which ensures healthy and friendly cooperation with its local artisanal miners and their communities.
Inca One is poised to deliver record results in 2021 and is targeting a fourth consecutive year of increased production and sales growth. The gold loan facility will enable the company to purchase more gold for its mills, and therefore this will generate higher revenues. The goal of the company is to pay out monthly dividends once it is cash flow positive, either in the form of cash or gold bullion.
The firm also has capacity to triple production from 2020 production levels. Assuming that Inca One can leverage increased production that the gold loan enables, it is reasonable to expect that the company can repeat the loan process, and perhaps even increase the size of the loan. If so, shareholders could reasonably expect to see accelerated production and cash flows, and a corresponding growth in profitability.
---
FULL DISCLOSURE: Inca One Gold Corp is a client of Canacom Group, the parent company of The Deep Dive. The author has been compensated to cover Inca One Gold Corp on The Deep Dive, with The Deep Dive having full editorial control. Not a recommendation to buy or sell. Always do additional research and consult a professional before purchasing a security.