Kosovo-Serbia Conflict: The Budding War Ignited By Car License Plates
Kosovo closed its main border crossing with Serbia on Wednesday after demonstrators on the Serbian side blocked it in solidarity with their ethnic kin in Kosovo who refuse to recognize the country's independence.
This follows after the Serbian army says it is at its "highest level of combat readiness," with Serbian President Aleksandar Vucic saying he will "take all measures to protect our people and preserve Serbia." The country alleged that Kosovo is preparing for "an attack" on ethnic Serb areas in the northern part of its own territory to assert its independence.
The blockades from both sides have paralyzed the traffic between the two countries, causing citizens working on the other side to be restricted from their daily routine.
Vucic dispatched the country's army head General Milan Mojsilovic to the Kosovo border on Sunday night as fragile relations between the two nations were exacerbated by recent blockades.
According to Kosovan Interior Minister Xhelal Svecla, Serbia is attempting to destabilize Kosovo under the influence of Russia. Belgrade claims it is not attempting to destabilize its neighbor and merely wishes to defend its minority there.
Russia denies the accusations but has sounded support for Serbia.
"Serbia is a sovereign country and it is absolutely wrong to look for Russia's destructive influence here," Kremlin spokesman Dmitry Peskov said.
The budding tensions prove to be a plausible tinderbox for another war after it was reported that a shooting incident took place in northern Kosovo over the weekend. NATO-led peacekeeping Kosovo Force (KFOR) said there were no injuries after gunshots were fired but it is investigation said shooting.
"As meetings between all the parties are planned, it is important for all involved to avoid any rhetoric or actions that can cause tensions and escalate the situation," KFOR said.
However, Serbia has been using this incident as a justification to intensify its military presence across the border.
How did it all start?
Kosovo is a small landlocked Balkan country bordered by Albania, North Macedonia, Montenegro, and Serbia. Many Serbs consider it the birthplace of their nation.
However, 92% of the 1.8 million inhabitants in Kosovo are Albanian, whereas only 6% are Serbian. The remaining people are Bosniaks, Gorans, Turks, and Roma.
Following Yugoslavia's disintegration in the 1990s, Kosovo, a province of the former country, sought its own autonomy and independence. Serbia retaliated by carrying out a violent crackdown on ethnic Albanians demanding independence. This came to an end in 1999, when NATO bombed Serbia between March and June.
NATO's KFOR is still based in Kosovo, with a current strength of 3,762.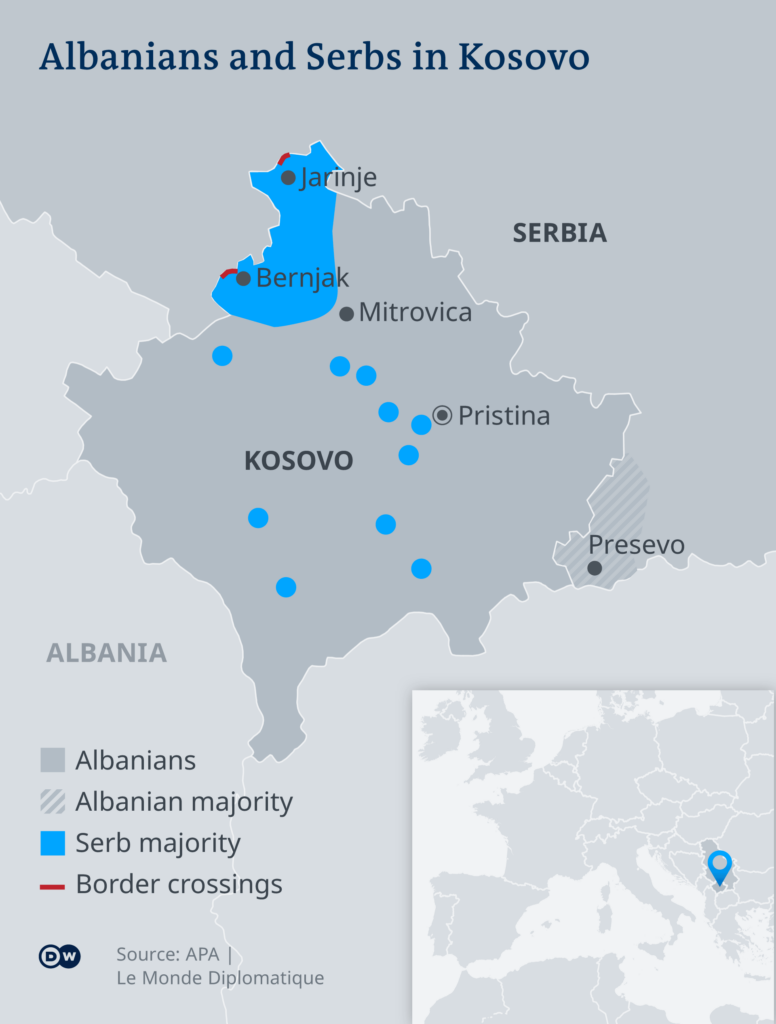 Kosovo declared unilateral independence in 2008. The United Nations now recognizes the country's independence, including the United States, the United Kingdom, and 22 of the 27 EU countries. Russia and China, however, have blocked Pristina's application to be a member of the international organization.
Recently, the Republic of Kosovo formally applied for a European Union membership, with President Vjosa Osmani saying: "We chose Europe, because we are Europe."
The car plate conundrum
The Kosovo government wants residents in primarily ethnic Serb districts to exchange their Serbian-issued car license plates with Kosovan-issued ones, which they refuse alluding to the idea that they do not recognize Kosovo's independence.
Hundreds of municipal mayors, judges, and more than 600 police officials resigned in protest at the decision. As a result, Kosovo has called for local elections on December 18, which the main Serb political group has stated it will boycott.
Ethnic Serbs in Kosovo's northern area, which borders Serbia, barricaded roadways and allegedly fired shots in protest. The Kosovo government has postponed the implementation of the new rules.
The EU mediated in the conflict. Instead of the license plate policy, Serbia insists that Kosovo keep a promise made in a 2013 Brussels agreement to offer Serbs limited autonomy through an association of mainly Serb towns.
The union has asked Kosovo to establish the said association but Prime Minister Albin Kurti is staunchly opposed to the notion. He believes it would result in a Serbian-controlled mini-state within Kosovo.
What the mediation has settled into is a negotiated settlement between the two parties for Kosovo to abandon its plan to punish holders of Serbian-issued license plates, while Serbia will cease issuing registrations with the initials of Kosovo towns.
The local elections was also delayed to April 23.
However, the arrest of a former Serb police officer in northern Kosovo on December 10 sparked fresh unrest. The Kosovo prosecutor's office accuses him of carrying out a bomb attack on the election commission's North Mitrovica headquarters. The arrest resulted in unknown groups exchanging fire with local cops.
Amid the standoff at the border, KFOR reiterated its position in the conflict. While Serbian Armed Forces are free to conduct exercises within its territory without the authorization of the NATO-led forces, they "are required to inform KFOR HQ only in case some of their units need to go closer than 1000 meters" from the border.
Kosovo's own forces are required to concur with KFOR before their deployment "to go in the north of Kosovo."
"We recall that all parties have always abided by existing agreements, and we urge them to continue doing so," the KFOR said in its statement.
But for Serbian Prime Minister Ana Brnabic, last week's situation with Kosovo was "on the brink of armed conflict."
The closed border crossing has since re-opened as of Thursday, with barricades set to be dismantled after talks were held.
---
Information for this briefing was found via Reuters, BBC, DW, France24, and the sources mentioned. The author has no securities or affiliations related to this organization. Not a recommendation to buy or sell. Always do additional research and consult a professional before purchasing a security. The author holds no licenses.