Lehman Brothers 2.0: A Brief History of the Evergrande Collapse
The world's second largest economy has been hit with an uncomfortable circumstance, one where a Chinese-based real-estate developer— one of the largest in the world, faces imminent default.
Recall the famous dialogue between two drunk war veterans depicted in Ernest Hemingway's The Sun Also Rises: "How does one go bankrupt?" asks Bill, to which Mike, the other bankrupt drunk responds, "gradually, and then suddenly."
We couldn't help but attribute the scenario to none other than the soon-to-be imploding China Evergrande Group, which has found itself drowning in more than $300 billion in debt and on the cusp of bankruptcy— threatening to send paramount shockwaves across global markets.
But, before we delve into the ever-evolving details of China's financial catastrophe that is Evergrande, lets begin with a brief history of how the real estate developer became one of China's largest, before finding itself pulverized in a tsunami of default.
Evergrande was originally called the Hengda Group, and was founded in the Chinese province of Guangdong in 1996 by Hui Ka Yan, who originally worked in a steel factory after graduating college. The company is incorporated in the Cayman Islands, and has its headquarters in the financial center of Shenzhen. In 2009, Evergrande made its debut on the Hong Kong Stock Exchange, raising $722 million in its IPO. The real estate developer was able to extensively expand by borrowing a considerable amount of money.
Indeed, Evergrande's borrowing schemes have allowed the company to amass some impressive growth, and make its way to the forefront of the real estate market in China. However, Evergrande's investments go well beyond homebuilding and property development. The company had gotten so massive that in 2010 it bought shares of Guangzhou Football Club for nearly $15.5 million, and even built a football stadium. Since then, the real estate company also invested into the music and media industry, food businesses, a hospital, an insurance company, a theme park, and even heavily invested in launching an electric vehicle company. Most of these endeavours were paid for with more debt, of course.
But lets focus on Evergrande's real estate business— which is what got it into this huge mess in the first place. As of current, Evergrande owns over 45.8 million square meters of development land and over 1,300 real estate projects spanning across more than 280 Chinese cities, according to its website. Evergrande's property management business, Evergrande Property Services, has about 2,800 projects across 310 cities in China, totaling a combined area of approximately 680 million square meters.
Sounds like a huge company, right? Well it was the second-largest property developer in China by sales, and ranked 122nd in the world by revenue, according to the Fortune Global 500 List in 2021. Before that, in 2018, Evergrande was ranked as the world's most valuable real estate company. But as they say, all good things must eventually come to an end, because come 2020, the real estate developer had a major liquidity scare.
As reported by Bloomberg at the time, Evergrande allegedly sent a notice to the provincial government of Guangdong, advising officials that its payments slated to be due on January 2021 could create a liquidity crisis and lead to a major default across the financial sector. The letter, which was confirmed by people familiar with the matter, was originally disputed by Evergrande over its authenticity. Nonetheless, the potential catastrophe was soon averted, because a group of investors decided to forego their right to enforce a $13 billion repayment.
Whew, amirite? Well, not exactly. It turned out that the reprieve was short-lived, as Evergrande had a lot more debt with fast-approaching deadlines. The real estate developer devised a strategy to reduce its some ~$100 billion debt pile in half come 2023 via asset sales and stock offerings. However, it appears the plan was merely wishful thinking, because come August, the company was only able to raise a paltry $8 billion by selling shares of its electric vehicle company, a regional bank, and a property firm.
With time not on its side, Evergrande took a significant hit on its margins, which caused its net income to fall by 29% to around $1.6 billion in the first half of the year. Which brings us to the present day, where the beginning of the end for Evergrande has just eclipsed. On August 31, the company issued a stark warning in its earnings statement, advising of an imminent crisis on the horizon.
"The group has risks of defaults on borrowings and cases of litigation outside of its normal course of business," the statement read, adding that, "Shareholders and potential investors are advised to exercise caution when dealing in the securities of the group."
This caused Evergrande's bonds to trade as if the company was already broke, as investor confidence also slid downward in sympathy. According to data compiled by Bloomberg, Evergrande's 8.75% note due 2025 dropped 1.5 cents on the dollar to around 33.7 cents, and its shares plummeted to mark a 71% decline since the beginning of the year.
Meanwhile, Evergrande's debt was significantly downgraded by Fitch Ratings, from CCC+ to CC, with the ratings agency warning that a "default of some kind appears probable." The downgrade follows a similar ratings cut by Moody's, which cut the real estate conglomerate's credit rating by three notches to CA, which signifies it is "likely in or very near default." This caused the stock to slide below its 2010 IPO price.
Then, merely less than a week after revealing a potential crisis may be on the horizon for Evergrande, the real estate company issued an unprecedented announcement on its website, acknowledging that it is, "indeed facing unprecedented difficulties but it firmly fulfills responsibilities." The statement went on to highlight that the company will resume construction work on its buildings to ensure timely deliveries for customers, while doing everything within its means to reestablish normal operations.

In the meantime, homebuyers, retail investors, and even Evergrande employees embarked on protests at the company's Shenzhen headquarters, demanding repayments on overdue Wealth Management Products (WMP). It is worthwhile to mention that Evergrande also has shadow banking creditors via WMPs in addition to its official creditors, so after proposing repayment delays on the WMPs, it is understandable that chaos would erupt.
However, things soon took a turn for the worse, because the following day Evergrande made an about-face, and confirmed that a bankruptcy is now imminent. In a filing with the Hong Kong stock exchange on September 14, it was revealed that the company hired bankruptcy advisors Houlihan Lokey and Admiralty Harbour Capital to help "assess the firm's capital structure," which, when not sugar-coated, means "prepare to file for bankruptcy."
Then, to further attest that a default is around the corner, Evergrande conceded that it failed to make meaningful progress on the sale of its stake in its electric car business, as well as failed to sell its office building in Hong Kong.
For those wondering, we are now about to enter the "suddenly" portion of the two-step plan of bankruptcy, which is also coincidentally on the 13th anniversary of the Lehman Brothers collapse. On September 15, Bloomberg reported that the Ministry of Housing and Urban-Rural Development advised Evergrande's major lenders to not expect interest payments on bank loans due September 20, because what is left of the company's capital will instead be diverted towards completing existing construction projects.
At this point, it was increasingly beginning to look like bond holders were already pricing in next-to-zero odds of a Evergrande recovery. Following the Bloomberg report, the firm's 8.75% note due in 2025 slumped 1.6 cents on the dollar to around 25.8 cents in Hong Kong, while the 8.25% dollar bond due 2022 fell 1.4 cents to 25.3 cents.
The following day, an exchange filing from Evergrande announced that its main onshore real estate would momentarily halt trading until September 17, in order for investors to digest news that China Chengxin International downgraded the company's credit rating from AA to A (which in China is considered to be the lowest grading). Although it still remains unclear why bond trading would need to be suspended for an entire day for everyone to become aware that its bonds were no longer in the investment grade category, nonetheless here we are.
But, the angry protestors still came in troves. So, in a hail mary attempt to salvage at least some sort of investor sentiment, Evergrande hastily started offering consumers and staff the option to bid on its heavily discounted properties in an effort to repay its stakeholders the billions of dollars in overdue investment products. As reported by Bloomberg, the real estate developer is expected to establish an online property sale before the end of the month, so investors can receive real estate instead of cash.
However, it appears that the debt-for-housing exchange did not sit well with investors at all. According to the Straight Times, retail investors have gone completely bizerk, and— no we did not make this up— took Evergrande management hostage because, well, storming the company's headquarters wasn't sufficient enough.
From there on, it didn't take long for China— and the world for that matter, to get its Lehman Brothers 2.0 moment: The Evergrande disaster finally caught the attention of Chinese stock markets, which ironically are closed on Monday for holiday. As traders embarked on massive selloffs in an effort to recoup whatever is left, Evergrande— which is on the brink of default— plummeted by nearly 15% Monday morning, and is headed towards its worst market cap ever.
It appears that the likelihood of Evergrande meeting its interest obligations continues to slip further into the abyss. The real estate developer is expected to make $83.5 million in interest payments on its March 2022 bond come September 23, followed by a subsequent interest payment of $47.5 million for March 2024 bonds due September 29. However, the day of Lehman Brothers 2.0 may actually come even sooner, because Evergrande is expected to make a major interest payment on Monday to cover its bank loans, which comes affixed with a one-day grace period. Should Evergrande fail to make arrangements for an extension, a technical default could materialize as early as Tuesday.
Meanwhile, as the epicentre of the looming default spread across the remainder of the sector, the Hang Seng Properties index fell to its lowest in 12 months, nosediving by nearly 7% on Monday. Markets in the US also saw their fair share of red, not only because of China's real estate development chaos, but also because investors are earnestly awaiting news of a potential taper from the Federal Reserve.
Interestingly, crypto markets also suffered extensive losses come Monday morning, as the selloff from Evergrande's catastrophic and imminent debt default spread around the world. The combined value of the world's cryptocurrencies fell by more than 10% to around $1.9 trillion, marking a loss in excess of $250 billion, according to CoinMarketCap. The price of bitcoin plummeted by nearly 9%, and ether saw its prices fall by almost 10% to around $2,940— both the lowest since August.
In the meantime, a Goldman Sachs note published on Sunday highlights the potential ramifications of an Evergrande collapse on China's GDP growth, with scenarios ranging between bad, worse, and terrible, affixed with potential output declines of 1% to 4%.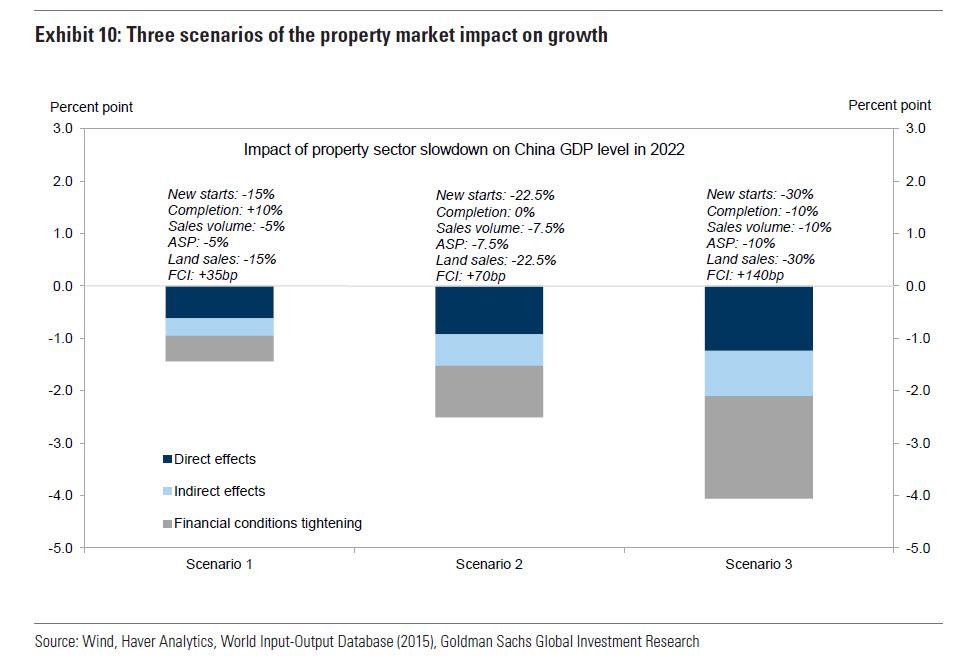 For now, though, Goldman suggests that an Evergrande default or restructuring would be meticulously handled by the Chinese government, in an effort to abate any major negative ramifications for both Chinese and global stock markets. However, "this would require a clear message from the government soon to shore up confidence and to stop the spillover effect, the absence of which we think poses notable downside risk to growth in Q4 and next year," meaning that the pace of the current selloff will be contingent on whether or not Beijing intervenes via more trillion-dollar injections into the market.
And so the waiting game begins.
---
Information for this briefing was found via the companies mentioned. The author has no securities or affiliations related to this organization. Not a recommendation to buy or sell. Always do additional research and consult a professional before purchasing a security. The author holds no licenses.