Maricann Group: The Super Low Cost Producer
Maricann Group Inc (CSE: MARI) is arguably one of the most popular stocks as of late. They have developed quite the following among investors, whom are eager to support the company in their future success. And for good reason to, as the company has much to be proud of. For instance, by the end of 2018 it will be one of the larger producers in the country, at arguable one of the lowest cost per gram rates possible.
Investor enthusiasm certainly exists for Maricann as well. This is evident based on the rate at which their latest financing closed. The financing, which was announced to the public on December thirteenth at a price of twenty million managed to close in under a month at a figure that was double what was initially planned. If that doesn't seem all that impressive to you, keep in mind that much of the time in between consisted of holidays. Moves like this show immense strength in such a quiet company.
So what is the draw to Maricann for so many investors? Let's take a look at the answer to that question, in the form of our weekly full analysis. This time, you selected our company of focus. We hope it lives up to your expectations.
Maricann Group: The Super Low Cost Producer
Current Operations
The Langton, Ontario Facility
Currently, Maricann Group's Canadian facility is located in Langton, Ontario. The current facility used at this site was first acquired in 2013, when the company first formed. At the time of acquisition, the facility was approximately 8,000 square feet in size. Since that point in time the company has expanded the facility to encompass 44,000 square feet. The initial license to cultivate at this location was issued under the MMPR regulations back in March of 2014, and was issued its first license to sell cannabis before years end. Following this, it was also subsequently issued licenses to produce and sell cannabis oils, as well as starting materials.
Recently, the company began a major expansion at this facility in anticipation of future demand. To do so, the company purchased 97.5 acres adjacent to their current operations. While the current property that production occurs on is under lease, the expansion is on land now entirely owned by the company. Upon the completion of the expansion, it is believed that the current greenhouses in use will have the lights shut off, with operations taking place solely in the newly expanded buildings.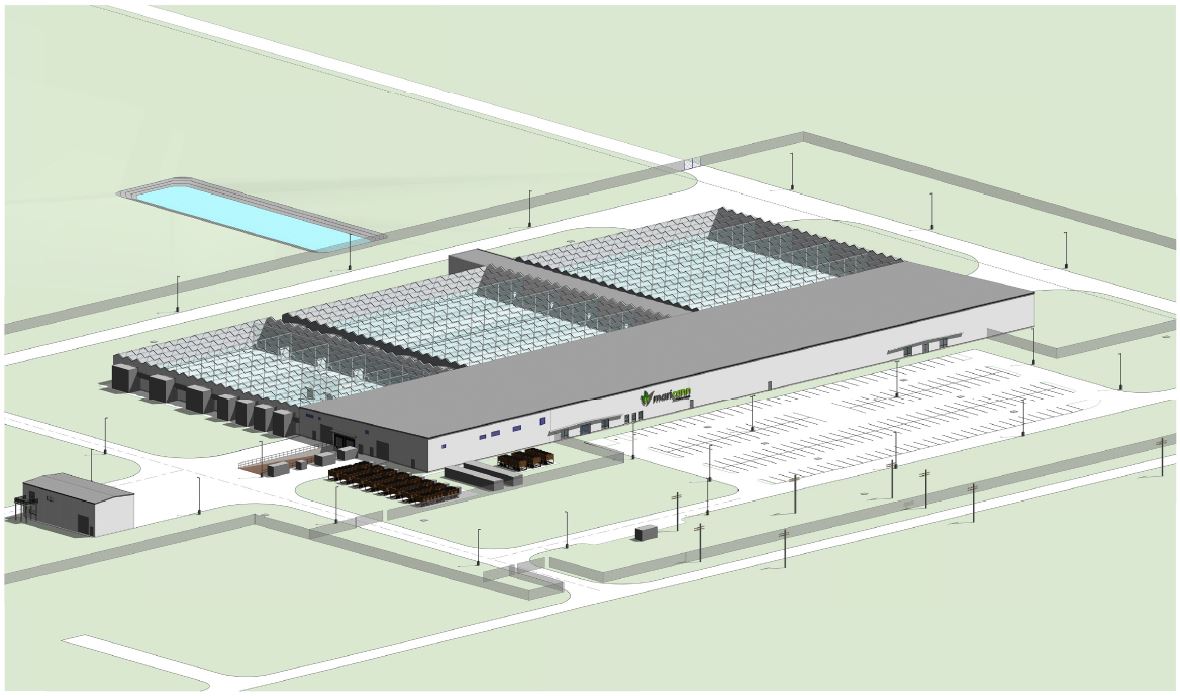 The expansion itself is set to occur in three phases. The first of which was set in to motion in November of 2016, with ground breaking occurring in the early spring of 2017. The first phase consists of a building being constructed that is 217,000 square feet in size. It is believed that this is canopy area only, and does not include the required processing facilities. An operational update filed on January 11 indicates that the processing facility is complete, with a total size of 90,000 square feet. Additionally, the mother, cloning, and vegetation area consists of 37,000 square feet and is also complete. Completion of the entire phase is expected to occur this month (January 2018), with operations slated to begin on February 1st, 2018. Production from this phase is estimated to be roughly 22,500 KG annually.
The second phase, consisting of 300,000 square feet of grow space has recently begun within this quarter as well. The third and final phase, which will add 303,000 square feet of grow space to the facility, commenced concurrently to phase two. In total, the facility will consist of roughly 942,000 square feet of processing and growing space as per the company's recent investor presentation. This will equate to annual production figures of roughly 95,000 KG of dried cannabis flower.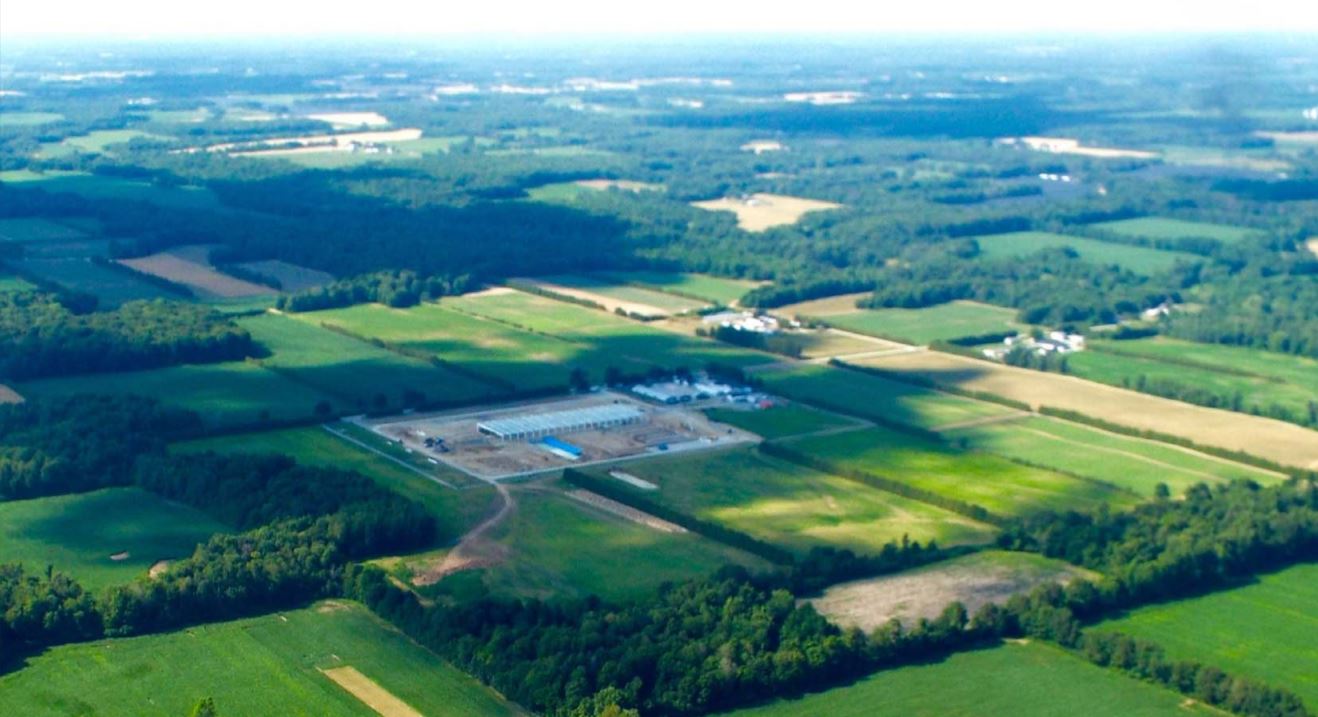 With respect to production costs, upon the completion of the entire building Maricann will boast some of the lowest production costs in the industry. With the completion of the first phase, the estimated cost per gram of production is slated to be roughly $1.34. However, by the time the entire expansion is complete this figure takes a nose dive down to a projected $0.60 cost per gram. Part of the reasoning for this, is the company has entered a partnership with On-Energy Corp for the supply of natural gas to the facility. The gas used by this new greenhouse will be locally sourced through this joint venture, which will acquire the gas used from nearby wells. Maricann will be the sole customer of this joint venture, and have a rate that is substantially lower than that of any of its competitors.
Overall, the facility will be one of the largest in Canada upon its completion. Not only that, but it will be one of the lowest cost production facilities in the country, at a cost per gram that many producers simply will not be able to reach. This rate has been enabled through a series of steps the company has taken in order to achieve such a low cost of production, which includes going as far as entering a joint venture with an energy company. Certainly, the location of the facility benefits the company with regards to this aspect. Although there are a handful of similar sized facilities in construction among Maricann's competitors, it is this cost per gram figure that truly sets the facility apart.
Maricann GmbH – The German Subsidiary
On April 28, 2017, Maricann Group announced that they had entered the German market. To do so, they incorporated Maricann GmbH under their Maricann BV subsidiary. This newly incorporated company is 95% owned by Maricann, with the remainder being owned by the general manager of Maricann GmbH, Josef Spaeth.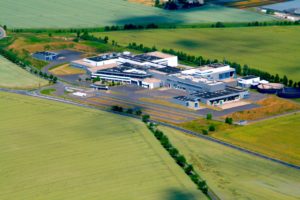 Maricann GmbH will operate out of a facility in Ebersbach, Germany, which is located just outside of Dresden. The facility, which is a former Cargill factory, is ideal for the cultivation of cannabis and will require minimal investment to get it prepped for operations. Of the 820,000 square feet it currently boasts in clean rooms, 400,000 is currently in the process of being converted for cannabis production. Funding for this expansion work has been acquired through a non-dilutive financing with The Green Streaming Finance Company of Canada, whereby they will provide $42.5 million in financing in exchange for the right to acquire 20% of production at a price of cost + 10%.

It is anticipated that this facility will grow both cannabis and industrial hemp. The former will be grown in the company's indoor facilities, while the latter will be grown outdoors.
With regards to licensing, the joint venture was one of ten applicants to move forward into the next round of Germany's tender process for the license to produce the regulated product. In total, there were 118 applicants in this process. Furthermore, the subsidiary has also applied for a narcotics license and wholesale narcotics license. If granted, it will allow the subsidiary to import cannabis and CBD products in to the German market for resale. These products would then be distributed to pharmacies and distributors directly. This second set of licenses is anticipated to be received by the end of March.
NanoLeaf Technologies
On August 22, Maricann entered the pharmaceutical sub sector of the current cannabis related industry. To do so, they announced the acquisition of Nanoleaf Technologies Inc. at a purchase price of $38.5 million. This figured equates to roughly 18.3 million shares in Maricann, in additional to a $1.6 million loan that Nanoleaf will utilize to settle current debts the company has.

NanoLeaf Technologies is a European based company that is focused in the biotech sector. Currently, their product offering has applications in the pharmaceutical, nutraceutical, cosmetic, and medicinal beverage industries. Their product, developed in conjunction with Vesifact, goes by the trade name Vesisorb. Its claim to fame is that it assists in the water solubility and bioavailability of CBD, which has uses in the aforementioned industries. The company does hold a patent for the product, and Maricann as such will receive worldwide rights to the technology. This technology is currently used under license by a number of organizations in the pharmaceutical and cosmetics industries.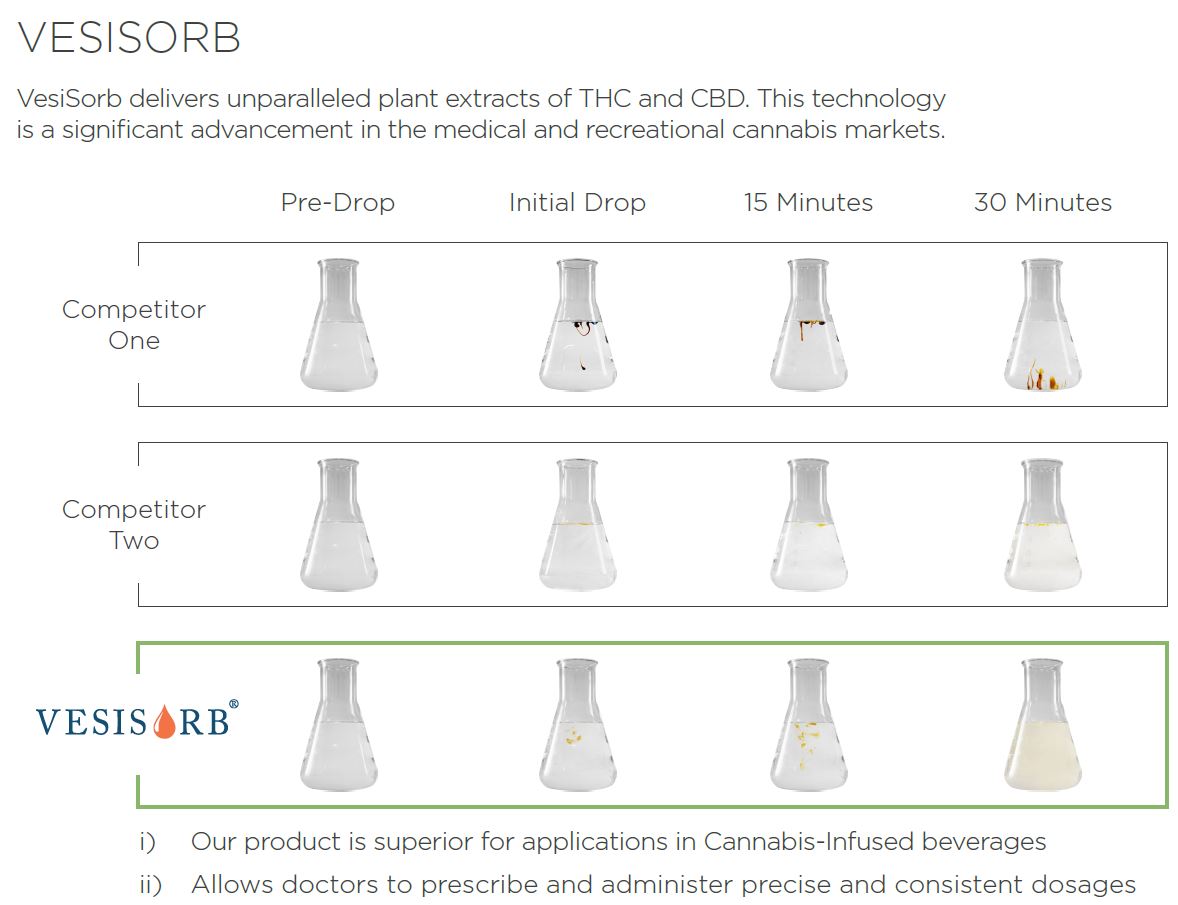 Maricann Group closed the acquisition of NanoLeaf Technologies on October 27, 2017.
Maricann's Branding & Distribution Streams
The final item to address with respect to Maricann Group's current operations, is that of its branding and distribution network. This is an area that the company has focused a great deal of time on in anticipation of the future competitive advantages they will provide. With respect to the company's products, they currently offer items in three categories: cannabis, cannabis oil, and starting materials. These products are sold out of their Langton facility, as well as at their recently licensed Burlington facility. The Burlington facility is used for the sale of products only, there is no establish production facility.
As of September 30, 2017, the company sold cannabis under ten different labels, cannabis oils under four labels, and three separate strains of cannabis starting materials. Below you will find a chart from their MD&A filings indicating the details on these products. It is believed that they have since added additional product varieties to their lineup.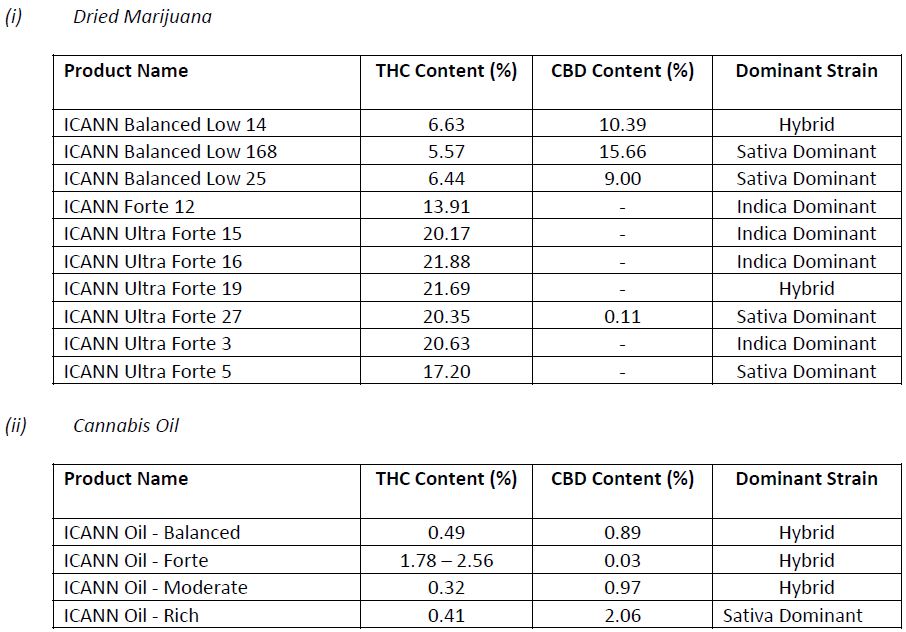 In addition to these products, the company has also acquired the rights to several internationally renowned brands. The first of which, is JuJu Royal, a brand owned by Julian Marley, the son of the famed Bob Marley. Under this brand name, Maricann has begun producing and distributing four strains of cannabis which will be made available by the company in Canada as well as Europe. This agreement is valid for an initial period of three years.

The second brand related agreement is with that of Rare Dankness, a world famous brand currently centered in Europe. Under the terms of the agreement, Maricaan will have the exclusive right to distribute the product in the Canadian market for a period of five years. In exchange, Maricann has paid an initial fee of $500,000 in cash to Rare Dankness. Additionally, Maricann is to issue $250,000 in warrants for the first three years of the agreement on its anniversary date. Product sales will be subject to a profit sharing agreement as well.
In terms of product distribution, Maricann has established several routes of distribution for its medical products. In November, it signed a deal with McKesson Canada Retail Banner Group wherein the two companies would act in partnership to educate consumers on medical cannabis. Although the initial letter of intent was retracted and replaced by a release indicating a "national brand", it's clear the two parties will be working together. In total, the chain consists of 2,116 pharmacies across the country, representing roughly 20% of all pharmacies in Canada. It is assumed that the preferred brand for these companies will be that of Maricann Group's line of products.
In addition to the McKesson deal, a similar one was signed on December 12 with Lovell Drugs. Within this agreement, Maricann will be the preferred and exclusive provider of medical cannabis to the pharmacy chain that has locations across Ontario. Lastly, on November 30 the company entered a non-binding letter of intent with ABLE BC, an organization representing the private liquor industry in British Columbia. Within, it outlined a potential deal wherein Maricann will supply product to its members.
It is through these efforts that the company has established a competitive advantage that will have an impact for years to come. By being an exclusive supplier to a large portion of pharmacies across the country, it's only a matter of time before the benefit of these agreements come in to play. With the further focus the company has on branding efforts, there is little doubt that the company will be successful in the years to come within this emerging market.
Maricann Group's Financials
Revenues
When we look at the revenue figures for Maricann Group, one thing quickly becomes clear. Although the company was licensed to produce up to 1,282 KG annually at the time of the latest financials, there's an issue – they are nowhere near this figure. The capacity has since increased to 6,250 KG annually for this facility, but it seems that the resulting news release indicating this was rather pointless based on current production figures.
Of the allowable limit of 1,282 KG, the company produced a mere 235 KG in the first nine months of 2017. Yes, there was an incident in March that resulted in a crop loss. However, it's doubtful that this would have increased the production of the facility to triple the current figure, which is where it should be at as of the reporting period to be operating at maximum capacity.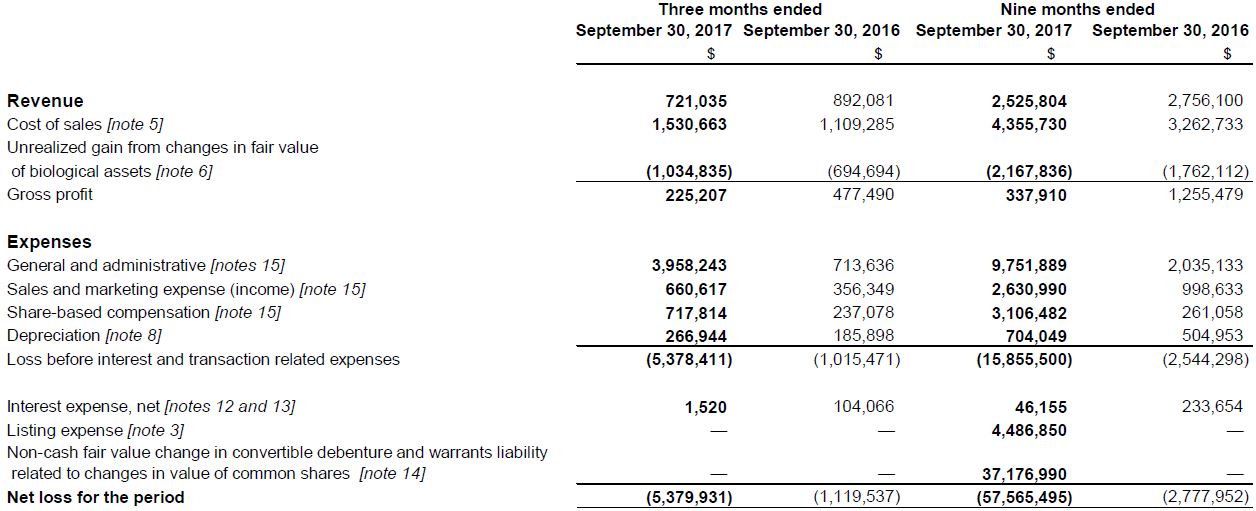 In total, the company recorded revenues of roughly $2.5 million for the nine month period. The latest quarter contributed roughly $700k to that figure, which is on par for a quarterly basis. The disproportionate expenses for the nine month period are a result of a convertible debenture that occurred earlier in the year.
Minus the convertible debentures, the expenses seen are the result of a company heavily focused on growth, which includes construction and consultancy costs. These expenses are expected to be reduced largely for FY 2019, upon the completion of the current facility expansions in progress.
Maricann's Share Structure
Recently, we covered the share structure of Maricann Group in a briefing that served as the prequel to this article. If you wish to visit the original article, it can be found here. Since the date of this article being released, there have been a few changes related to the share structure of the company. Here's the summary:
113,385 options were issued, which were split between a company employee and a consultant.
122,040 options were exercised at a price of $0.15
130,380 options were exercised at a price of $2.85
In total, the impact on the share structure was minimal. Investors should be aware however of an additional 305,100 options that will likely be exercised between now and March 31, 2018. At $0.07 per share, it's very unlikely that these simply expire. The impact on the share structure will be minimal at best upon these being exercised, however they might provide some temporary selling pressure.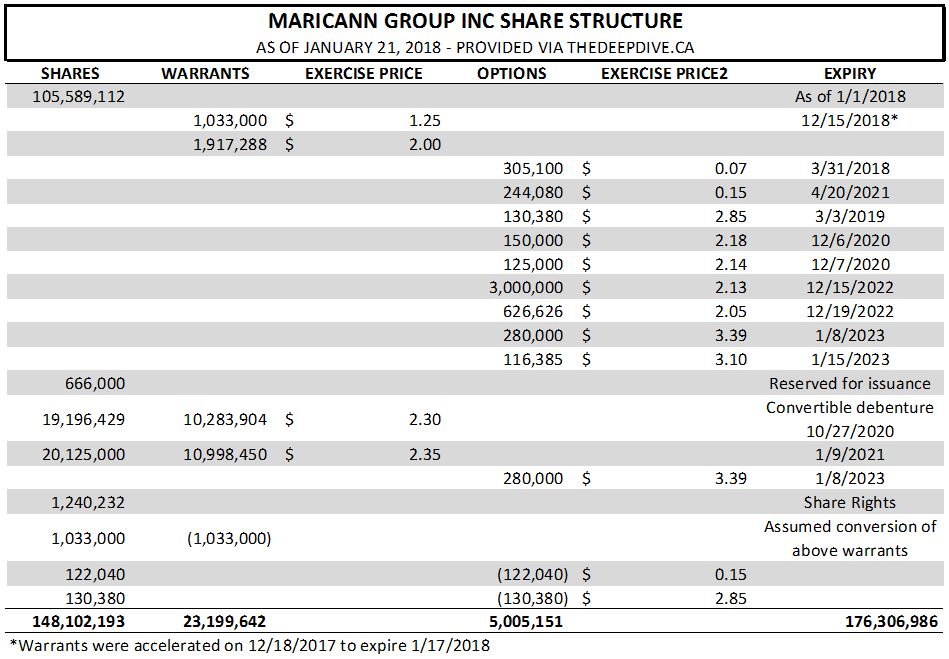 As a result of the recent options being exercised, the estimated shares outstanding count for Maricann Group now sits at 148,102,193. Based on Friday's closing price of $3.95, this gives the company a market valuation of $585 million. On a fully diluted basis, this market valuation increases to $696 million. A reminder that this figure is based on the conversion of all outstanding convertible debentures as well.
Maricann's Insider Positions
The options recently issued had a minimal impact to insider ownership of the company. None of these options were issued to individuals classified as company insiders, so they marginally decreased the current ownership percentages.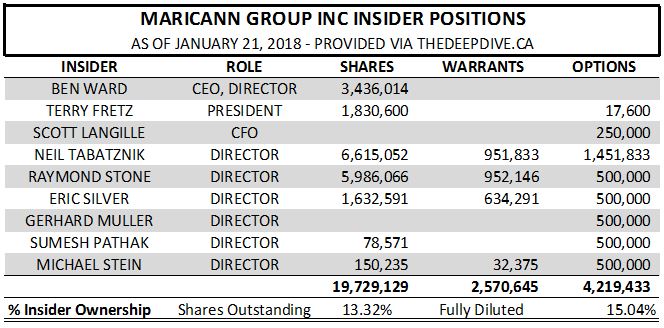 Overall, company insiders at Maricann Group still account for 13.32% of all outstanding shares of the company. With respect to the fully diluted figure, this number still comes in slightly higher at 15.04%. Again, as per our earlier article, these remain to be at respectable levels based on the current dilution. Further to this, company insiders continue to participate in each financing the company performs.
Potential Valuation
Now it's time to perform our hard and fast valuation of Maricann Group. This time, we're a bit limited in what we can calculate our estimates based on. Due to the company just recently acquiring NanoLeaf, its unclear what monetary benefit the subsidiary will add to Maricann's bottom line. Additionally, Maricann GmbH is a bit of a wild card at this point in time, as we don't have production estimates for the facility, or an estimated price per gram for the region. As such, our figures will be based solely on that of Maricann's Langston facility.
The figures we'll be using are an average sale price of $10 per gram, which is the company's current figure as of their latest MD&A. We'll also assume that cannabis oil production is the equivalent of 25% of the companies dried flower production, which is based on the sales ratio seen in the latest financial reporting period.
With regards to the Langston facility, there are a few factors that need to be considered. First, the company is producing nowhere near its annual capacity at its current greenhouse facility. Second, its currently undergoing construction on several phases of expansion, so the estimated revenues will fluctuate depending on the moment in time you wish to reference. As such, we'll take a look at two time frames.
The Short Term Valuation of Maricann
The first, is an estimated production figure for the fiscal year of 2018. We'll assume that they enter their new facility on February 1, 2018. At the very maximum of 22,500 KG annually proposed, they have the potential to bring in revenues of $225 million on dried flower alone. Factoring in cannabis oil production, this figure climbs to a rough estimate of $281 million in revenues at most for the facility. This revenue would be generated at an estimated margin of 86.6%, based on a cost per gram of $1.34.
However, based on their current run rate of 18% of capacity, the estimated revenue figure drops down to $51.5 million. This is still a substantial figure, but it's significantly lower as a result of their current rate of execution. A realistic revenue figure will end up likely somewhere in the middle provided there are no more "events" that take place at the facility.
The Longer Term Valuation of Maricann
We'll do a similar calculation for FY 2019, when it is anticipated that the facility will be producing at most 95,000 KG of dried flower per year. This time however, we'll drop the average price per gram to $9 as a result of the increased competition the space will see, even if the product is sold as a premium brand.
This will equate to $855 million in revenue on dried cannabis flower. Assuming the facility is capable of processing the same 25% in cannabis oils, and the figure jumps to $1,068 million. Even with the decrease in sales price, due to the economies of scale that gets the facility to an estimated cost per gram of $0.60, this figure would be generated at a margin of 93% if all goes to plan. However, it is unknown what the capacity of the current processing facility will be with reference to dried cannabis flower produced.
Using the same run rate as above would place us at roughly $196 million in revenues annually.
Presently, industry standard valuations are typically above the 4x future annual revenues. There are exceptions in either direction currently, however this is a good baseline to begin with. The issue with this, is the fact that it depends what an investor defines as "future" to land on a proper valuation. It's also difficult to quantify many items at this point in time – such as NanoLeaf or Maricann GmbH demonstrate. We'll allow you to define this yourself.
Closing Remarks
Maricann Group is certainly one of the more experienced companies on the market right now as a result of their longstanding facility. However, this unfortunately hasn't equated into a massive competitive advantage as of yet. Certainly, there are some areas where they have excelled relative to the market – such as its success in establishing agreements with several pharmacy chains. Unfortunately, they are still fumbling at times like the rest of the industry, such as the wind storm that took out an entire crop this past summer.
With any luck, they'll really step up their game as we begin to get in to 2018. Once their first expansion comes online, their production should increase by a considerable level. Should they avoid fumbling at this facility and hit their production estimates, they may very well be headed to profitability in a very short time frame, especially given their projected cost per gram. The estimated margins are absolutely mind boggling, and part of the reason why many experts believe the price per gram will be reduced significantly in the years to come. Should this happen, Maricann will quickly become a leader of the pack.
Maricann has a strong following, and for good reason. Should they manage to execute their business plan as described, it could be a very profitable future for the organization. We're interested to see how the European venture works out, and whether or not it can manage to be as profitable as the Canadian arm of operations in the years to come. This company has potential, it just needs to act on it.
Cost per gram will have a large role in the future. Find the companies that make this a priority. Dive Deep.
---
Information for this analysis was found via Sedar, The CSE, SEDI, Bloomberg, New Cannabis Ventures, and Maricann Group Inc. The author has no securities or affiliations related to this organization. Not a recommendation to buy or sell. Always do additional research and consult a professional before purchasing a security.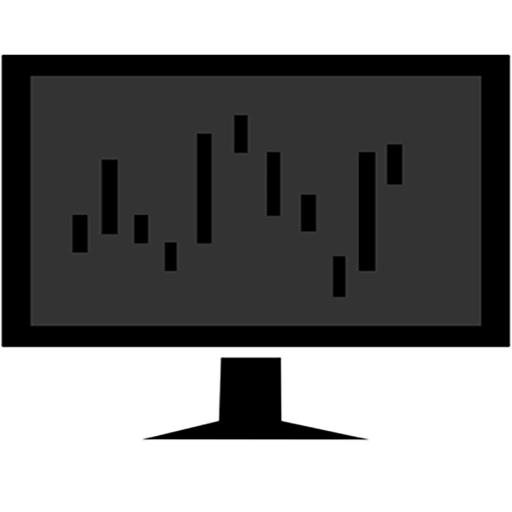 As the founder of The Deep Dive, Jay is focused on all aspects of the firm. This includes operations, as well as acting as the primary writer for The Deep Dive's stock analysis. In addition to The Deep Dive, Jay performs freelance writing for a number of firms and has been published on Stockhouse.com and CannaInvestor Magazine among others.