Market Movers: RevoluGROUP Successfully Sells the Sizzle
You say you got a real solution
Well, you know
We'd all love to see the plan

"Revolution" – The Beatles
Typically, companies capable of creating a sense of pending action are the ones that gather the micro-cap market's potential energy. Sticking out among the volume traders last week, partly because of a wealth of public equities experience in management, is aspiring global payment processing empire RevoluGROUP Canada Inc. (TSXV: REVO). The Dive last covered REVO when it was still called CUV Ventures, transitioning from the travel booking business to the payment and banking business following a brief moment in the blockchain world. The vestigial remains of the blockchain angle have since been worked into REVO's obligatory strategy for capitalizing off of the COVID epidemic, but we're getting ahead of ourselves.
RevoluGROUP Canada's volume and price both exploded upwards in the most recent two trading weeks.
RevoluGROUP saw a 70% jump in share price on 10 million shares in volume last week following the April 24th news announcement that the company had received a letter from its corporate lawyer. The letter brought news that the dossier submitted by the company to the Bank of Spain in application for a PSD2 license – apparently allowing for its operation of a payment processing business in Europe – has been "fully accepted by the (Central Bank) Payment Systems and authorization divisions and is already pending approval by the Executive Committee, which should take place shortly, no more than three weeks…"
The company doubled down on the three week timeline in a May 8th press release affirming that the process for their application's approval continued at pace. The three week "anniversary" of April 23rd, the date of the correspondence from the attorney, falls on Thursday, May 14th.
Storytelling is all about timing
The former Cuba Ventures has been after this PSD2 banking license since November of 2018. The February 2020 MD&A describes new Euro-Banking regulations being introduced into law November 23, 2018, the day after REVO submitted its petition for license, and the Central Bank having issued no licenses since then.
Presumably, the global pandemic has caused the Bank of Spain to recognize a new and urgent need for payment systems, and REVO has managed to build the right infrastructure, submitted for permitting at the right time.

The RevoluPAY payment and remittance network that REVO is using to petition for euro-licensing appears to be a functional entity. The company has it booking its first $62,334 in service revenue in the quarter ending February, 2020, slightly more than the $53,719 the sprawling business booked in travel revenue, and about a fourth of the $233,928 it booked in the same period from RevoluCHARGE, a phone top-up service of sorts.
Is it the perfect time to back a larval global vampire squid?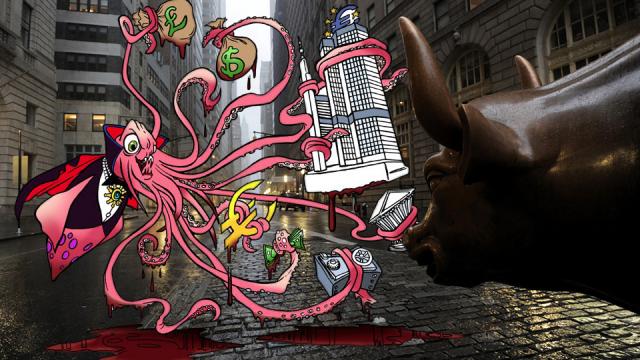 This column has been reliably sarcastic about the seemingly endless "Revolu-" verticals that the company pushes. A micro-cap acting as if it's built a global empire across multiple sectors, ready to be activated and put itself in position to take a vig off of all of it as soon as the license is approved is rich in comedic potential, because it's absurd. But in an environment with employment at all time lows, in which equities markets are making an impressive run at (recent) all-time highs – where the creation and transfer of digital money is instrumental to sustaining capital markets and preventing widespread unrest – absurd is the new rational.
The capital markets operations at REVO have set the issue up to exploit the type of licensing application tension that appears to be fueling the recent momentum in the company's equity more than once. The company is very excited about a February application for a Monetary Services Business (MBS) license that would allow them to petition for licenses in 27 US States all at once. A news build using that application's path through process would gain even more potential energy if the European PSD2 licence were to be successful, and REVO were to gain a share of that payments market.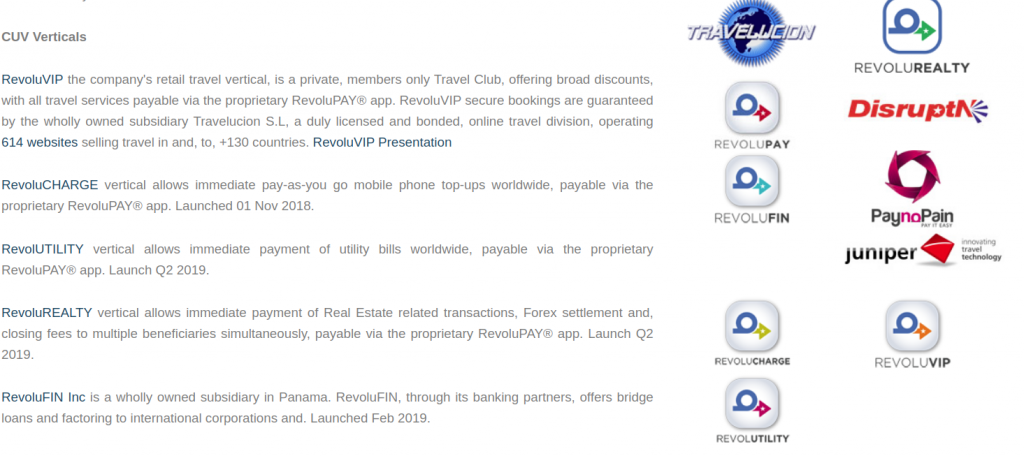 To hear the company tell it, a successfully-scaled remittance payment business will put RevoluGROUP in position to force its tentacles into the utilities payments market, the E-Sports market and the real-estate transactions market, among others. In a grand future where people lose their roll betting on E-Sports, have their mom send them some money to pay the electrical bill, then stake the deed to the house on the next Starcraft tournament to get even, REVO's established networks and businesses make a sale at every step, off of a capital investment that has long been recovered, at very little additional cost.
The founders believed the story had legs at $0.26, having issued nearly $1 million worth of options just ahead of this recent run. There are presently 160.2 million shares outstanding in REVO, which gives it a market cap of $69.69 million at Friday's $0.435 closing price.
---
Information for this briefing was found via Sedar and RevoluGROUP Canada. The author has no affiliations related to this organization. Not a recommendation to buy or sell. Always do additional research and consult a professional before purchasing a security. The author holds no licenses.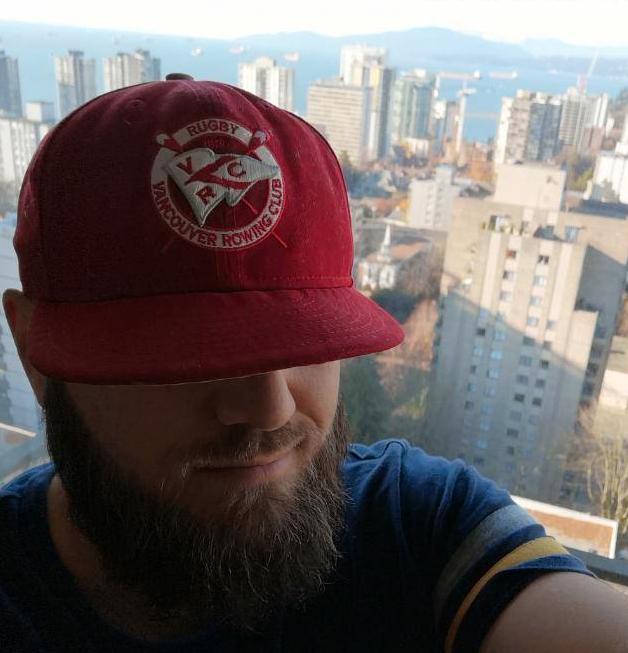 Braden Maccke is a freelance writer from Vancouver, B.C.
You can read all of his Deep Dive articles here.
He can be reached at braden@fundamentalhype.com.