Michael Burry Suggests Nation-wide Lockdowns Detrimental to the Health of the Economy
Michael Burry, who rose to fame after making a pretty fortune off the 2008 subprime mortgage crisis, which was later published in a best-selling novel and film, has a few words to say about the current global coronavirus shutdowns.
The self-made millionaire hedge fund manager has voiced his strong opinion against the pandemic lockdowns, stating that they are making the economy worse off than the virus itself. He took to Twitter and Bloomberg News to express his opinion, which has since caught the attention of the investment community.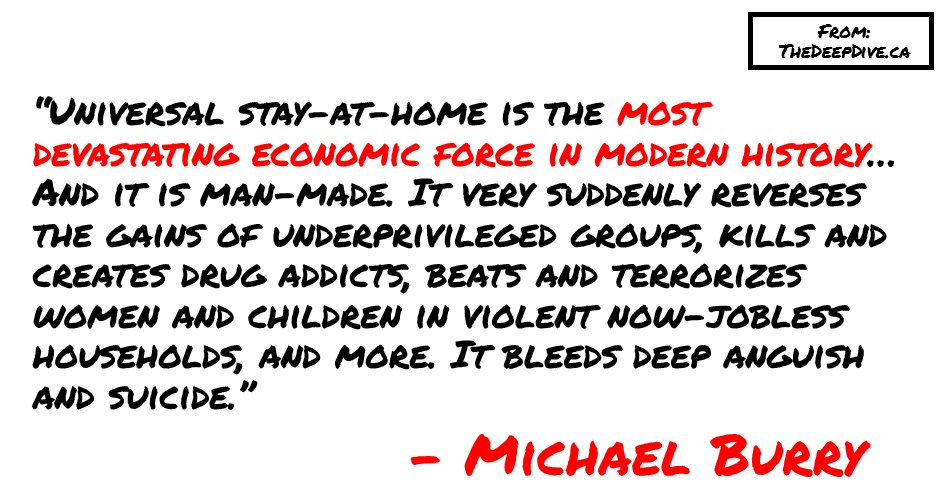 With respect to the lockdowns and mandatory work-from-home regimes, Michael suggested they are having a detrimental impact on those in the lower income quintiles, such as increases in drug addiction, and domestic violence in homes that would otherwise be pre-occupied with everyday jobs.
---

"If there was ever a time for the government to stimulate with fiscal and monetary policy, it is now. Unfortunately, the U.S. has been adding $3 for every $1 of new GDP over a very long time, and interest rates were already near zero. Still, nothing is more important now that loans to small and mid-sized businesses, and the U.S. Treasury, backed by the Fed, is providing that liquidity, which is vital."
---
Michael holds a Doctor of Medicine designation in addition to being an investor- and according to him, medical policy makers are going about it all wrong. He is saying they have errored in forcing everyone to stay home instead of letting common sense prevail with frequent hand-washing, wide-spread testing, and only quarantining those in high-risk categories. Further, he criticized the Centre for Disease Control and Prevention, among other regulatory bodies, stating a much stronger proactive approach should have been taken in administering wide-spread field testing for the virus. He also stated that potential treatments for the coronavirus such as hydrochloroquine should be made readily available to physicians to administer.
He also took aim at the US policy, suggesting that the economic environment prior to the onset of the pandemic was already volatile with near zero interest rates, but going forward, the US government need to increase liquidity via small and mid-size business loans.
---
"Economically speaking, we have to realize the policy-driven demand shock will be resolved by 2021. But Japan and the U.S. are putting more than 20% of the GDP into new fiscal stimulus, and easy money will be the rule. Those things will all bring stock and debt markets back….. Countries will also look to bring supply chains home, and many employees will need retraining with higher cost. When we start working and playing again, inflation may be in store. The other big point is that consumers have learned new behaviors, which will drive business churn."
---
In terms of getting back on track, he controversially suggests that the virus should be left on its own to run its course through the population that has the highest chance of combating the virus on their own, thus building immunity. Hence he is insinuating that someone's ruined livelihood as a result of staying home far exceeds the loss that families are enduring from loved ones that have succumbed to the virus.
---
"I would lift stay-at-home orders except for known risk groups. We already know certain conditions that are predictive of severe disease. Especially since young healthy lungs tend to be resistant, I would let the virus circulate in the population that is not likely to get severe disease from it. This is the only path that comes close to balancing the needs of all groups. Vaccines are not coming anytime soon, so natural immunity is the only way out for now. Every day, every week in the current situation is ruining innumerable lives in a criminally unjust manner….. When it comes to vaccines, coronaviruses are not known for imparting enduring immunity, and this will be one big challenge. It seems the genetic code is relatively conserved, and this will help the development of the vaccine. But we're still looking at the end of the year. In the meantime, the world is an innovative place, and I expect many effective treatments — both new and repurposed — shortly. The question then will be regulation, expense and availability….. Medically, the new normal will be the old normal. As long as innovation continues, medicine will conquer everything in our way."
---
Nevertheless going forward, Michael praises Japan's handling of the crisis, explaining their reason for refraining from a nation-wide lock-down was partly due to a adequately educated and lawful society. He is also anticipating that the many countries will experience a wake-up call and begin producing essential goods domestically, in addition to retraining as a result of structural unemployment- which could further be followed by a period of inflation.
---
"I believe Prime Minister Shinzo Abe is trying his best to manage through the situation without shuttering the economy. He sees what it has done to the U.S., and would rather not force a shut in, but instead asks for common sense. Japan has certain features — such as a largely lawful and well-educated society — that make this more possible. As do Taiwan, Singapore, Korea."
---
Information for this briefing was found via Twitter and Bloomberg. The author has no securities or affiliations related to this organization. Not a recommendation to buy or sell. Always do additional research and consult a professional before purchasing a security. The author holds no licenses.