Moonstone Bank Is "Still Waiting" To See What Happens With FTX/Alameda $11.5 Million Seed Investment
Documents in the failed crypto exchange FTX's bankruptcy recently revealed that the firm–through its sister hedge fund Alameda–infused $11.5 million into Moonstone Bank, formerly Farmington State Bank. As more questions are raised than answers, the bank's chief digital officer Janvier Chalopin attempted to clear the air about the curious stake.
The investment, according to Chalopin, was a "seed funding… to execute [their] new plan of being a tech focused bank." He added that the investment was for 10% of the bank, valuing Moonstone at $115 million – a considerable boost in value considering the bank had just $10 million in customer deposits and only 25 staff at the time.
In March, Alameda spent $11.5 million on Farmington State Bank's parent company, FBH. According to the Federal Deposit Insurance Corporation, the bank's net worth was $5.7 million; it was the 26th-smallest bank in the country out of 4,800 at the time of the investment. It only had a single location and three staff as of this year prior to the acquisition. It didn't even have online banking or a credit card.
But it is not only the peculiar stake that raised some questions. Back in 2020, Farmington State Bank was acquired by FBH whose chairman was Jean Chalopin, Janvier's father. He is also the chairman of Deltec Bank, which, like FTX, is based in the Bahamas–but its most well-known client is a $65-billion crypto firm called Tether.
It's unclear how FTX–based in Bahamas–was permitted to acquire a stake in a US-licensed bank, which would require approval from federal regulators. Banking professionals say it's difficult to believe authorities would have knowingly permitted FTX to take control of a US bank.
When asked what would happen to that funding now that Alameda and FTX have gone bankrupt, he stated that the bank is "still waiting," but that "[the equity] would follow the bankruptcy proceedings and be sold at some point."
Chalopin, on the other hand, does not see Alameda's demise as a significant challenge to the bank, saying "reputationally, [it's] sad to see PR coming out negatively against us while we're in early startup mode."
Farmington State Bank was formed in 1929. A British citizen named Archie Chan acquired the bank in 1995, owning it until FBH bought it in 2020. In 2010, John Widman, the bank's president, boasted about not offering credit cards, having more deposits than loans, and being a hobby farmer.
Farmington's deposits had remained stable at around $10 million for a decade prior to the acquisition. However, the bank's deposits increased about 600% to $84 million in the third quarter of this year, presumably after the Alameda investment. Chalopin argued that the bank has had "substantially more customers than that since we opened our doors to friends and family on our new platform."
The bank trademarked the name Moonstone Bank on March 1, 2022 and changed to that brand three days later. Come March 7, Alameda invested $11.5 million into the newly-named bank.
Chalopin explained that the name was inspired by the startup bank's two asset classes: "playing on 'to the moon' and 'stone' for our target industries of digital assets and hemp/cannabis related business."
He also clarified prior reports saying that the bank had not been a Federal Reserve account holder until last year, indicating that Moonstone had been a Federal Reserve account holder but had "switched from the FDIC as their regulator to the Fed of SF."
In a bizarre development, Moonstone CEO Ron Oliviera has his LinkedIn account changed from his chief executive position yesterday to having left the bank in August and is now a "self-employed" person. Now, the bank's website lists Gary Rever as CEO, whose LinkedIn account shows he's been a director of the bank's board since February 2021.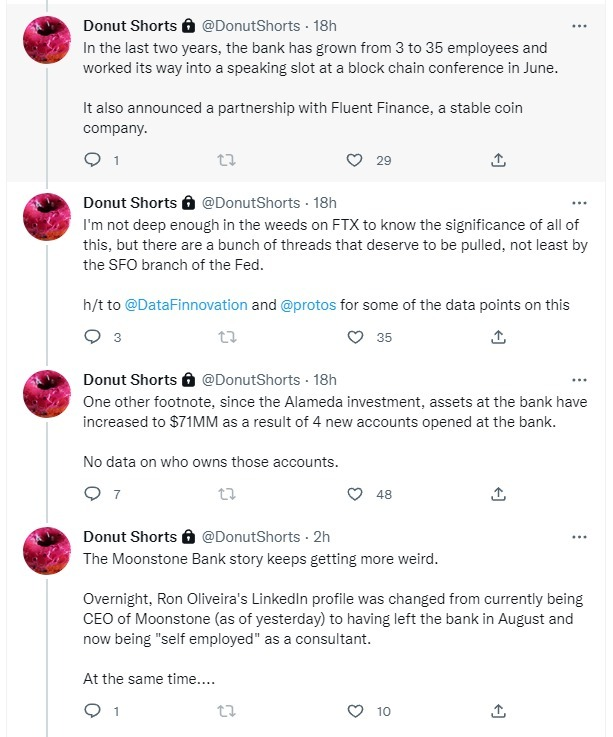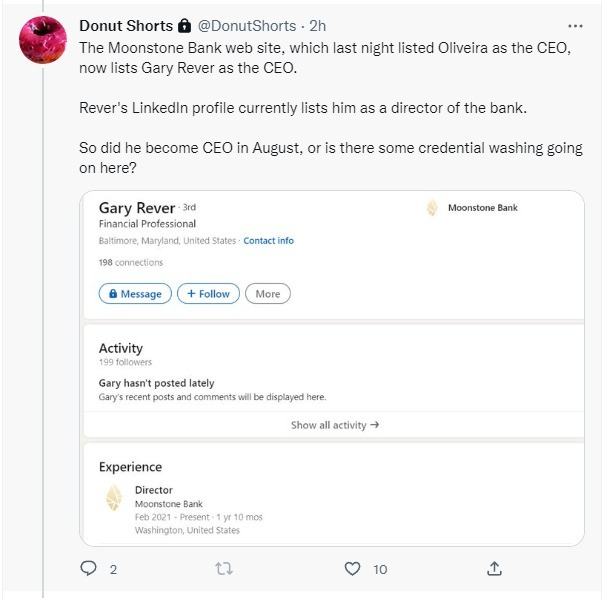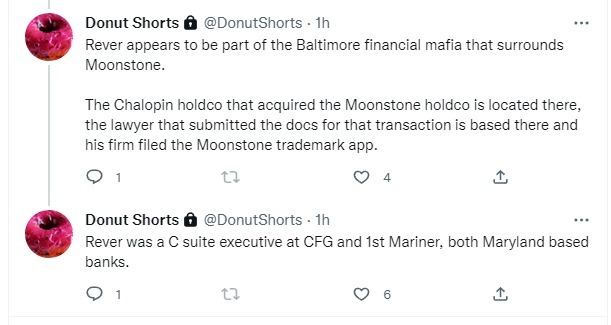 The curious Farmington investment is one of the many surprises that were revealed during FTX's bankruptcy proceedings. The crypto exchange, Bankman-Fried's parents, and senior officials of the firm purchased at least 19 homes in the Bahamas valued at roughly $121 million over the last two year, according to official documents.
In his letter to staff after he signed the bankruptcy papers, Bankman-Fried claimed that there are "potential interest in billions of dollars of funding came in roughly eight minutes" minutes after inking the process final.
"Maybe there still is a chance to save the company. I believe that there are billions of dollars of genuine interest from new investors that could go to making customers whole. But I can't promise you that anything will happen. Because it's not my choice," the FTX founder quipped in the letter.
---
Information for this briefing was found via Protos and the sources mentioned. The author has no securities or affiliations related to this organization. Not a recommendation to buy or sell. Always do additional research and consult a professional before purchasing a security. The author holds no licenses.