Sam Bankman-Fried's FTX Staff Letter: Last-Minute Billion-Dollar Funding Offer, Buying Out Binance
It looks like FTX's Sam Bankman-Fried isn't done "explaining" his side on how the bankrupt crypto exchange came crashing down. In a what seems to be his apology letter to the staff circulating, he once again painted the scenario as an onslaught of external factors as opposed to a crypto Ponzi scheme as how some describes the implosion.
"I didn't mean for any of this to happen, and I would give anything to be able to go back and do things over again," Bankman-Fried said in the letter to FTX employees. "I disappointed all of you, and when things broke down I failed to communicate. I froze up in the race of pressure and leaks and the Binance LOI and said nothing."
The whole implosion started with a Dirty Bubble Media report claiming FTX's sister hedge fund, Alameda Research, is insolvent and projected to suffer the same fate as that of the bankrupt Celsius Network. The fund's chief Caroline Ellison tried to refute the report, saying it is a balance sheet just "for a subset of our corporate entities" and therefore doesn't reflect the entirety of the company.
But in explaining the succession of events, Ellison reportedly disclosed to Alameda staff that in recent months, the hedge fund had taken out loans and utilized the proceeds to fund venture capital investments, among other things.
Ellison further explained that around the time the crypto market crashed this spring, lenders moved to recall those loans, according to a person familiar with the meeting. However, the funds that Alameda had spent were no longer readily available, so the company made the payments using FTX customer funds.
She said that, in addition to her and Bankman-Fried, two other people were aware of the arrangement: Director of Engineering Nishad Singh, and CTO Gary Wang.
READ: In A Nutshell: How FTX Fell From Grace, According To Sam Bankman-Fried Himself
"I never intended this to happen"
Bankman-Fried tried once again to explain how the FTX implosion came to be–what he described as "a better description of what happened–one I should have written out as best I understood it much earlier."
As expected, the former FTX chief outlined a number of "events that led to the breakdown," with none of it seemingly has his direct hand on. He blamed that crypto winter, the November crash–arguably stemming from Binance CEO Changpeng Zhao's decision to pull out all FTX holdings–and the bank run that eventually came after.
"As we frantically put everything together, it became clear that the position was larger than its display on admin/users, because of old fiat deposits before FTX had bank accounts," Bankman-Fried added.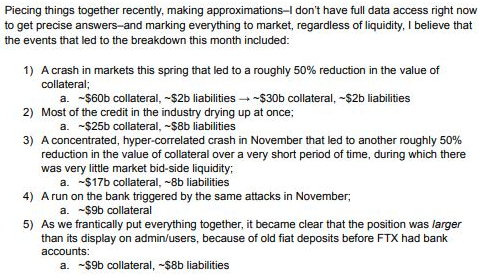 Bankruptcy files recently disclosed that the bankrupt exchange owes its 50 largest unsecured creditors a total of $3.1 billion, with a couple of customers due more than $200 million each.
"Buying out Binance"
"I did not realize the full extent of the margin position, nor did I realize the magnitude of the risk posed by a hyper-correlated crash," Bankman-Fried explained, once again lifting the direct cause of FTX's implosion away from him and onto the external factors.
For him, his main fault in the whole debacle was simply an oversight failure, adding that he "lost track of the most important things in the commotion of company growth."
In explaining the loans–presumably to Alameda–and secondary sales of customer deposits, the FTX founder said it is "generally used to reinvest in the business–including buying out Binance."
Recently, official documents in the bankruptcy proceedings showed that FTX, Bankman-Fried's parents, and senior officials of the firm purchased at least 19 homes in the Bahamas valued at roughly $121 million over the last two years.
Bankman-Fried's most ambitious goal was to alter cryptocurrency regulation in Washington DC, where he testified before Congress and met with regulators. According to sources familiar with the situation, he also used his rising clout in the capital to disparage his main competitor, Binance chief Changpeng Zhao, in private meetings.
"[Attacking Zhao] was not a good strategic move on my part," Bankman-Fried admitted in an earlier interview. "I was pretty frustrated at a lot of what I saw happening, but I should've understood that it was not a good decision of me to express that."
Binance was set to extend "help" when Bankman-Fried sought it from Zhao, inking a non-binding deal for the China-based exchange to acquire FTX. According to two people familiar with the situation, Zhao wrote a brief message in a Signal group chat that included Bankman-Fried and other FTX representatives: "Sam, I'm sorry, but we won't be able to continue this deal," he wrote. "Way too many issues. CZ."
Bankman-Fried then rushed to secure new funding. "I shouldn't throw stones in a glass house, so I'll hold back a bit," he stated in a note to employees obtained by The New York Times. "Except to say, [they] probably never really planned to go through with the deal."
After much shade throwing and a shelved acquisition, Bankman-Fried finally admitted to the shambles that FTX is in–but not without referencing to his "sparring partner," saying "well played, you won."
Last-minute billion-dollar funding
As Bankman-Fried explains his apology to the staff, he tried multiple times to project that he could've saved the company if not for "an extreme amount of coordinated pressure."
For instance, as he has quipped in an earlier interview, he felt forced to file a chapter 11 bankruptcy, claiming doing so was his "biggest single f*ckup" and believing "everything would be [around 70%] fixed right now" if he hadn't done it.
"We likely could have raised significant funding; potential interest in billions of dollars of funding came in roughly eight minutes after I signed the Chapter 11 docs," Bankman-Fried claimed.
Notably, Bankman-Fried himself did not sign the filing for Chapter 11 bankruptcy – John J. Ray III signed the documents, in the capacity of Chief Executive Officer.
He further claimed that should these so-called funding sources become available, together with "billions of dollars of collateral the company still held," he thinks "we probably could have returned large value to customers and saved the business."
On Twitter, Bankman-Fried teased to discuss this last-minute "billions of dollars of funding" in an upcoming talk he would give.
From his letter, Bankman-Fried seems to genuinely believe that what happened to FTX is a matter of factors outside his control, albeit apologizing as he claims could've done a better oversight and management.
But because he filed for bankruptcy–which he claimed he didn't want to do–his hands are now tied to "save the company," which he believes he could do given that there are potential "billions of dollars of genuine interest."
"Maybe there still is a chance to save the company. I believe that there are billions of dollars of
genuine interest from new investors that could go to making customers whole. But I can't
promise you that anything will happen. Because it's not my choice," the FTX founder quipped.
---
Information for this briefing was found via sources mentioned. The author has no securities or affiliations related to this organization. Not a recommendation to buy or sell. Always do additional research and consult a professional before purchasing a security. The author holds no licenses.