Norfolk Southern: What Will The Financial Impact From The Ohio Derailment Be?
People living in and around East Palestine, Ohio will likely remember and, more importantly, be affected by the February 3, 2023 derailment of a Norfolk Southern Corporation (NYSE: NSC) train carrying the hazardous materials butyl acrylate and vinyl chloride for quite some time. 
Butyl acrylate can cause lung damage. The effects of vinyl chloride, which is used to make packaging materials and plumbing pipes, are even worse; it can remain in the environment for a lengthy period, and it has been linked to an increased risk of cancer in the liver, brain, lungs, and blood.
Furthermore, it seems logical that Norfolk Southern's decision to execute a controlled burn of five cars carrying vinyl chloride, a decision made to limit the chance of an explosion, seems likely to exacerbate the ultimate impact on both people and the environment.
READ: Train Derailment in Ohio Results in an Air Quality Disaster
On the other hand, the long-term effect on the giant rail company and its stock could be quite small — if history is any guide. More specifically, two Norfolk Southern trains collided in January 2005 in Graniteville, South Carolina. The results were catastrophic: nine people died, and more than 250 others were treated for toxic chlorine exposure. One of the trains carried chlorine gas, sodium hydroxide and cresol. In comparison, no one died in the East Palestine accident.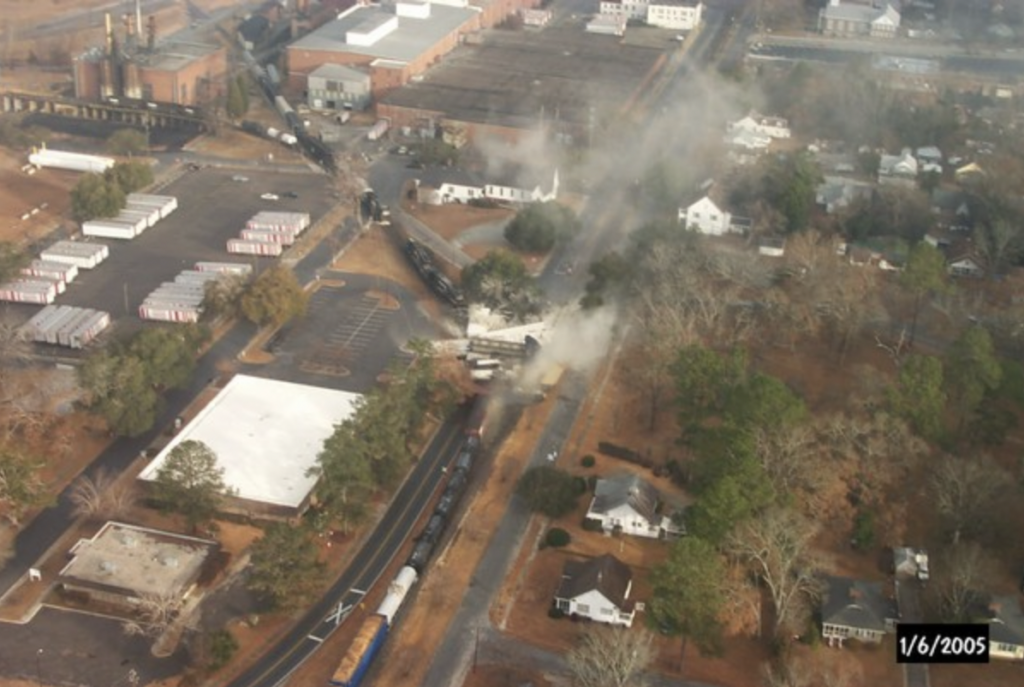 In November 2005, the NTSB declared that the accident was caused by the failure of the crew on one of the trains to re-set a railroad switch for mainline operations. The crew consisted of Norfolk Southern employees, and Norfolk Southern owned the train. 
The financial consequences of the South Carolina tragedy to Norfolk Southern were:
1) US$30-$40 million of direct costs not covered by its insurance policies, including some self-insurance costs;
2) a US$4 million penalty reached in agreement with the EPA, which was approved five years after the accident by a federal court in South Carolina; and
3) payments in the vicinity of US$10 million to settle class action lawsuits. One of the suits was brought by Avondale Mills, a textile mill adjacent to the crash site. After reaching the settlement, Avondale closed, leaving 4,000 workers unemployed (including its operations across three other states).
READ: Norfolk Southern's Ohio Train Derailment: Where Did All That Safety Lobbying Go?
So, the net impact of the South Carolina crash — which appeared objectively far more severe than the February 3, 2023 incident in Ohio — on Norfolk Southern was around a US$50 million pretax one-time hit, or somewhere around US$35 million after taxes,. equivalent to US$0.15 per share based on its current share count. To put this into perspective, Norfolk Southern's stock market capitalization is around US$55 billion.
Norfolk Southern shares are down about US$14, or about 5.5%, since the date of the Ohio train derailment. In light of the financial consequences from a more severe incident 18 years ago, that movement seems like an overreaction – although admittedly, the current event is not yet over and costs may yet rise.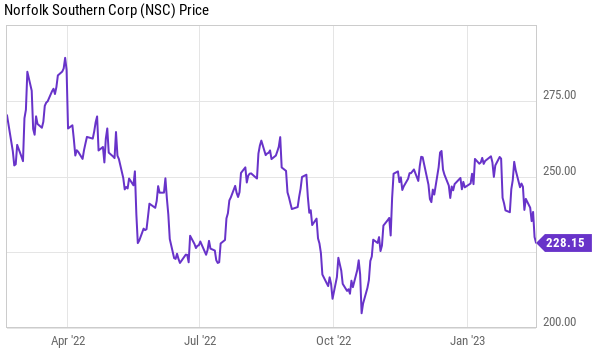 The cost of the Ohio crash
In terms of the recent crash in East Palestine, Ohio, full costs have not yet been realized, and the ongoing social uproar on the matter may lead to costs rising higher than they otherwise would have. Wall Street analysts however are not expecting the dollar impact to be major.
Analyst Ken Hoexter at Bank of America expects up to $40 to $50 million in what he refers to as a "casualty charge" to the firms bottom line once it is all said and done, while Jason Seidl at Cowen expects some form of a specialty charge, however he does not expect that charge to severely impact the business. Hoexter also added that major train derailments seem to have little impact on an operators stock price "on a 3-month horizon."
READ: No, Trains Aren't Suddenly Derailing More Than Usual
Transportation Secretary Pete Buttigieg, whom has been taking heat for his response to the event, meanwhile is said to be considering changing legislation as a result of the Ohio derailment, stating that he would request Congress to raise the current cap on fines for railroad safety breaches. The current cap on federal fines sits at a paltry $225,455 for aggravated hazardous materials violations – a paltry figure for a firm that last year had over $3.2 billion in profits.
Other safety measure changes are said to currently be in the discussion stage as well.
Norfolk last week meanwhile said that it would be establishing a $1.0 million fund to support East Palestine after the derailment. The fund is said to be in addition to $1.0 million distributed related to evacuation costs borne by families, as well as a $220,000 donation made to the local fire department to enable the replacement of self-contained breath apparatus air packs, as well as the supply of 100 air purifiers (which the company oddly thinks is a big deal.)
The $1.0 million fund, based on the 2021 census figure of 4,718 residents, equates to roughly $211 per person.
Eight lawsuits related to the disaster meanwhile are said to be pending.
Norfolk Southern Corporation last traded at US$228.15 on the NYSE.
---
Information for this briefing was found via the Wall Street Journal, NTSB, CNBC and the sources linked within the article. The author has no securities or affiliations related to this organization. Not a recommendation to buy or sell. Always do additional research and consult a professional before purchasing a security. The author holds no licenses.