Norfolk Southern's Ohio Train Derailment: Where Did All That Safety Lobbying Go?
On February 3, 2023, one of Norfolk Southern's trains derailed in East Palestine, Ohio, resulting in a fire, extensive smoke, and evacuation. Three days later, with thousands in the region still evacuating, the company burned off toxic and carcinogenic vinyl chloride from several tanker cars, resulting in a towering column of thick, black smoke.
READ: Train Derailment in Ohio Results in an Air Quality Disaster
Thousands of residents of East Palestine, Ohio, a town of about 5,000 people, were evacuated, and officials warned the controlled burn would create a phosgene and hydrogen chloride plume across the region.
"Controlled release"
According to early reports, a technical issue with one of the train's axles caused the crew to apply the emergency stop. But that brake didn't stop the train, and it still crashed, resulting in the evacuations we've witnessed in recent days.
However, a report from The Lever examined Norfolk Southern's financials prior to the derailment in Ohio and discovered an interesting pattern: no matter how much the company boasted about its modern, electronic braking systems and their superiority over older pneumatic systems, Norfolk Southern resisted braking regulations at every turn. The firm advocated for looser railway safety laws, specifically a narrow definition of "high-hazard" trains – a criterion that the Ohio cars, loaded with hazardous chemicals, did not meet.
"Amid the lobbying blitz against stronger transportation safety regulations, Norfolk Southern paid executives millions and spent billions on stock buybacks — all while the company shed thousands of employees despite warnings that understaffing is intensifying safety risks. Norfolk Southern officials also fought off a shareholder initiative that could have required company executives to 'assess, review, and mitigate risks of hazardous material transportation,'" the report said.
It also cited documents characterizing instances that when the current transportation safety guidelines were developed, a federal agency sided with business lobbyists and limited laws governing the carriage of hazardous substances. The ruling effectively removed many trains transporting hazardous commodities, including the one in Ohio, from the "high-hazard" designation and the more strict safety regulations that come with it.
After the train derailed, authorities decided to burn the chemicals to prevent an explosion and ordered residents to evacuate. The train cars contain vinyl chloride, a hazardous chemical that has been linked to cancer. Burning it produced a plume of phosgene–a highly toxic gas that was used as a weapon in World War I–and hydrogen chloride, which when exposed to water vapour, creates hydrochloric acid.
Now, the residents are being allowed to return to their homes but many still worry about potential chemical contamination.
"We basically nuked a town with chemicals so we could get a railroad open," said hazardous materials specialist Sil Caggiano.
Norfolk Southern and lobbying
Norfolk Southern Corporation (NYSE: NSC) is a large American holding company that operates one of the largest Class I railroads in the United States, the Norfolk Southern Railway. With its headquarters in Atlanta, the firm manages 19,420 route miles (31,250 km) in 22 eastern states and the District of Columbia and has rights in Canada over the Canadian Pacific Railway's Albany to Montréal route.
The S&P 500 company's railway system serves as one of the main transit routes for eastern North America's products. Around 6% of its deliveries are chemicals.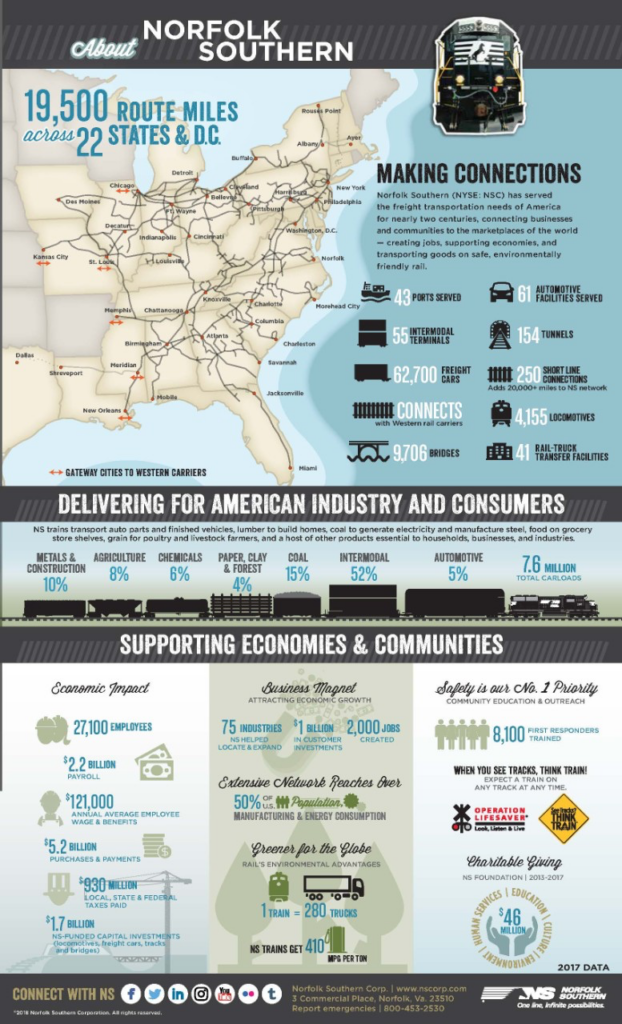 Ironically, the railway's vision statement is to "be the safest, most customer-focused, and successful transportation company in the world."
In its latest quarterly financial report, the company touted a "continued focus on improving safety," citing a declining personal injury index and a year-on-year marginal increase in train accident rate.
"Every conversation will begin with safety in 2023 and beyond. Operating safely is the right thing for our employees, customers, shareholders and the communities that we serve. This is an area where we have made great strides, but even one serious incident is too many," said COO Paul Duncan on the earnings call.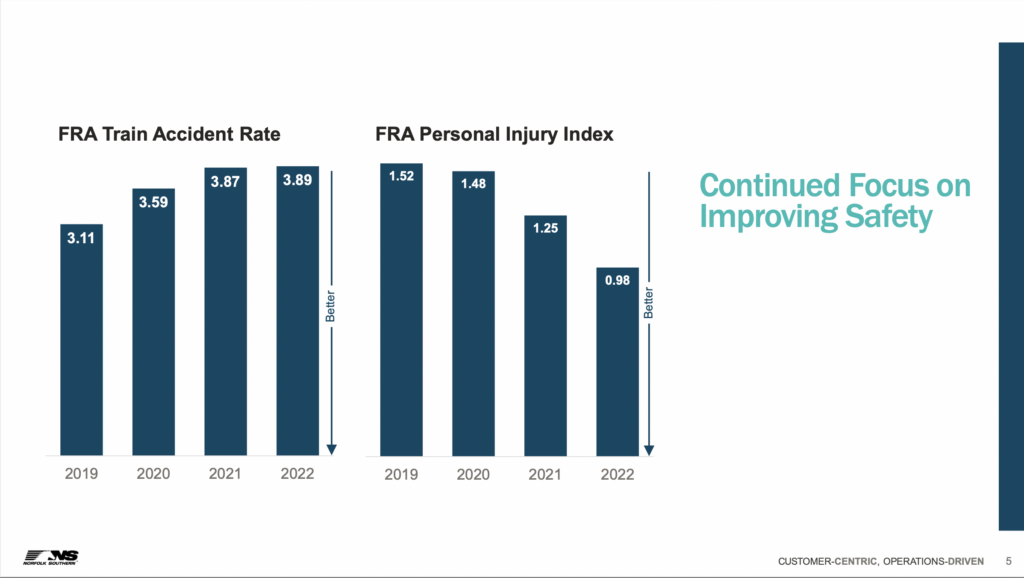 Based on Open Secrets calculations, the corporation spent around $1.8 million in lobbying for 2022, on a total of 34 separate issues. Again, ironically, one of its main lobbying points is safety.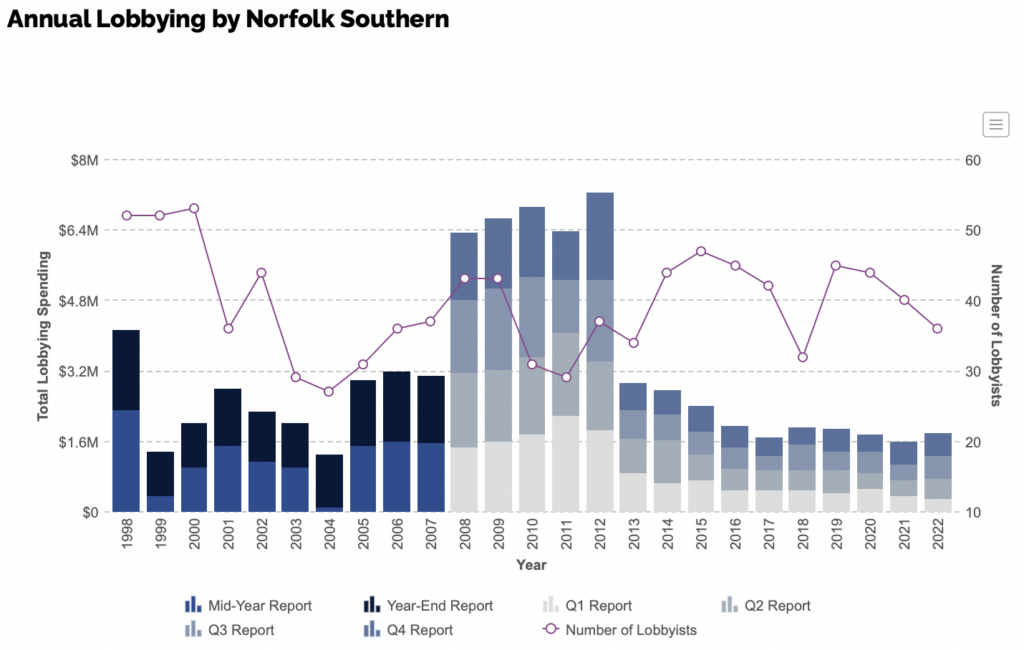 The railway also touted in their "commitment" to safety, they have team members who "regularly inspects track and infrastructure using innovative technology and equipment." More than 5,000 employees are reportedly working in "track inspection, maintenance, and repair," resulting in "2 centuries of service" and that safety "remains Norfolk Southern's highest priority."
This is not the first derailment incident involving Norfolk Southern Railway. A derailment at Graniteville, South Carolina, on January 6, 2005, resulted in a substantial amount of chlorine and diesel fuel being dumped into adjacent waterways. Furthermore, a toxic cloud descended on the city, forcing it to be evacuated. Local fauna was slaughtered, numerous crops and vegetation were poisoned or destroyed, nine people were murdered, and many were hurt.
The corporation was prosecuted and punished for violating the Clean Water Act and the Federal Superfund Act. The cleanup cost the railway a total of $26 million.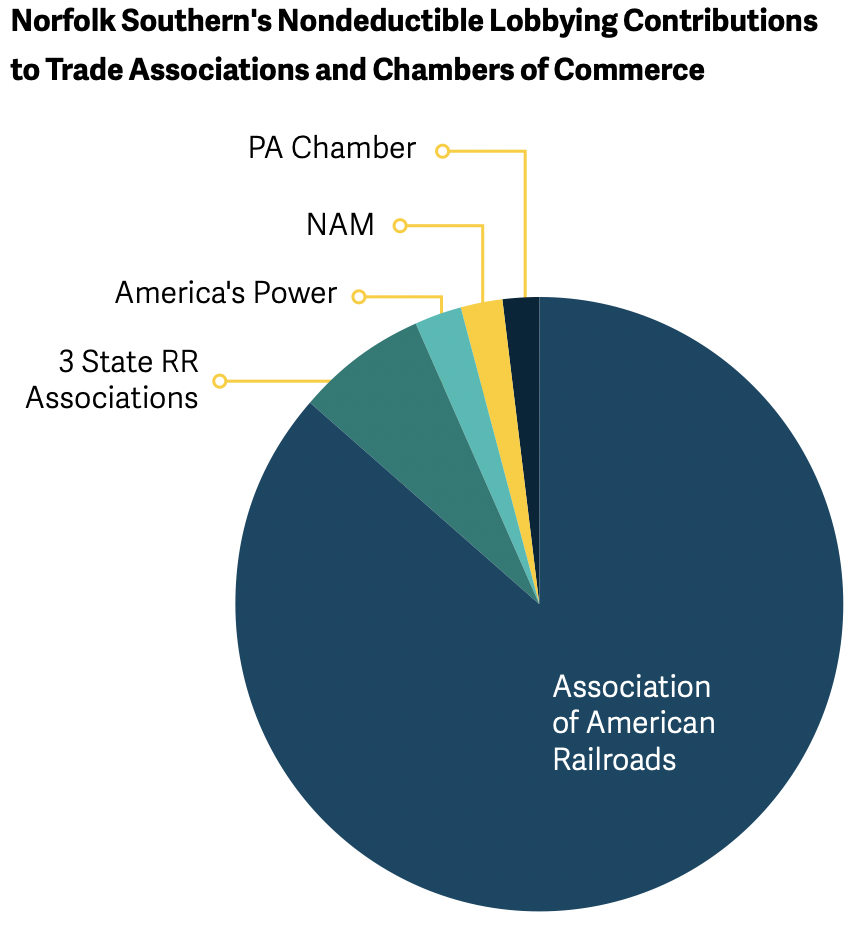 Ohio aftermath
Related to the Ohio derailment and explosion, the Environmental Protection Agency issued a broad notice of potential responsibility to Norfolk Southern, saying the railway can be held responsible and liable for the clean-up costs.
NewsNation correspondent Evan Lambert was also arrested at a news conference in Ohio while reporting live on the train derailment. Two state highway patrol troopers and the Ohio National Guard's adjutant general, Maj. Gen. John Harris, asked him to stop saying he was being disruptive.
Norfolk Southern has reportedly started distributing $1,000 checks to residents of East Palestine, Ohio. But a local attorney Michael O'Shea raised the point that the so called "inconvenience fees" should not prevent the resident from attempting to claim full remuneration for damages.
The resident must sign a paper to receive a check, according to O'Shea, and he fears Norfolk Southern may use that form in the future to claim "that's payment in full for everything."
Connor Spielmaker, a spokesperson for Norfolk Southern, said that the $1,000 cheques are part of the initial phase of compensation for residents harmed by the incident, and recipients are not giving away any rights to future claims.
According to Ron Kaminkow, an Amtrak locomotive engineer and former Norfolk Southern freight engineer, the rail business prioritizes record profits over safety and has reduced the nation's rail workforce in recent years.
Norfolk Southern last traded at $240.82 on the NYSE.
---
Information for this briefing was found via the sources within the article. The author has no securities or affiliations related to this organization. Not a recommendation to buy or sell. Always do additional research and consult a professional before purchasing a security. The author holds no licenses.