O3 Mining: Market Has Ignored The Firms Low Valuation
On February 25, O3 Mining Inc. (TSXV: OIII) announced encouraging drilling results in the Simkar sector of its Alpha property located in the well-known Val-d'Or mining region in Quebec. As part of its fully funded 100,000-meter drilling program at Alpha this year, the company intersected 1.2 grams of gold per tonne (g/t) of resources at Simkar over a 28.2 meter span, only 175-200 meters below the surface.
This find included a 2.7 meter interval with a gold concentration of 4.4 g/t. A more detailed presentation of the assay results from hole O3AL-20-326 is shown below.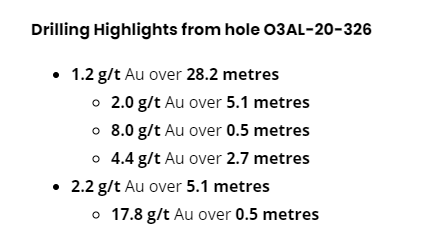 This news follows the company's December 2020 announcement that assay results from a deeper hole drilled at Simkar showed a gold concentration of 413 g/t over a 1.2-meter interval.
Also in late February, O3 Mining reported that it closed on the sale of its non-core Northern Gold Mining subsidiary to Moneta Porcupine Mines Inc. (TSX: ME). In exchange, O3 Mining received 149.5 million shares of Moneta, equating to a 27% stake in the company. O3 Mining says it plans to hold the Moneta shares for investment purposes. The Moneta shares have a value of $50 million, which represents about 28% of O3 Mining's stock market capitalization. 
O3 Mining's cash balance, plus the value of its Moneta stock holdings, totals around $146 million, or about 82% of its stock market value. Put another way, O3 Mining's enterprise value (EV) is only about $32 million.
In late November 2020, O3 Mining announced a bonanza-grade gold intercept (383.4 grams of gold per tonne over 2.0 meters, including 1,510 grams of gold per tonne over a 0.5-meter stretch) at its flagship Marban Project in Quebec. Bonanza grade, the highest grade of gold in underground mining parlance, contains 34+ grams of gold per tonne of resource.

The Marban and Alpha Deposits are situated in the Val-d'Or Mining Region and are adjacent to many producing mines. Marban is just left of center in the picture, and Alpha is the right-most shown property.
Economics of Marban Project
In September, O3 Mining released a constructive preliminary economic assessment (PEA) on the Marban Project, which was prepared by a third-party consultant. Based on projected production of 115,000 ounces of gold per year for around 15 years, and an average gold price of US$1,730 per ounce, the project has an after-tax net present value (NPV) of $688 million (based on a 5% discount rate) and an after-tax internal rate of return of 37.7%. 
Very Solid Balance Sheet
O3 Mining's balance sheet is in excellent condition. As of September 30, 2020, the company had around $61 million of cash and marketable securities and almost no debt. Furthermore, the company raised a further $35 million of cash via a private placement which closed in late February 2021.
O3 Mining's operating losses, adjusted for gains/losses on its marketable securities portfolio, have averaged just over $1 million per quarter over the last five reported quarters, suggesting the company is controlling its costs well. Similarly, O3 Mining's quarterly operating cash flow deficits in 2020 have declined noticeably from 4Q 2019 levels. Consequently, O3 Mining seems likely to be able to fund its 150,000-meter 2021 exploration program (100,000 meters at Alpha and 50,000 meters at Marban) without taking on any debt.
| | | | | | |
| --- | --- | --- | --- | --- | --- |
| (in thousands of Canadian $, except for shares outstanding) | 3Q 2020 | 2Q 2020 | 1Q 2020 | 4Q 2019 | 3Q 2019 |
| Operating Income, Excluding Gains/Losses on Marketable Securities & Gain on Sale of Assets | ($1,084) | ($1,788) | ($444) | ($1,112) | ($1,842) |
| Operating Cash Flow | ($551) | ($1,420) | ($1,040) | ($2,844) | ($2,299) |
| Cash & Marketable Securities | $60,809 | $61,417 | $20,764 | $26,874 | $32,073 |
| Debt | $1,121 | $84 | $156 | $181 | $205 |
| Shares Outstanding (Millions) | 60.3 | 60.3 | 47.0 | 46.9 | 46.2 |
As a standard risk assessment, gold exploration programs are inherently risky, and the encouraging results that O3 Mining has released could just represent unusual individual gold concentrations, and not elements of a more important gold-bearing trend. Also, even if a substantial amount of gold resource were determined to be present, the costs to mine it could prove to be uneconomic. Under almost any scenario, the generation of any significant mining cash flow is still some time away.
O3 Mining's Marban and Alpha Projects are located in a region characterized by significant gold discoveries. This, combined with encouraging early assay data from its 150,000-meter drilling program, makes the company look like an interesting speculative gold miner.
If we factor in its well capitalized balance sheet, O3 Mining is probably not nearly as "speculative" as other junior miners which begin to announce solid drilling results. Furthermore, the stock looks to be quite modestly valued; the ratio of O3 Mining's EV to the estimated NPV of its flagship Marban Project is only about 0.05x.
O3 Mining is trading at C$2.51 on the TSX Venture Exchange.
---
Information for this briefing was found via Sedar and the companies mentioned. The author has no securities or affiliations related to this organization. Not a recommendation to buy or sell. Always do additional research and consult a professional before purchasing a security. The author holds no licenses.