Opinion: Cannabis Companies – Reprice Your Employees' Options
In the run-up to the legalization of adult-use cannabis, cannabis companies across Canada rapidly expanded their operations in preparation for what they thought would be an enormous market. The number of employees in the industry rapidly swelled, with companies such as industry giant Aurora Cannabis (TSX: ACB) (NYSE: ACB) growing from just 190 employees in September 2017[i] to approximately 3,000 by September 2019 – a near-fifteen-fold increase in just two years[ii]!. Many of those who signed-up had hoped to capitalize on what was hyped as the 'second end of prohibition,' and keenly accepted stock options in the companies they joined (often in exchange for lower base salaries) in the hopes of capturing outsized returns in what was to be a booming industry.   
As licit adult-use products rolled-out across Canada in October 2018, the cannabis industry's participants and prophets soon found that the lofty targets set out in industry reports going back to 2016[iii] were falling drastically short. Sales projections and margins were a mere fraction of those that had been bullishly forecasted, and while the blame for whom is responsible goes beyond the scope of this article, the consequences for the industry's players were dire. Several overstretched and underperforming firms soon saw their share prices tumble in excess of 90%, and many were forced into draconian restructurings, punitive refinancings, and even outright bankruptcy.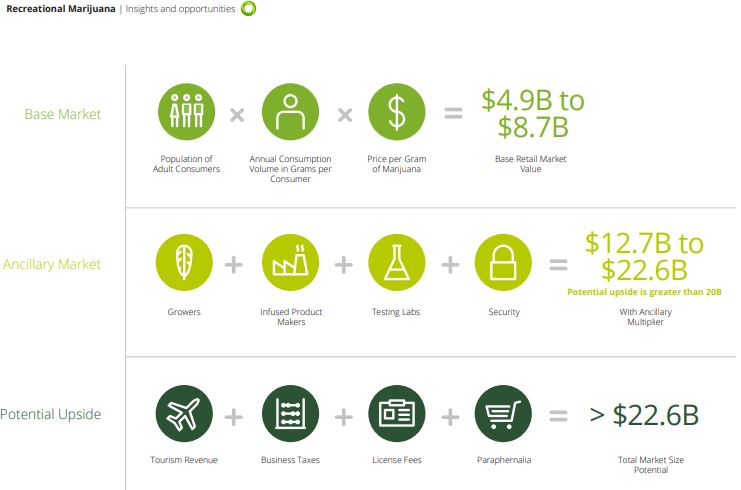 For those employees who were enticed by the prospects of the new 'green rush,' the broad collapse in share prices has thrown the value of their options to the wind. The turnaround in corporate fortunes and corresponding share price appreciation now required to put their options in the money may just be viewed as an impossibility. Even if they were to put on a collective superhuman effort, factors arrayed against them, such as the highly-dilutive financings now needed for survival, can lead many demoralized employees to just throw in the towel rather than put on a herculean effort that might not net them a single dollar.
Aurora is one such company that may experience the challenge of demoralized option-holding employees. Aurora has seen their share price decline precipitously to just $1.56 at the close on March 6 from its previous 52-week high of $13.67 – a drop of 88.6%. Meanwhile, of Aurora's 70.8 million employee stock options, the average exercise price is $8.02[iv] – a price requiring a 414.1% increase in the company's share price just to put the average option in the money. This required increase will be no easy feat for Aurora given the company's more than 1.16 billion shares outstanding, significant debt obligations, and ongoing restructuring that has seen the company temper their sales forecasts.
Aurora is by no means alone in facing this challenge, and some cannabis companies have far steeper mountains to climb to put their employees' options in the money. Zenabis Global (TSX: ZENA), whose stock price has declined by 97.7% over the past 52 weeks, would need to see their current share price rise in excess of 2,555.5%[v] just for their average employee option to be back in the money.
Repricing options is by no means a panacea to a company's woes; however, it can help address some of the fundamental challenges of retention and motivation in times of restructuring and realignment. If options are to be repriced, it should by no means be done lightly, and for any cannabis executive considering a repricing, I have three recommendations about how to do it.
First, be open and honest with your shareholders about why you are doing it. It is true many will not be thrilled to know that those in your organization are having their equity incentives repriced while they may be bagholding substantive losses. This is why it is essential to explain to them openly and directly why it is in the best interests of both the company and its share price in the long-term. By absolutely no means should you attempt to bury a repricing at the bottom of a press release with an unrelated title or in the footnotes of your financial statements. Other cannabis companies have done this and correspondingly seen their share prices shredded as investors were left to speculate that even management had lost faith in the future.
Second, do not limit a repricing to your company's executives. This sends a terrible message to your rank-and-file employees who, if you hired well at the outset, should be pivotal to your future success. Leaving your employees' options well out of the money while repricing executive options just sends the message that your employees are expendable. This perception can tee up an 'us vs. them' mentality within your organization – a mentality that has had grave costs for both cannabis and non-cannabis firms alike.
Finally, get the process started now. Not at the next scheduled meeting of your board's compensation committee, not at the next all-hands management meeting, not tomorrow – now. Your employees do not live in a bubble. Many of them have seen their peers laid off and are coming into offices with empty cubicles wondering where the next axe will fall. Many have seen the price targets put out by analysts showing that even the most optimistic forecast doesn't put their options in the money. And many are keenly aware of the financial challenges facing their companies. If you think, even for a second, they haven't already updated their LinkedIn profiles and put out feelers, you are sorely mistaken.
For any cannabis company that wants to retain and motivate top talent – there is a clear need to take proactive steps to ensure they stay with your organization. Whether this is done through the repricing of options or some other way is ultimately up to leadership, but by no means should that leadership assume that employees will remain idle when better opportunities could await them. 
---
[i] Aurora Cannabis Inc. Annual Information Form For the Financial Year Ending June 30, 2017, https://sedar.com/GetFile.do?lang=EN&docClass=1&issuerNo=00025675&issuerType=03&projectNo=02678407&docId=4185837
[ii] Aurora Cannabis Inc. Annual Information Form For the Financial Year Ending June 30, 2019, https://sedar.com/GetFile.do?lang=EN&docClass=1&issuerNo=00025675&issuerType=03&projectNo=02966496&docId=4590735
[iii] Deloitte, Recreational Marijuana Insights and Opportunities, 2016 https://www2.deloitte.com/content/dam/Deloitte/ca/Documents/Analytics/ca-en-analytics-DELOITTE%20Recreational%20Marijuana%20POV%20-%20ENGLISH%20FINAL_AODA.pdf
[iv] Aurora Cannabis Inc., Condensed Consolidated Interim Financial Statements For The Three and Six Months Ending December 31, 2019 and December 31, 2018 https://sedar.com/GetFile.do?lang=EN&docClass=5&issuerNo=00025675&issuerType=03&projectNo=03017102&docId=4664398
[v] Zenabis Global Inc., Condensed Consolidated Interim Financial Statements For The Three and Nine Months Ended September 30, 2019 and 2018 https://sedar.com/GetFile.do?lang=EN&docClass=5&issuerNo=00007772&issuerType=03&projectNo=02986274&docId=4621673
The author has no securities or affiliations related to any organization mentioned. Not a recommendation to buy or sell. Always do additional research and consult a professional before purchasing a security. The author holds no licenses.