President Trump's Social Media SPAC Could Now Have Interesting Risk-Reward Characteristics
Former U.S. President Donald Trump's SPAC stock, Digital World Acquisition Corp. (NASDAQ: DWAC), has reversed ~60% of the outsized gains it realized in the first two days (October 21 and 22) after its merger agreement was announced. The decline may have created a second potential entry point for this extremely volatile — and controversial — stock.
On October 20, President Donald Trump, perhaps the most polarizing world figure in decades, announced an agreement whereby the Trump Media & Technology Group (TMTG) will merge in a SPAC transaction with SPAC sponsor DWAC. TMTG intends to launch a conservative social network called TRUTH Social. Ultimately, after regulatory and shareholder approval, TMTG would become the surviving publicly traded company.
Details on the venture are scarce, but TRUTH Social plans to launch for invited users before year-end 2021 and hopes to be available to all users in early 2022. The company also expects to create a subscription video-on-demand service.
The principal issue which has affected the stock, particularly over the last week, seems to be a late October report by The New York Times that DWAC's founder Patrick Orlando may have been in discussions with President Trump for months prior to DWAC's public market listing in September 2021. According to U.S. law, a SPAC sponsor is not supposed to have a merger "pre-planned" at the time of its IPO. 
Such discussions can begin only after the empty-shell SPAC sponsor has begun trading on a stock exchange. The thinking is that having an agreement worked out beforehand would make it too easy for private companies to go public via a SPAC transaction and therefore avoid the long, detailed and sometimes convoluted SEC S-1 filing process.
The Trump discussion timing issue received more headlines on November 18 when U.S. Senator Elizabeth Warren, a vocal opponent of President Trump, wrote an open letter to SEC Chairman Gary Gensler, asking him to investigate the matter. Senator Warren suggested there could be violations of securities laws and requested an answer by November 29. According to Reuters, a spokesperson for the SEC has declined comment, saying merely that the SEC does not "comment on the existence or nonexistence of a possible investigation."
When TMTG and DWAC announced their merger agreement, TMTG said the enterprise value (EV) of the company will be US$875 million. An undefined US$825 million provision was also mentioned which could bring the initial EV to US$1.7 billion. We note these figures are presumably based on an initial US$10 share price, as is the convention with SPACs. 
Since DWAC is trading at US$39.48 (down from a US$94.20 close on October 22), the current implied EV could be around four times these US$875 million/US$1.7 billion figures, or US$3.5 billion to US$7 billion. Reflected in these calculations is some portion of the US$293 million of cash that DWAC has in trust. This cash will initially fund the launch of TRUTH Social. It is not clear if the DWAC-TMTG venture will include private investment in public equity (PIPE) financing that is typically part of SPAC transactions.
We emphasize this is a quite unusual SPAC transaction. In a typical SPAC deal, the underlying business may not yet be generating revenue, but it is at least operating (e.g., electric vehicle SPACs). TRUTH Social is not yet even operating. In addition, the Trump venture provides no forecast information. Since such forecast information is used to justify (frequently inflated) SPAC valuations, this raises the question of how the initial enterprise valuation was determined.
However, Trump supporters are very loyal and may be inclined to support his venture enthusiastically. Many Trump supporters could very well join his platform, including as paying subscribers, particularly given the rapidly approaching (November 2022), highly contentious mid-term Congressional elections. President Trump seems likely to play a large role in these contests.
To put this in numerical context, President Trump at his peak before he was barred from appearing on various social media outlets, had 146.5 million total followers on Twitter, Facebook and Instagram combined. If even a fairly small fraction of these followers were to join TRUTH Social, that platform would have many tens of millions of members.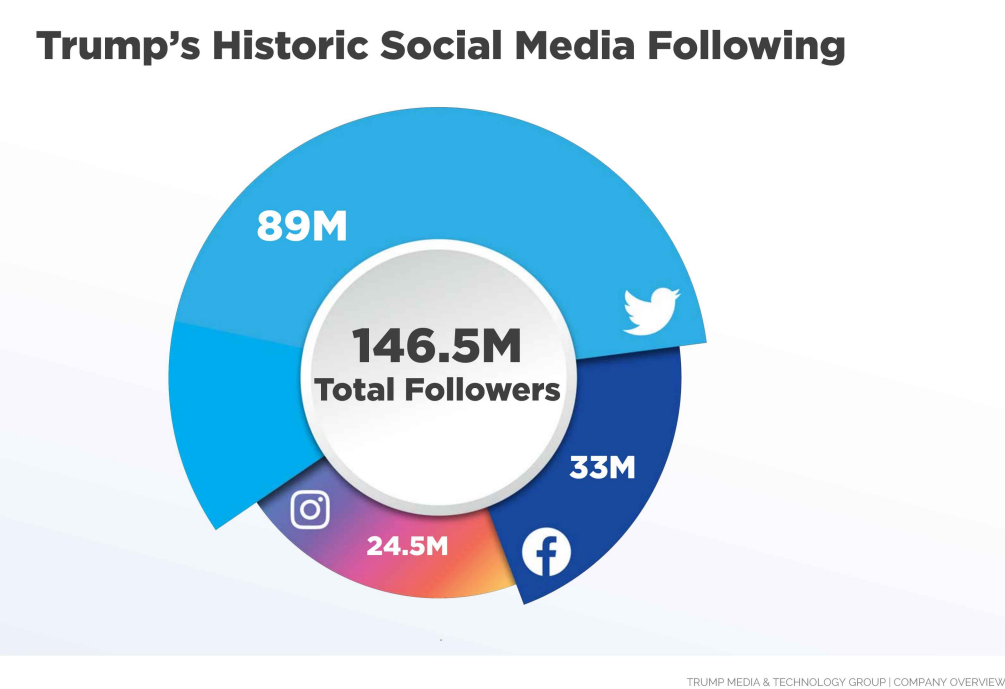 From a comparative economic perspective, consider the following: Twitter currently has 436.4 million users including 211 million monetizable daily active users. Its stock market value is about US$38 billion. While the number of active users is far from a direct link to stock market capitalization, it does not seem impossible that TRUTH Social could achieve a daily active user base (and therefore an advertising audience) of perhaps a third of President Trump's previous total followers, or around 50 million. Based on Twitter's valuation, the market could value such a venture at significantly more than just US$3.5 to US$7 billion — even factoring in the uncertainty regarding SPAC timing discussions between President Trump and DWAC.
Admittedly, DWAC is a difficult-to-analyze stock, as information on its financials and business plan are far from complete. However, for an active investor with high risk tolerance, the stock's 60%+ collapse over the last month may be overdone. It is, after all, unclear if the SEC will choose to investigate the TMTG/DWAC SPAC transaction, and, even if it does so, what remedy/penalty that regulatory body would require or impose.
---
Information for this briefing was found via Edgar and the companies mentioned. The author has no securities or affiliations related to this organization. Not a recommendation to buy or sell. Always do additional research and consult a professional before purchasing a security. The author holds no licenses.