Russia Considers Banning Uranium Exports; Could Cause a Further Jump in Uranium Prices
Citing comments by Deputy Prime Minister Alexander Novak, the Russian state news agency TASS reported on March 21 that the country is considering banning uranium exports. The potential ban would presumably be in retaliation for U.S. President Biden's decision to refuse to purchase Russian oil. 
It is of course unclear whether Russia will actually implement such a policy, but uranium prices seem likely to rise if Russia follows through on its threat. The third largest importer of uranium to the U.S., Russia supplies roughly 16% of the uranium that American nuclear plants use to generate electricity.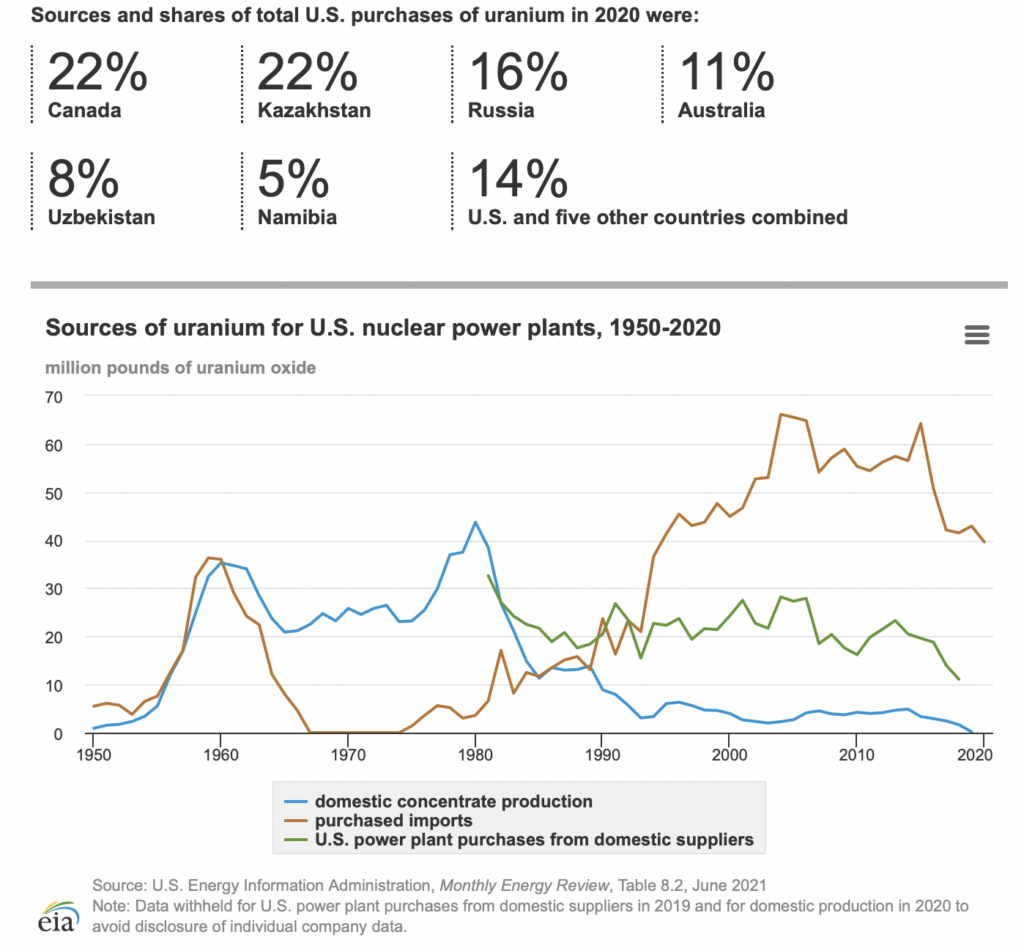 Separately, and quite related to this, President Biden, a Democrat, is being pressed by several Republican U.S. senators from western states to require the U.S. to cease purchasing Russian uranium. Of course, some of this pressure qualifies as political theater, as states like Wyoming have substantial uranium deposits, but a decade-long stretch of low uranium prices have forced mines to close.
Indeed, the U.S. as a whole, now mines very little of the uranium its commercial nuclear plants consume. U.S. production has been falling dramatically for the last six to seven years, and now it is so low that the U.S. Energy Information Administration generally does not release the total amount produced.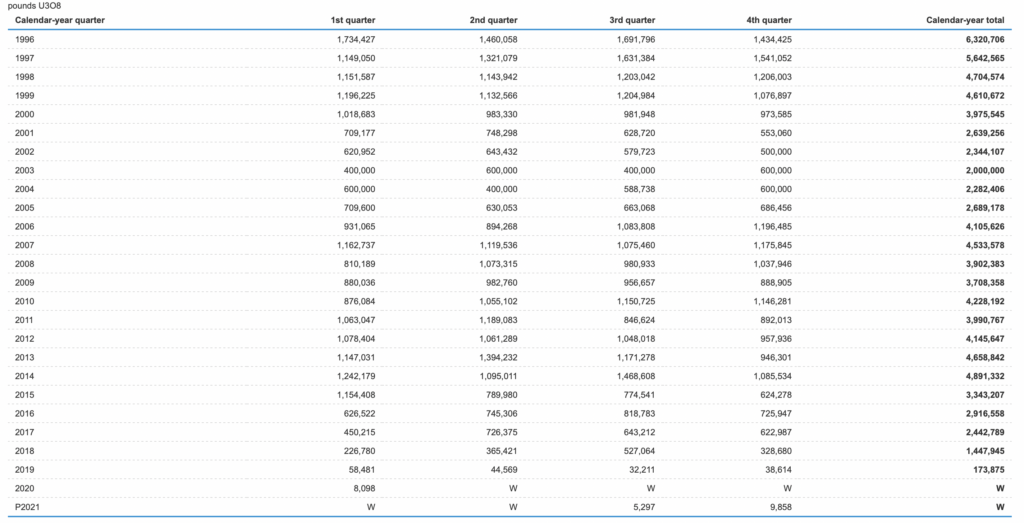 A complication in any U.S. decision not to purchase Russia uranium is the multi-step, multi-country process required to convert uranium ore into nuclear fuel rods. For example, the former Russian states Kazakhstan and Uzbekistan both have extensive uranium refining and enrichment facilities and are likewise large uranium producers. They provide 22% and 8%, respectively, of the uranium purchased by the U.S. What is unclear, however, is not whether Kazakhstan and Uzbekistan purchase some quantity of uranium ore from Russia as the key input to the fuel rods they produce (they do), but how much they buy. Does that mean that some imports from Kazakhstan and Uzbekistan should not be accepted as well?
Spot uranium prices are trading near an 11-year high, at around US$58 per pound and are up about US$13 per pound over the last month on Russian supply fears. However, we do note that spot uranium represents only a fraction of the uranium used worldwide; most transactions are done via long-term contracts.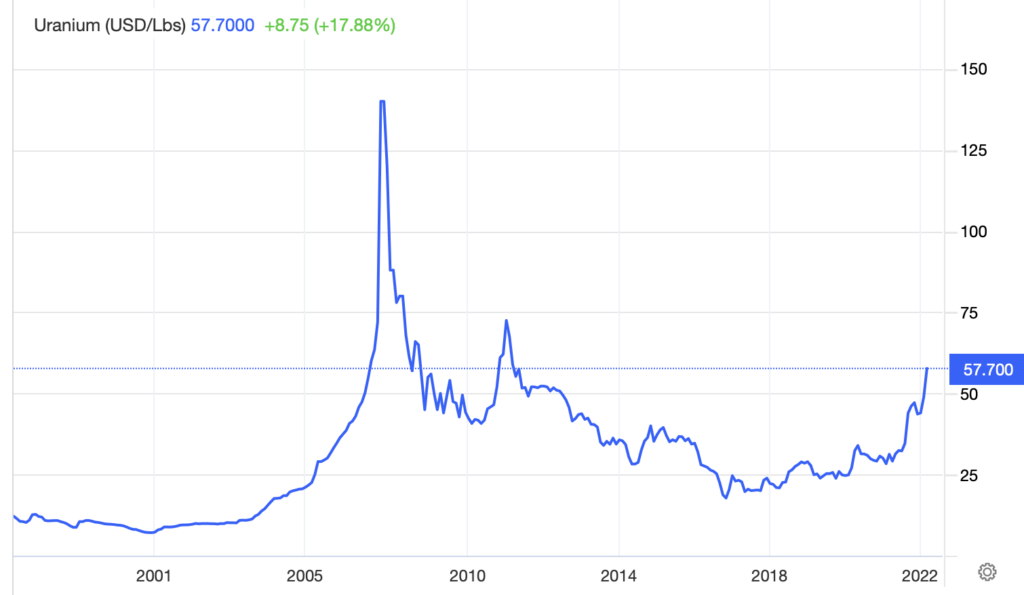 Uranium prices may also be bolstered in the longer term by European countries' cutting exposure to oil and natural gas supplied by Russia. For example, UK Prime Minister Boris Johnson claims he is working with the nuclear industry leaders "to remove barriers and progress future nuclear projects in the UK more quickly and cheaply." Nuclear power currently provides about 15% of Great Britain's electricity.
Even Germany, a country which has executed a multi-decade plan to shut down its nuclear power plants, recently entertained thoughts of reviving the industry.  However, this month the country decided that the risks and associated costs with such a radical change in energy policy outweighed the benefits.
---
Information for this briefing was found via Tass, the EIA and the sources mentioned. The author has no affiliations related to this organization. Not a recommendation to buy or sell. Always do additional research and consult a professional before purchasing a security. The author holds no licenses.