Russia Deploys Naval Defense But In A Secret Base Away From Ukraine
In a surprising development, the Russian Navy has commenced the construction of defensive structures at a secretive submarine base located in the Arctic. This move, reminiscent of the defenses deployed in Crimea to safeguard against Ukrainian attacks, has raised eyebrows among international observers due to its unusual nature.
While it is not uncommon for the Russian Navy to fortify its submarine bases, the choice to enhance defenses at a base situated thousands of miles away from Ukraine, in the Arctic, is unexpected. Satellite images, including radar (SAR) imagery, have revealed the installation of a new defensive barrier at the entrance of the Olenya Guba submarine base over the past few months, marking a significant development.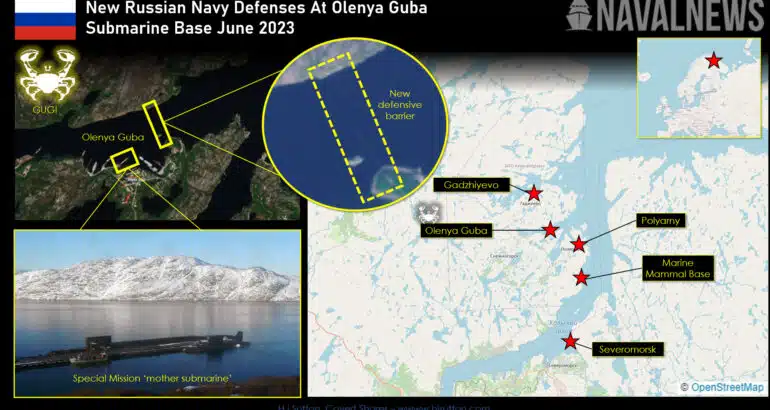 Olenya Guba, also known as "deer bay," holds strategic importance as a submarine base on the Kola Peninsula. Unlike other bases in the region that house ballistic missile submarines or attack submarines, Olenya Guba serves as the home for Russia's spy submarines.
Following the 2022 invasion of Ukraine, Russia was initially slow in bolstering defenses at its Black Sea naval bases. However, a maritime drone attack by Ukraine on Sevastopol in October 2022 prompted a change in strategy. Presently, Sevastopol is protected by multiple layers of floating booms, torpedo nets, as well as missile, gun, and depth charge systems. Similar defense systems have been installed at other Russian bases and ports along the Crimean coast. Notably, Feodosia, which now hosts ships carrying Kalibr cruise missiles, is among the protected locations.
A comparison between the floating barriers in Crimea and those in Olenya Guba makes it evident that the latter serves a defensive purpose. These structures are not intended for pollution containment or any other mundane explanation. Russia is unequivocally fortifying its crucial Arctic base.
The defensive boom has been positioned across the 560-meter (1,840-foot) entrance to the base, just beyond the beluga whale pens associated with the Russian Navy's marine mammal training program. Interestingly, a whale believed to originate from this program surfaced in Norway in April 2019.
Olenya Guba, designated as a closed town inaccessible to the average Russian citizen, has served as a submarine base since the Cold War. Presently, it houses the GUGI fleet, which belongs to the secretive branch of the navy known as the Glavnoye upravlenie glubokovodnikh issledovanii (Main Directorate of Deep Sea Research). Despite the term "research," this branch is allegedly primarily engaged in espionage activities.
The submarines stationed at Olenya Guba specialize in seabed warfare, encompassing offensive and defensive operations on the ocean floor. These submarines, equipped with titanium hulls and capable of deep diving, are exclusive to the Russian Navy. Among them, the most renowned is the Losharik, which tragically experienced a fatal fire on July 1, 2019. These deep-diving submarines are transported to their operational areas by specially designed mother submarines, making them the largest submarines globally. Additionally, the infamous spy ship Yantar, suspected of operating near underwater internet cables belonging to other nations, is also based at Olenya Guba.
The motive behind Russia's decision to bolster base defenses in the Arctic remains unclear. Given the significant distance from the Black Sea, where Ukrainian maritime drones pose a threat, speculation arises that Russia may be concerned about the potential presence of U.S. Navy underwater drones in the region. Alternatively, they may anticipate Ukraine undertaking sabotage missions in the Arctic's extreme weather conditions.
While this defensive move might be interpreted as part of war preparations, it is essential to exercise caution and avoid drawing definitive conclusions in isolation. However, analysts are likely to closely monitor other Russian Navy bases for similar developments. Regardless of the underlying reasons, this move portrays a Russian Navy that is increasingly preoccupied with its own security.
Earlier this month, an emergency announcement purportedly made by Russian President Vladimir Putin and broadcasted on several radio and television stations in bordering regions of Russia was revealed to be a deepfake, according to the Kremlin.
The fabricated address featured an AI-generated Putin, announcing a "state of martial law" had been declared in the Belgorod, Voronezh, and Rostov regions due to imminent attacks from Ukrainian forces. He added that he would be signing a decree for full-scale mobilization, "to defeat this dangerous and cunning enemy."
---
Information for this story was found via Naval News. The author has no securities or affiliations related to the organizations discussed. Not a recommendation to buy or sell. Always do additional research and consult a professional before purchasing a security. The author holds no licenses.