SEC Charges Zack Morris, 7 Others In "Pump-And-Dump" Gang For $100-Million Stock Manipulation Scheme
The Securities and Exchange Commission filed charges of fraud on Tuesday with the Southern District Court of Texas against eight social media personalities led by Zack Morris for numerous counts of classic pump-and-dump scheme. The regulatory body said that the group used their online platforms to rally behind a publicly listed stock to raise its price but they would dump their shares once it does.
"To their legions of followers on social media, the eight defendants have, for years, promoted themselves as trustworthy stock-picking gurus. In reality, they are seasoned stock manipulators," the SEC said.
The SEC named Morris (legally Edward Constantin) as defendant together with Perry Matlock (aka PJ Matlock), Thomas Cooperman (aka Tommy Coops), Gary Deel (aka Mystic Mac), Mitchell Hennessey (aka Huge Henne), Stefan Hrvatin (aka LadeBackk), and John Rybarcyzk (aka Ultra Calls). Daniel Knight (aka Deity of Dips) is also named a co-defendant as he "aided and abetted" the scheme through his podcast with Hennessey.
According to the agency, the gang (as they would refer to themselves) "earned approximately $100 million from this stock-manipulation scheme."
The group allegedly engaged in a long-running fraudulent scheme to manipulate securities by publishing false and misleading information in online stock-trading forums, on podcasts, and through their Twitter accounts. The scheme would generally be executed in three phases:
Identify a security to manipulate and purchase shares
Promote the selected security on their social media platforms to generate demand and inflate the price
Sell the shares usually at the higher price after the hype generated
SEC also said that none of the defendants disclosed that they were either planning to sell or were actively selling the selected stock that they promoted. They would even go as far as committing online that they wouldn't "dump" the shares, claiming they actually lost money when the price would go down after they've cashed in their massive shares. But, in reality, they made profits out of the stock sale.
The gang would also regularly tout their "success stories" in creating wealth, adding a layer of perceived expertise that they would use to legitimize their promotion of the selected security.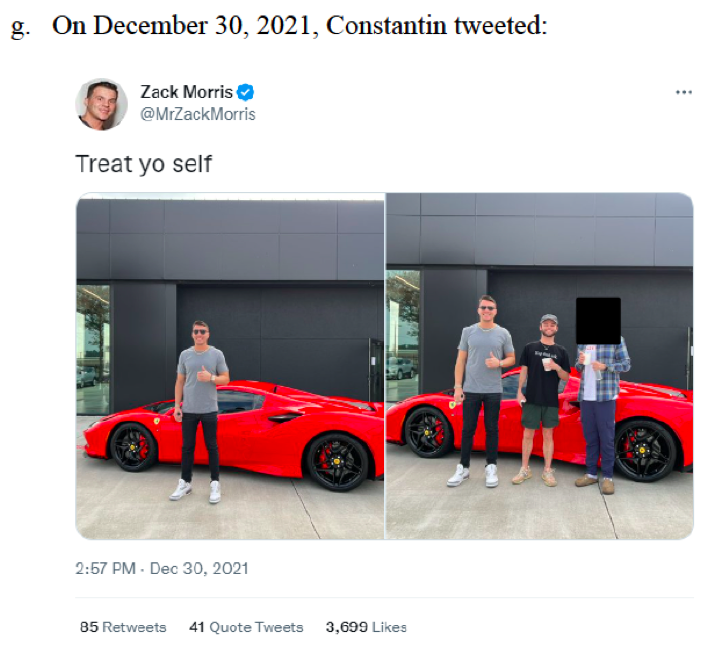 To promote a stock, the group used their own stock trading fora like Atlas Trading (co-founded by Morris and Matlock) and Sapphire Trading (founded by Rybarcyzk). Knight and Hennessey have a podcast called "Pennies: Going in Raw" while all of them also utilized their Twitter accounts that have a combined following of nearly 2 million followers, with Morris holding the biggest following at 551,000 followers.
The agency said that the defendants claimed on their Twitter accounts that they were not providing stock recommendations or financial advice. However, they intended for their followers to act on their promotional tweets and assumed that they would.
The commission got a hold of the group's private conversations on Discord and characterized these as them bragging and laughing "about making profits at the expense of their followers."
Recorded private calls: They knew it was market manipulation
In what SEC would describe as "surreptitiously recorded" Discord call, Knight was revealed to have acknowledged their acts constituting "market manipulation" even early on.
"[The less] I mention a stock, the less likely I get involved whenever all of Atlas gets a class action f*cking lawsuit… I'm playing this extremely smart, for the very long term. If you don't think all these f*ckers go to jail or at least get sued, you are crazy… playing stupid does not work in court… it's market manipulation… I mean you look up the definition of market manipulation…" SEC quoted Knight in a February 2021 recorded call.
In an example, a March 2021 recorded call described how the group designated GTT Communications–then listed at the New York Stock Exchange–as their selected security to promote. The conversation showed Knight acknowledging that they are "robbing" their followers who followed their advice of their money. Meanwhile, Cooperman essentially described the manipulation scheme and how their "little minions" essentially build the hype for them to pump their selected stock.


Knight went on to make fun of Rybarcyzk's followers who were losing money as Rybarcyzk's share dump crashed the stock price: "And all his [Rybarcyzk's] followers are like, 'Uh, yo we can't sell today, I don't have any day trades left.'"
In another example, Rybarcyzk claimed he actually lost money from his position in ABVC Biopharma, a stock they selected to promote and then dump. He said in a tweet that he's a "bag holder" of the stock and he won't "dump on anyone."
But in reality, Rybarcyzk made approximately $68,690 in two days, including the day he posted said tweet.
Deel also made a similar act with American Resources Corp., claiming he lost $20,000 after "1.5M shares were sold over 5." He, however, actually made more than $7,000 from dumping his shares.
The regulatory body also estimated that Morris made approximately $4.3 million after hyping the stock of Camber Energy–posting price targets and projecting long holds online–and then dumping around 2 million shares at $2.61 after calling for a $10.00 price target. Hrvatin also made $249,761 through the scheme with Morris.
This happened after Deel, Matlock, and Cooperman already made approximately $54,989 through their misleading tweets and posts about Camber Energy to jack up its share price.
The SEC is charging Knight with two counts for aiding and abetting in the scheme while the other seven were charged with two counts of fraud.
The fraud charges are noteworthy for the group, especially for Morris who has been mocking the regulatory body on his Twitter account.
---
Information for this briefing was found via the sources mentioned. The author has no securities or affiliations related to this organization. Not a recommendation to buy or sell. Always do additional research and consult a professional before purchasing a security. The author holds no licenses.