Shanghai's Strict Lockdown Proponent Is Xi Jinping's Newest Premier
Chinese President Xi Jinping has been elected for an unprecedented third term–and while he forecasts a "positive trajectory" on one of the world's biggest economies, his unveiling of the new makeup of the country's highest decision-making body offers deeper insights to the future of his governance.
The elite seven-member Politburo Standing Committee has been introduced with fresh appointments in tow: Communist Party Secretary of Shanghai Li Qiang jumps the hierarchy as second to Xi and will be China's next premier.
Although Li earned a reputation for being business-friendly while serving in senior positions in China's coastal industrial powerhouses, his harsh two-month lockdown of Shanghai earlier this year prompted uncommon flare-ups of social unrest as citizens battled to acquire food and medicine.
This is further juxtaposed by the current premier Li Keqiang's exit before his retirement age of 68, who has been speculated to have policy differences with Xi's strict Covid Zero policy. He then held a rare video conversation with hundreds of cadres to warn them of an impending economic catastrophe and to urge them to keep the economy thriving, causing confusion among officials on the ground over what to prioritize.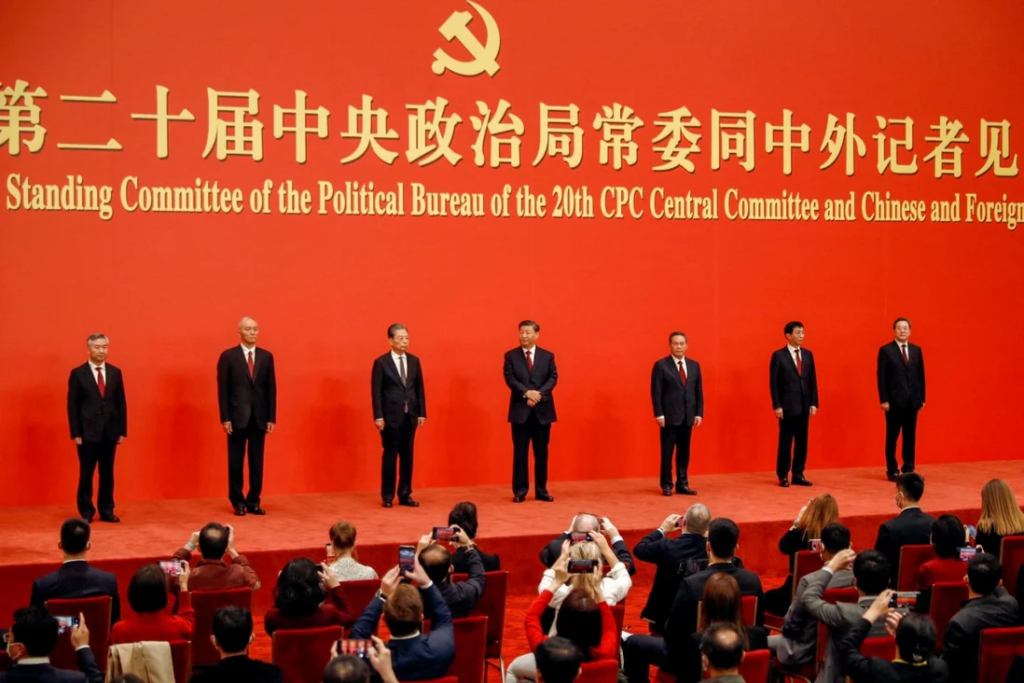 Zhao Leji, who is jumping to third rank, is expected to lead the National People's Congress, while Wang Huning will lead the Chinese People's Political Consultative Conference, the top political advisory body and a key venue for mobilizing outside party resources and support.
Communist Party Secretary of Beijing Cai Qi has been appointed as the first secretary of the party's secretariat, succeeding Wang, and will be in charge of the day-to-day operations of critical party affairs.
Li Xi will take over as the head of the powerful anti-corruption body, Central Commission for Discipline Inspection, succeeding Zhao. Complete the standing committee is Director of the General Office Ding Xuexiang as the First Vice Premier.
While these critical state and government positions will not be officially confirmed until the annual national parliamentary sessions in March 2023, the party hierarchy is sending strong signals.
"Our economy's strong fundamentals will not change, and it will remain on the positive trajectory over the long run," Xi said to reporters after announcing his standing committee team. "We'll be steadfast in deepening reform and opening up across the board, and in pursuing high-quality development, and create more opportunities for the world through our own development."
Xi has ensured that he will be around to carry those vows through by stacking China's most important bodies with his friends – likely for at least another decade after appointing no clear possible successors. However, rather than applauding the outlook, many China observers are concerned that no one will tell Xi when he is wrong.
"These are all officials who got to the highest level of power by agreeing with Xi Jinping on everything and by siding with him consistently," said Victor Shih, associate professor of political science at the University of California, San Diego. "They will not start to challenge his decisions regardless of the merits of these decisions."
Investors are increasingly concerned about China's elevation of ideology over pragmatism. The country's markets have been among the poorest performers in the world this year, with the CSI 300 Index at a two-year low and high-yield dollar bonds at a record low. Analysts have also lately reduced their share-price predictions for two of China's largest technology companies by the most in months.
Another point that the new Chinese leaders have to face is the sweeping regulations on semiconductor trade imposed by the United States intended to slow down China's growing dominance in technology and military advancements. The new measures are an expansion of Washington's foreign direct product rule, which was initially used to broaden the US government's control of semiconductor exports to Huawei Technologies, and later to stem the flow of chips to Russia following Moscow's military operation in Ukraine.
After shooting a warning that the new set of US export control regulations will hamper the global supply chain, Chinese chip manufacturers have reportedly been summoned by the Ministry of Industry and Information Technology.
According to Yu Jie, senior research fellow on China at London-based Chatham House, the now 24-member Politburo has many fresh faces with expertise leading state-owned firms in strategic industries and doctoral degrees in physics or the sciences. This implies a greater emphasis on "technology self-reliance" and less on the finance and banking industries to achieve economic growth, according to her.
But overall, analysts who have been watching China have voiced concerns on how the makeup of the country's top decision-making body is slated to consolidate power for Xi.
"Xi Jinping is surrounded by people who are intensely loyal to him," said Drew Thompson, visiting senior research fellow at the Lee Kuan Yew School of Public Policy at the National University of Singapore. Li Qiang's elevation "is a metaphor for the maniacal approach to the party's objectives where almost any means justify the ends."
---
Information for this briefing was found via Bloomberg and South China Morning Post. The author has no securities or affiliations related to this organization. Not a recommendation to buy or sell. Always do additional research and consult a professional before purchasing a security. The author holds no licenses.