Signature: What Happened In The Third-Biggest Bank Failure In The US?
No matter how Jim Cramer hyped Signature Bank (NASDAQ: SBNY) back in 2022, the reality is the bank amounted to the third-biggest failure in the industry in the United States.
Customers at Signature Bank who were alarmed by the sudden demise of Silicon Valley Bank withdrew more than $10 billion in deposits on Friday. This deposit run quickly resulted in the third-largest bank failure in US history.
Signature was then taken over by regulators late Sunday to preserve its depositors and the stability of the US banking system.
"Today we are taking decisive actions to protect the U.S. economy by strengthening public confidence in our banking system. This step will ensure that the U.S. banking system continues to perform its vital roles of protecting deposits and providing access to credit to households and businesses in a manner that promotes strong and sustainable economic growth," said Secretary of the Treasury Janet L. Yellen, Federal Reserve Board Chair Jerome H. Powell, and Federal Deposit Insurance Corporation (FDIC) Chairman Martin J. Gruenberg in a joint statement.
Following a recommendation from the boards of the FDIC and the Federal Reserve, Yellen approved actions to allow the FDIC to complete its resolutions of Silicon Valley and Signature in a manner that fully protects all depositors, insured and uninsured, after consulting with the President.
On Monday, President Joe Biden attempted to reassure clients of Silicon Valley and Signature that their money was secure — protected by the Deposit Insurance Fund — but stated investors in the bankrupt banks' securities would not receive the same assurance.
"Investors in the banks will not be protected," Biden said in a White House speech. "They knowingly took a risk and when the risk didn't pay off, the investors lose their money. That's how capitalism works."
He also stressed his commitment "to holding those responsible for this mess fully accountable and to continuing [their] efforts to strengthen oversight and regulation of larger banks so that we are not in this position again."
According to a regulatory filing, Signature had 40 branches, assets of $110.36 billion, and deposits of $88.59 billion by the end of 2022.
Following the brouhaha, Signature's shares saw their valuation slashed in recent days at turmoil hit the banking sector–trailing around $70 from its recent-high of $112 just at the start of March. Trading is halted given the seizure over the weekend.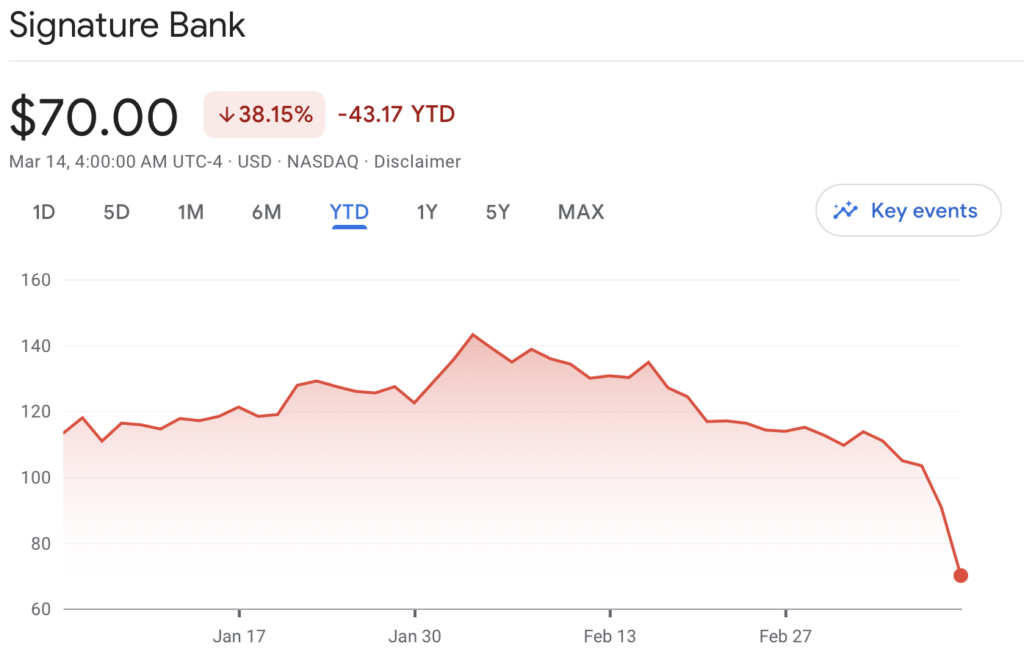 Repercussions
Issues for US banks with exposure to the pandemic's frothiest asset classes — crypto and tech startups — erupted last week with the closure of crypto-centric Silvergate Bank. While the firm's failure was long anticipated, it contributed to a panic regarding banks with large amounts of uninsured deposits. Venture capitalists and founders emptied their Silicon Valley Bank accounts on Thursday, causing the bank to be seized by midday Friday.
From the two biggest crypto-friendly banks, the pandemonium spread to the next in succession: Signature Bank and First Republic Bank.
Signature Bank was established in 2001 to provide a more business-friendly alternative to large banks. It extended to the West Coast and then to the crypto business in 2018, similar to its bank fellows in the industry.
Accepting crypto clients aided deposit growth in recent years. The bank established a 24-hour payments network for crypto clients and received $16.5 billion in deposits from digital-asset customers.
During the time when Silvergate and Silicon Valley were reportedly facing problems, crypto firms started moving their assets to Signature Bank. But observers early on pointed out that the same fate is poised for the latter, as the collapse of the two biggest banks would effectively erode the faith in so-called "crypto-friendly banks."
But even before then, many critics had already pointed out the so-called red flags of Signature Bank, including it being a defendant in the newest class action complaint against failed crypto exchange FTX and the notion that Signature's CEO Joseph DePaolo has suddenly resigned, "under a cloud of money laundering/fraud-related" concerns.
In one instance, crypto exchange Coinbase dropped Silvergate as a partner for Prime customers on Thursday in favor of Signature, with many crypto firms following suit. The firm reportedly had a $240 million balance in Signature before it was seized by regulators.
Circle Internet Financial's $3.3 billion cash reserve crisis meanwhile appeared to be resolved on Sunday, when federal regulators pledged that depositors of collapsed Silicon Valley will be made whole soon. But its USDC stablecoin isn't out of the woods yet as it is connected to Signature.
"With the closure of Signature bank announced tonight, we will not be able to process minting and redemption through SigNet, we will be relying on settlements through BNY Mellon," said CEO Jeremy Allaire.
The abrupt loss of Signature has put a critical component of the crypto industry's back-end infrastructure at jeopardy: Signet. Signet is a blockchain-based real-time payment system that is designed to operate 24 hours a day, seven days a week. Signet was utilized by Circle, Coinbase, and many other cryptocurrency exchanges. Yet, with the demise of Signature, Signet has also died.
Signature's collapse and eventual seizure, while predictable, still came as a shock to some observers. Investment bank Piper Sandler, for instance, still rated Signature as an overweight stock, citing how the bank "was different than Silvergate." The report was published the same day Signature was seized by regulators.
It was also reportedly surprising for Signature Bank executives, said board member and former US Representative Barney Frank.
"We had no indication of problems until we got a deposit run late Friday, which was purely contagion from SVB," Frank told CNBC in a phone interview.
Frank, a former Massachusetts House Democrat who wrote the 2010 "Dodd-Frank" banking regulations, claimed Senate Democrats' proposed post-financial-crisis banking legislation essentially preserved his restrictions. Commenting on revisions in 2018, Frank stated that it would not benefit the largest Wall Street banks and disagreed that it would increase the dangers of another financial disaster–contrary to some critics of the legislative proposal.
Dodd-Frank put more regulatory safeguards on banks with more than $50 billion in assets, but the rollback passed in 2018 lifted that threshold to $250 billion, among other things.
Frank has been on the board of Signature since 2015.
Currently, regulators are mulling an auction for the seized banks' assets. Meanwhile, in light of Silicon Valley's failure, the Federal Reserve Board stated on Monday that Vice Chair for Supervision Michael S. Barr is overseeing a review of the bank's supervision and regulation. The review will be made public on May 1.
---
Information for this briefing was found via CNBC, Coindesk, Washington Post, and the sources mentioned. The author has no securities or affiliations related to this organization. Not a recommendation to buy or sell. Always do additional research and consult a professional before purchasing a security. The author holds no licenses.