Spruce Ridge Resources: Corporate Overview
Spruce Ridge Resources Ltd. (TSXV: SHL) is a junior copper explorer whom owns a 100% stake in a copper project with uniquely positive geological characteristics. The Great Burnt project in central Newfoundland is a volcanogenic massive sulfide (VMS) deposit, one of only about 900 VMS deposits that are known to exist throughout the world, nearly half of them in Canada. 
In addition, Spruce Ridge owns substantial and valuable ownerships positions in the stocks of two publicly traded small-cap exploration companies, Canada Nickel Company (TSXV: CNC) and Noble Mineral Exploration (CVE: NOB).
The Investment Thesis
The investment thesis for Spruce Ridge Resources is based on the following:
Spruce Ridge owns a large and valuable copper resource in the Great Burnt project. According to an updated 2019 resource estimate, Great Burnt contains about 1.5 million tonnes of resources, which could contain 7480.0 million pounds of copper.
The company currently has valuable holdings in both Canada Nickel Company and Noble Mineral Exploration, which appear underappreciated by the market
The company has demonstrated excellent cash management relative to its peers, with current estimated cash on hand sitting at $2.6 million.
Copper prices have risen sharply over the last six months based primarily on increased demand from China. Longer term, copper should be a significant beneficiary of consumers' growing appetite for electric vehicles (EV).
Overall, Spruce Ridge Resources provides investors exposure to the growing appetite for copper within public markets, while also providing exposure to rapidly developing projects via its ownership in other junior explorers.
The Model
Spruce Ridge's business model can be broken down into two simple points:
Exploration and development of its Great Burnt Copper Gold project, located in Newfoundland.
Holding ownership in other junior explorers to enable investment appreciation as those projects are developed.
Lets elaborate on these two key points below.
The Great Burnt Copper Gold Project
Spruce Ridge's most important asset, the Great Burnt project, contains a VMS deposit with four prospective zones: South Pond A Zone (copper, gold), South Pond B Zone (gold), End Zone Prospect (copper), and the Great Burnt Zone (copper). Importantly, the Great Burnt Zone is open at depth and can easily accommodate a low-cost open pit mining operation.
The property is found in central Newfoundland, where the company wholly owns five contiguous mineral licenses covering 148 claims. The property in total amounts to 4,065 hectares, with the lease being subjected to a 2% NSR payable to Glencore. The property is accessible by road, with mining infrastructure nearby.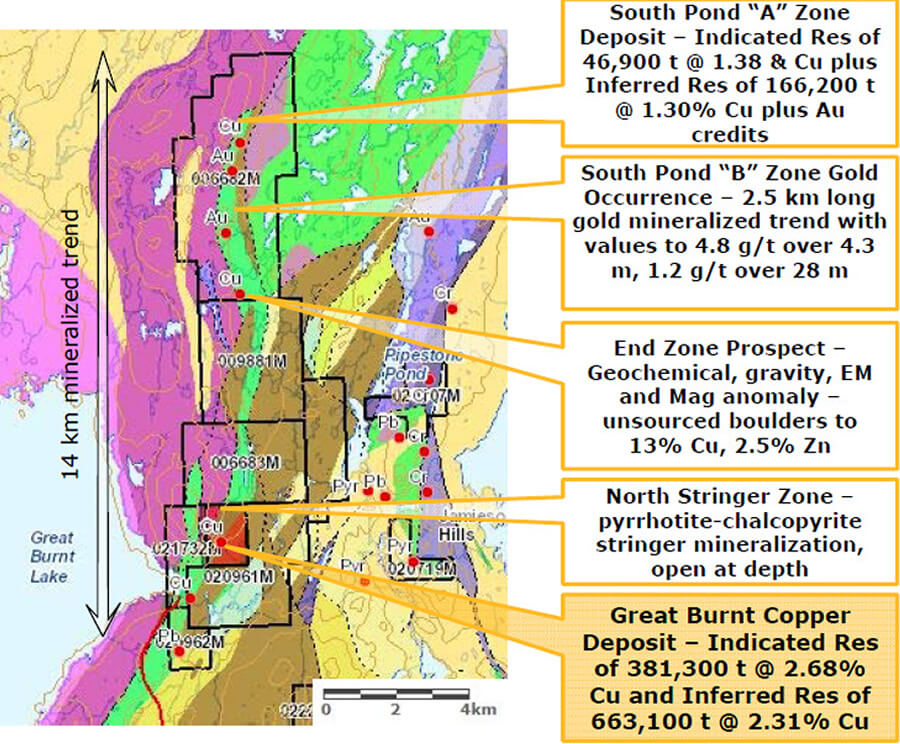 The property itself has seen in excess of 20,000 metres of drilling occur by various operators, with both copper and gold found to be present on the property. Most recently, a 3,100 metre infill drill campaign was conducted at the firms Great Burnt deposit, the flagship resource on the property. Notable results from the drill program include 6.89% copper over 22.75 metres from hole GB20-20, as well as 8.02% copper over 27.2 metres in hole GB20-05.
The property itself currently contains resource estimates at the Great Burnt Deposit as well as at the South Pond "A" Deposit. At the former, an indicated resource exists of 32.3 million pounds of copper equivalent within 550,000 tonnes, as well as 30.4 million pounds of copper equivalent within 572,000 tonnes on an inferred basis. At the latter, the company has an indicated resource of 9.4 million pounds copper equivalent wityhin 219,000 tonnes, as well as an inferred resource of 7.9 million tonnes of copper equivalent within 203,000 tonnes.

Going forward, the company intends to make an access trail from its Great Burnt deposit to that of the South Pond A region. The company then intends to conduct further drilling at both South Pond A and South Pond B. South Pond A will focus on further proving out the resource, as seen above. Exploration work at South Pond B meanwhile will focus on gold content, where the company has previously intercepted up to 4.75 g/t gold over 4.33 metres and 1.16 g/t gold over 28 metres.
| | | | | | | |
| --- | --- | --- | --- | --- | --- | --- |
| Hole No. | From (m) | To (m) | Length (m) | Cu (%) | Zn (%) | Au (g/t) |
| GB20-20 | 64.20 | 86.95 | 22.75 | 6.89% | 0.79% | 0.05 g/t |
| includes | 73.40 | 85.95 | 12.55 | 10.59% | 1.27% | 0.07 g/t |
| includes | 84.45 | 85.85 | 1.50 | 18.15% | 1.98% | 0.04 g/t |
| GB20-05 | 161.9 | 189.1 | 27.2 | 8.02% | 0.32% | 0.07 g/t |
| includes | 171.85 | 179.60 | 7.75 | 16.88% | 0.74% | 0.12 g/t |
| includes | 174.85 | 176.85 | 2.00 | 21.25% | 0.91% | 0.19 g/t |
What Are VMS Deposits?
VMS deposits are rich in base metals such as copper, zinc, or lead (and possibly precious metals such as gold and silver), and are quite rare and potentially massive in size. Significant VMS exploration activity is ongoing in the remote Canadian artic region.
According to Cormark, VMS deposits worldwide average about 17 million tonnes in size, with 1.7%, 3.1%, and 0.7% copper, zinc, and lead content, respectively. The largest VMS deposit is the Glencore-owned Kidd mine in Ontario, which since 1966 has produced 9 million tonnes of zinc, 3.4 million tonnes of copper, and 12,000 tonnes of silver. Other large Canadian VMS deposits include the Flin Flon, Bathurst and Noranda mines.
VMS deposits form over a long period of time and can be reactivated frequently. Typically, the deposits contain bodies of ore that are thick in the middle – sometimes hundreds of meters thick – and thin at the edges. The ore body may extend meters along the strike. This shape makes VMS deposits ideal for cheap open pit mining methods because a large amount of ore can be removed while minimizing waste rock removal. In contrast, the mining of ore hosted in narrow veins is much more expensive, as significantly more waste must be discarded.
Spruce Ridge's Ownership In Other Explorers
Spruce Ridge currently maintains ownership in two other junior explorers, Canada Nickel Company, and Noble Mineral Exploration. These holdings were acquired via the sale of the Crawford Nickel Project to the two entities, which was done on a joint venture basis.
The transaction in effect saw the company issued 10.0 million common shares of each operator. In the time since, a portion of the Canada Nickel Company shares have been dividended out to investors in Spruce Ridge, with the company currently retaining a total of 8.1 million common shares, while retaining full ownership over its Noble Mineral shares.
| | | | |
| --- | --- | --- | --- |
| (As of Jan 24, 2021) | Share Ownership | Equity Price | Est. Market Value |
| Canada Nickel Company | 8,100,000 | $2.50 | $20,250,000 |
| Noble Mineral Exploration | 10,000,000 | $0.11 | $1,100,000 |
| Total | | | $21,350,000 |
*Based on market prices as of Jan 24, 2021.
Presently, it appears these holdings are not currently wholly appreciated by investors. Even if we were to exclude the potentially significant value of the Great Burnt VMS deposit, Spruce Ridge's stock price trades at about a 10% discount to the market price of its holdings in those two stocks.
The Management
JOHN A. RYAN, CPA, CGA , President & Director
Over 35 years of corporate and financial management experience. In 2000, Mr. Ryan became President of Spruce Ridge Resources, where he has expanded the company's property holdings and exploration efforts. He is the CFO of Metalore Resources Ltd., a natural gas producer in Southern Ontario. The company is also engaged in exploration of precious metals. He is also CFO of Sokoman Iron Corp., a junior exploration company. He also serves as a Director of other public and private companies.
COLIN BOWDIDGE, PH.D., P.GEO., Vice President, Exploration
A consulting geologist with 40 years' worth of practical expertise in the mineral industry, he has worked in all phases of exploration and mine development, on projects in Canada, Europe, Latin America, and the United States. Colin's experience covers exploration and development projects for a wide variety of mineral commodities. He is perhaps best known for his work on gold and uranium projects. He has served as a director and officer of several publicly traded mining and exploration companies.
ZORAN POPOVIC, Director
President and CEO of DXStorm.com Inc., an E-Business applications service provider and developer since December 2001. Zoran Popovic is also President and CEO of Desi Enterprises Inc., a financial management company with interests in several industries and President of System 55, Inc., a transportation company.
MARC ASKENASI, Director
Marc has founded numerous companies, orchestrated transactions with, and acted as a consultant/advisor to both private and public companies in the following sectors: advertising, marketing, media, publications, governments, gaming (lottery and casino), telecom, healthcare, mining exploration, restaurant and hospitality. Marc also acts as Senior Strategic Advisor to B'nai Brith Canada and is an active member of the Special Advisory Council to the League of Human Rights. Marc graduated with honours from McGill University, where he focused on industrial relations; management, economics and sociology.
PIERRE G. GAGNON, Director
Mr. Pierre Gaston Gagnon, B.Comm. is President of Brukar Inc., a manufacturer of industrial components for the food equipment industry. He is the Chairman of Pheet Inc., a chain of clinics specializing in foot care.  He is also the President and Managing Director of Chancery Investments Inc., an investment company. Mr. Gagnon has over 25 years of experience in commercial banking and M&A. He serves as a Member of the Advisory Board at The Shotgun Fund, L.P. and The Succession Fund, L.P. He also serves as a Director of a number of public and private companies. He is an Associate of the Institute of Canadian Bankers. Mr. Gagnon studied Commerce at the University of Toronto.
The Risks
As with any investment, a number of risks are present that investors should be aware of. These include:
Copper and/or Gold Production Still Years Away. Even if Spruce Ridge were to announce impressive copper and gold intercept and concentration data from its Great Burnt drilling program, any production and cash flow will not occur for some time.
Share Prices of Canada Nickel and Noble Mineral Exploration Could Decline. An important part of Spruce Ridge's attractive valuation is its ownership interests in these two publicly traded mining companies. If their share prices were to decline noticeably, that would likely negatively impact Spruce Ridge's share price as well.
Spruce Ridge Could Have to Raise Cash at Some Point. If the current and potentially future Great Burnt drilling programs are successful, Spruce Ridge could have to raise equity to fund further exploration activities. 
For a full list of risks, we encourage readers to look at the company's risk section of their most recent MD&A on Sedar.
Potential Catalysts
Some potential catalysts that could have a significant impact on Spruce Ridge's share price include:
Drilling results at the Great Burnt VMS project. Spruce Ridge initiated a 3,500-meter diamond drilling program in late September. While the company has recently released two assays from the project, further results are still being waited upon. Further positive results could prove fruitful for investors.
Junior miner consolidation activity. Spruce owns valuable mineral resources at Great Burnt, yet its stock market capitalization is just $19.4 million. It also has a number of smaller properties that could provide further value to the company, including property adjacent to the Crawford Nickel Cobalt property.
Success at investee companies. The benefit of exposure to both Canada Nickel and Noble Minerals is that Spruce Ridge shares in the success via the appreciation in value as those firms develop their project out. Further development could thereby improve the value of Spruce Ridge's holdings.
In Conclusion
Spruce Ridge Resources is attractively positioned for two reasons. First, it owns a very unique VMS property which contains 80 million pounds of copper equivalent. This is significant, given the rising demand of copper as we head into a renewable-energy focused market. Demand for copper is expected to continue to climb, resulting in the need for additional copper to be produced.
Second, Spruce Ridge holds common shares in two small mining companies; the combined market value of these holdings exceeds Spruce Ridge's stock market capitalization. Phrased another way: the sum of the parts (the value of Spruce Ridge's stakes in each company) appears to be worth more than the whole.
---
FULL DISCLOSURE: Spruce Ridge Resources is a client of Canacom Group, the parent company of The Deep Dive. The author has been compensated to cover Spruce Ridge Resources on The Deep Dive, with The Deep Dive having full editorial control. Not a recommendation to buy or sell. Always do additional research and consult a professional before purchasing a security.