The CZ-SBF Twitter Feud, Explained
Binance To Liquidate FTT Holdings, FTX's Sister Fund Reportedly Insolvent
Crypto twitter had a field day recently after an apparent spat transpired between Binance CEO Changpeng Zhao and FTX founder Sam Bankman-Fried, which stemmed from the China-based crypto exchange's move to liquidate its remaining FTT holdings.
The issue started with a report claiming FTX's sister hedge fund, Alameda Research, is insolvent and projected to suffer the same fate as that of the bankrupt Celsius Network.
The report alluded to a leak of the recent balance sheet of Alameda, which is also run by Bankman-Fried. The document allegedly showed that out of the hedge fund's $14.6 billion in total assets, $5.8 billion is tied to FTT tokens–FTX's own digital asset. Hundreds of millions are also believed to be comprised of the fund's holdings in Serum (SRM), Oxygen (OXY), MAPS, and FIDA tokens–all of which are connected to Bankman-Fried in one form or another.
The fund also had "$8 billion [in total liabilities], of which $7.4 billion is 'loans,' with another $292 million worth of FTT token owed."
"The FTT token on Alameda's balance sheet is roughly 1/3 of their total assets and equal to 88% of Alameda's net equity. In other words, the firm's largest asset is a crypto token issued by SBF's other company, with a very significant portion of their assets in tokens issued by other related parties," the report by a website called Dirty Bubble Media wrote.
The hedge fund reportedly only had $134 million in cash at the end of the quarter. Further, the report drew parallels from Celsius Network's eventual decline, tied to the crashing of its CEL token.
"According to Coindesk's report, Alameda owned $5.8 billion FTT tokens in June of 2022. According to market aggregator CoinGecko, this is equivalent to 180% of the total circulating supply of the tokens," the report added. Around 93% of the FTT ownership is also concentrated on 10 crypto addresses only.

"It's almost as if SBF found a way to hack the financial system, printing billions of dollars out of thin air against which he was able to borrow massive sums from unknown counterparties," the report further alleged.
Zhao shade
Zhao apparently liked the tweet of the link to the report, which he then followed up with a thread announcing Binance's full exit from its FTT holdings.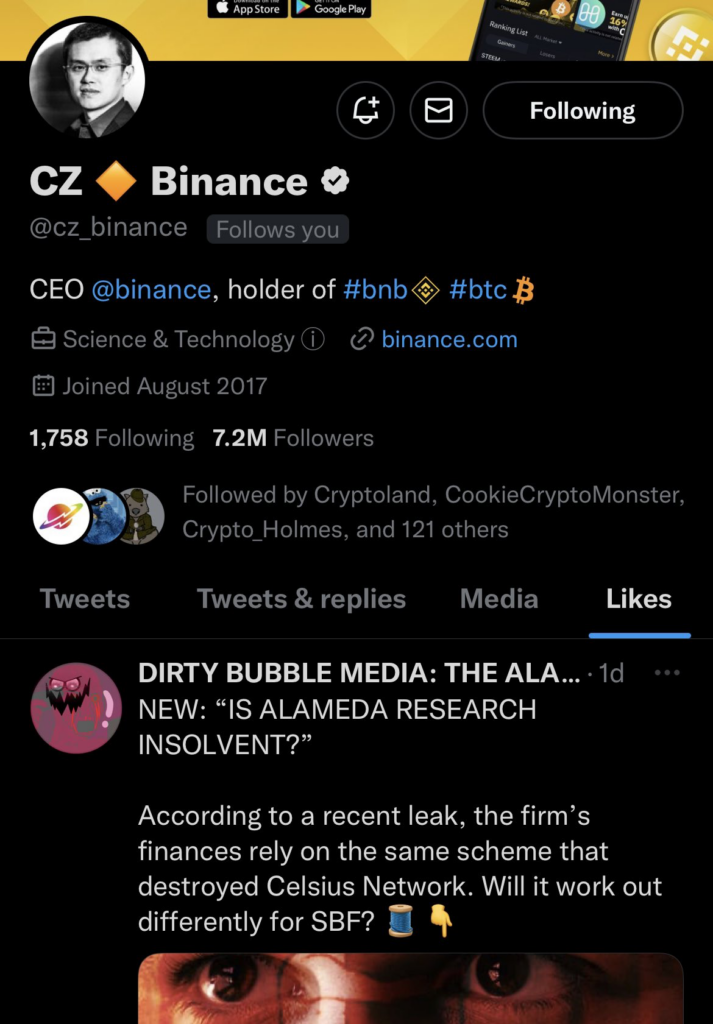 "Due to recent revelations that have came to light, we have decided to liquidate any remaining FTT on our books," the Binance chief tweeted.
The crypto exchange now has approximately 23 million FTT tokens according to a Bloomberg source, which are worth approximately $529 million at current pricing.
Zhao added that while Binance "always encourages collaboration between industry players" and they "typically hold tokens for the long term," he said that the crypto platform has "held on to this [FTX] token for this long."
"Regarding any speculation as to whether this is a move against a competitor, it is not. Our industry is in it's nascency and every time a project publicly fails it hurts every user and every platform," he further tweeted.
When asked why it took so long for Binance to sell its holdings given it had already pulled out from FTX equity last year, Zhao replied that it is a matter of policy that they "usually just hold… [to remove] any doubt that [they] would attack a 'competitor'."
"But there is a limit to hold, lol," he quipped.
Later on, Zhao added that the move is just "post-exit risk management," citing the experience with LUNA token. "We are not against anyone. But we won't support people who lobby against other industry players behind their backs," he alluded.
Following the news, Onchain Capital CEO Ran Neuner tweeted "financial advice" to FTT investors to get their funds out of the token. He also suggested that Binance's move was a smart play on Zhao's part, claiming that the FTT holdings exit is an attempt to do "max damage" on the reportedly insolvent Alameda.
SBF and Alameda respond
It is quite unclear what Zhao refers to as "recent revelations," but Alameda CEO Caroline Ellison shot back at him by tweeting that if he wants "to minimize the market impact on [Binance's] FTT sales," the hedge fund could buy it all at $22–the token's current trading price.

The chief also clarified some items on the Dirty Bubble Media report, saying that the reported balance sheet is "for a subset of our corporate entities" and therefore doesn't include more than $10 billion in assets that the fund has.
FTX's twitter account also joined in the fray with a quirky suggestion. When prodded, however, the firm clarified that "withdrawals were slow as we refill hotwallets but have been processing all day."
Bankman-Fried was asked on twitter about Ellison's post addressing Zhao, to which he replied that the Alameda chief's suggestion "is just quicker and easier."
However, he also seconded a seemingly shade tweet referencing Ellison's post, pointing to Binance's US$500-million investment in Elon Musk's Twitter purchase.
The FTX founder also tweeted that he wishes "the best to *everyone* driving the industry forward."
"Because I respect the hell out of what y'all have done to build the industry as we see it today, whether or not they reciprocate, and whether or not we use the same methods. Including CZ," Bankman-Fried further tweeted.
FTX and Bankman-Fried are being investigated by Texas' securities commission for allegedly offering unregistered securities related to "crypto yield farming" accounts.
READ: FTX Investors Seem To Imply That Nothing Much Has Happened In Crypto Since The Start Of 2022
The two crypto mogul giants–who like to refer to their initials in their accounts–seem to have returned back to their respective regular programming. Zhao tweeted that the issue is not some kind of "war or battle" while Bankman-Fried also quipped to "make love (and blockchain), not war."
Maybe, the two will shake hands again, soon.
---
Information for this briefing was found via the sources mentioned. The author has no securities or affiliations related to this organization. Not a recommendation to buy or sell. Always do additional research and consult a professional before purchasing a security. The author holds no licenses.