The Economic Impacts Of Biden's Proposed $15 Minimum Wage Hike
America's minimum wage, which has been stagnant since 2009 at a paltry $7.25 per hour, has recently dominated the news cycle after US President Joe Biden called for a wage increase to $15 per hour in the new $1.9 trillion Covid-19 stimulus plan.
The US minimum wage has not increased since 2009, and has been extensively declining in real terms over the past 50 years. In fact, the ratio of the current minimum wage to the median wage has decreased from approximately one-half to one-third, putting America's minimum-to-median wage ratio at the very bottom of the OECD range.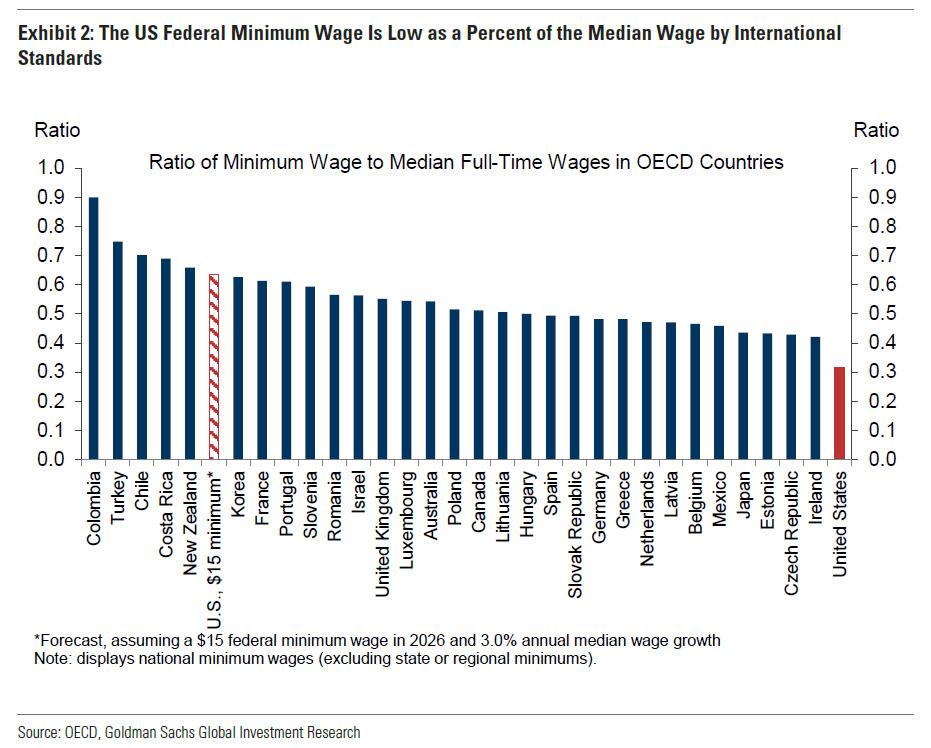 While some of America's lowest-earning workers are getting excited about the potential increase in value of their productivity, the path of a $15 minimum wage will likely be riddled with numerous obstacles, and may not even come to fruition at all. According to a new study released by the Congressional Budget Office (CBO), raising the minimum wage would increase the incomes of over 17 million Americans, and lift 0.9 million of them out of poverty. However, the move would also push the federal deficit to $54 billion over a 10-year span, as well as increase unemployment levels by 1.4 million.
The CBO also calculated that a minimum wage increase would divert federal spending from food stamps and child nutrition programs, but would conversely increase spending on Medicaid and unemployment benefits due to higher enrolment levels. In the meantime though, pay levels for American workers would increase by a net $333 billion, but simultaneously raise labour costs for firms. As a result, employers may transfer the new costs onto consumers in the form of higher prices, which in turn, would force consumers to purchase fewer American goods and services, and thus ultimately reduce the demand for lower-wage labour by the firms.
Which begs the question, what would the impact of a federal minimum wage hike to the magnitude of $15 per hour have on the most important metric, that being inflation? According to a recent research report by Goldman Sachs chief economist Jan Hatzius, a minimum wage hike would also affect wage growth, which would increase by 0.5% percentage points at $15 per hour. In turn, a 1% increase in wage growth would translate to a 0.25% increase in inflation in the current year, and then a subsequent 0.15% increase in the following year.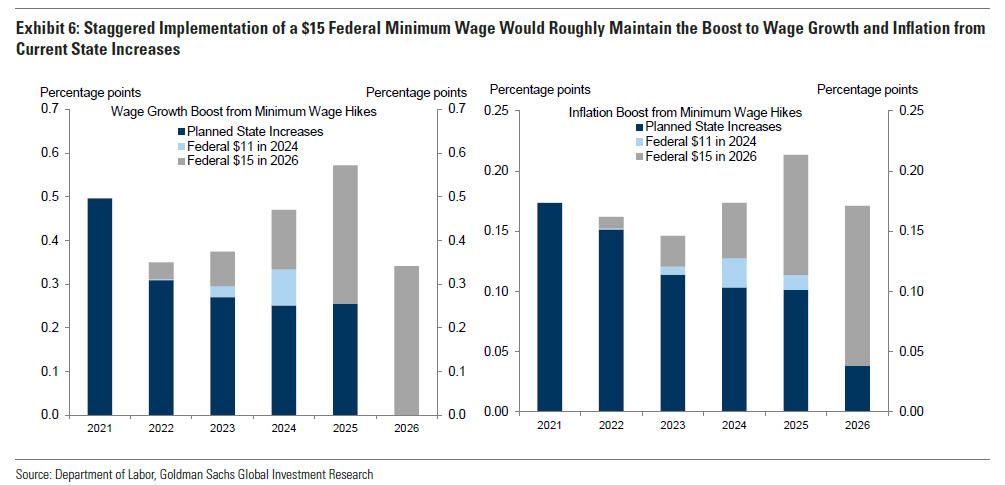 That said, given the current rate of infinite quantitative easing taken on by the Federal Reserve, any apparent worry about soaring deficits and impending inflation levels has clearly set sail a long time ago. However, such what-if synopses are essentially meaningless, because as Goldman Sachs notes, "the odds of an increase to $15 are low." Nevertheless, it appears that the Biden administration is determined to address the state of America's minimum wage this year, so it still remains a prospect.
In short, Goldman suggested the probability of a minimum wage hike passing will largely depend on centrist Democrats. The current stance taken by centrist Democrats, including Sen. Manchin (W. Va.), who recently suggesting that he would support an $11 minimum wage increase indexed into inflation, reveals where the consensus could potentially land. Although this does imply that a $15 minimum wage is indeed unlikely, lawmakers may eventually concede to a minimum wage in the $10-11 per hour range, which would increase by no more than $1 per year.
---
Information for this briefing was found via the CBO and Goldman Sachs. The author has no securities or affiliations related to this organization. Not a recommendation to buy or sell. Always do additional research and consult a professional before purchasing a security. The author holds no licenses.