The Egg Crisis Is Making People Want to Start Backyard Farms — But Is It the Answer?
The egg crisis is pushing suburban Americans — presumably, the same guys who started making their own bread during the pandemic — to think about starting their own backyard chicken farms. 
The industry is still reeling from the worst avian flu outbreak in US history, and prices are up from $1.79 in December 2021 to $4.25 in December 2022, and 11% just from November to December (see below and a related article here to understand how we got to these prices). 
With all that's going on, it seems only natural for people to start wondering what it would be like to have fresh eggs from their own backyard chicken — interest has erupted the past few weeks based on Google search trends. 
But it may best to not count chickens before they hatch, or in this case, best to not count the eggs until they're laid. Unlike the victory farms of the post-war era, keeping a backyard egg-laying operation is more of a long-term commitment. One that will cost you much more than today's eggs at the supermarket.
Based on the December average price of $4.25 per dozen of large, white, Grade A chicken eggs, it will cost about $220 to buy a dozen eggs per week for a year, while it will cost about $500 per year to raise chickens that will produce a dozen eggs per week — and that doesn't include the labor of feeding the chickens, and cleaning and maintaining the coop.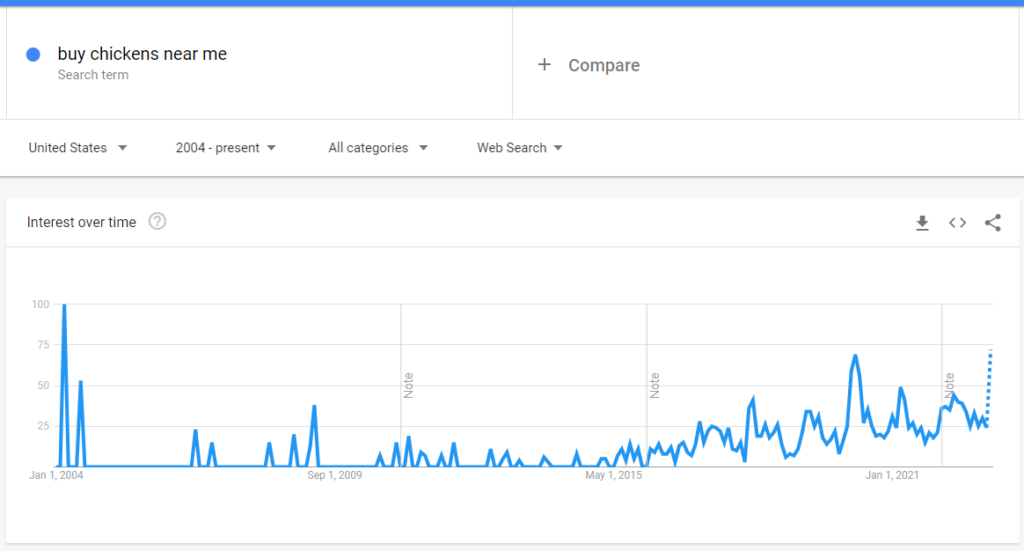 And then there's the matter of time. It takes about 20 weeks for a chick to grow into laying age, and once they're grown, a hen would lay eggs for 40 weeks, which in typical conditions would mean about five eggs a week or about 200 eggs in its lifespan.
The egg shortage will just be temporary, as the massive impact of last year's avian flu outbreak lingers. Demand has already begun to soften and prices may soon cool — unless another outbreak rises, but it would still be more expensive to raise hens for eggs than to buy eggs at the store. 
All in all, raising egg-laying hens, or layers as they're called, should be seen as more of a hobby — or like keeping a pet that just happens to make food for you by laying eggs — than an alternative to buying eggs, even if they get more expensive from here.
---
Information for this story was found via the Federal Reserve Bank of St. Louis, the US Department of Agriculture, and the sources and companies mentioned. The author has no securities or affiliations related to this organization. Not a recommendation to buy or sell. Always do additional research and consult a professional before purchasing a security. The author holds no licenses.