The Grain War: 7 Million Expected To Go Hungry As Russia Nixes Grain Deal With Ukraine
Russia is withdrawing from the internationally-mediated agreement that permits Ukraine to export grain from its Black Sea ports, citing an accusation that Kiev launched a "massive" drone strike on the country's Black Sea Fleet in Crimea's Sevastopol.
Ukraine's infrastructure ministry reported that 218 ships were immediately affected. Around 95 had already departed its ports and were awaiting inspection before unloading, 101 were awaiting inspection before collecting Ukrainian grain, and a further 22 were loaded and ready to go.
According to Russia's defense ministry, drones deployed in Saturday's attack targeted ships designated to protect grain-carrying ships; one vessel suffered minor damage. Later, the country's foreign ministry released a statement, saying, "the Russian side cannot guarantee the safety of civilian dry cargo ships participating in the 'Black Sea Initiative', and suspends its implementation from today for an indefinite period."
Moscow also claimed that the attack was "led by British specialists… against Russian ships that ensured the functioning of the said humanitarian corridor". The country claims that 16 aerial and marine drones had been destroyed, with just a minesweeper sustaining damage.
The UK Defense Ministry responded by saying Russia was "peddling false claims of an epic scale," adding "this invented story says more about arguments going on inside the Russian government than it does about the west."
Ukrainian President Volodymyr Zelensky has asked for a more forceful response from the United Nations and the G20 group of world leaders. "This is a completely transparent Russian attempt to return the threat of large-scale famine for Africa and Asia," Zelensky said in a video speech on Saturday, adding that Russia should be pulled out of the G20.
He added that Russia's decision is not a response to the said "attack" but was made in September, "when it blocked the movement of ships carrying our food produce."
"Why is it that some handful of individuals somewhere in the Kremlin can decide whether there will be food on the tables of people in Egypt or in Bangladesh?" Zelensky asked.
In recent days, Kiev has accused Moscow of purposely delaying ship clearance, resulting in a line of over 170 boats. However, Russia has complained the same, saying that its own exports are still hampered, and has previously stated that it may not renew the agreement.
The grain deal was set to expire on November 19, and Russia has previously stated that it had severe flaws. Russian President Vladimir Putin wasn't subtle in letting his protestations on the grain deal known to the public. Back in September, he already threatened that Russia could pull out of the deal, calling it "another blatant deception," and "a swindle."
The United Nations, NATO, the European Union, and the United States have all pushed Russia to reconsider its decision to withdraw from the treaty amid worries of a worldwide food catastrophe.
The UN-brokered deal allowed Ukraine to transit more than 9 million tonnes of grain and oilseed goods, while Russia was allowed to export food and fertilizer, which helped to reduce food prices by 15% from their March peak when the war made the route dangerous.
Ukrainian Foreign Minister Dmytro Kuleba claimed the suspension of the deal, based on "false pretexts of explosions 220 kilometers away," would halt the movement of 2 million tons of grain, enough to feed over 7 million people.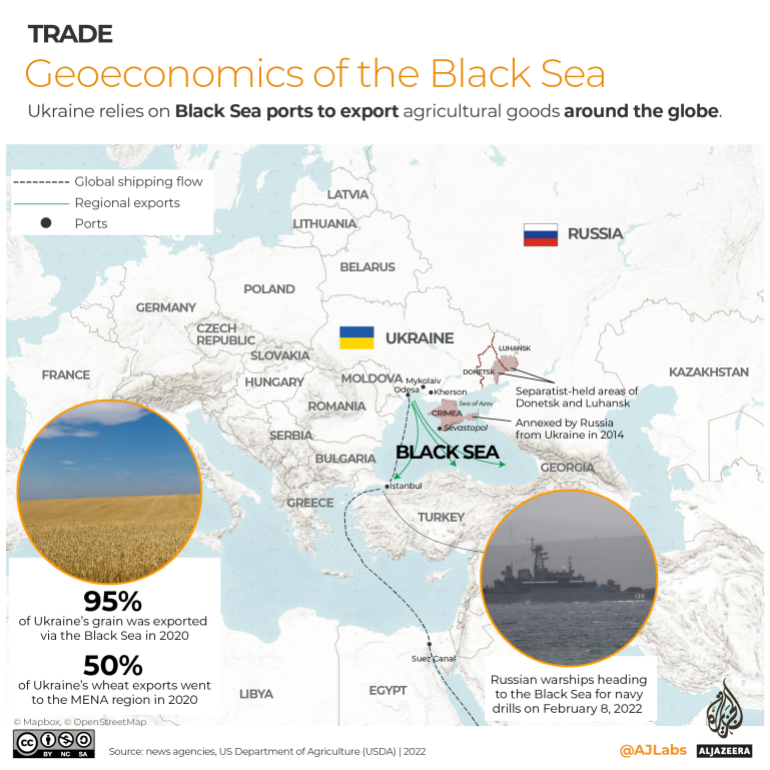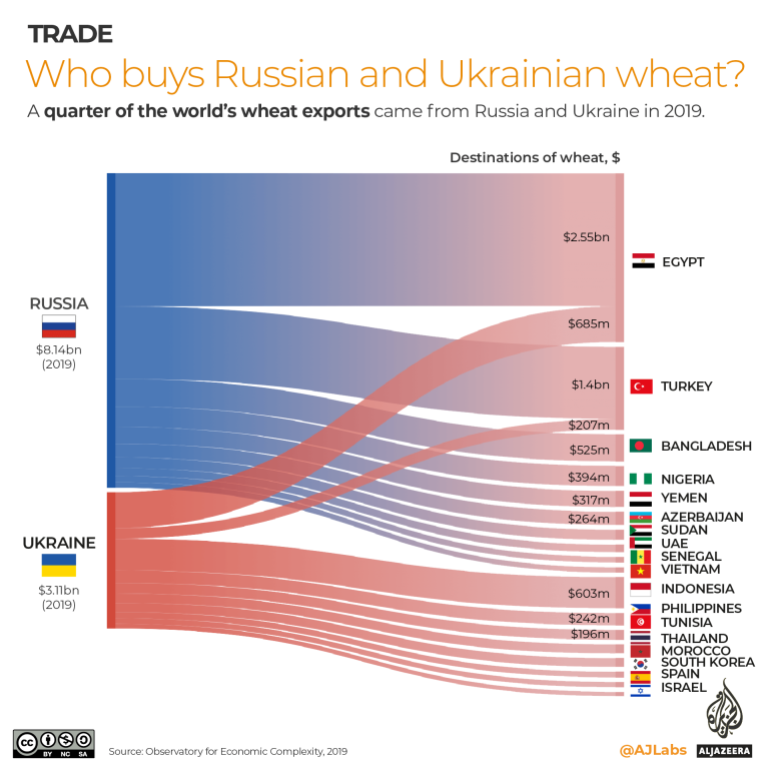 Russia responds with missile strikes on Ukraine; wheat futures surge
Ukraine has not admitted responsibility for the Sevastopol attack but Zelensky described Russia's pullout from the deal as "rather predictable."
On Monday morning, a series of missile strikes hit key Ukrainian cities, targeting chiefly the capital Kyiv. The city's mayor, Vitali Klitschko, posted on Telegram that the strikes had "cut off" a section of the capital, citing crucial infrastructural facilities, adding "there is no water supply in some areas."
Following Russia's exit from the grain deal, Wheat in Chicago rose 7.7% to $8.9325 per bushel at the open on Monday before falling back to 5.6%. Corn increased by up to 2.8%, while soybean oil increased by 3%. If price increases continue, the latest supply disruption might contribute to global food inflation and deepen hunger.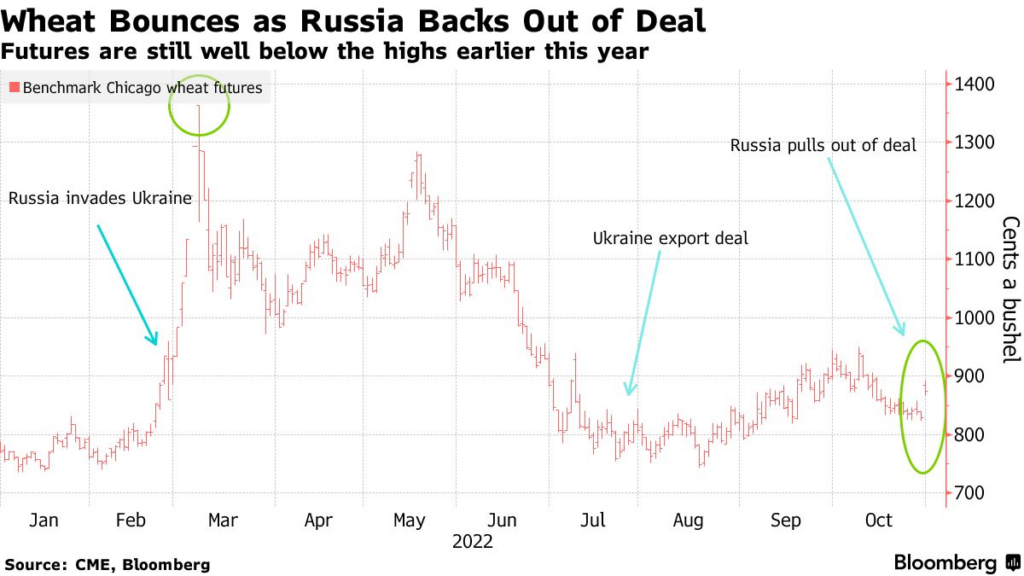 Ukraine, Turkey, and the United Nations agreed to have ships carrying food from Ukrainian ports sail on Monday, despite Russia's decision to pull out of the agreement. Traders await on how Moscow will react to the move.
---
Information for this briefing was found via Financial Times, CNBC, Bloomberg, BBC, The Guardian, and the sources mentioned. The author has no securities or affiliations related to this organization. Not a recommendation to buy or sell. Always do additional research and consult a professional before purchasing a security. The author holds no licenses.