The Lockheed F-35 Lightning II, By The Numbers
The Lockheed Martin (NYSE: LMT) F-35 Lightning II has been in the development stage for several decades, and remains in development, even as Lockheed ships the fighter planes to Western militaries. The tremendously lucrative contract has produced more than $127 billion in revenue for Lockheed since 2011, as it perpetually invents and re-invents the plane to fulfill an American desire to have the best and most high-tech planes in the sky.
Defense Contractors Invented Crowdfunding
Remember the Kickstarter / Indiegogo heyday? It peaked sometime around 2014-2019. While it lasted, idea merchants had a field day. Nu-Tech concepts like Solar Roadways, self-filling water bottles, and all manner of other impossibilities were advance-sold to… not investors, exactly. They weren't buying interests in the business or the IP that was being developed.
Crowdfunders are closer to customers, though they certainly weren't being guaranteed any product. The money bought them a promise of first access to an underwater air conditioner or whatever, if and when it was developed, but it was hardly a sure thing.

Few of the early kickstarter dream products ever delivered, and the funders were mostly just left $500 poorer which, depending on how you look at it, might be a better outcome than having become the proud owners of the beta version of a product that went on to be commercialized, and their money having been used to build a base of income for someone else.
Most crowdfunding donors are consumer-grade suckers. Any serious investor would want an interest in the IP, in case the venture worked out. But in an environment where crowdfunders cough up the development costs for the promise of a future product, the developers don't need investors. They don't even need a product that can be produced and sold at a profit; they're getting paid to undertake the development phase. It's a deep gravy train, previously unheard of outside of defense contractors.
Cost to Canada: Unknown
Canada's first contributions to the Joint Strike Fighter Program happened in 1997, but its total contribution to date isn't clear. A government web page on Canada's industrial participation in the F-35 program is heavy on estimates of the economic benefit it could bring to subcontractors in the Canadian aerospace industry once the Pentagon makes a decision about full production, but light on details about what Canada has contributed to the development so far. An Auditor General's report on Canada's participation in the JSF program and (at the time) planned purchase of the F-35s furnished at the bottom of the page resolves to a dead link.
It likewise isn't clear whether this most recent $19 billion commitment for 88 planes includes Lockheed's portion of the servicing and maintenance of those planes, or if that's extra, or if the price is inclusive of future hardware and software upgrades to the high-tech fighter. Also absent is any kind of clarity from the Ministry of Defense about what they plan to do with all those warplanes, which is probably top secret information.
Figuring out what the F-35's development has cost Canada so far might be just as impossible as estimating what the fighters are going to cost the country once they actually show up, but it's pretty easy to look up how many they've produced so far.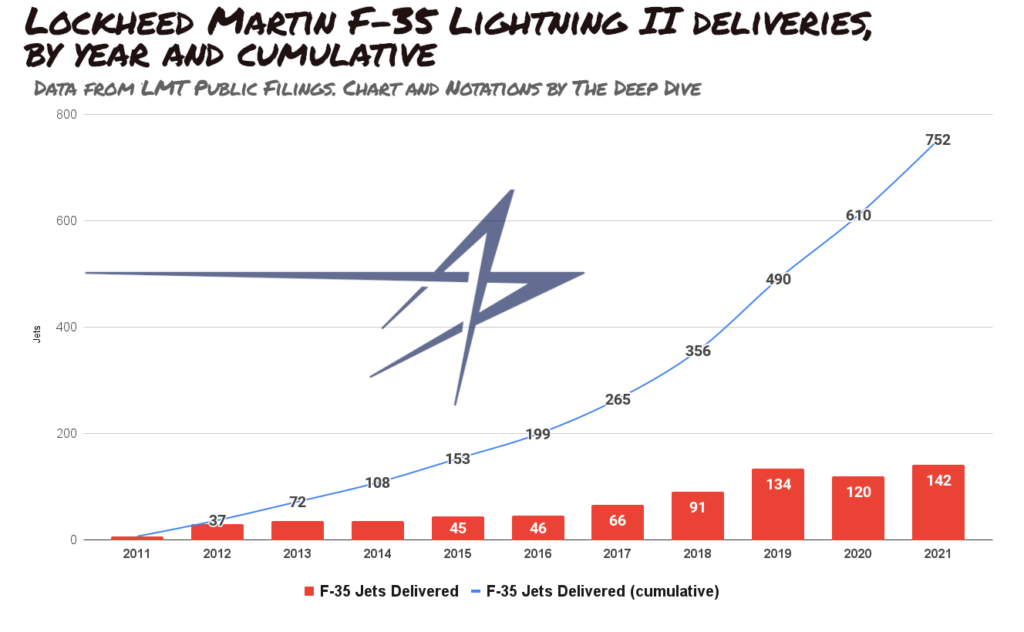 Through the end of 2021, Lockheed had produced a total of 752 F-35s through the Low Rate Initial Production (LRIP) runs that followed the Joint Strike Fighter Program becoming the F-35 Joint Program Office. It is those planes that will be tested by the Pentagon ahead of the program moving into the final manufacturing phase that's supposed to get Canada's 88 jets for $85 million each.
Revenue Generated for Lockheed: $127.5 billion (so far)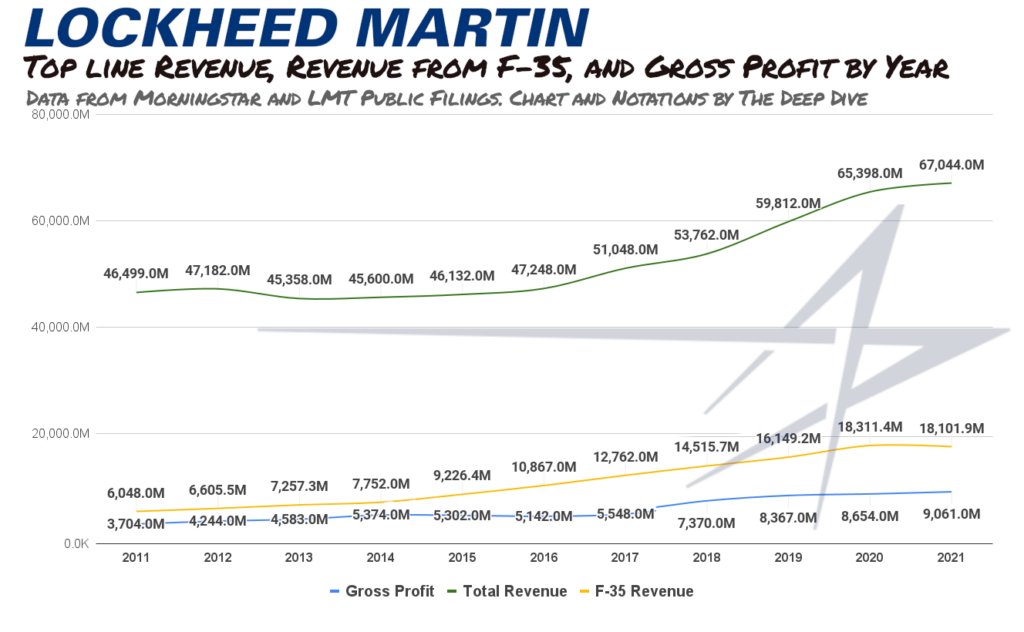 Lockheed's annual revenue from the F-35 program, as calculated by The Dive, through the data furnished in its annual financial statements, grew to $18 billion in 2021 from $6 billion in 2011.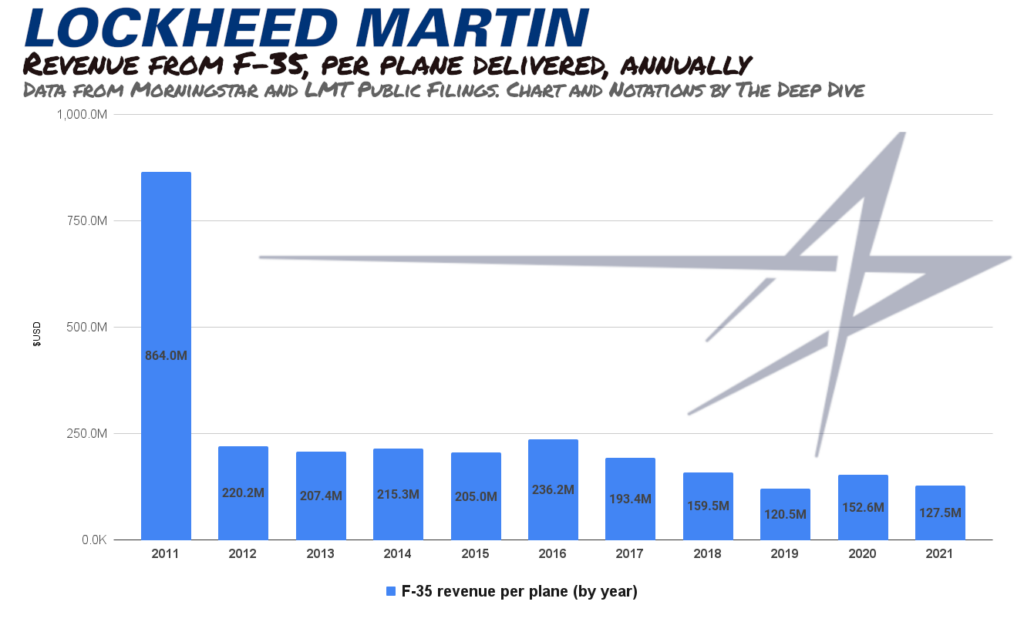 If we divide the annual F-35 revenue by the number of jets delivered in those years, Lockheed drew about $127 million per jet in top-line revenue from the sales and service of the F-35s it delivered in 2021. That's a significant improvement from the $864 million per jet the first seven planes cost their owners and operators in 2011, and it's generally how scale-ups go. Lockheed's advantage is being able to do it all on the taxpayers' dime.
Lockheed Martin doesn't break its R&D costs out in its income statement. But since 2018, its annual reports do give a round figure for the company-funded portion of the year's total R&D; between $1.3 billion and $1.5 billion. It's unlikely that any of it was spent on the F-35, the development of which is paid for by the governments of the world's most aggressive safest nations, but even if we attributed it ALL to the F-35, Lockheed would have still had more than $12 billion in revenue per year from the plane, from which to deduct production costs and arrive at a profit.
Revenue Generated for Lockheed Martin Shareholders: $4.1 billion per year
…and arrive at a profit, it did. Lockheed Martin's average annual yield to shareholders for that period, in the form of cash dividends and stock buybacks, averaged 102.6% of its annual profits; about $4.1 billion in an average year; $7 billion in 2021 alone. The F-35 presently generates ~28% of the revenue from which that profit is derived, and the trend is strong. Selling more jets at a lower price will suit them just fine.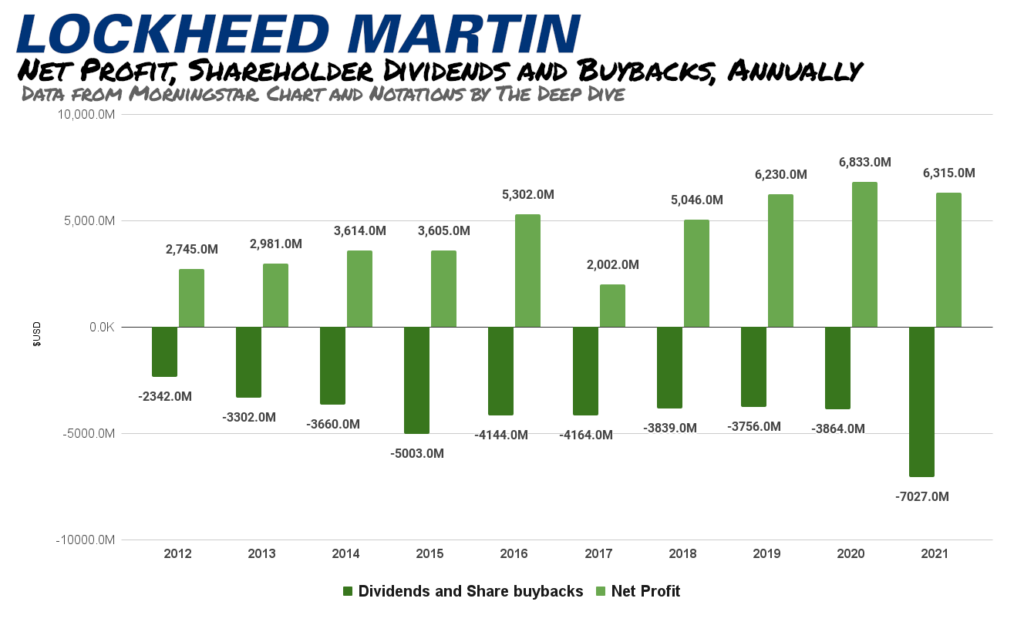 The money Lockheed returns to shareholders is perhaps the best context in which to evaluate the benefit to the Canadian Aeronautics industry that Lockheed Martin and the Trudeau government are so fond of citing as a reason to spend all that money on all those planes (or rather, future planes… they're planes of the future!). Lockheed is bringing an un-defined portion of the money it needs to spend to Canada's aeronautics industry, to fulfill contracts that are already late, and generate tens of billions in profits.
Based on the past ten years of operating data, the $19 billion is liable to flow through to Lockheed's shareholders whether Canada gets working planes or not.
---
Information for this briefing was found via Edgar, CBC, and the sources mentioned or linked. The author has no securities or affiliations related to this organization. Not a recommendation to buy or sell. Always do additional research and consult a professional before purchasing a security. The author holds no licenses.