The "Materially False And Misleading Statements" That Earned Mullen A Class Action Suit (And Are They Still Making Them)
A class action suit was filed against Mullen Automotive, Inc. (Nasdaq: MULN) on Monday claiming the firm "made materially false and misleading statements."
The suit heavily banks on the report released on April 6 by short seller Hindenburg Research which enumerated a myriad of reasons why it believes the electric vehicle manufacturer is all about grand promises but had "little to back them up."
"On this news, Mullen's stock price fell $0.27 per share, or 10%, to close at $2.38 per share on April 7, 2022, on unusually heavy trading volume, damaging investors," said Portnoy Law Firm, the law firm filing the suit.
Following the announcement of the suit, Mullen's shares immediately fell 12% when the market opened, dangerously close to trading below the US$1.00 limit.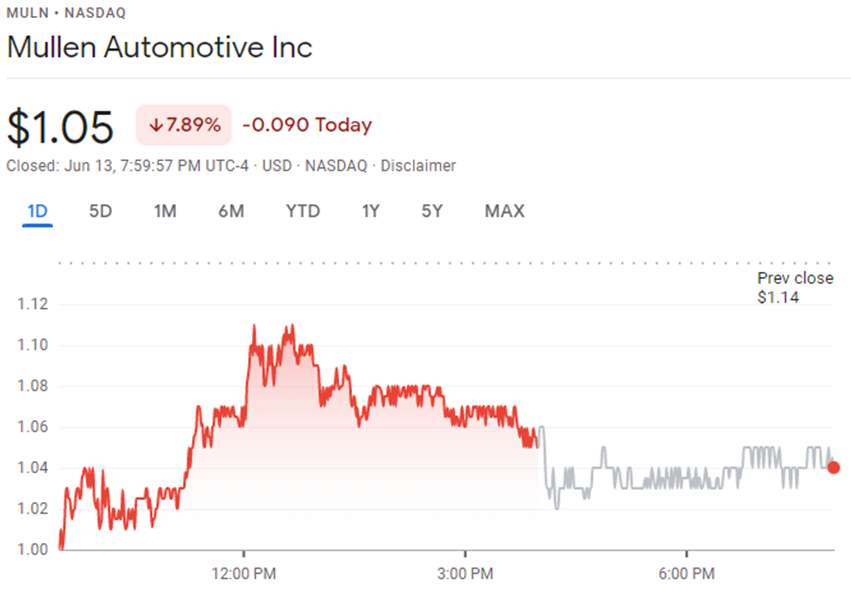 Smoke and mirrors: The solid-state battery promise
The Hindenburg report largely hinges on Mullen's claims regarding its solid-state battery technology. The piece pointed out in particular the company's announcement on February 28 of the battery testing results, yielding "343 Ah at 4.3 volts."
"The test data collected shows an impressive outcome and future for solid-state batteries. To sum up, we tested our 300 Ah (ampere-hour) cell which yielded 343 Ah at 4.3 volts, and the results surpassed all expectations," Mullen CEO David Michery said in the February press releases. "We can say with almost certainty that this technology, once implemented on the Mullen FIVE, will deliver over 600 miles of range on a full charge."
The announcement sent the stocks soaring 145%.
According to the research firm, this was a rehash of the results produced by the same independent contractor, EV Grid, back in August 2020.
The firm reached out to EV Grid CEO Tom Gage about the press release, to which he replied that his firm has "more or less ceased operations by June or July of 2020."
"No we would never have said that. We never did say it and certainly wouldn't have said it based on the results of testing that battery," Gage said to Hindenburg.
But in an interview on Risk on Show podcast, Gage clarified his statements to the research firm after the report came out, saying "it was a [legitimate test]."
"Well, I had a little trouble remembering when I was talking to the reporter and also because it sounded he may have been questioning wether we tested the battery at all," Gage said. "And if I gave him that impression that was erroneous, we did test the battery on one cycle and we give them the results. Any idea saying that we didn't tested it is wrong."
Gage further reiterated that the test results showed that the battery "had 343 of capacity," however, it wasn't clear if there were two tests done that would've warranted the second press release in February 2022.
Further claims made by Mullen and Michery about the promise of its solid-state battery technology have been debunked by Hindenburg in its report, including the announcement of a joint venture with Ukrainian firm NextMetals Ltd.
In an interview with Hindenburg, a senior NextMetals executive said the joint venture "didn't exist".
"Not a single piece of paper. And he proudly goes and shows the tweet—and about that time was when [the NextMetals representatives] did get up and walk out," the executive said.
Doubts have been raised as well about the feasibility of achieving commercial level for the battery technology "in the next 18 to 24 months"–as the automaker would claim. In its fiscal year 2021, the firm reported US$3.0 million in its R&D budget.
For comparison, solid-state technology competitor Quantumscape spent US$151.5 million in R&D for full-year 2021. It anticipates to commercialize production in 2024-2025.
Just on May 31, Mullen released the results of another battery testing done with Battery Innovation Center. Testing at the same rate of 300 Ah and 3.7 volts, the recent results came in at 343.28 Ah at 4.2 volts, exceeding "previously stated values" with EV Grid.
"I was very interested in seeing how the original cell that was tested by EV Grid would hold up to testing done by a major facility like Battery Innovation Center (BIC)," Michery said in an interview following the new test results. "I took the same cell from 2 years ago and now I'm providing additional 5 cells to do a battery of different tests. These tests are being done because I want them done."
Michery further stated that once the technology achieves commercial viability, he plans to "license it out to everybody."
Major Fortune 500: The mystery purchases
Hindenburg also dug into the previously announced major purchases of Mullen models in the pipeline. In particular, the research dove into a "major Fortune 500" client for which the automaker will be developing two van models.
"No, no, we're actually building for them. So, we're, we're excited. We're going to deliver the pilot vehicles to them in the second quarter, as we stated, and we're excited about it. This is a major major Fortune 500 company, I'll put it that way," Michery said in a Benzinga interview on March 30.
The announcement caused the shares to spike around 35% intraday.
While Michery claims that production will be homegrown–or as he puts it, "show the world that the dependency on outside entities no longer exists"–Hindenburg pulled out import records that the company imported the two van models from China.
In another Benzinga interview on June 3–months after the Hindenburg report was released, Michery was asked about the mysterious Fortune 500 client. He said that "everything has been going exactly as planned."
"It's a pilot program and I can say that we initiated that program — meaning we made the delivery — on May 12 and the customer put the van in its pilot program and reported to us that they were pleased with the performance to date," Michery added.
When the host asked if the company would reveal the identity of the customer soon, Michery said: "Absolutely, we're actually working with the [press release] with them as we speak." But when prodded about the number of vehicles delivered, Mullen's chief was wary in giving details, saying: "I can tell you that we started the pilot program on May 12th and the results back from them are very good."
"We made a statement that we would announce this by the end…within the completion of the second quarter and we fully intend to do that," he added.
The Hindenburg report further broke down other publicized institutional purchases and found questionable information to back these up. This includes a US$60 million purchase for 1,200 commercial EV fleet vans by a Colorado cannabis retailer Heights Dispensary with a strip mall address and a preference for mail product delivery according to its website.
Mullen's luxury sedan supercar, DragonFly, was unveiled in 2019. It's a rebranded model of Qiantu K50 by Chinese manufacturer Qiantu Motors. However, the contract was terminated after Mullen defaulted payment.
Qiantu also faced financial trouble in 2020, forcing it to stop producing K50 as it was meant to be "a low volume, expensive product."
Despite these, Mullen continues to accept US$1,000 reservations for the vehicle that it touts to be "coming soon."
In December 2020, the firm also announced a 10,000-vehicle order for its electric SUV Mullen FIVE at US$50,000 a piece from Unlimited Electrical Contractors Corp. Upon investigation, Hindenburg found out that the client only has 11 vehicles at that time, none of which is electric.
The fast and the furious: Mullen headed for a tour, Claimants headed for court
Michery seems unfazed by the Hindenburg report, keeping mum about the short seller's claims ever since it was released. When asked about the research firm's report, Mullen's chief said the "results will speak for themselves."
"I don't comment stuff that it is not relevant to me," Michery said in the June 3 Benzinga interview. "I focus on the plan, we're gonna execute the plan and put out the information either it corroborate what we're doing or not."
Instead, Michery appears to continue on making bank and push the company forward. He has been regularly selling his shares in the company, with the most recent a 750,000-share dump at US$1.0145, right before the BIC battery test results were released.
When prodded about it, Michery shrugged it off, saying he just "decided to sell some stock, nothing more and nothing less."
"Every officer or director has an opportunity to sell based on the 1% rule per quarter and they choose to do it they do, if they don't they don't. I chose periodically to be able to take advantage of what I am allowed to do under SEC rules," Michery explained.
Retail investors currently own around 88% of the float of the heavily diluted firm.
But the Mullen chief is seemingly focusing on the next step, including the announced 19-city national test drive tour for the Mullen FIVE starting in October.
"We're excited to announce our 19-city U.S. tour for the Mullen FIVE to thank our investors and FIVE reservation holders for their continued support," said Michery in a statement.
This is followed by the news that Mullen has been added to the Russell 3000 and Russell 2000 Indexes, which pushes Michery to believe it will bring "great visibility within the institutional investment community" for the firm.
Meanwhile, the law firm's call is ongoing for Mullen investors who want to join the class action suit.
Amid all these, everyone is looking forward to the end of Q2–Michery's self-deadline to announce the Fortune 500 client deal.
Mullen last traded at US$1.05 on the Nasdaq, down 7.89% on the day.
---
Information for this briefing was found via Hindenburg Research, Electric Vehicles, Edgar, and the companies mentioned. The author has no securities or affiliations related to this organization. Not a recommendation to buy or sell. Always do additional research and consult a professional before purchasing a security. The author holds no licenses.