The OpenDoor Real Estate Robot
In the style of most successful tech ventures of a 2014 vintage, OpenDoor Technologies (NASDAQ: OPEN) didn't set out to be a business that trades in real estate; just a platform that facilitates the trading of real-estate, and eventually disrupts it. The company went public in 2020, did well on the NASDAQ initially, but has since been beat up with the rest of broader venture-stage tech.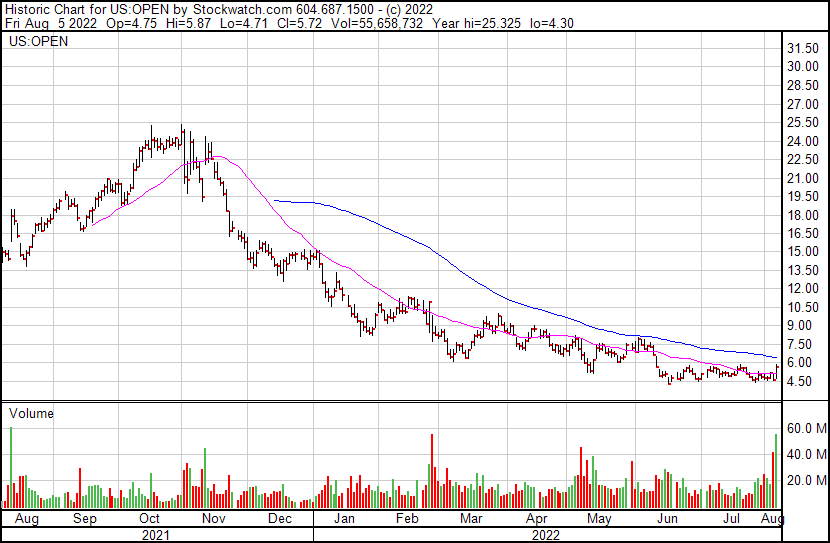 OPEN's initial posture was that it would be an online real estate portal that streamlined the transaction process and put real estate agents out of business. The platform software portion of the business has been doing a good job producing revenue. It posted its first positive net earnings in Q1'22.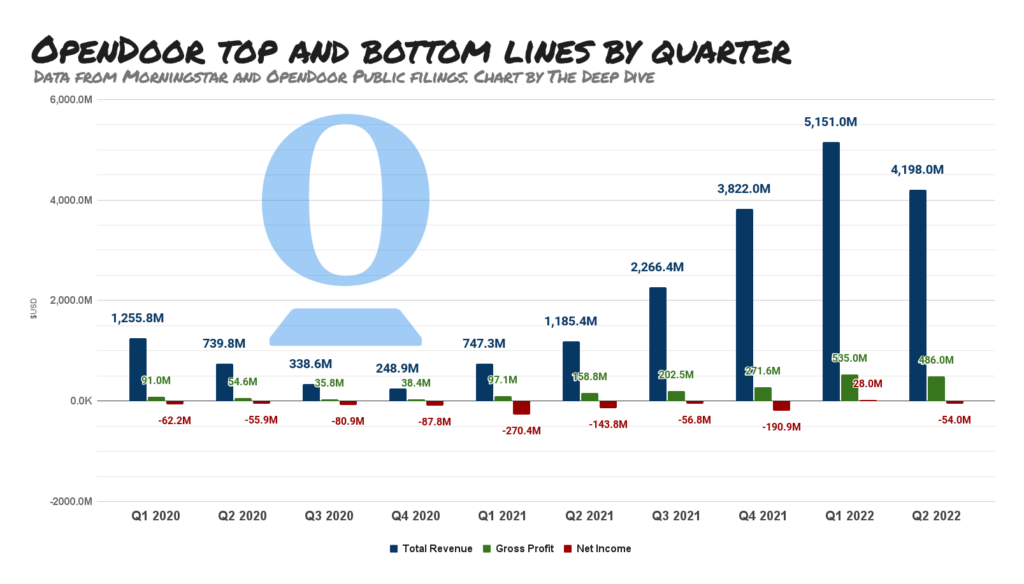 Analysts expected more black ink in Q2, but Thursday's earnings report disappointed it with a $0.09/share loss. The market sent the stock up 22% (+1.02) on the news.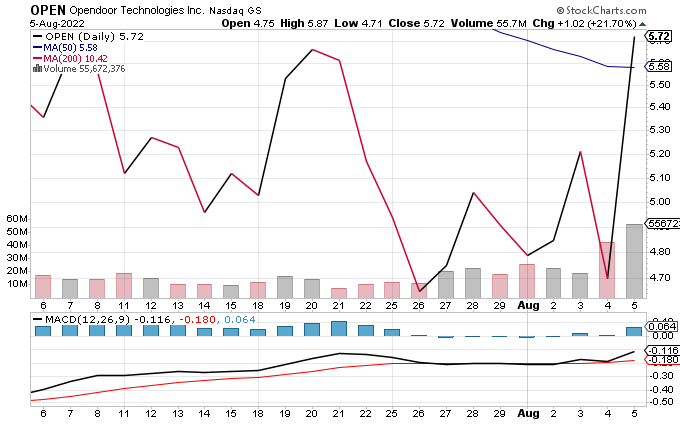 OpenDoor's chart is one of a company that already took its medicine for being a growth-oriented disruption platform in a market that's after yield. This bump was a reaction to OpenDoor's successful accumulation of real estate.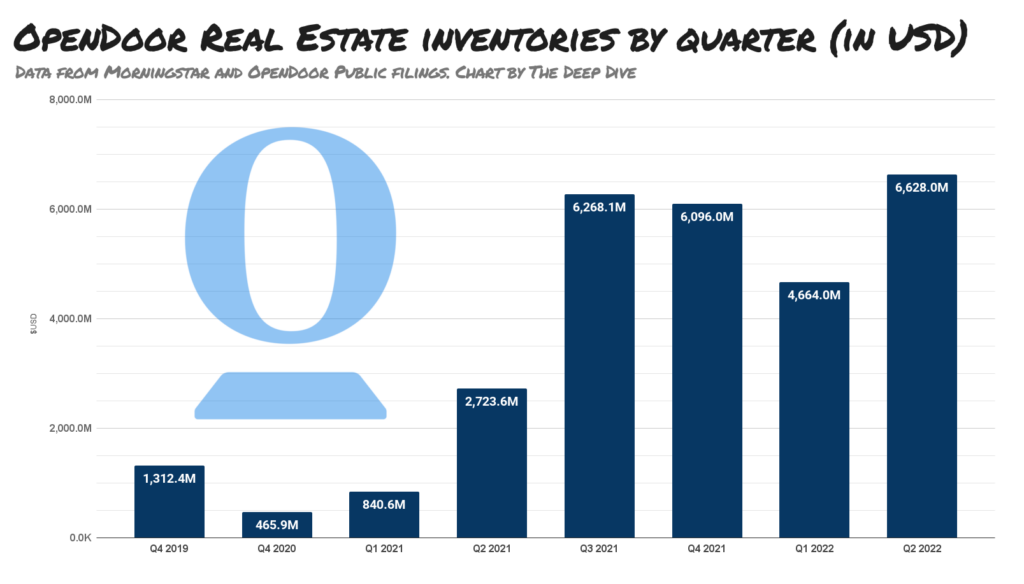 Reducing the friction in real estate transactions has allowed OpenDoor to become a major owner and trafficker of residential housing. The company has put itself in a position to become an even larger land owner and house flipper, partnering with listing service Zillow to provide Zillow sellers with the opportunities to request an offer on their home from OpenDoor "seamlessly."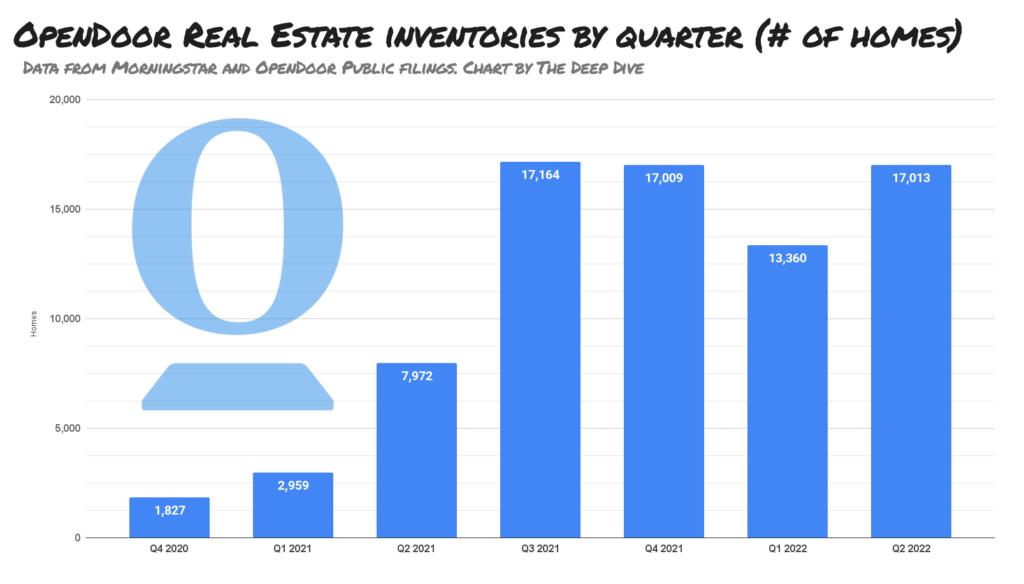 Unlike Uber, whose ongoing growth isn't interesting without a clear path to free cash flow, OpenDoor's rapid growth is manifesting itself in solid assets with a long track record of creating very good cash flow.
OpenDoor has active and expanding property businesses in 51 US markets. At the end of Q3, it owned $6.1 billion dollars worth of residential real estate. Presumably, its product allows it to stay on top of consumer trends, and know what to offer and ask to get the most out of those units. It's a scaled-up crowd-sourced, robo-house flipper, and it appears as though that's enough to get some of their shareholders thinking.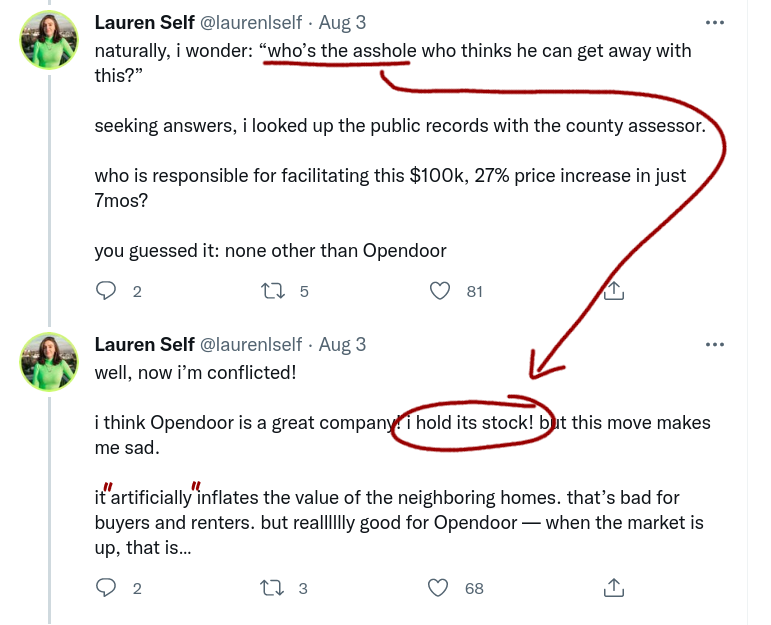 The call is coming from inside the house-flipping robot!
There is a growing sentiment that large pools of money speculating in the real estate market are driving up the price of housing and contributing to the ongoing affordability crisis, which they are. But OpenDoor's contribution is bound to come one way or another. Lamenting the fact that its size might give it a chance to push the market around, or that its methods increase the velocity at which housing is becoming unaffordable is wasted energy. The size of the enterprises involved doesn't make a difference, the commodification of basic human needs like housing is only ever going to go one way.
Housing has been the investment with the most yield potential compared to its risk for as long as anyone can remember, and its status as an investment class is the first, last, and the only reason it's perpetually and increasingly unaffordable for working people. Low rates and money printing are frequently cited as the root cause of inflation, but that money wasn't printed and borrowed for sport.
For decades, there have been signs on lamp posts and free seminars begging anyone who would listen to learn how to become a real estate millionaire, with little or no money down! There's good money in house flipping and landlording when you do it right, and the difference between a few thousand independent hustlers and large institutional operations like OpenDoor or Blackrock is the difference between a few thousand leeches and two big ones.
But what about the artisan, small-batch, organic landlords!?
The fact that an out-sized portion of the economy has been swallowed up by literal rent-seeking is an enormous and obvious problem, but only for the people who have to do the actual work that pays for these houses. The middlemen who rent them the houses and trade in the equity that their rent builds, and the banks that facilitate it all are going to be just fine.
This column likes ridiculing nu-tech platform "disruption" co's like OpenDoor as much as anyone else, but lamenting its part in a well-established human-exploitation business is wasted energy. Anyone who's really concerned with making housing affordable and building a strong, resilient economy should be calling for an end to landlording. Anyone who wants to try getting rich on it might consider taking a Tom Vu seminar, or buying stock in OpenDoor, whose listing on a public stock exchange makes its exposure to residential real estate accessible to anyone with a few bucks and a Robinhood account. OPEN is currently trading at 1.53x its book value. The company was recently fined by the FTC for misleading consumers about how much costs it actually shaves off of the home buying process, but the $62 million fine won't hurt them, and it was bound to happen eventually.
Success is a surefire way to bring the haters and regulators out of the woodwork. Just ask Tom Vu.
---
Information for this briefing was found via Edgar and the sources mentioned. The author has no securities or affiliations related to this organization. Not a recommendation to buy or sell. Always do additional research and consult a professional before purchasing a security. The author holds no licenses.